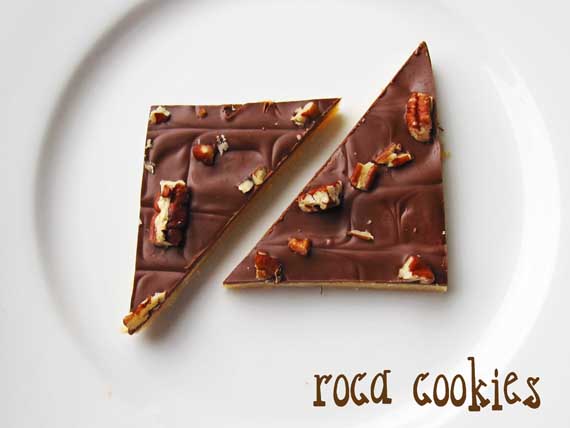 This past Monday evening I ran in my first 5K ever.
Please, hold your applause.
This was a last-minute, irrational decision.
3 months ago some friends and I had planned on running in a 5k together, but there were some kid-conflicts and mommy guilt won out for me, so I didn't go with the girls.
BUT…here's where I went wrong.  Instead of continuing to "train", I was like "pshh, I'll run tomorrow"…or the next day…or next week…
Cut to 2 months later…no running had happened.  My thighs and I have shame.
My girlfriend told me last week that she was for sure running in a race on Monday and  I should come along.
I knew in the back of my head that my feet hadn't pounded that pavement since Easter…but thought..it's just 3.1 miles, it'll all be over in half an hour.  So without fully committing, I gave her a solid maybe.
 When I woke up Monday morning the birds were chirping and there was nary a cloud in the sky.
You know how some mornings you wake up and all things seem possible?  That was my Monday morning.  I have since decided that NO decisions will be made again before coffee.  Bad things happen.
I texted my friend and said, "ya know what?  I am in for the race."
I instantly had texter regret.
 Soon the regret turned into spastic nerves.
I stressed all day…
But, she came and picked me up and I was on my way, like it or not.
Now, I had never participated in a 5k run before…
Let me tell you that runners are some strange people.
There were people running BEFORE the race.  To warm up.
Does this boggle anyone else's mind?
I saw some things that evening that I am pretty sure are etched in my mind forevahh.
Like the 60-ish year old man wearing a baggy speedo.
I'm not sure if that's some new form of running-ware, but dude's nads were hanging down to mid-thigh and I am pretty sure that isn't aerodynamic.
Or like the man running in denim..with a belt on.  Again, not an expert, but I am thinking that there might be some weird chafing involved.
And lets talk about the stretching.
I get it…you need to stretch.  BUT could we all make an agreement to do our hard-core stetches in the privacy of our own homes? or behind a tree or something?
There were men stretching in ways that I have never seen.  Old hairy men stretching. It looked painful and unnatural.  I'm taking a solid pass on witnessing that again ~ no thanks.
When the race started I knew I was going to be jogging at a slow pace.  So, my girlfriend ran ahead and I hung back with the old ladies and the children.
Running with kids is no good, because they sprint and then walk and then sprint and then walk…it kinda messes with any pace you're trying to set for yourself.
I know how I will fix that for next time, though.
Actually practice, so I am not IN the back with the kids.  Genius.
So, I finished with a time that is embarrassing, BUT I finished.
And there was ice cream at the end.
That's what I kept telling myself as I was running…run for the ice cream.
And, like a fat kid, I ran for the ice cream, thank you very much 😉
My girlfriend who tricked me into running gave me this recipe…so I thought I would post it in honor of my first 5k finish…
The recipe was originally called Almond Roca Cookies, but since I didn't add almonds we'll just call 'em Roca cookies.
I had no idea what Almond Roca was, but according to
Wikipedia
it is a "chocolate toffee
butter crunch candy containing a ground almond
coating and also almond chunks inside the candy itself". Phew.
The cookie is buttery and where the edges get a bit crisp they are definitely toffee-like.
I used chopped walnuts on top, but since I am not a nut + cookie lover, next time I will use toffee bits…that would be delicious!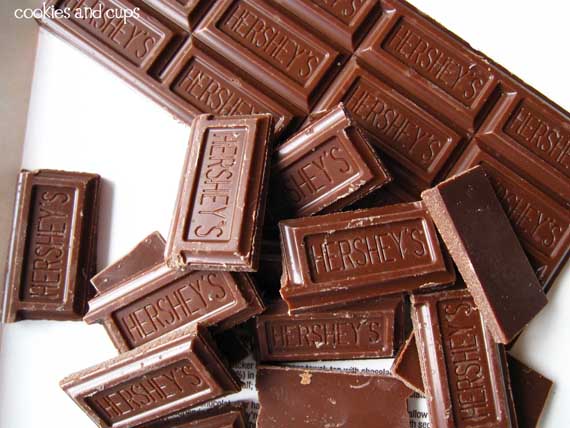 As soon as you remove from the oven spread the broken Hershey pieces and the heat of the cookie will melt them.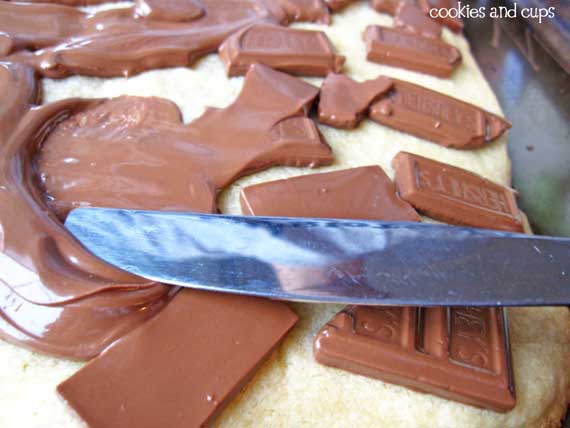 Spread to cover the entire top of cookie.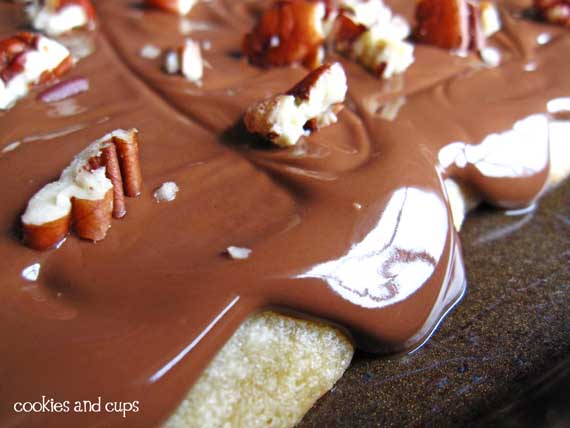 Top with your chopped nuts or toffee.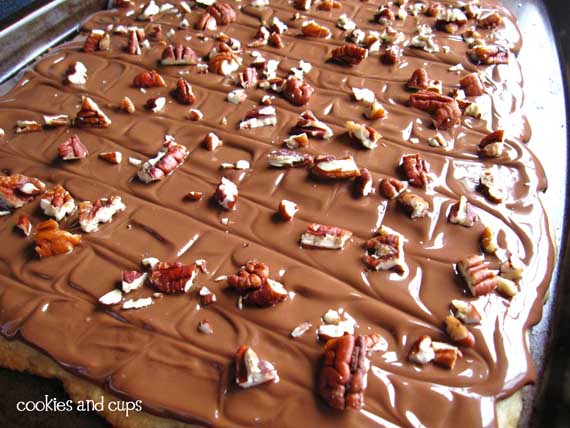 When completely cooled cut into triangle pieces and enjoy!