This Easy Salted Caramel Popcorn Recipe is my favorite Caramel Corn Recipe! It's so easy and adding that extra salt gives it the perfect salty/sweet combo!
Salted Caramel Popcorn Is The Best Caramel Corn Recipe
This Salted Caramel Corn Recipe is possibly one of my favorite snacks of all time! It's crispy, coated in homemade caramel, easy to make and has the perfect sweet and salty balance. I haven't met one person who doesn't love this salted caramel corn recipe because it's both simple and delicious! This caramel corn recipe is so loved it even made it into my book by popular demand!
I've even adapted this recipe into Pumpkin Spice Caramel Corn as well as Caramel Apple Caramel Corn. And certainly if you're salt sensitive you can leave off the extra salt!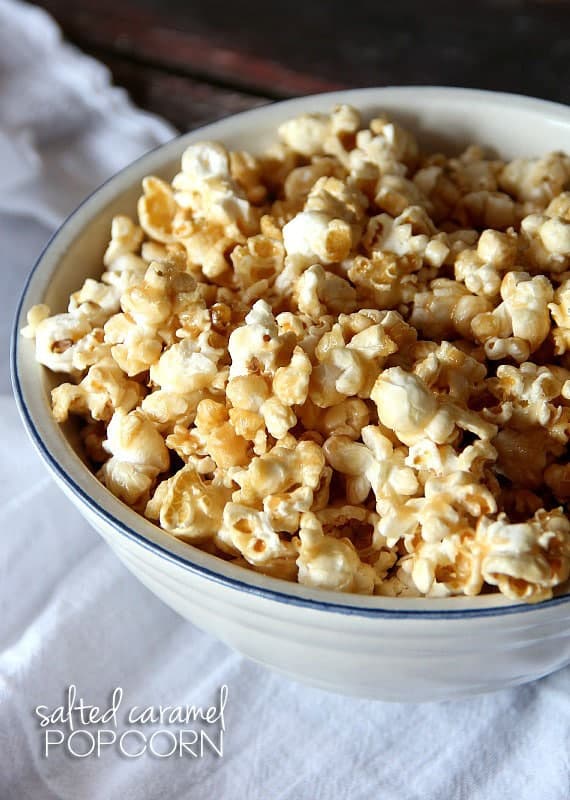 How To Make Homemade Caramel Corn
Making Salted Caramel Popcorn is SUPER easy. It's a super easy snack for movie night, or perfect to package up and give as gifts around the holidays. It's pretty foolproof, and you don't need baking soda or a candy thermometer like a lot of caramel corn recipes call for.
You will need an Air Popper Popcorn maker. If you don't have one, they are fairly inexpensive. Here's the link to the one I use. I have had readers use microwave popcorn for this if they don't have an air popper. Most have great results, but I have never tried it that way, so I can't give 100% confirmation it will work, although I don't see why it wouldn't.
Ingredients / What You Will Need
Popcorn: Unpopped popcorn kernels are super easy to find. You can generally find them at the supermarket, WalMart, Target etc. You can even order them on amazon. I, honestly, just buy an expensive container of kernels, like Orville Redenbacher, so don't get too hung up on brands etc.
Butter: I use salted butter in this recipe because it's SALTED Caramel Corn, but certainly if you don't have salted you can use unsalted and add a bit more salt at the end!
Brown Sugar: Using brown sugar in this recipe makes it a little deeper in flavor. Since you aren't actually making caramel that cooks until it is a deep amber color, the brown sugar gives you the color that you desire.
Corn Syrup: I use light corn syrup in this recipe. The subtle sweetness in the corn syrup makes the caramel sauce come together easily and gives the caramel corn the perfect texture. You could certainly use dark corn syrup if that's all you have.
Salt: I use kosher salt or sea salt in this caramel corn recipe. The slightly coarser grain and smoother taste gives this the perfect salty/sweet balance. You can use Iodized salt if it's all you have, but use a light hand. You can always add more if necessary.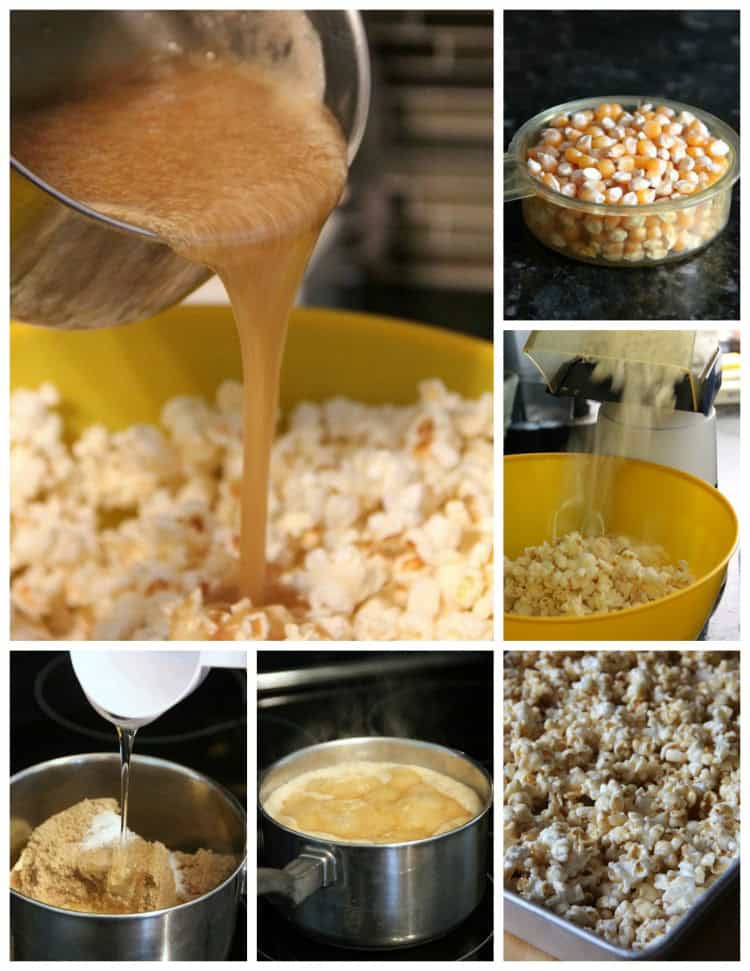 Do You Bake Caramel Corn?
Yes! After you air pop the popcorn and make your caramel sauce on the stove, you bake the caramel corn for 30 minutes at 300°F, stirring it every 10 minutes. This step in the recipe is what makes the caramel corn crispy and not chewy. If you like chewy caramel corn you can certainly eat it after you coat it with your caramel. It will get stuck in your teeth though! haha!
How Much Unpopped Popcorn Do You Need For Caramel Corn?
1/2 cup of unpopped kernels yields about 16 cups of popped corn. So for this recipe you get about 16 cups of Salted Caramel Popcorn!
How Much Salt Do You Add To Caramel Corn?
Please realize this is COMPLETELY up to you. I list 2 teaspoons in the recipe as a guideline, but you can absolutely add more or less depending on your personal preference. I stated above that I don't recommend using Iodized Salt, but if you do, start with only 1 teaspoon, as it is a very fine grain and add more from there. Kosher salt and sea salts are generally a little coarser.
Variations / Add-Ins
Sure! You can easily add in extras to this caramel corn recipe. Here are a few ideas:
Peanuts: Add these before you pour the caramel sauce on top and coat them with the caramel before baking.
M&Ms: Add these when the caramel corn is cooled for the ultimate movie snack!
Raisins: Now this might not be for everyone, but a lot of people like this combo! Add these after the caramel corn is cooled.
Pretzels: You can add these before you pour the caramel on top or after it's cooled if you prefer the pretzels aren't sweet. If you do want to add pretzels to this mix before coating with the caramel, you might need to increase the amount of caramel by 50% to ensure everything gets coated!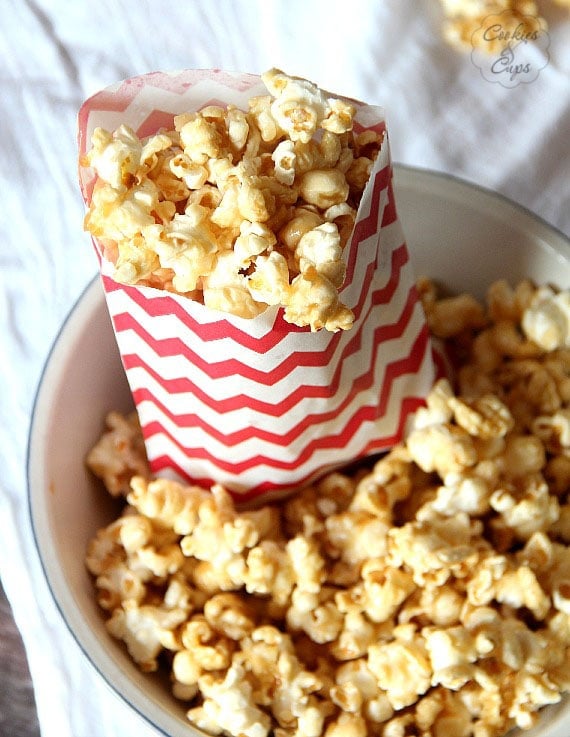 More Popcorn Recipes You Will Love
Print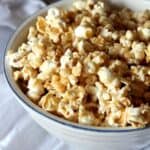 Salted Caramel Popcorn
Prep Time:

10 minutes

Cook Time:

30

Total Time:

40 minutes

Yield:

16 cups

1

x

Category:

Popcorn

Method:

Oven

Cuisine:

Snack
---
Description
Makes about 16 cups of caramel corn
---
1/2 cup

unpopped popcorn kernels (about

16 cups

popped corn)

1 cup

salted butter

1 cup

light brown sugar

1/3 cup

light corn syrup

2 teaspoons

kosher or sea salt, divided
---
Instructions
Preheat oven to 300°F.
Line a large baking sheet with parchment paper or a silicone mat. Set aside.
Pop popcorn kernels using air popper into a large bowl.
In a small saucepan melt butter, brown sugar, corn syrup and 1 teaspoon salt together over medium heat. Bring to boil. Boil for 4 minutes without stirring. Remove from heat and let it cool for 2 minutes. It needs to stop boiling before you pour it on the popcorn.
Pour caramel mixture over popcorn and stir to coat evenly.
Pour popcorn into lined pan, sprinkle remaining salt on top (1/2 tsp – 1 tsp depending on your personal taste preference) and place in oven. Bake for 30 minutes, stirring every 10 minutes.
Allow popcorn to cool on a parchment lined counter.
Notes
You can add in 2 cups of nuts to the un-coated popcorn if desired! Coat with caramel as states!
Nutrition
Serving Size:

1 cup

Calories:

168

Sugar:

9.1 g

Sodium:

295.8 mg

Fat:

11.9 g

Carbohydrates:

15.3 g

Protein:

1.2 g

Cholesterol:

30.5 mg
Keywords: popcorn, cookies and cups, caramel corn, salted caramel, popcorn recipe
Want To Save This Recipe?