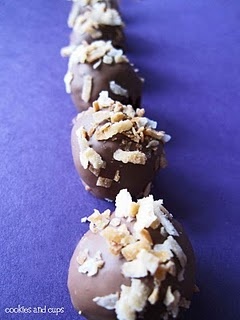 As most of you know it is Girl Scout cookie time again. When else would I pay $4 for a box of pre-made, packaged cookies? A box that holds only 12 moments of bliss.
Well, I rationalize things, my friends…
they only come once a year.
That is my most favorite "deal" I make with myself.
"Once a year."
How many times do you splurge within the course of the year because it will only happen just ONCE?
In my own persoanl experience this happens just about every other day. You know it's always SOMEBODY's birthday, or some sort of holiday.
It's not my fault!
But Girl Scout cookies fall into a league of their own.
Yes, they are once a year, but also, they are gooooood.
Plus, neighbor "X" bought popcorn from my little guy last month so now I HAVE to repay the purchase…
and neighbor "Y" and "Z"…
That's the way it goes in the suburbs.
The unspoken rule, so to say.
Well, this year that "time" has rolled around and, so it seems, the hubby and I have been dealing with different neighbors (and random girls at the table outside the supermarket)
and we have purchased no less than 12 boxes of Samoas.
Have you ever had those?
The Girl Scout Cookie to which all others are compared.
Crunchy shortbread cookie topped with chewy caramel, toasted coconut and JUST the right amount of chocolate.
So delicious!
So now I sit and stare at the purple boxes in my pantry.
I could "splurge" because, you know, one time a year and all…
or…OR
Yep,
Mama truffled those babies.
Can I get a high five?!?
I will tell you that this idea was derived on the way to a Weight Watchers meeting…
yes, I do get the irony.
That's what we do…go get weighed in and then think of all the things we can eat because we don't have to get back on that scale for an entire week!
I know, it's a little sadistic.
So, now presenting Samoa Balls. hehe, ok maybe not…
Maybe Samoa Truffles?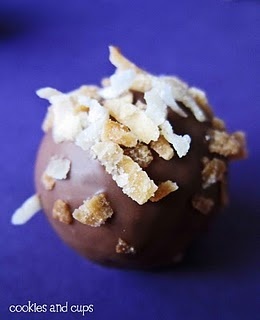 Print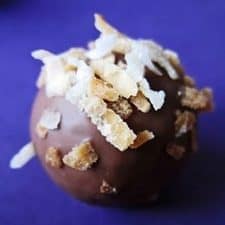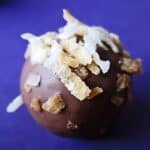 Samoa Truffles
---
1

box Samoas

1/4

pkg. cream cheese softened (

2 oz

)
melting chocolate ( I used chocolate melting disks)

1/4 cup

sweetened flaked coconut
---
Instructions
Crush Samoa cookies in a food processor until they are a fine crumb.
Mix the crumbs with your cream cheese using the back of a spoon or you hands.
Form them into balls and line on a baking sheet covered in wax paper.
Freeze these for 20 minutes.
Meanwhile in a pan over low heat toast your coconut. This will take 5- 10 min. Stir consistently, because once it starts to brown it will happen quickly.
When you're ready to assemble the truffles melt chocolate with 1 Tbsp of Crisco until smooth.
(If serving on a stick, insert stick carefully now before dipping)
Dip each Samoa ball into the chocolate tapping off the excess and placing back on your wax paper.
Sprinkle with toasted coconut.
Let dry.
---
Want To Save This Recipe?
Find more recipes like this: