Ok, so this week we're gonna do S'mores.
And by we, I mean me.
I have a different S'mores-inspired treat lined up for you everyday this week…
What can I say?  I was inspired by the chocolatey, marshmallowy, graham crackery-ness of it all.
The ideas just kept coming.  Honestly, I could do a S'mores month…
BUT not to bore you guys too much, I decided to hold myself back and keep to it one week.
One week filled with campfire goodness.
Although, since we all know how I feel about the outdoors, these S'mores will be less about the campfire and more about the stove-top.
And luckily for you most of the treats I have planned are no-bake.
It just keeps getting better, doesn't it?
ANNND, on Friday my friend Callye talked me into doing a link-up party, so I can see all of YOUR favorite S'mores treats.
Fun?  I hope so, because there's only a few thoughts scarier than having a party where no one shows up.
It's right up there with axe murderers and spinach in your teeth.
So yeah.  I'm officially declaring it S'mores week.
I'm making it a thing.
First up on my week o' the S'more is a jarred version.
Sounds glamorous, yes?
Shush.
Well, what these treats lack in glamor they make up in adorableness.
They're basically the Selena Gomez of desserts.
S'mores in a jar.

Besides being adorable, they are super easy.
All you have to do is make some pudding, crush some crackers and spoon some fluff.
I got kinda fancy and toasted some marshmallows to go on top, but you don't have to.
No one will care, really.

Eat them now, or save them for later, it's really up to you.
And being in jars, they are totally portable.
What's better than a portable dessert people?
Then you can eat…at home on your couch, or at a BBQ, whatev.  These S'mores aren't geographically exclusive.
Hope you guys are excited about S'mores week.
And if you aren't…no one's asking 😉
ps ~ if you want to get jars similar to mine, here's a link.
pps ~ I said "s'mores" 8 times in this post.  Annoying.
Print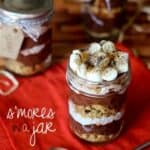 ---
Ingredients:
6

(8 oz) canning jars, lids optional

1

(1.4 oz) package of Chocolate pudding, prepared according to package directions and chilled.

1 1/2 cup

s coarsely crushed graham crackers

1 1/2 cup

s Marshmallow Fluff

1 cup

mini marshmallows for garnish
---
Instructions:
Prepare the pudding according to package directions ahead of time, chill in medium bowl until set. (You can use regular pudding or instant)
Start assembling your jars with approximately 1 1/2 Tbsp of crushed graham crackers, followed by 1/12 Tbsp of pudding, followed by 1 1/2 Tbsp of Marshmallow Fluff. Repeat the process until jar is full.
If desired toast mini marshmallows for garnish with a cooking torch.
If you don't have a cooking torch you can pour mini marshmallows on a baking sheet.
Set oven to "broil".
When oven is ready place the baking sheet on the top rack closest to broiler and leave for 15 seconds. The marshmallows will toast VERY quickly, so stand close. Remove immediately and garnish, if desired.
---
Notes:
store covered in the refrigerator for up to 2 days
Want To Save This Recipe?