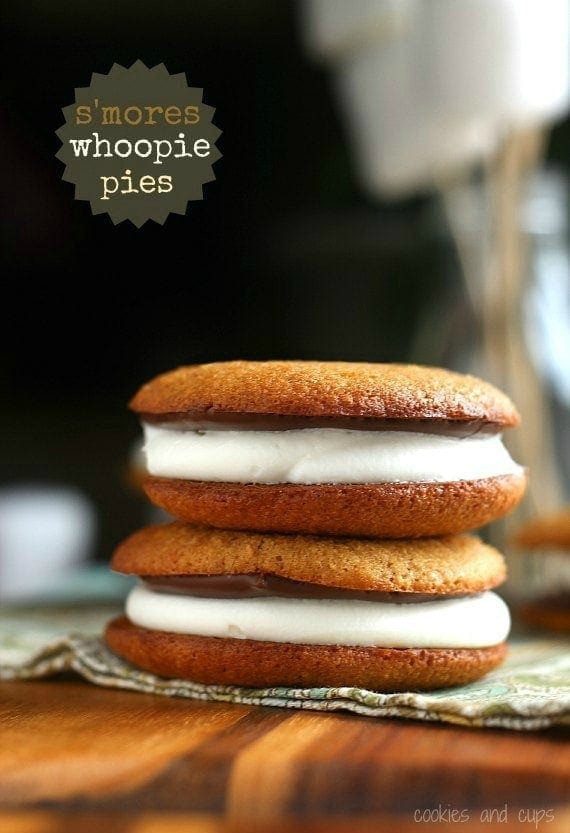 I don't presume to think that everyone who comes to visit me here on my internet space actually READS what I write.
I am sure the majority of people don't, actually.
A quick glance at the sugary treats and they are on to more important web-business like facebooking and pinteresting and twittering.
Yep, that was totally a shameless plug for all my social media hang-outs.  Sorry.

MY OTHER RECIPES
So anyway, I decided to do an experiment.
Because without coming across as too bratty, I can mostly tell when you leave comments here and you haven't read what I wrote.
Which is cool.   I mean, I know you guys all have lives that go beyond me.  I cry a little at the thought, but I know it to be true.
But sometimes you guys make it so obvious.
While, I am NOT a secret agent who has Inspector Gadget-type spy stuff…I use pretty a simple process of elimination-style investigative tricks.
For example, I am certain you must not have read my post if you leave a comment asking me where I bought a particular item that I have linked to 40 times in said post.
Just a guess.
Another tactic of mine to catch the non-readers is when I  write stories that are really ridiculous.  I mean, remember that time I wrestled an electric eel, who bit me and made me glow?  So now I power my house with my finger.  It's pretty awesome…a totally earth-friendly way to save electricity.
The reason I know you didn't read that is because you don't even mention it in your comment.  I get that the sugary treats are distracting, but seriously, I am now ELECTRIC.  That's definitely comment-worthy.
Ok, fine.  I'm kidding, that didn't happen.  I'm not electric.  Honestly I try not to go in the ocean at all.  It's filled with crittery-critters who basically live life proving the idiom, "don't poop where you eat", wrong.  And since mixing poop with pleasure is against my religion, that explains my aversion to the ocean.
Anywayyyy…
Don't get me wrong I love your comments and wish more people would write them.
Alls I'm saying is that maybe if you're going to take the time to write me a love note, make it a cool love note.  Don't be scared to tell me what you're thinking.  I mean, unless it's really mean.  Because that wouldn't be very nice.
True story, just yesterday I had someone leave me a comment telling me that I could graze their boob.  That really happened.  Read the comments on this post.  I'm not necessarily asking you to leave me suggestive commentary, but I felt the love on that one.
I really hope that didn't come off as bratty.
Really you can do whatever… read, don't read, whatever works for you, because honestly, I'm just glad you're here 🙂
And to show you my love I am totally going to give you a sandwich cookie that will rock your world.
It's a S'mores Whoopie Pie.
Which again, I SO didn't invent.  This whole s'mores week has been a lesson in my mediocrity.  There are some smart people in the world and google tells me so on a daily basis.
S'mores Whoopie Pies.
Here's what you do…
Crush some graham crackers up into a fine dust.

You'll need a cup and a half, which is about 9 full crackers smushed.


Mix up your batter.
It will look like this…

Drop the batter by the tablespoon onto a lined baking sheet.

They will look like this when they are all baked up…

Next you have to make them happen. Flip half of them over…


Then melt up your milk chocolate bars and give one side of your sandwich a schmear.


Don't neglect the other side. Cover him with some marshmallow buttercream.

That's it! Squish those two lovebirds together and you'll get this…


Isn't she gorgeous?
Print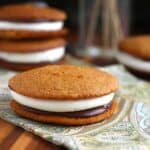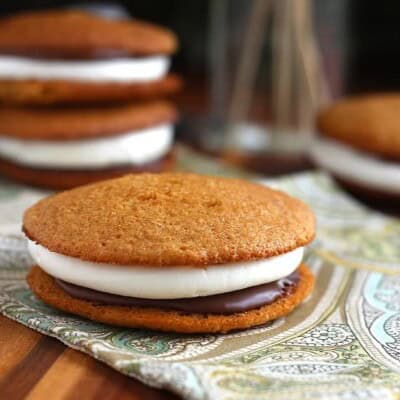 S'mores Whoopie Pies
---
---
---
---