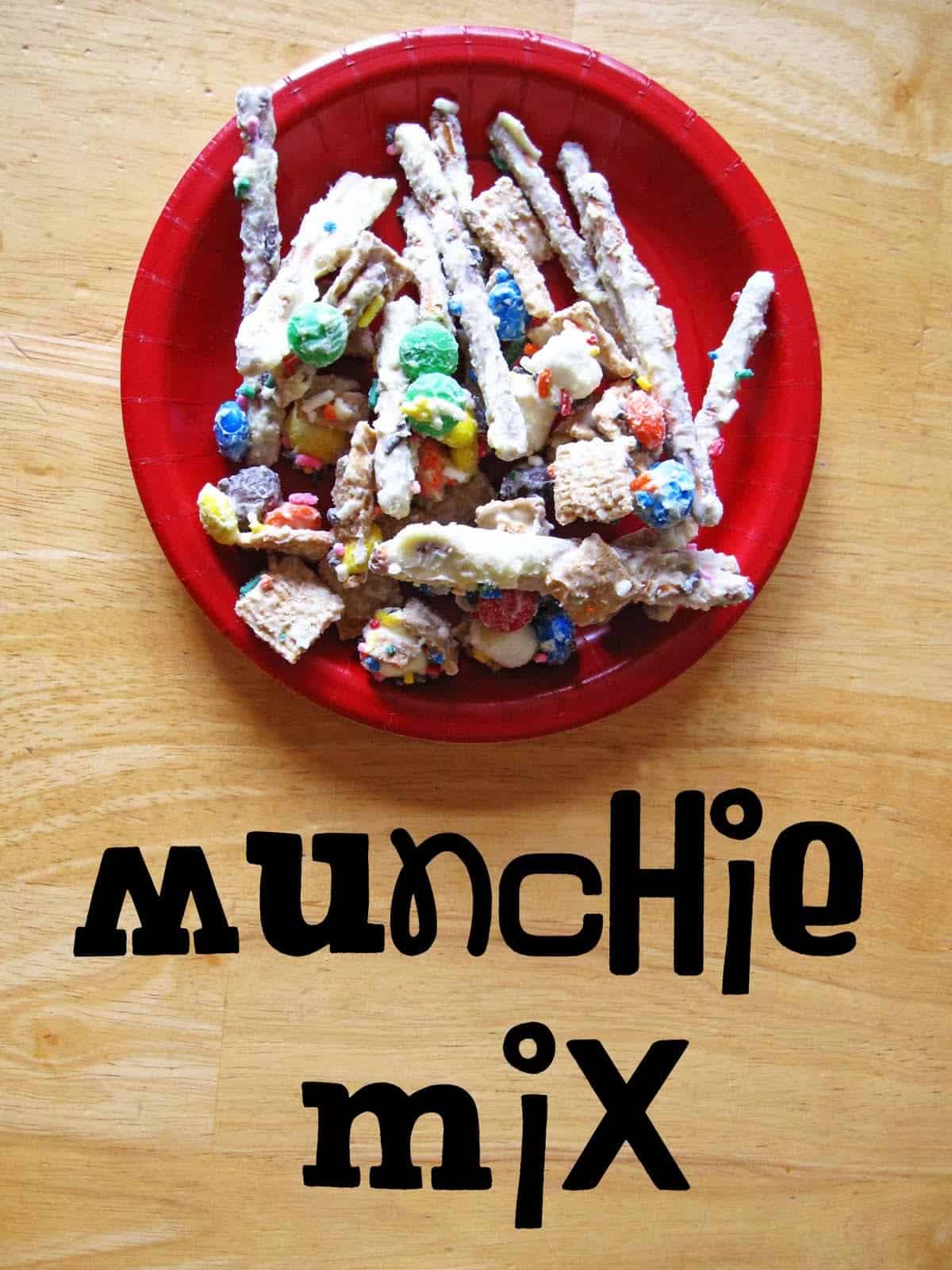 Snacking.
It's bad. BAD.
I could snack all day and never eat a meal.
Honestly, I don't always snack on junk food, just usually.
Tryin' to keep it real, folks.
I wish I could be one of those people who cut up fresh veggies at the beginning of the week and portion them out for daily consumption.
I guess I just don't want it bad enough because, currently, there are no portioned out veggies in my fridge.
There is only crazy good snack mix beckoning me from the kitchen counter.
Do you hear it calling? Listen…can you hear it?
It's yummy…and as most snack mixes go, addictive.
So, if you are trying to work on your snacking situation, DON"T make this.
But, if you're cool with the snacking, go for it.
Just sayin'.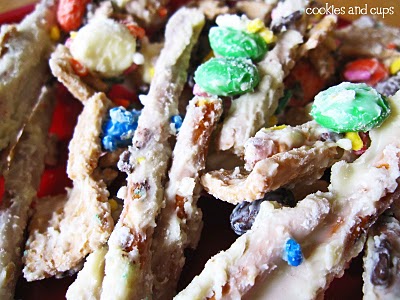 I have had this recipe bookmarked since September or something, and I decided to make it now because of the Easter candy that still lingers in my pantry.
This is another one to help use up any leftovers, because you could throw just about anything in here and I pretty much guarantee that it would be good….except maybe a portioned out veggie…
but, you know what…coated in white chocolate that red pepper wedge might stand a chance in my house 😉
Munchie Mix
adapted from Megan's Cooking
1 cup peanut butter M&M's (or you could use peanut M&M's or just salted peanuts)
1/2 cup rainbow sprinkles (optional)
Line 2 baking sheets with wax paper…
or if you have a silicone liner that works great
In large, microwave safe bowl melt 6 oz. white chocolate on 50% power for 1 minute. Stir. Continue in 30 second intervals until JUST melted.
This is the chocolate I used…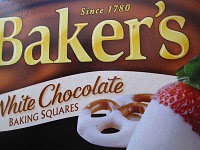 Spread on one of your lined baking sheet to set.
Once pretzels are set, melt remaining chocolate in
you microwave safe bowl. Follow same directions for melting chocolate.
*If you prefer to use a double boiler that is great, or follow instructions on the package of white chocolate you purchased.
Add Golden Grahams to melted chocolate, stir to coat.
Next add M&M's and marshmallows to the mix.
When all of this is coated, transfer to a large bowl and add prepared pretzels.
As you add the pretzels, you can break them apart.
Now if you choose, add the sprinkles, and then stir all together.Spread mixture on both baking sheets…you will need both because it is a lot of mix and you don't want it piled too high, so it will set faster.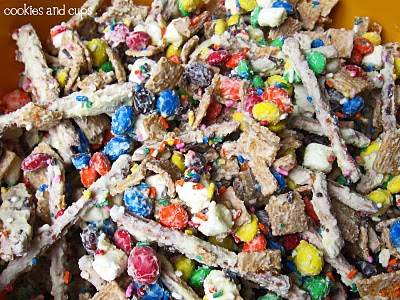 Pop this in fridge for a few minutes and take out when set…
Combine in a bowl and cover until ready to munch!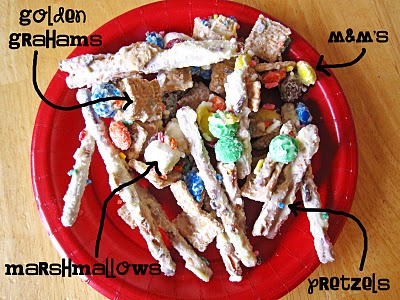 There's a little bit of everything, and you can add or omit to suit your own taste!
So, make it if you crazy like that…you won't be sorry…or maybe you will be 😉