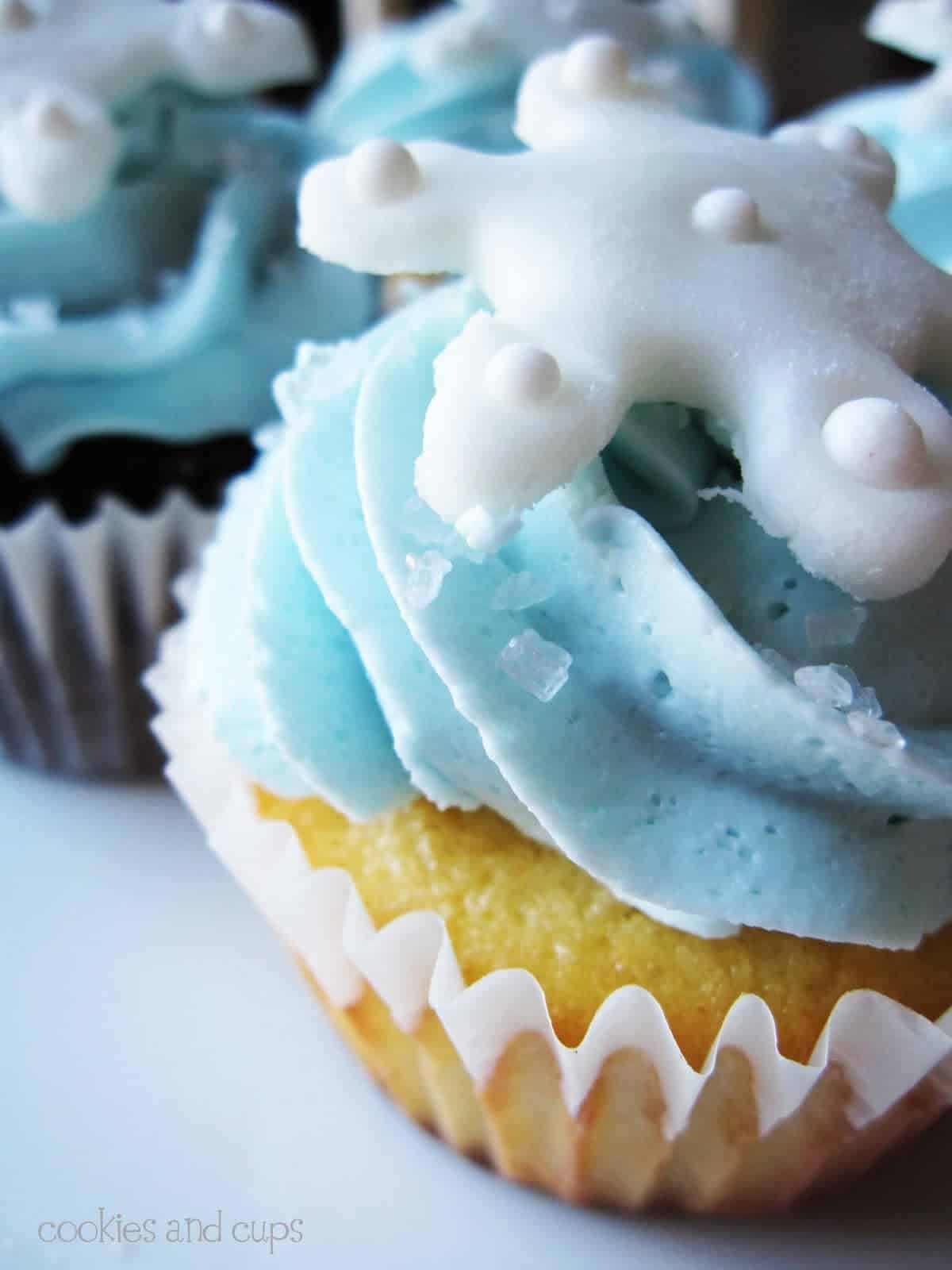 The New Year is upon us.
2010.
How crazy is that?
2009 has brought me many blessings, many memories and many added pounds from all this damn baking!
If I could tell January 2009 self that the 20 pounds that I wanted to lose, would be 20 pounds gained I would probably not have baked and blogged so much, probably wouldn't have sold so many cookies and cupcakes and probably wouldn't have encountered so many awesome people in the blogging world. So, while January 2010 self has a bit of a weight battle, with each pound gained was an enjoyed moment…delicious buttercream, tasty truffles, oh-so-yummy cupcakes. So with the same verve I showed for butter and sugar concoctions I plan to limit myself. Notice how I said limit…
That said, please take a moment to listen to me rant.
See these snowflake cupcakes?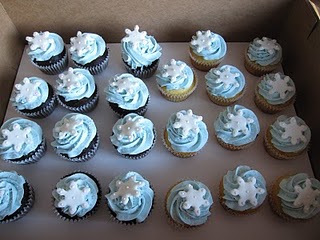 Well, I made them for a "Winter Fun Party" for a friend. She asked for a mix of chocolate and vanilla cupcakes. No prob.

Here's my mistake…I didn't use my usual vanilla cake recipe, my tried and true (and delicious) recipe.
I do this sometimes…I finally figure out the perfect recipe for something, make it many times and then get a littIe bored. Assuming that there must still be something better out there. Am I the only one here?
So, since this was a friend, I decided to deviate from tried and true vanilla cupcake and

re-try

a recipe that I didn't have such great luck with before.
I know, I know. Dumb.
I pulled out the Martha Stewart Cupcake book and gave the Yellow Buttermilk cupcakes a second chance. First time around, I ended up with good tasting, yet dry-ish, dense cupcakes.
Thinking that I must have made an error somewhere I tried again.
They came together nicely and baked great.
I assembled the cupcakes and delivered them.
Side-note: I had a little extra cake batter leftover while making these so I baked a small little cake to enjoy with the "extra" frosting I made. I always seem to have "extra" frosting, it's one of those sneaky little tricks I play on myself when making buttercream…make a little extra,

just in case

. Hence the 20 extra pounds.
Back to the cake ~
First bite = disappointment. It was the same dense, dry-ish cake that it had been the first time around. Not my normal cupcake. I could kick myself for being so dumb.
Please explain this to me, all of you bakers out there…
The Martha issue.
How can someone so famous for being a baking/cooking extraordinaire be so off a good portion of the time?
I am not writing this in vain. I have tried many a Martha recipe, cupcakes included, where I was left feeling like I was missing something. Did I do this wrong, or is it just a bogus recipe?
I WILL say this, some of her cupcakes are phenomenal. Truly. But for a person who makes a gazillion dollars, don't you think that her plain yellow cupcake, would be a good one? It's a basic, right?
I have long been a Martha follower and understand that all recipes are not winners, or at the least "not my taste". But we are talking yellow cake here, not some insane baking challenge. I know I am not alone on this. I have read about other Martha disasters, but I just expect more from a woman whose whole existence makes a good portion of us feel less-than-worthy. I watch her show sometimes and can feel the pretentiousness oozing through the screen. Maybe this is just her way, not her intention, but seriously…yellow cake. Come on!
Don't get me wrong, it wasn't the worst cupcake ever, and it was my fault for making them when it counts. But I trusted Martha.
At least they were pretty.

Please don't hate me for ranting, especially when the topic, I am assuming will be polarizing, I just had to get that off my chest.
Hope everyone has a safe New Year's!