Hey guys!  Hope your 4th of July celebration was spectacular!
So I want to say a giant thank you to each and every one of you…your constant support, your comments, your subscriptions to my posts, your tweets, your pins… just everything.
Annnd I recently reached 20,000 facebook followers which is crazy awesome!
So, to thank you I want to give you something fun.
My latest favorite gadget.
I love it.
As in, wanna marry it kinda love.  I even included it over on my list of summer favorites.
It's a Sodastream.

Have you heard of it?
Of course you have.
Well, you need one.
You don't' think you do, but you do.
You can make your own soda, obvs….but you can also make your own sparkling water, sparking lemonade, fizzy Crystal Light, sparkling iced tea and even your own energy drinks!  I mean, homemade Red Bull?  Yes please!
So the people at Sodastream have offered to let me giveaway the Fountain Jet Soda Starter Kit to one of my readers.
It comes with:
–          Fountain Jet – winner's choice of color (black/silver, red/silver or white)
–          1 carbonating bottle, reusable for up to 3 years
–          Reusable carbonator to fizz up to 60L of soda
–          Variety 6-pack of popular sample-size flavors
–          3 full-sized flavors of the winner's choice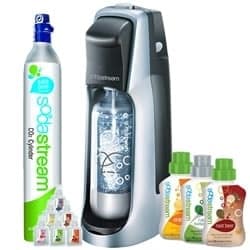 So to enter to win the Fountain Jet Starter Kit, all you have to do is leave me a comment here telling me what you think you would use it for most…soda?  Sparkling water?  Flavored water?  Energy Drinks?
Check out all the options HERE!
Pick your poison.
If you would like additional entries, I would love it if you did any of the following:
For all additional entries go ahead and leave me another comment telling me what you did, a separate comment for each entry.
So you have up to 5 chances to win!
The contest ends Saturday, July 14th at 11:59 pm EST.
CONTEST CLOSED!
The winner is "Sarah B" comment #339!