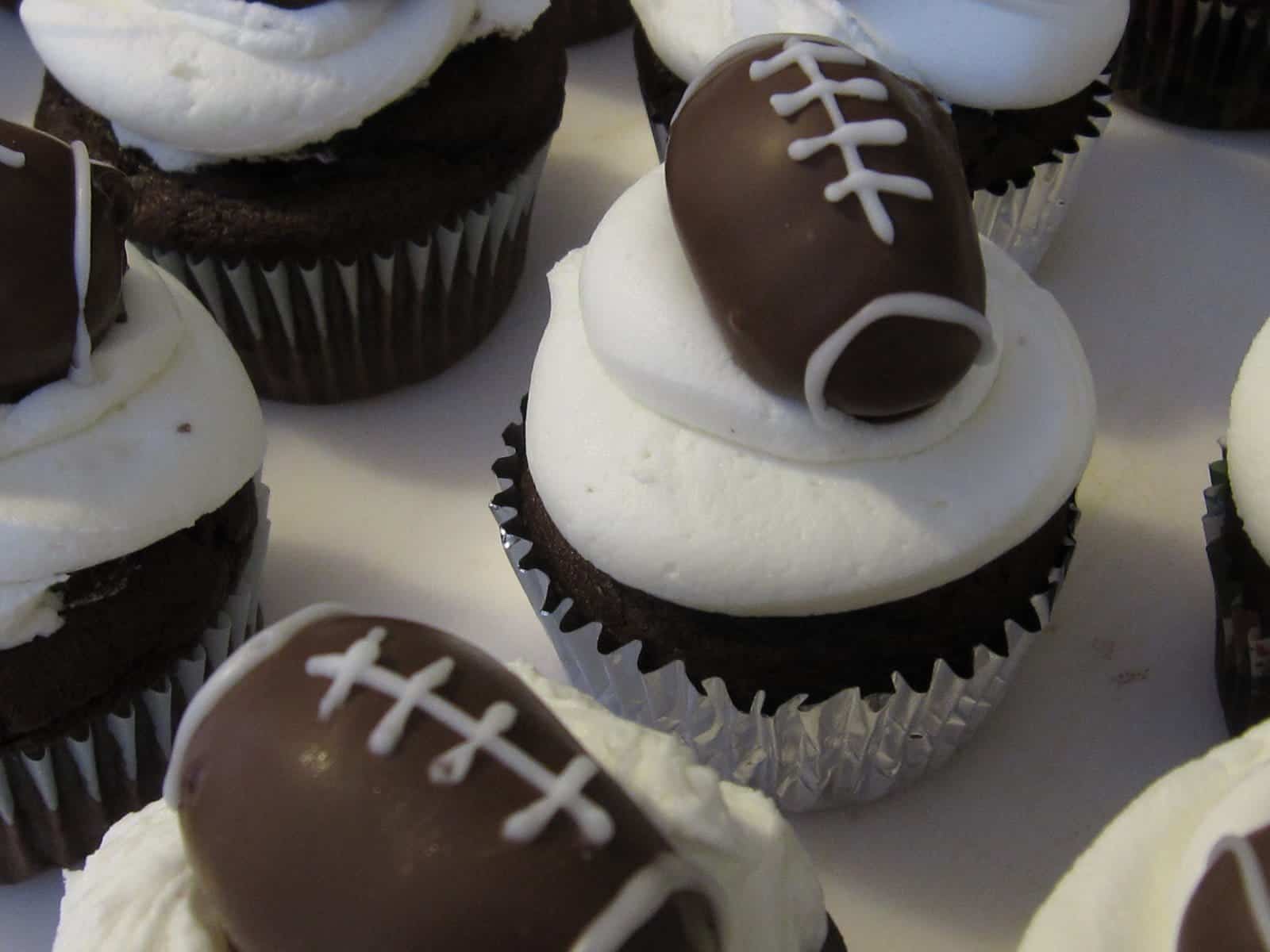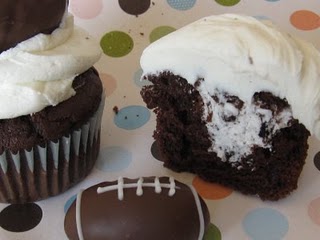 I made these cupcakes for a Superbowl party we went to…turned out really cute. I saw the idea for the truffles on Bakerella's blog
,
which has some really fantastic ideas. The truffles could stand on their own as a cute treat, but I used them to top off the cupcakes.
The cupcakes are chocolate cake with a cookies and cream filling, frosted with vanilla buttercream and topped with the Oreo football truffles.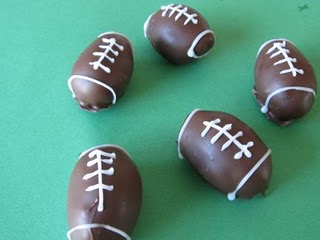 I made my standard chocolate cupcake/cake recipe:
1 1/2 stick butter-softened
2/3 c. sugar
2/3 c. light brown sugar
2 eggs
2 t. vanilla
1 c. buttermilk-shaken & room temp
1/2 c. sour cream
2 T. brewed coffee
1 3/4 flour
1 c. cocoa powder
1 1/2 t. baking soda
1/2 t. salt
Directions:
1. Preheat oven to 350
2. Cream butter and sugar together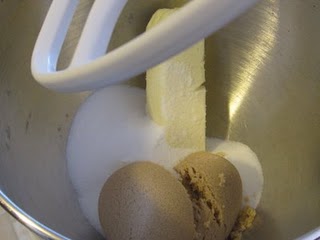 3. Lower speed to medium and add eggs, one at a time
4. Add vanilla and mix well.
5. In a separate bowl sift together flour, cocoa powder, baking soda and salt.
6. In another bowl whisk together buttermilk, sour cream & coffee.
7. On low speed add buttermilk mixture and flour mix alternately in thirds to mixer, beginning with buttermilk and ending in flour. Mix only until blended.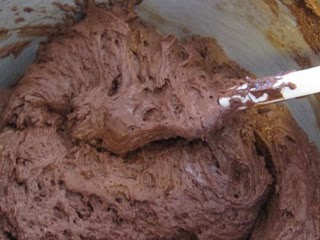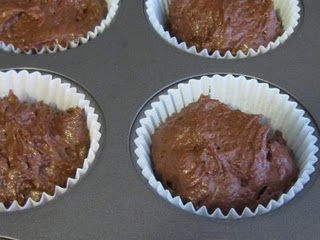 For cupcakes bake 17-22 minutes until toothpick comes clean.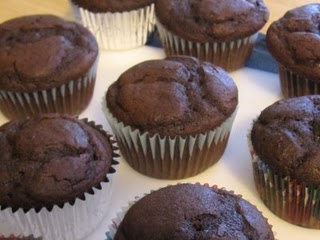 Cool in cupcake pan 10 minutes and then remove to finish cooling.

For the filling I waited until the cupcakes were completely cool (about an hour), then I mixed 1 1/4 c. heavy cream 1/3 cup powdered sugar 1 t. vanilla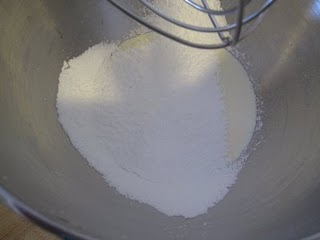 in my mixer at high speed for approx. 2 minutes until the cream formed stiff peaks…not too stiff, though otherwise you'll turn your cream into butter! Lastly I crushed about 10 oreos with my rolling pin in a ziplock…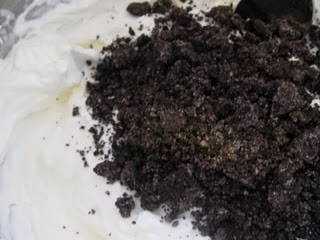 and gently folded them into the whipped cream. There's your filling! To fill the cupcakes I like to cut out a cone in the middle of each unfrosted cupcake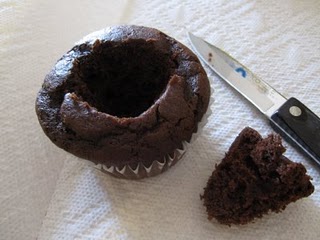 and spoon or pipe the filling in, replacing the top portion of the cut out cone. Don't worry that it doesn't look pretty, because you are going to frost over it!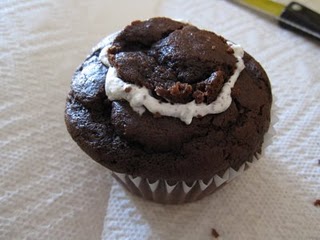 I frosted the cupcakes with my tried and true buttercream recipe:
( I usually double this recipe because I frost a little on the heavy side, plus if you have a little extra you can freeze it)
1 stick softened butter
1/2 c. vegetable shortening (I use crisco)
2 t. clear vanilla – I use clear if I am leaving the frosting white, if I am tinting it I use regular vanilla.
1/4 cup milk 7 cups of sifted powdered sugar ~give or take depending on the consistency you are looking for.
Directions:
1. Cream the sugar and shortening together at a med-high speed for about 2 minutes, until it appears smooth and creamy.
2. Add powdered sugar a little at a time ~ you don't want it going everywhere, mixing on medium speed,
3. When all sugar is in it will appear very dry, now add your milk and vanilla at medium-low speed until combined and then up your speed to med-high. You can tweak the amounts to fit the consistency you like the best…frosting is very forgiving, if you add too much powdered sugar add a touch more milk and vice versa.

I piped the frosting on with a ziplock bag with the corner cut off…this is my usual method for standard frosting. No need to get the tips and pipng bags out if I don't have to!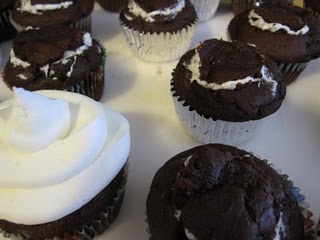 Now for the truffles:
1 pkg. Oreos, crushed…you can use the food processor or a ziplock with a rolling pin, whichever you prefer, but make sure they are a finely crush, you don't want big chunks.
1 8 oz. pkg cream cheese, softened.
1 10 pkg milk chocolate melting disks, or whatever you like to use for melting and dipping, like almond bark, or even chocolate chips. I used the disks because that was what I had on-hand.
1. First mix the cream cheese and the crushed oreos together. I started out with a large flat spoon, and ended mixing it with my hands, it was just easier.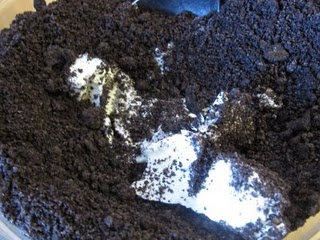 Then I formed them into football shaped balls, approx. 1 1/2 inches long and put them on a waxed paper lined cookie sheet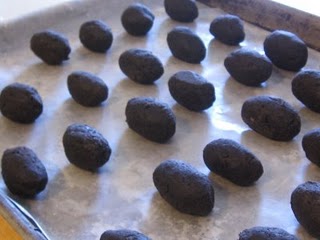 I know, they kind of looked like poo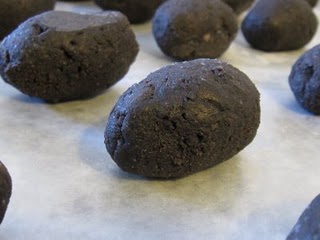 I then popped them in the freezer for about 10 – 15 minutes
Meanwhile, melt some milk chocolate discs to dip the oreo balls in…
make sure to tap off the excess, otherwise they will lose the football shape and be foot"blobs".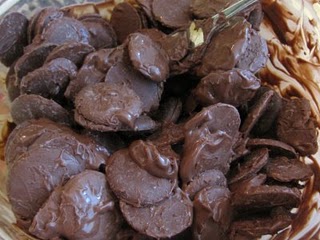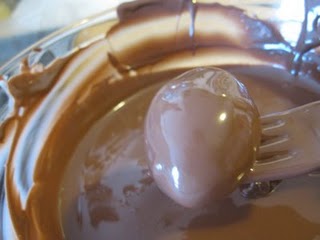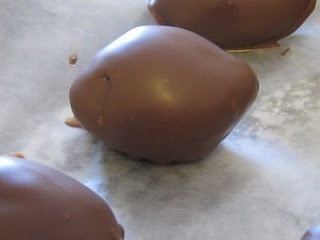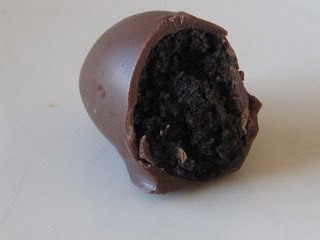 After they have dried I mixed up a small batch of a simple Royal icing
and piped on the stiching, so they resembled footballs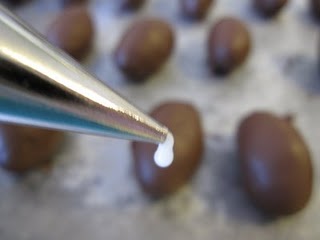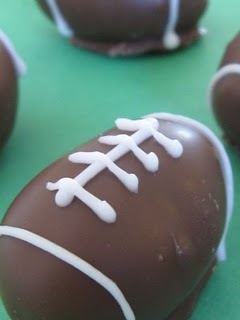 Finally I put a football on each cupcake and was ready to go!!!