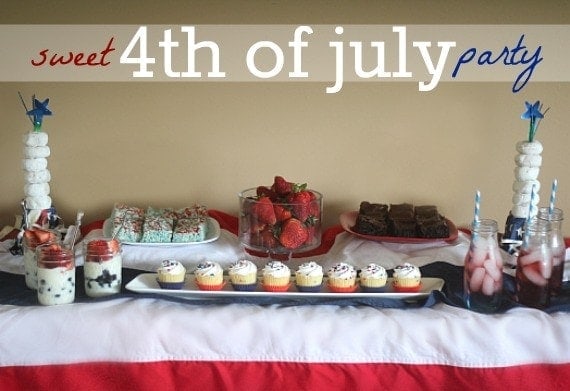 I'm a Texan at heart and Texas girls like themselves a themed party. And really, what's a better theme than 4th of July?
Really, you can make most things fit in to the red, white and blue mold…

And desserts are the most adaptable, don't you think?
What I have done with my 4th of July themed table is not only keep it sweet and festive…but also I've made it on a dime. Which saves more money for shoes. That's really what we're all after, right?
Let me walk you through the easiest dessert table of all time. That might be an overstatement, but you catch my drift, right?
Does anyone say catch my drift anymore?
Annywayyy…let's do this thing.
I used my Memorial Day bunting for a table cover, but you could simply use a red, white or blue tablecloth…or hey, all three would look cute, too! A trick to keeping your dessert table looking neat is to use all solid plates—white preferably—but in this case, red or blue would be great.
To add height to flat plates you can stack books, or a shoe box, under the table cloth to add height variation.
I'll walk you through my table…
I got an eensy bit crafty and made two mini doughnut towers.
And trust me, when I say crafty, I mean a first grader would not have any trouble putting this together. These towers are so basic they can be put together in five minute, tops.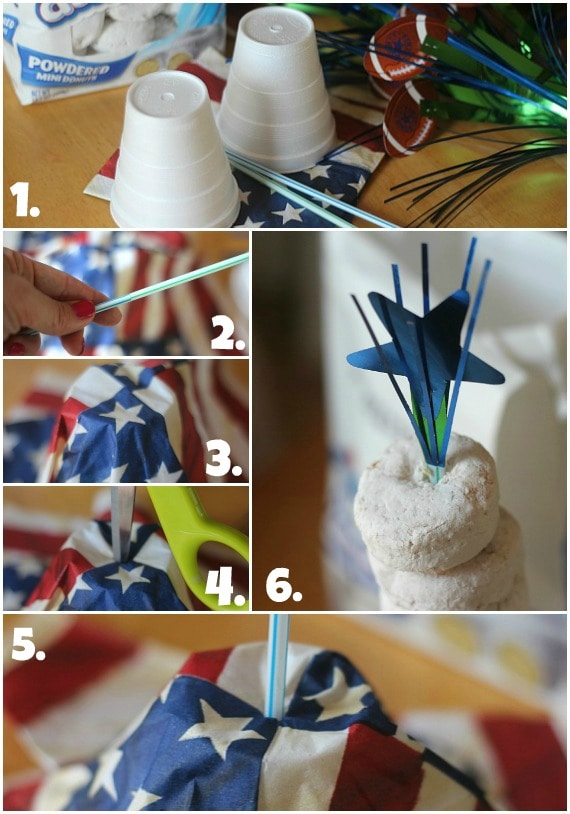 1. I used a styrofoam cup, two straws, a patriotic napkin and some tinsel that I had in my basement.
2. I stuck the two straws together to make them a little bit longer, but then trimmed off about four inches because I didn't want the weight of the doughnuts to bend the straws.
3. I turned the cup upside down and placed the napkin over the cup.
4. I poked a small hole in the napkin and cup with a pair of scissors.
5. I gently pushed the straw through the hole in the cup.
6. I threaded the doughnuts through the straw and used the tinsel for decoration at the top. That's it!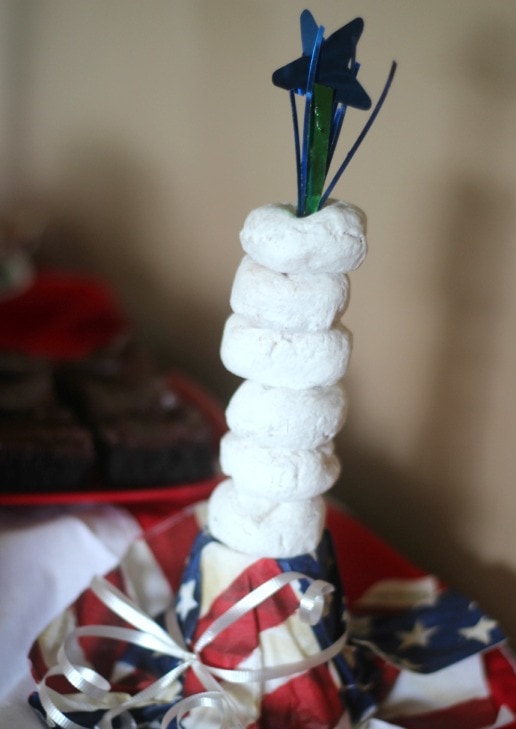 To make it a touch more decorative I tied some curling ribbon around the bottom to hold the napkin into place.
The rest of the table has some easy-to-make or -buy goodies…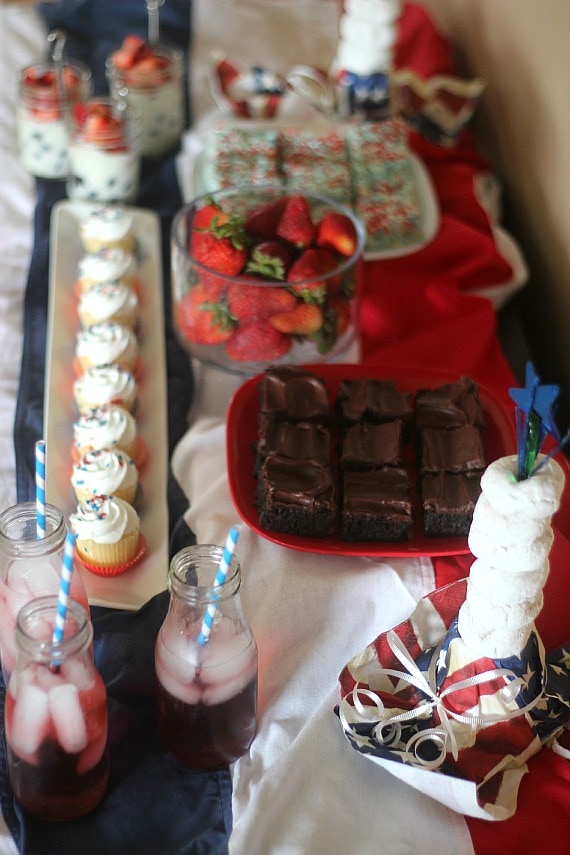 Cupcakes, brownies and strawberries are easily adapted into the Patriotic theme…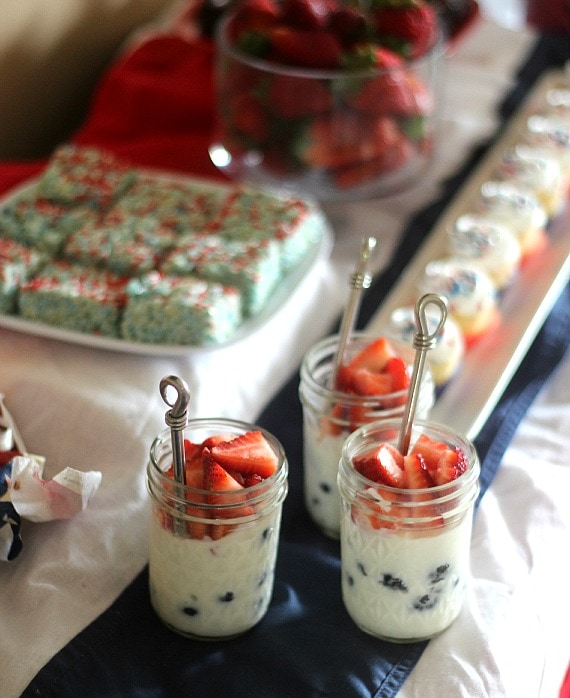 And how about these krispie treats?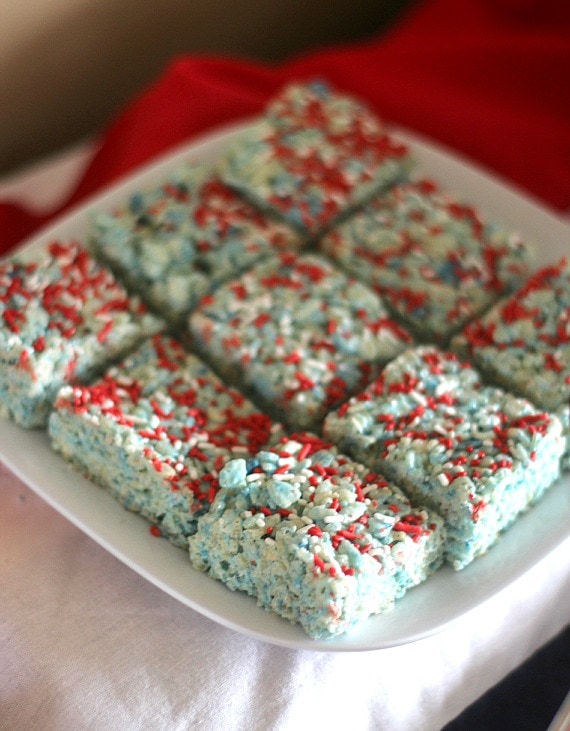 I tinted the melted marshmallow blue and used some red and white sprinkles on top.
So easy.
Also, blueberries and strawberries mixed with some vanilla yogurt is a healthier alternative to all the sugary goodness!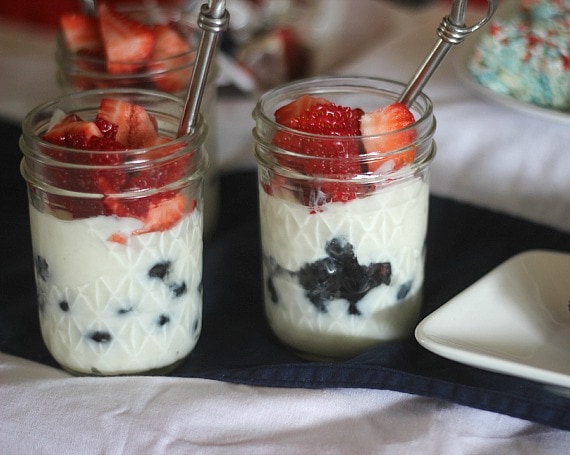 I had so many ideas for this table, but I ran out of space!
You could include ice pops, sugar cookies, fudge, watermelon…the ideas are endless.
My favorite part of the table has to be the Patriotic Punch…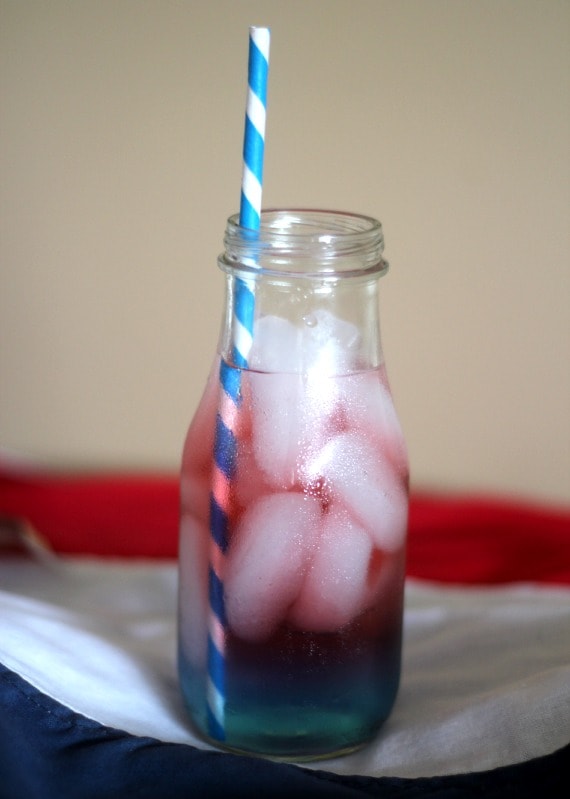 It's so easy to make and super refreshing…
Print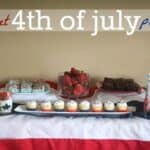 Patriotic Punch
---
Cranberry Juice
Dark Blue Sports Drink
Lemon-Lime Soda
Cubed Ice
---
Instructions
Fill glasses with ice and carefully layer the juices, starting with blue sports drink, then the cranberry juice and, finally, the lemon-lime soda, in three equal portions.
---
Want To Save This Recipe?
Now it's your turn: Invite a dozen friends over and let them ooh and ahh over the dessert table that took you 15 minutes to throw together!
Now, how about those shoes…
This post is part of the BlogHer Summer Entertaining series, which includes 100 percent editorial content presented by a participating sponsor. Our advertisers do not produce editorial content. This post is made possible by Home Depot and BlogHer.
What are your favorite patriotic-themed sweets to serve? Share your ideas in the comments below.