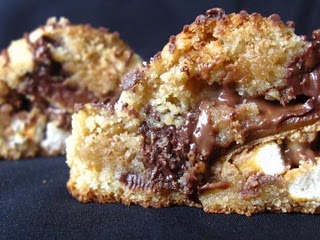 So, I was bored today…well, not really

bored
–
bored…just procrastination
-bored. You know the kind…where you have loads of things you SHOULD be doing, but you just can't seem to get motivated to do them.
ENTER Take 5
.
There they were sitting unassumingly in our pantry, purchased for a reason I don't remember…
So, why not? Right? They will be happy in cookie form…

right

? Or how about this ~ I will be happier making cookies then, say…doing laundry…Alright that's probably closer
to the truth =)
If you are unfamiliar with the Take 5 bar it is a delicious mish-mash of goodies. It is a waffle-pretzel topped with Reeses Peanut butter layered with caramel and peanuts covered in Hershey's Milk chocolate…trust me, these are GOOOOOOOD!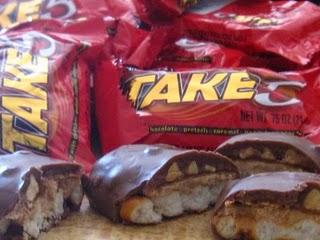 Here's what I did:
2 sticks butter-room temp
3/4 c. smooth peanut butter
1 c. sugar
1c. brown sugar
2 eggs
2 t. vanilla
1 t. baking soda
1 t. salt
3 cups AP flour
1 1/2 c. chocolate chips ~ semi sweet
1 bag Hershey's Take 5 ~ Snack Size
Cream butter, peanut butter and sugars
Add eggs one at a time
Add vanilla
Mix dry ingredients separately.
Slowly add dry ingredients to mix
Add chocolate chips.
Chill dough for about 2 hrs.
After dough is chilled preheat oven to 375
Unwrap Take 5 bars and cut in half
Now take a large spoon-full of dough and cover each candy…don't worry these cookies are large. You could always quarter the Take 5's if you wanted a larger batch of smaller cookies.
Bake for about 7-8 minutes until cookie starts to brown around edges.
Wait for them to cool and garnish with a drizzle of chocolate or caramel..or hey, both if you're feeling crazy!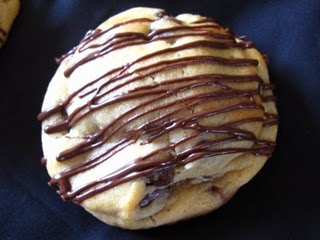 These cookies were really good, and really rich. The pretzel in each one is a little salty surprise and the rest of the Take 5 makes for a delicious gooey cookie.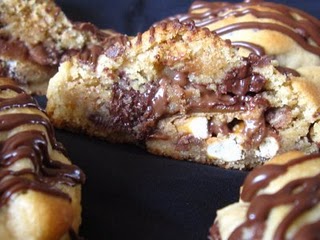 Now, thinking I had come up with something original here I quickly googled "Take 5 cookie" and low and behold there are versions out there…I didn't find one like mine, though, so I will take full credit here =)
Have a great day!