Hello my people…
Fall is upon us and winter is not too far off. The days are so short. So short. Most of the leaves on my trees have fallen and Thanksgiving is only next week…how did that even happen?
This year has been quite the busy one for me…I have finished up my book (wooo!!), had the opportunity to do a lot of traveling and kept up with all sorts of family excitement. And with it winding down I am feeling oh so nostalgic about 2015.
Anyhow I wanted to stop in and tell you all how thankful I am. Thankful for a healthy family, thankful for a happy life, thankful that I have this internet space to share sweet treats with the world, and thankful for YOU. I know with 100% certainty that my life would not be what it is today without the support I get from all my internet people. You are the sprinkles to my doughnut, man.
I can't even imagine what 2016 has in store for me (us). Definitely more cake…hopefully more shoes…always more gratitude…and for sure more exclamation points!!!!
So today because I totally can't keep anything a secret AND because I think you're so great I want to do a little something kinda fun…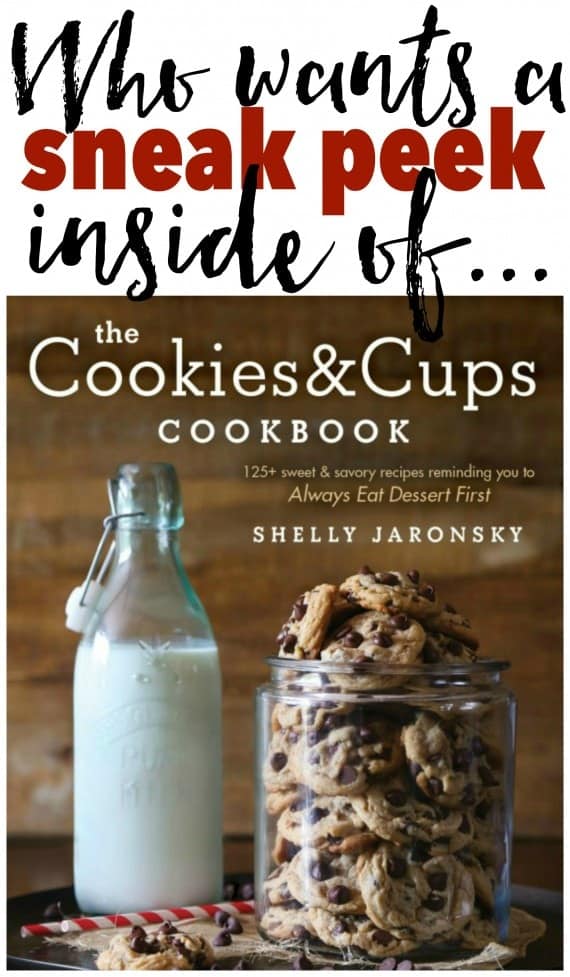 I got my Publisher's approval to share a recipe from my book EXCLUSIVELY with TEN of you bright stars. I am literally bursting at the seams with excitement over the recipes in The Cookies and Cups Cookbook and I feel like I need to share at least one (way) ahead of time. April is still a few months away and I freaking can't take it anymore!
SOOOOOOOOOO….here's how it's going to go down…
In order to be eligible to win this exclusive recipe, please post an answer to the following question on THIS FACEBOOK POST: 
Who are you thankful for this holiday season and why? Make sure to TAG the person you are thankful for as well so they know how you feel!
It's that easy. Once you've commented on facebook (and tagged your person) that is your entry…
The sweepstakes ends on Friday, November 20th, 2015 and  I will select TEN winners to receive a a first look at one of my favorite recipes from The Cookies and Cups Cookbook.
For rules and terms & conditions, please click on this link
And of course, if you want ALL the recipes from The COOKIES & CUPS COOKBOOK? Then pre-order now and I'll love you forever!
Thank you friends from the bottom of my heart! xoxox