The eternal debate.
No, I am not talking about Good vs. Evil, Democrat vs. Republican or even Jolie vs. Aniston.
Well, maybe Jolie vs. Aniston…but not today…
I'm talking Chocolate vs. Vanilla.
I mean, it truly is a hard choice…so many different factors play into the ruling…
If it's ice cream, chocolate wins all the way.
If it's cake, vanilla is the victor.
Chocolate chips or white chips…hmmm…now we have a problem.
Forget it, I don't have to choose, I'll take both!
My house is divided…50/50
BUT if you talk to my husband, vanilla comes out on top 99.9% of the time…only occasionally will he allow chocolate frosting on top of white cake.
When we buy Oreos in our house we buy regular for the kids and Golden for the elders.
Have you seen those Golden Oreos?
They are delicious…the only thing better is the Double Stuff Golden Oreo…I mean if we are going there we might as well go Double Stuff.
You only live once and all that.
I have seen many versions of regular (chocolate) Oreo Cheesecake bars…it seems like a perfect combo…until…oh yeah, you guessed it…
The Golden Oreo Cheesecake Bar.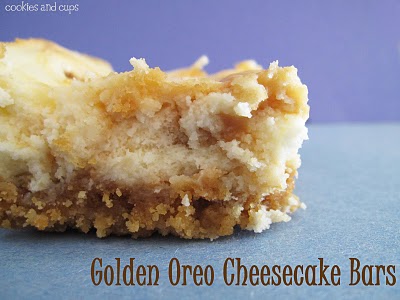 A standing ovation would be appreciated but not entirely expected.
Thank you, thank you very much.
It seems like quite an obvious dessert, but these beauties are new to me and every bit as delicious as you would imagine.
So, to all you people out there where vanilla rocks your world, these are from me to you…with love 🙂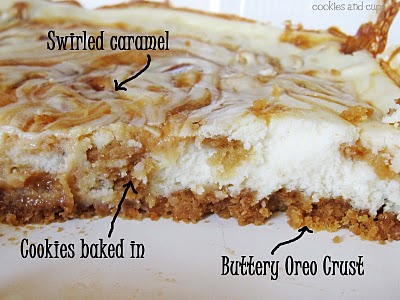 Print
Golden Oreo Cheesecake Bars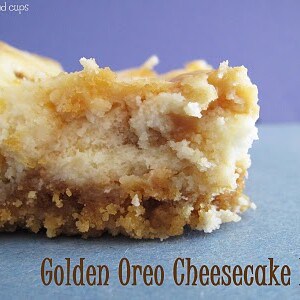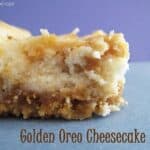 ---
Ingredients:
28

Golden Oreo Cookies, divided 18 and 10

3 Tbsp

. melted butter

20

–

24

wrapped caramels (or a

5.5 oz

. bag)

1 Tbsp

. water

2

pkg. (8 oz. each) Cream Cheese, softened

1 cup

Marshmallow Fluff

1

egg
---
Instructions:
Preheat to 350.
Crush 18 Golden Oreos (cream and all) in a ziplock bag (or food processor) until they are a fine crumb.
Pour crumbs into a 9″ square pan. Add 3 Tbsp. melted butter and combine using your fingers. Press firmly into the bottom of the pan to create a crust.
Bake crust for 10 minutes or until golden and let cool for 10-15 minutes.
While crust is cooling unwrap your caramels and put into a microwave safe bowl with 1 Tbsp. of water. Set aside
Now coarsely chop the remaining 10 Oreos. Set these aside as well.
With mixer beat the softened cream cheese and Marshmallow Fluff on medium speed until combined and smooth, scraping down the sides half way through.
Add your egg and beat for approx 30 seconds on medium until incorporated.
Stir in your chopped Oreos.
Pour this batter into the prepared crust.
Now, microwave your caramels and water for 1 minute on high heat, stirring once after 30 seconds.
When melted drop by spoonfuls onto the batter.
Using a knife, swirl the caramel into the cream cheese batter.
Bake 20-25 minutes until center is set.
Cool for 20 minutes on wire rack and then transfer to refrigerator for 4 -24 hours.
Cut into squares when completely cooled.
---
Want To Save This Recipe?