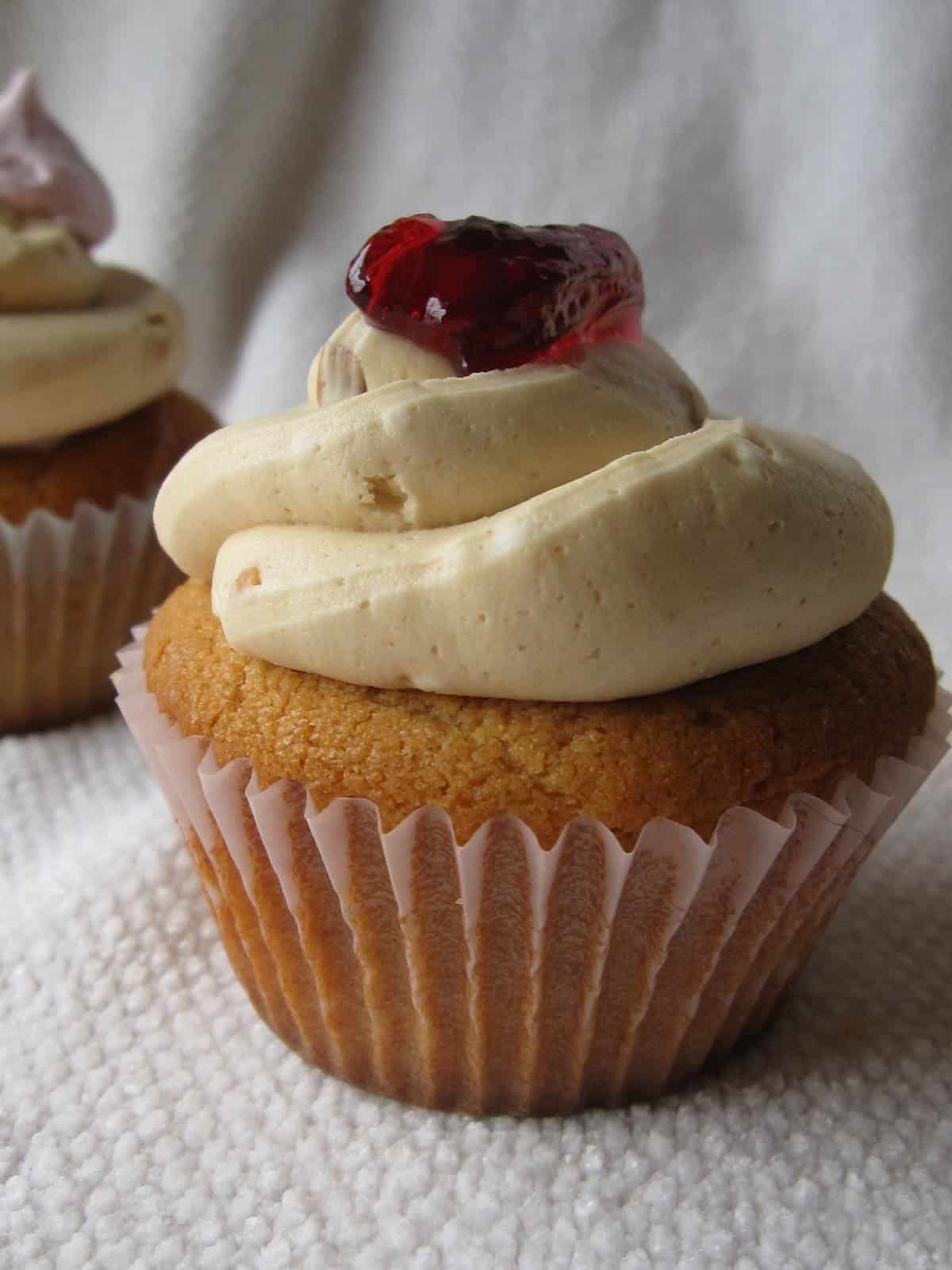 My husband has been on a PB&J kick for about 2 weeks now…he eats them for breakfast, lunch and occasionally as an appetizer before dinner ~ what can I say, the man commits. So the inevitable happened – he subtly requested that I give the PB&J cupcake a try.
No problem!
I figured what I wanted to do was make a peanut butter cupcake and stuff it with jelly and top it off with a peanut butter frosting. After I searching through of my favorite recipe sites and blogs it seemed like this was the way to go. But, after thinking on it a little longer I wasn't sure that I would like the jelly in the middle so I thought, what if I made a grape jelly buttercream?" HMMMMMMM, sounds like a thought…but WAIT! What if I made my kids favorite – a Fluffernutter cupcake? (For those of you who are deprived, that is a Marshmallow Fluff and peanut butter sandwich)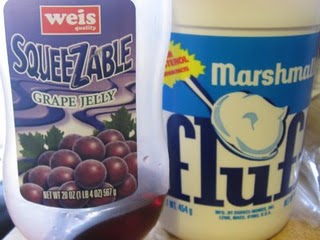 Too many good ideas to choose from, so I opted to make all 3 and do a taste test.
I first made a batch of peanut butter cupcakes.
3/4 c butter (6 T)
1 c. brown sugar
3/4 c. smooth peanut butter
1 egg
1 t. vanilla
1 c. flour
1/2 c. milk
1 t. baking powder
1/4 t. salt
Preheat to 350
Line cupcake pan with liners
Mix room temp butter, brown sugar and peanut butter in mixer at med until smooth. Add egg and vanilla and contine mixing for about 1 more minute, until smooth and combined. Sift dry ingredients together. Add flour in thirds, alternating with milk, starting and ending with flour. Mix until just combined.
Spoon into cupcake liners 3/4 way full and bake for approx. 20 min. Tops will crack a little and until toothpick comes out clean.
Makes 12 cupcakes
Now while the cupcakes are cooling you can make your peanut butter frosting.
Follow recipe for vanilla buttercream (omitting the vanilla-because you are going to flavor it with your peanut butter…so save your vanilla) and after the frosting is made add 3/4 c. peanut butter…smooth or crunchy is up to you. I prefer creamy, but that is personal preference entirely.
After the cupcakes have cooled I cut out a cone shaped bit of the cupcake from the center, saving the top…you are going to add your filling now.
Add whatever kind of jelly you like on your PB&J's, whether that be strawberry, grape or something a little more unusual (I used grape). OR, like I said above I made some Fluffernutter cupcakes, so I filled a few with Marshmallow Fluff.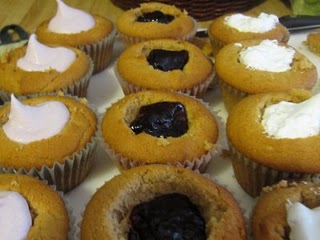 (the left are Grape jelly buttercream filled, the middle ones are jelly and the right are Fluff)I also filled a few with Grape Jelly Buttercream (just to give it a shot), but looking online there were no recipes out there for this, so I winged it…just adding jelly to some reserved plain buttercream. I just added until it tasted grape enough. (I used 1 cup of buttercream to approx 1/4 cup jelly).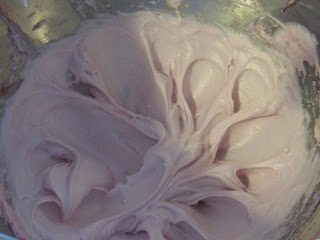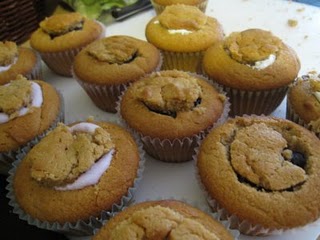 Then I frosted them with my Peanut Butter buttercream.
So my recipe made 12 cupcakes and I made 4 of each kind and went ahead with the taste test…Guinea pigs,of course, being my husband and my 2 teenage boys. I hate to disappoint here, but they each picked a different one…
my husband choosing the Grape Jelly Buttercream stuffed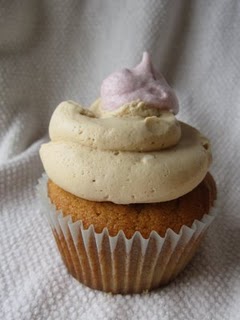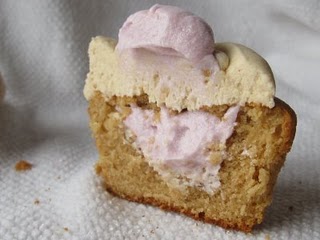 My oldest chose the straight grape jelly stuffed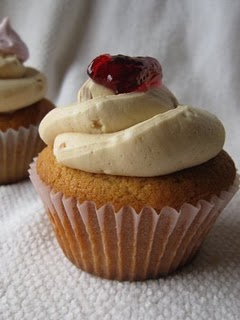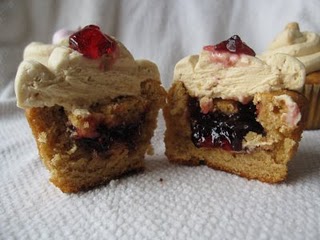 and my second oldest choosing the Fluffernutter.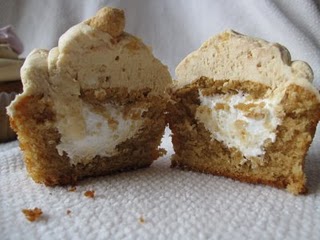 To break the tie, I decided to give them a try and here's the thing…they are ALL good!! The straight Jelly stuffed is good and is the most like the sandwich alternative, while the Grape Jelly Buttercream is more cupcake-like. The Fluffernutter cupcake is in a class all its own. It's delicious, and VERY sweet, just like the sandwich. What I might do next time is make a banana cupcake, with the peanut butter frosting and the Fluff filling…oh wow, that sounds good!