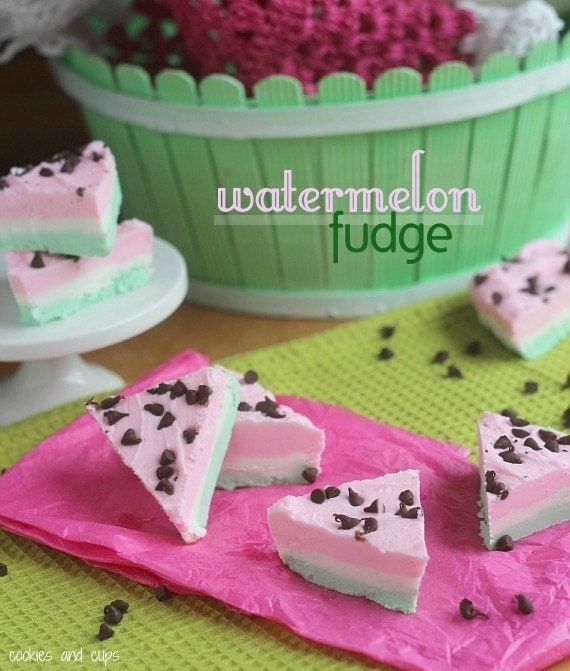 My kids get out of school this week.
It's a blessing and a curse.
No more schedules, no more homework, no more packing lunches…
In it's place, I get kids home all day. Everyday.
Of course I love my children.
But, I am thinking that we need to get some summer activities figured out, so we don't spiral into dangerous, "I love you, but I'm ready to kill you" territory.
And really, while the kids are at school my job involves playing in sugar…which I am thinking might not be so good for my kids to help me with all day.
They are notorious spoon lickers, finger dunkers and sugar-high catchers.
So yeah, summer is finally here and I am officially scared.
But before my children officially take over my house for the next 2 1/2 months, let's talk fudge.
It's actually summer fudge.
Watermelon fudge.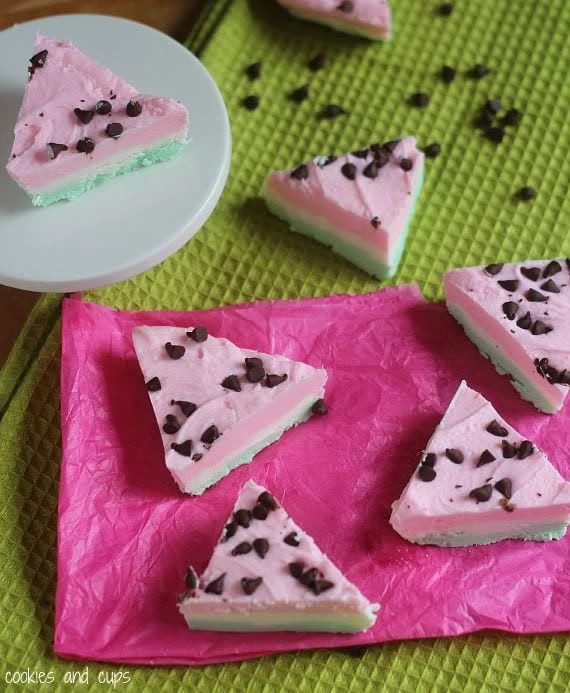 Weird? Yes, a little. Yummy? Yes, a lot.

You can make it look like watermelon or taste like watermelon…or both!
For flavoring you'll need this…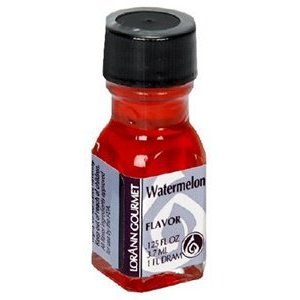 It's watermelon oil flavoring and it's tasty. Certainly you could just make vanilla fudge and make it look watermelony, either way it's a good choice.
I used the 2-ingredient fudge method with 1 (12 oz) bag of white chips and 1 (16 oz) can of vanilla frosting. Here's the recipe. I used a smaller pan, an 8×6, because you will want this fudge to be a bit thicker than the original recipe, because of the layered colors.
Spray the pan lightly with cooking spray.
I melted the white chips over a double boiler and removed when the chips were just about melted. I immediately stirred in the frosting and 1/2 tsp of watermelon flavoring. You can adjust this amount, depending on how "watermelony" you want your fudge.
You will need pink and green gel coloring…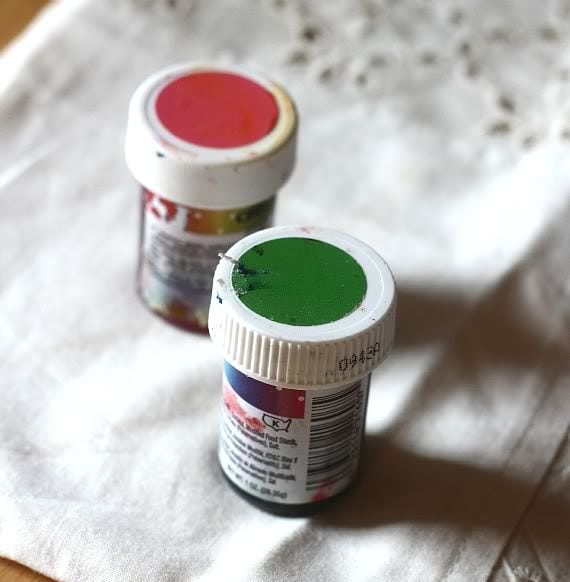 Measure out a scant 3/4 cup of frosting/chocolate mixture and using a small amount of green gel coloring, stir until it's green.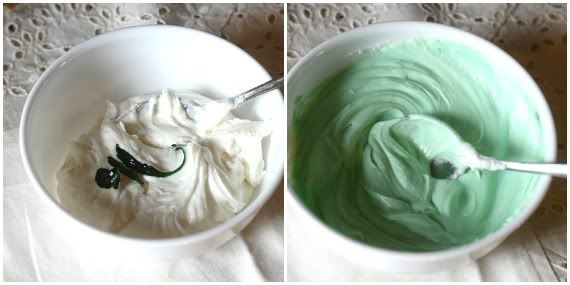 * Tip ~ I placed the double boiler to the side (off the burner and cooled slightly) and put the remaining frosting mixture back over the pot to stay warm, and not set up as I was doing each layer.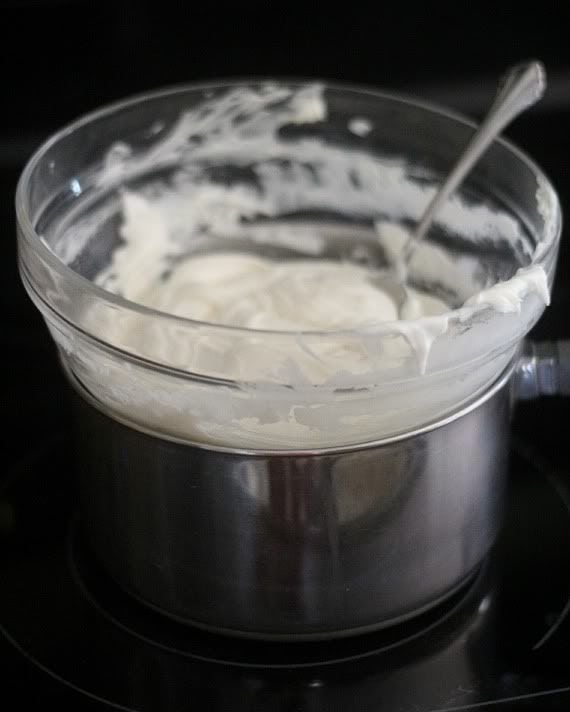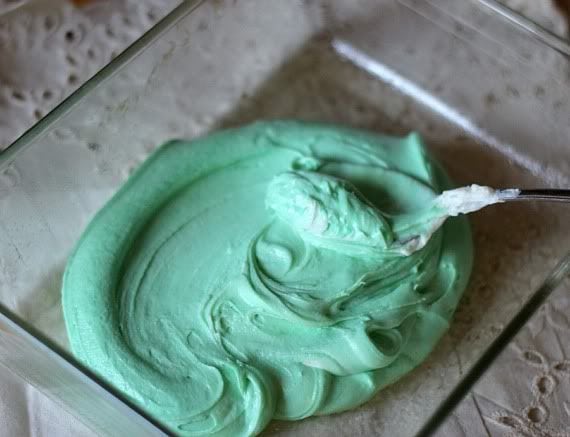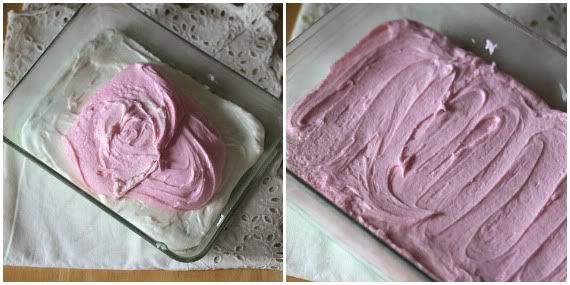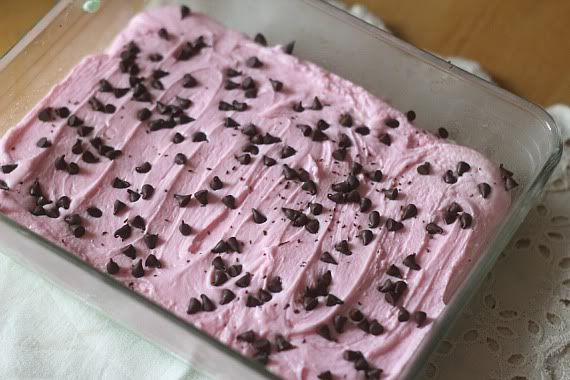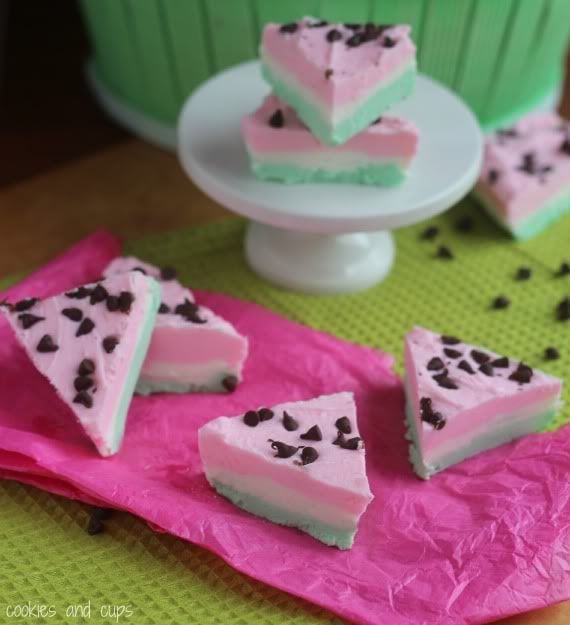 Spread the green in the bottom of the prepared pan.
Place pan in freezer for 2-3 minutes, enough to chill the fudge slightly.
Measure out a 1/2 cup of the white frosting mixture and spread that on top of the green layer…
Place that back in the freezer.
Color the remaining mixture pink.
Remove fudge from freezer and spread on white layer.
Sprinkle about 1 tablespoon of mini chocolate chips on top and press gently into the fudge.
Chill in refrigerator at least 30 minutes before cutting into triangles and serving.
Print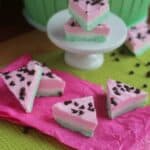 Watermelon Fudge
---
1

(12 oz) bag white chocolate chips

1

(16 oz) can vanilla frosting

1/2

–

1

tsp watermelon flavoring
pink and green food coloring

1 Tbsp

mini chocolate chips
---
Instructions
Spray a 6×8 or 7×7 pan lightly with cooking spray.
Over a double boiler melt white chips. When they are just melted, remove from double boiler and stir in canned frosting and flavor oil until smooth.
Measure out 3/4 cup frosting mixture and using gel color, tint it green. Return the remaining mixture back to the double boiler, OFF the heat, to keep it from setting up.
Spread the green mixture evenly in pan. Place in freezer 2-3 minutes.
Measure out 1/2 cup white frosting mixture and spread that on top of the green layer.
Freeze again for 2-3 minutes.
Tint the remaining frosting mixture pink and spread on top of the white layer. Sprinkle mini chips on top, pressing lightly into fudge.
Chill for at least 30 minutes before cutting into triangles.
---
Notes
You can adjust the amount of flavor oil to suit your taste.
Store in refrigerator in an airtight container for up to a week.
Want To Save This Recipe?
Find more recipes like this: