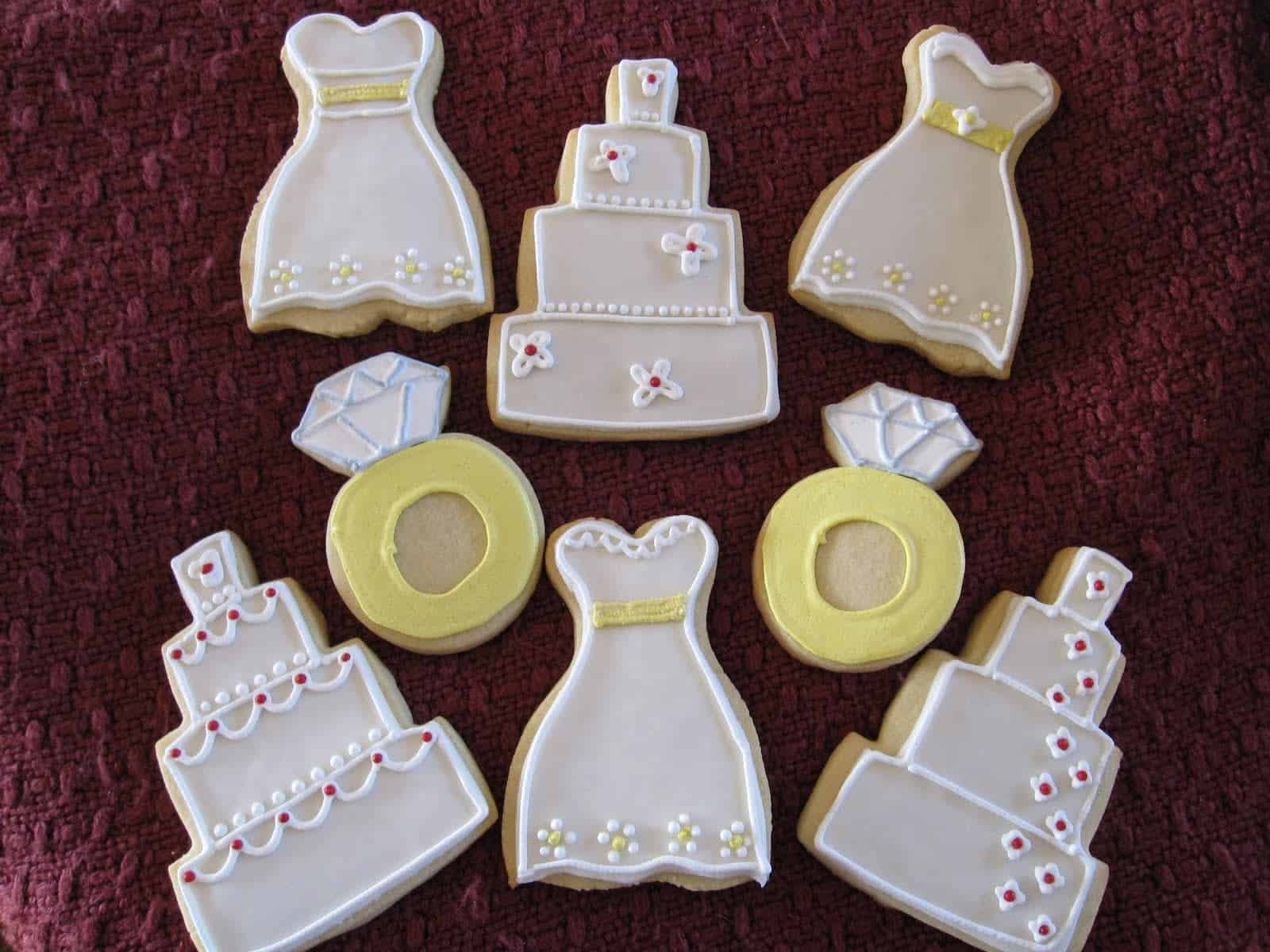 So as Christmas approaches our to-do lists get longer and longer. I wish I was one of those people who had all of their holiday shopping done, but sad to say, I am not. I, actually, have very little done. Since we went on vacation I couldn't see much past that and now I have come home to a beautifully decorated tree with no presents underneath. The tree looks so sad without its presents! So today I will shop and this weekend will be doing all my baking for friends and family. I can put it off no longer!
While I love to decorate cookies and bake my little heart out, it takes a long time! So, to cut a little time off of my decorated cookies I, sometimes, cover them in fondant instead of flooding with royal icing.
A cheater? No way!
You can really only do this when the base of the cookie is one solid color, then just embellish with some royal. It's easy and cuts down the drying time as well.
I will tell you, too, that marshmallow fondant is yummy and tastes great on a cookie…
If anyone has ever been scared of fondant, give Marshmallow fondant a try…it's easy to make and covering the cookie is super easy too because you use your cookie cutter to cut out the shapes…no piping and flooding and waiting. One step and it's done.
here's how you do it…
Marshmallow fondant
1 bag of mini-marshmallows
16 oz. (don't get the store brand, splurge a little and go with Jet-puffed)

1/2 cup water
2 lb. powdered sugar minus 1 cup. ~ sifted

Vegetable shortening for hands and counter to prevent sticking
1) Dump your marshmallows into a microwave safe bowl along with the 1/2 cup water

2) Microwave on high for 30 second intervals until the marshmallows start to puff up..stirring in between until melted.

3) Add about 1/3 of the powdered sugar and stir.

4) Slowly add more sugar until it's too hard to stir and dump it onto your greased countertop.

5) Now coat your hands in shortening and add the remainder of the powdered sugar.

6) Knead the fondant, folding in all the powdered sugar until a nice smooth ball of fondant forms.
Make sure it's not too sticky (add more sugar) or too dry (too much sugar added). It's not exact, but I have found that 2 lbs, minus 1 cup is the perfect amount of powdered sugar.

To store, rub shortening all over the fondant and wrap in cling wrap tightly and them store inside a large ziplock. It will keep for months if stored properly, airtight.
Do not refrigerate.
If you would like to color your fondant, portion out the amount you would like to color and using a gel based food color knead in small amounts until the desired color is achieved.
If you use fondant to cover cookies the beauty of this is you just use the cookie cutter you use for the cookie, it's the perfect size! When you roll out fondant, make sure to coat your rolling surface liberally with powdered sugar so it doesn't stick..you most likely will have to add more the thinner you roll it out.
I also recommend using a fondant roller or even a PVC pipe (cleaned of course) to roll, because it will yield a smoother finish, as opposed to a wooden roller, which might lives marks.
As you roll, turn the fondant in 1/4 turns as you go, this will also help with sticking. But don't forget that powdered sugar. If you don't coat your surface and roller with it you will be cussing at me, so sugar up!
Once you have the fondant rolled to the desired thickness (about 1/8″), not too thin, not too thick take the cookie cutter you used to cut the cookie out and cut out your fondant. It works perfect because it is already the perfect size!
To get the fondant to stick onto your cookie I use a little corn syrup. This works like a nice glue and also adds a little moisture and sweetness to your cookie.
Now you are ready to pipe on any decorations. I used royal icing for these wedding shower cookies…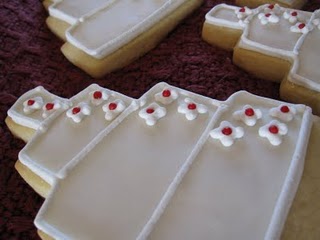 See how smooth a finish you get from the fondant?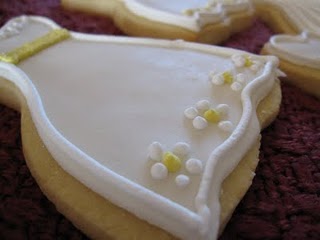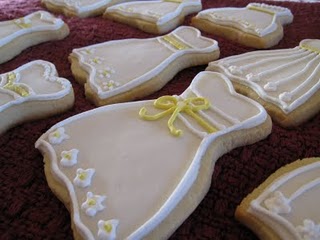 I couldn't decide on a design for the dress or the cake, so I just decided to play around a bit and add a little variety. I think it was nice. The bride's colors are black, white and red…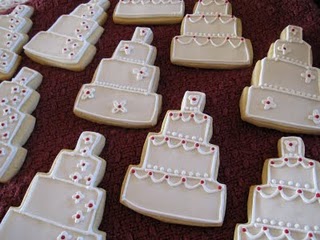 and her dress in an antique so I added the golden detail…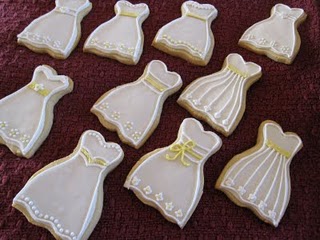 Now these rings are done with all royal icing…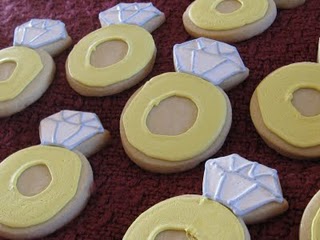 You can't see in these pictures, but there is luster dust on the diamond. They were so cute and everyone told me the favorite of the day!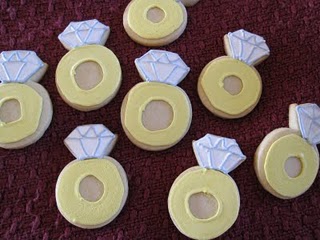 all bagged up and ready to ship…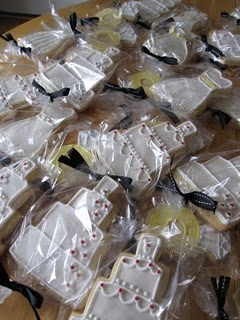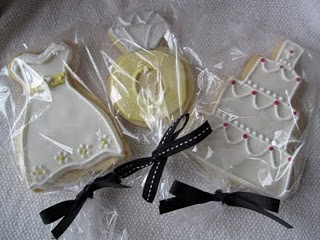 I use fondant on a lot of cookies, especially baseballs, soccer balls, snowmen and gingerbread men. For me it's a time saver and the results are beautiful.
Now, back to holiday shopping…
Watch out Target, here I come!