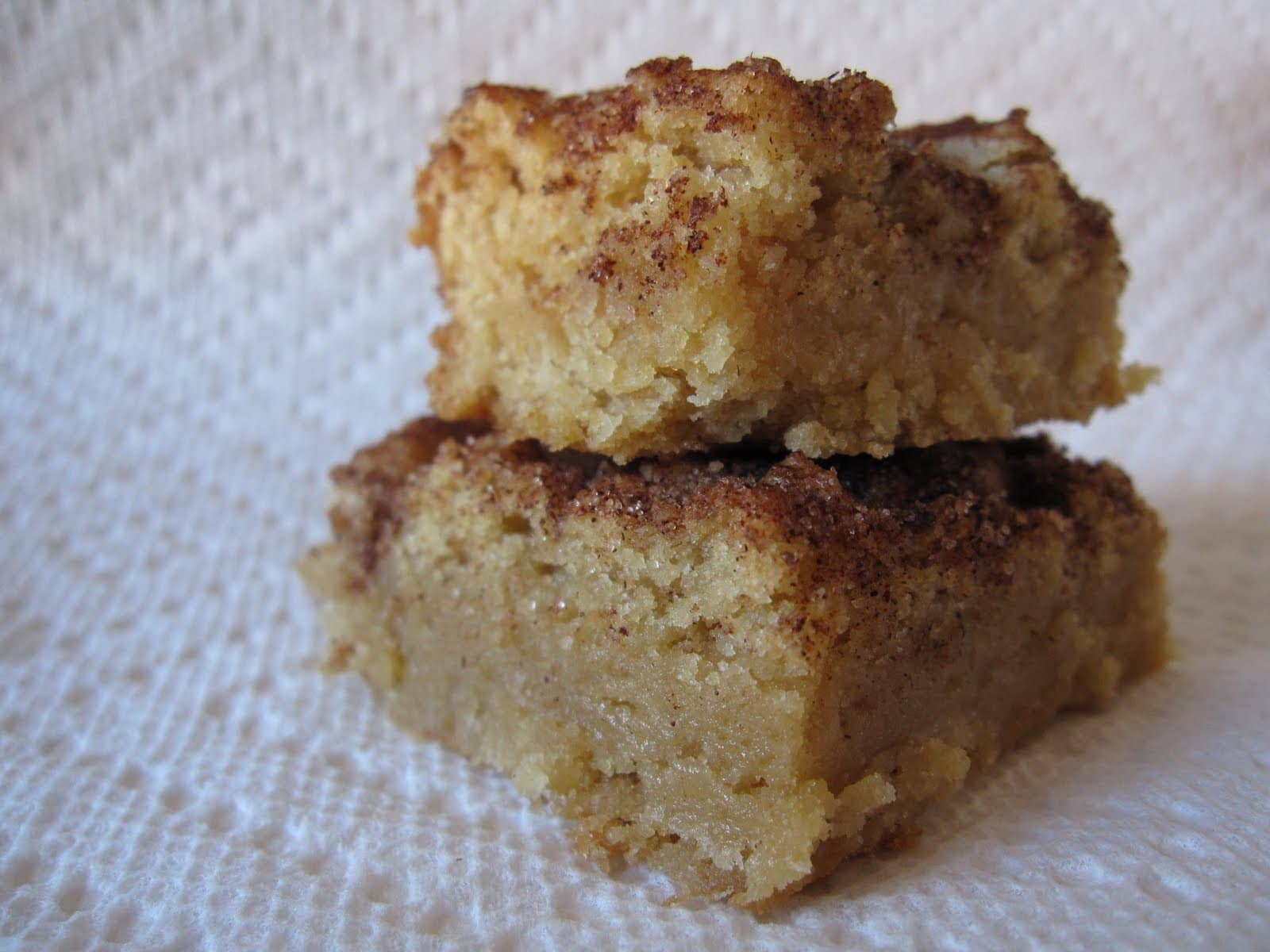 Well, if you are familiar with this blog, you'll know that my husband LOVES anything Snickerdoodle…cookies, cupcakes, ice cream etc. So, after the crazy praise that
Ingrid over at 3B's
gave these bars, I knew I had to try them.
Here's the verdict…it's an easy recipe with on-hand ingredients…most which you probably have in your kitchen at this moment & they turned out delicious. They are nice, tasty bar when you want a change from standard brownies.
Simple recipes, in my world (and I am sure yours as well) is not only welcome, but necessary. I bake a lot and a good portion goes to others, so when I am dunzo with royal icing and my hand is cramped from piping I don't really want to have to delve into a procedure that requires too much thought. There are times when a challenge in the kitchen is right up my alley, but lately with school, carpools, soccer games and baking orders there is no time to be daring…Speaking of, I am pretty sure I am kicked out of the
Daring Bakers
group. For those of you who are not familiar it is a monthly baking challenge with a recipe chosen by a member. Living up to its name the monthly selection is a

challenging

recipe…I joined that group with all the best intentions…I wanted to try new and different things. A lot of blogs that I read post the monthly selected recipe with beautiful pictures, but some of the picks were too

"challengey"

for me…is that a word? I suppose I have to embrace my limitations. For those of you out there who are in those groups I commend you…some of that stuff is really tough!! Kudos!

Back to Snickerdoodle bars…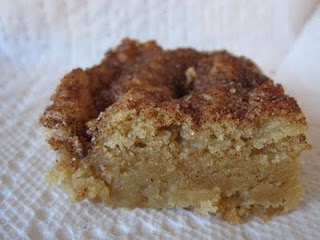 2 2/3 cups all-purpose flour

2 teaspoons baking powder

1 teaspoon Kosher salt

2 cups packed brown sugar
1 cup butter, at room temperature

2 eggs, at room temperature
1 tablespoon vanilla extract
2 tablespoons white sugar
2 teaspoons cinnamon

Preheat oven to 350F.
Grease a 9 x 13 inch pan.
Sift together flour, baking powder and salt and set aside. In large bowl, beat together butter, sugar, egg and vanilla until smooth.
Stir in the flour mixture until well blended. Spread evenly in prepared pan.
Combine white sugar and cinnamon in a little bowl. Evenly sprinkle cinnamon sugar mixture over the top of the batter.
Bake 25-30 minutes or until surface springs back when gently pressed. Cool slightly. While still warm, cut into bars with a sharp knife.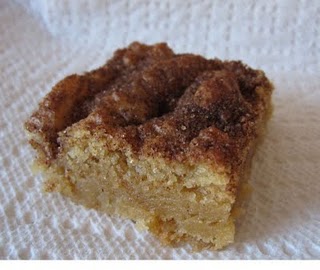 The cinnamon and sugar on top is delicious…
Next time I think I will drizzle some white chocolate over top to give it an extra pretty look.
This recipe was updated in 2020. Click over to see my updated
Snickerdoodle Bars
with printable recipe!