In case of what, I am not entirely certain, but you know..just in case…
Knowing that a handful of M&M's is just a few steps away makes me smile… or a spoonful of buttercream….
What?!
You know you wish you had a spoonful of buttercream a few steps away.
If you didn't wish that, chances are fairly high you wouldn't be interested in this blog.
Schooled!
I don't know why I have this love affair with sugary treats…it's like my love affair with pajamas.
I can't get enough.
Ok..I took that too far.
So, in the vein of snacks, check it out…
I will tell you that I didn't know that I liked Craisins before I made this, but apparently I do.
I'm not much of a fruit in dessert person, plus "Crasins" just sound gross.
BUT, I will tell you, they are delicious in this fun mix.
Granted they are coated in white chocolate…and isn't everything palatable when it's coated in white chocolate? But giving Craisins the benefit of the doubt, they tasted good and I don't think a raisin would have worked as well. Raisins wouldn't have added that slight tartness you need to cut through the sweet and salty going on.
So high five to the "Craisin"…now, we need to find you a new name.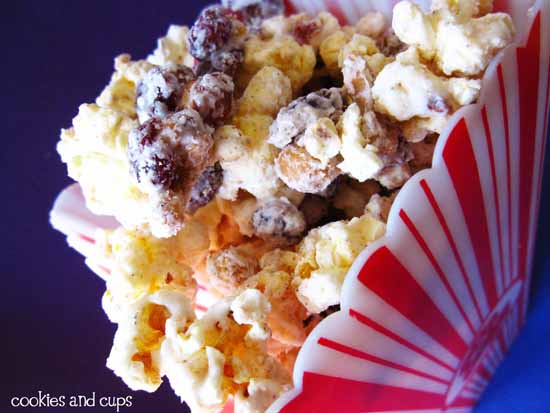 White Chocolate Popcorn
adapted from Southern Living
2 (3.3 oz bags) microwave buttered popcorn
2 cups salted mixed nuts
2 cups Craisins (dried cranberries)
2 (12 oz bags) white chocolate chips
1 t. cinnamon
Microwave popcorn. Dump into a large bowl.
Remove kernels that didn't pop.
Add nuts and Craisins.
Melt white chocolate according to directions on package, either in microwave or with a double boiler.
Pour melted chocolate over popcorn/nut mix.
Using 2 jelly roll pans or wax paper covered countertop (a trick my girlfriend taught me) dump popcorn into a thin layer and sprinkle with cinnamon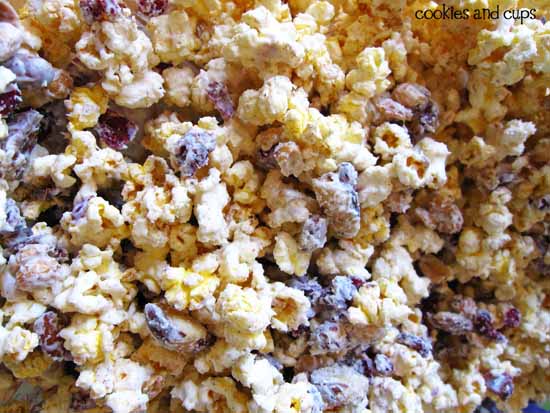 Let sit until chocolate hardens…about 30 minutes.
Store in an airtight container for up to 3 days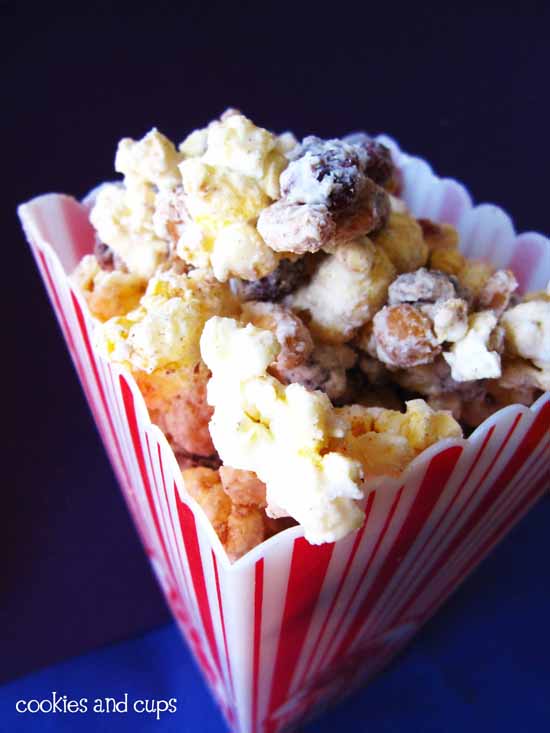 I made this specifically for my husband to take to Poker Night…and I worried it wouldn't be "dude" food, but apparently I was wrong…I made a massive bowl and he came home with only a little bit left.
So go ahead and snack away…there's fruit in it, so it's ok 😉