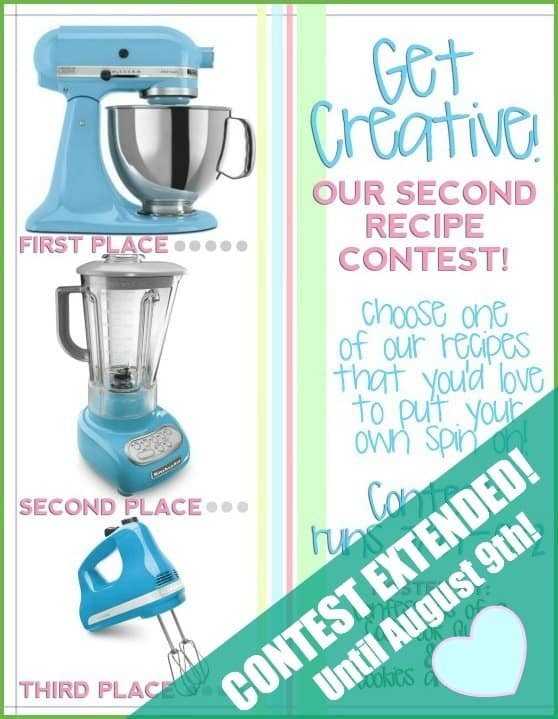 Hello!!!
I, first, wanted to say a giant thank you to everyone that entered the Creative Recipe Contest that Confessions of a Cookbook Queen and I held the last few weeks!!
Kristan and I had such a hard time deciding on the winners…
But without further ado, let's have a look on who we thought was the MOST creative…
1st place goes to Becky from So Very Blessed!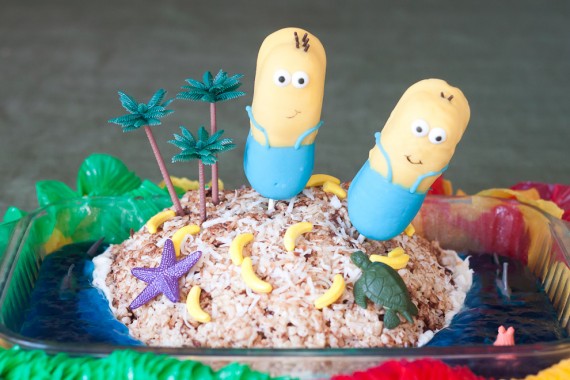 Kristan and I instantly fell in LOVE with Becky's Twinkie Minion and Macaroon Krispie Treats. We also loved how she combined a twist on Kristan's Twinkie Mummies with her adaptation of my Basic Krispie Treats Recipe.
I mean, Macaroon Krispie Treats? How have I never thought of that! Beyond adapting our recipes she also created the cutest little Minion Island! Any kid would LOVE this.
A huge congrats to Becky for knocking this out of the park. Hope she LOVES her new KitchenAid mixer!!
Now onto second place…
We chose Love To Be In the Kitchen's Brownie Batter Truffle Peanut Butter Blossoms.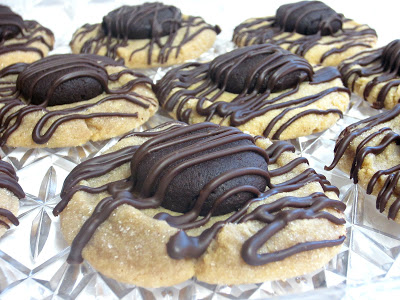 This was another recipe that combined two of our recipes… She used Kristan's recipe for Brownie Batter Truffles and My recipe for White Chocolate Reese's Peanut Butter Blossoms.
We are guessing the combination is major. Can't wait to make these for my family!! We hope that Becky (must be a lucky name!) loves her new Crystal Blue KitchenAid blender!!
And finally third place goes to Hearts in My Oven's Caramel Apple Cheesecake Blondies.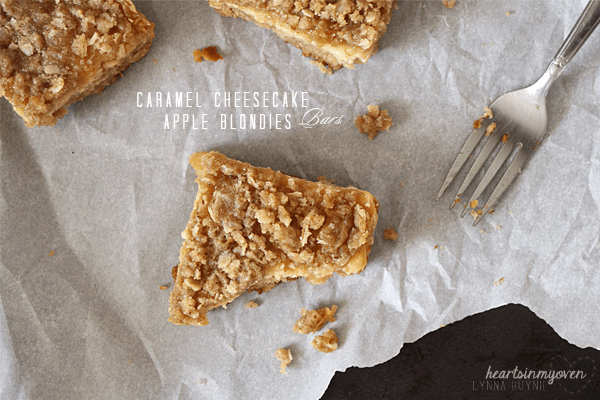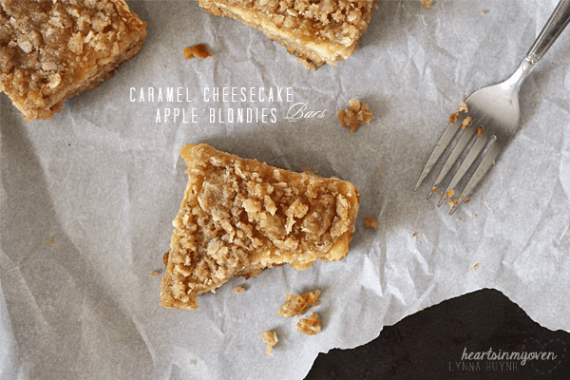 So these bars are totally my kinda food! Honestly I think I am going to whip up a batch of these this weekend. They are a spin on two of my recipes… Brownie Bottom Cheesecake Bars and my Caramel Apple Cheesecake Bars.
They are just so pretty…she did a really great job!
Lynna will win a fantastic KitchenAid hand mixer!
Honestly it was almost impossible to decide. Kristan and I are thinking next time we'll have to employ "official judges" because we wanted to choose them all!
Again, we REALLY appreciate everyone who entered. The level of creativity and talent that you all possess is crazy amazing.
*We also want to thank KitchenAid for providing our first place winner with the KitchenAid Artisan Series 5-Quart Tilt Head Stand Mixer!