Find out who I think has The Best Bakery Cookies to Order Online! I did the research for you and we have a winner folks!!
Oh friends, today is a really fun post to write. Like REALLY fun. If you follow me over on Instagram…I have been posting Instastories the past few weeks about COOKIES! More specifically cookies you can order online.
The thing is, I love visiting bakeries. I make lists of bakeries to try whenever we travel to new places, and I have been known to plan entire vacations AROUND the food I want to eat. Totally normal. And since I am lucky enough to have internet friends all over the country (YOU GUYS) I get lots of recommendations for bakeries you think I should visit. Unfortunately I don't have an unlimited travel budget (gah, that would be a dream) so I decided the next best thing to do was see what bakeries around the country would SHIP cookies to me.
Not only is this the best idea ever for ME…I thought it would be some pretty cool info for you guys too. I love sending amazing food as a gift, treat, thank you…but sometimes you just want to splurge and try some delicious dang cookies that you can't get locally.
So, let me give you a quick idea of my criteria on how I chose where to order. Certainly, I didn't order cookies from every amazing bakery that exists. OBVIOUSLYYY. But, what I did was pick a few that I had either already tried firsthand (to see how they tasted when they were shipped) AND I picked a few from across the country that I had heard were really good. I tried to make sure the bakeries I ordered from were local (for the most part) and not huge chains. This wasn't a 100% rule I stuck to, but I really wanted to order cookies you could only get in local bakeries. Make sense?
When I first posted this idea on my Instagram Story you guys BLEW UP my DMs with hundreds of bakery recommendations. So this was completely amazing….and I expanded my initial 8 bakery test to include 17 BAKERIES! SEVENTEEN! It was a LOT of cookies. Also, please note that all the bakeries on this list came HIGHLY recommended and I am just giving you my opinion on what I see as the best of the best out there. I purchased all of these cookies with my own money, and all opinions are from myself and my friends and family who were nice enough to come over and help me sample.
I narrowed down the list to 17 bakeries by scoping out every recommendation you guys gave me. I checked out their website, their Instagram page, and read reviews. I tried to only order from the best of the best. Some bakeries were excluded because they didn't ship…others were excluded because they just didn't seem special enough. I wanted the winner of this little experiment to really be a SHOWSTOPPER.
The way we rated these was not based on price, because I learned quickly that shipping cookies from bakeries is kind of expensive. So my rating system was based on taste, packaging, quickness of shipping (which affected freshness), creativity in flavors, and obviously their chocolate chip cookie.
I do want to say that the top 5 on the list are all SOLID. Like you can't go wrong. It was REALLY hard to choose a number one, so I will get to the nitty gritty details on each. Because, the winner of this actually wasn't my favorite Chocolate Chip Cookie. Confused?
So without further ado, let's get to it.
Multiple locations (NYC, Washington DC, Toronto, Las Vegas)
Price: Gift tin of 6 cookies for $16.60
Shipping: arrived 2 days after order was placed.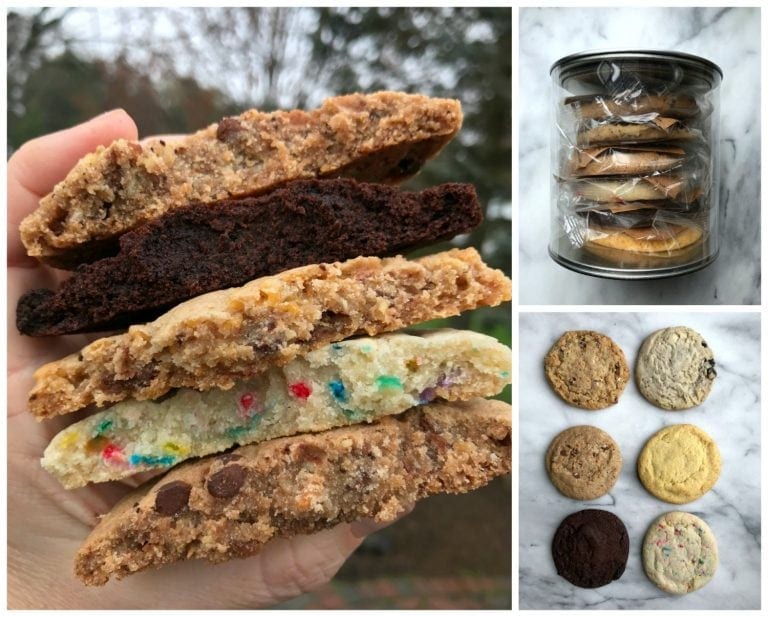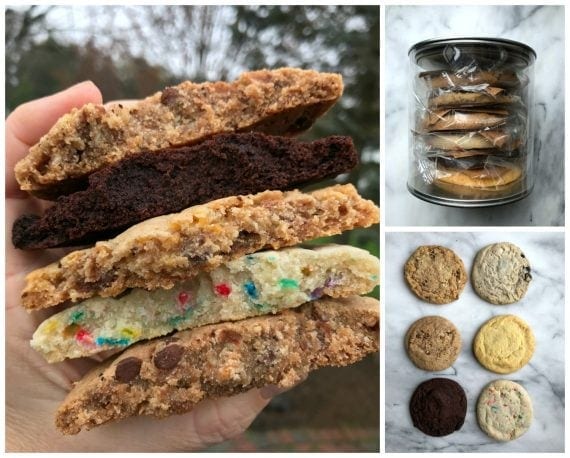 I have visited and tried Milk Bar cookies before. I have to say they are good cookies, and totally worth trying, because they have some really fun flavor combos. BUT there was nothing spectacular about them, and honestly, they tasted a bit stale. I highly recommend trying Milk Bar if you are near a location, but by mail, I wasn't impressed. The packaging was cute, but they took 4 days to arrive, which was almost double the time of most of the other bakeries.
Multiple Locations (Maui, Oahu, Lanai, Kauai)
Price: 8 Assorted Cookies $79
Shipping: Arrived 5 days after order was placed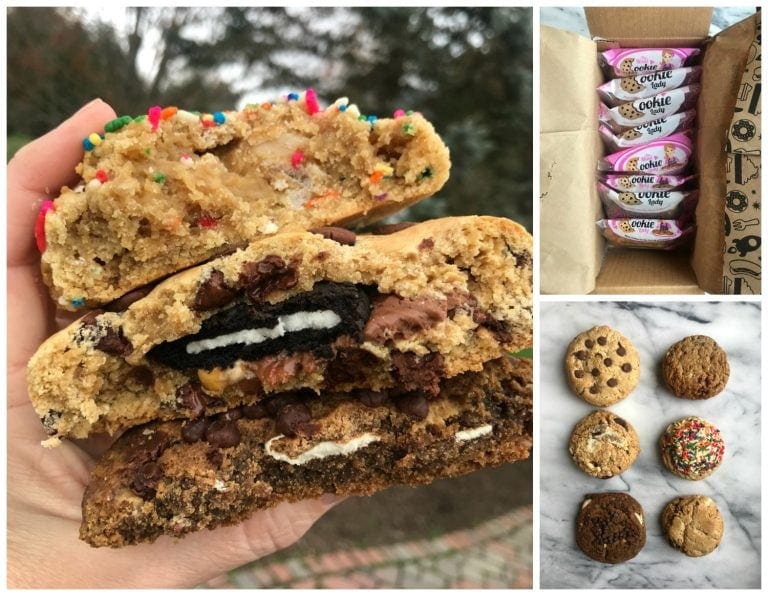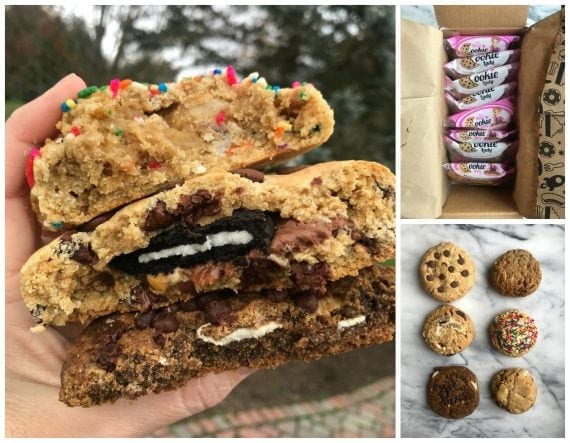 I was SO bummed about these cookies. I'll admit, I ordered them because The Rock posted about them on his Instagram. When I looked them up, they sounded and looked like cookies I would LOVE…they are thick, look super soft, and have really fun flavors. BUT I'm not sure if it's because they come all the way from Hawaii, and took 5 days to arrive at my house, but they just seemed a little old. I can imagine if these cookies were fresh, they would be spectacular. I guess I need to get to Hawaii and give them a second chance!
BUT what really was the kicker, was the cost of these. They literally cost $10 a cookie BEFORE shipping. I knew coming from Hawaii they would be more, but I could never justify the cost of these. Nope.
Multiple locations in NYC
Price: 6 cookies for $39.95
Shipping: Arrived 2 days after order was placed.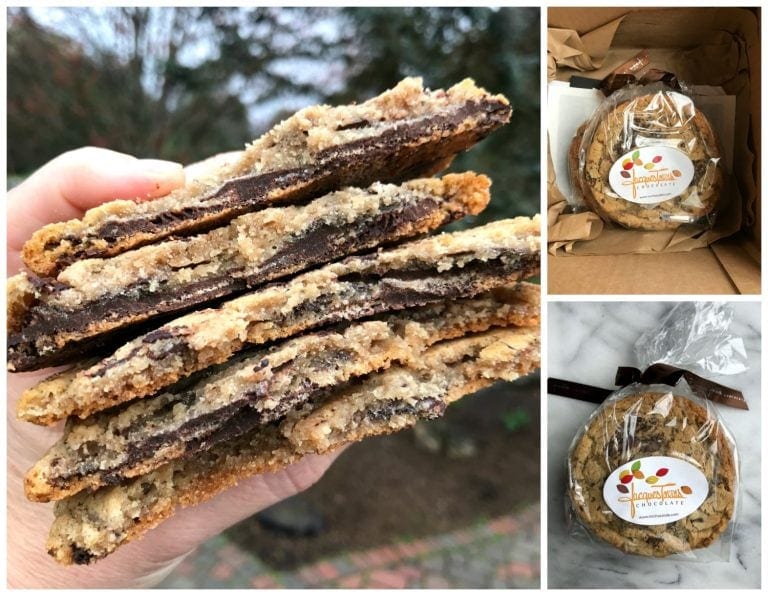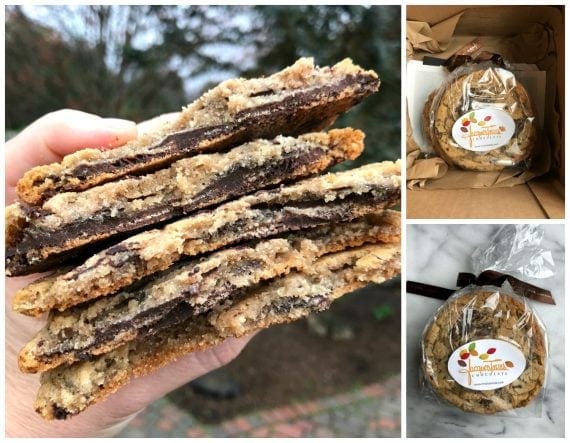 This was another huge let down. I am quite sure that these cookies right out of the oven would be life changing. But, what I received in the mail had most likely been baked at least a week before I received them, and quite possibly were frozen and then shipped. The amount and style of the chocolate in these was actually perfect. You can see from the picture that it's more of a chocolate chunk, but not a thick chunk…it's like large skinny pieces of chocolate and I definitely need to try and recreate this one. BUT since I am rating these cookies on my online order experience, no one liked these.
23421 Woodward Avenue, Ferndale, MI 48220
Price: 2, XL cookies ($5 each) and 2, 2 packs ($3.99 each) totaling $18
Shipping: Arrived 5 days after order was placed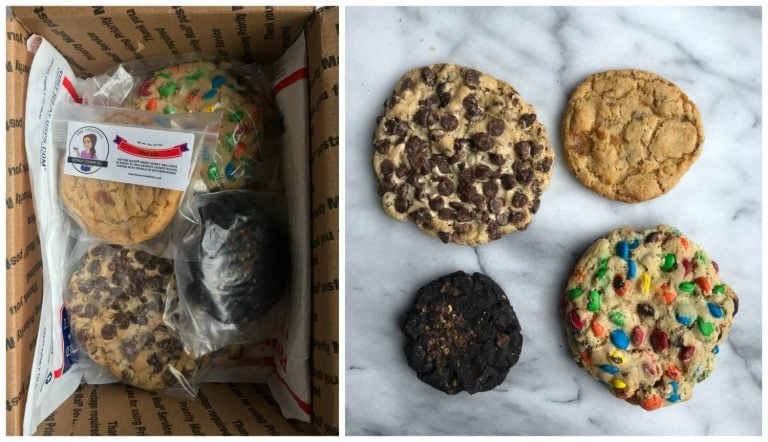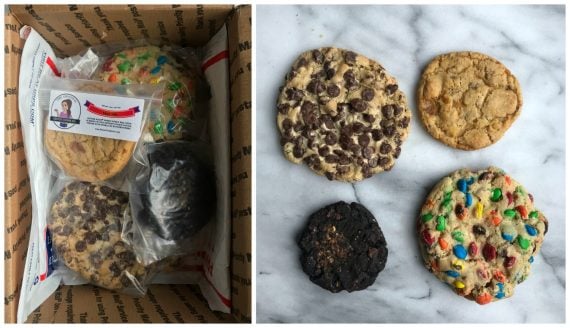 I was super excited about these cookies that were recommended by a few people on Instagram. They have lots of flavors, and the pictures online look great. But I'll say, we didn't love them. The XL cookies were very hard, and the regular sized were soft, but pretty average in terms of all the cookies we tried. Also, the packaging was very strange… they came individually wrapped, but as cushion in the box, they used shipping envelopes. I feel like if you were going to be gifting cookies to someone, presentation is important.
Multiple Locations in San Diego and Carlsbad
Price: 6 cookies $12.95 a month for an ongoing subscription
Shipping: Arrived 5 days after order was placed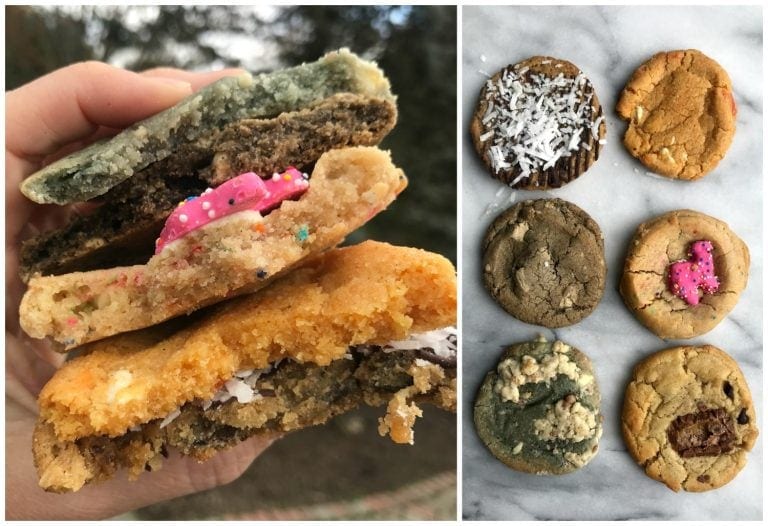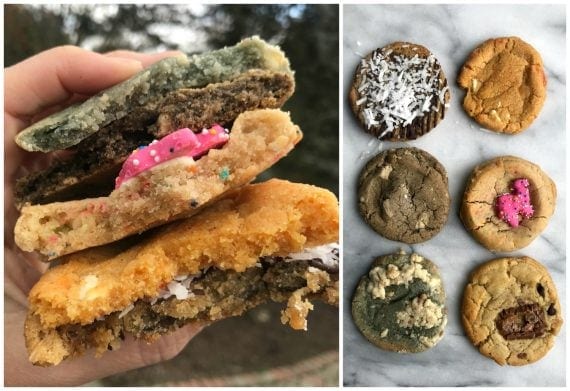 The Cravory cookies were good. There was absolutely nothing wrong with these cookies, EXCEPT you have to sign up for a subscription service to order them. This might be ok if you aren't a baker, or want to gift someone a 3 month subscription of cookies, but if you just want to order and try, you have to sign up for the subscription. Being the total brat that I am, I don't like being forced into doing anything, but for research sake I signed up, and will now have to go in and cancel the subscription. Also, they came individually wrapped in a post office box. No frills or cute packaging…just literally cookies in a box. There was nothing to really take a picture of in terms of presentation. Good, but the whole ordering process put me off a little bit.
#12 Sweet Girl
Online only
Price: $12.50 for 5
Shipping: Arrived 3 days after order was placed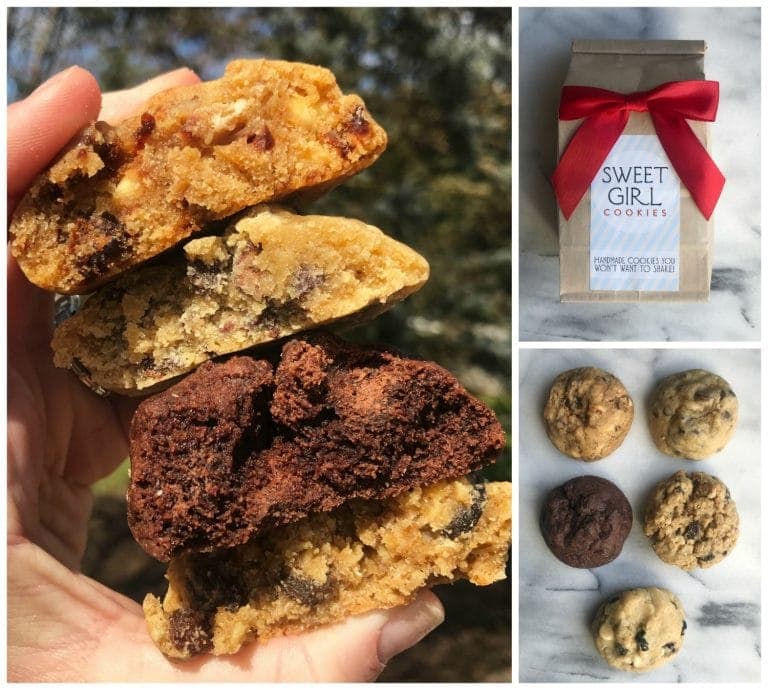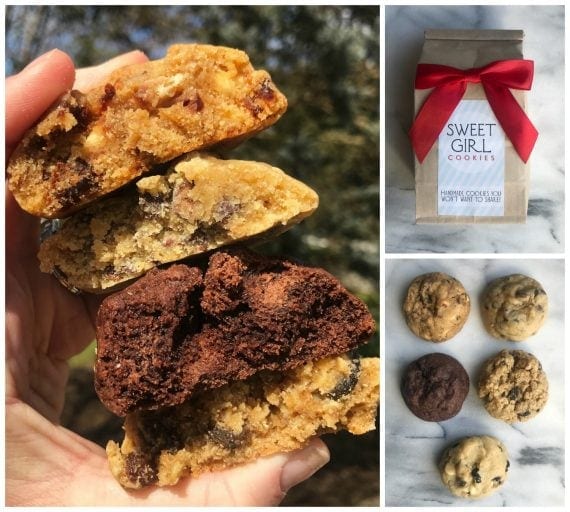 I hesitated to include Sweet Girl in my experiment, because it's online only, but SO many of you recommended them to me, and the price was very reasonable, so I gave them a try. They were smaller in size than most of the cookies that I ordered, and they were good. I really liked the Lemon Blueberry White Chocolate. There wasn't anything I didn't like about these, except the Dark Chocolate Sea Salt was a little dry. Overall, they were perfectly acceptable, but not memorable.
Online Only
Price: Classic Dozen for $43.95
Shipping: Arrived 2 days after order was placed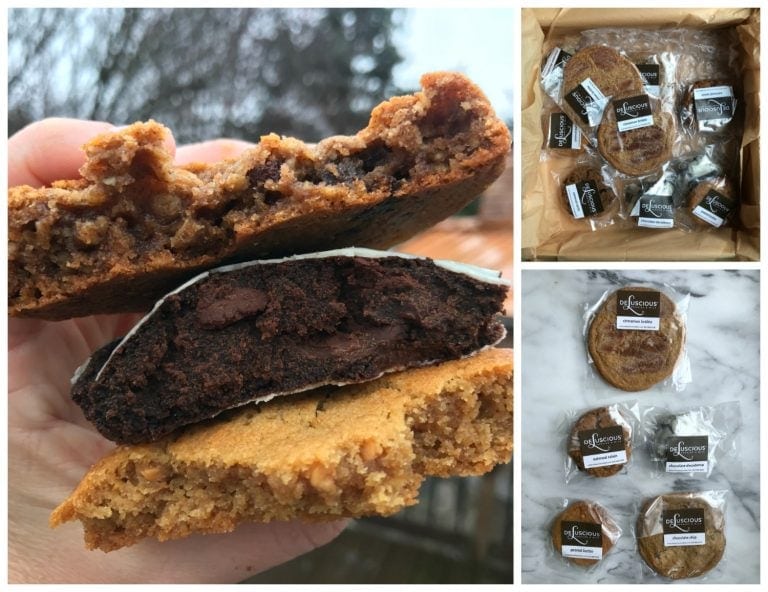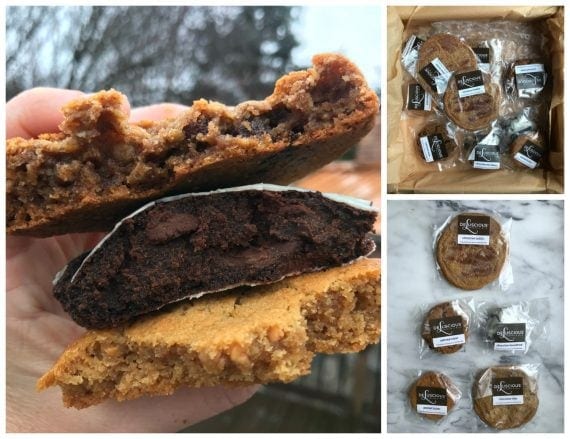 I had never heard of Deluscious before, but a follower on Instagram RAVED about them. I'm an easy sell for sure, but the Cinnamon Brûlée cookie really was the deciding factor. I HAD to try it! These were pretty pricey cookies, and I have to say, we were unwhelmed with most of them… but the Cinnamon Brûlée was FREAKING AMAZING. I need to find out if I can just order a dozen of those, because that's all you need. The cookie is huge and thin, but super soft, crazy buttery, with a crunchy, sweet cinnamon layer on top. Definitely need to try and recreate this cookie. It was worth the splurge!
Multiple locations in Utah & Arizona
Price: Customer Favorite Cookie Sampler (12 cookies) $29.95)
Shipping: Arrived 7 days after order was placed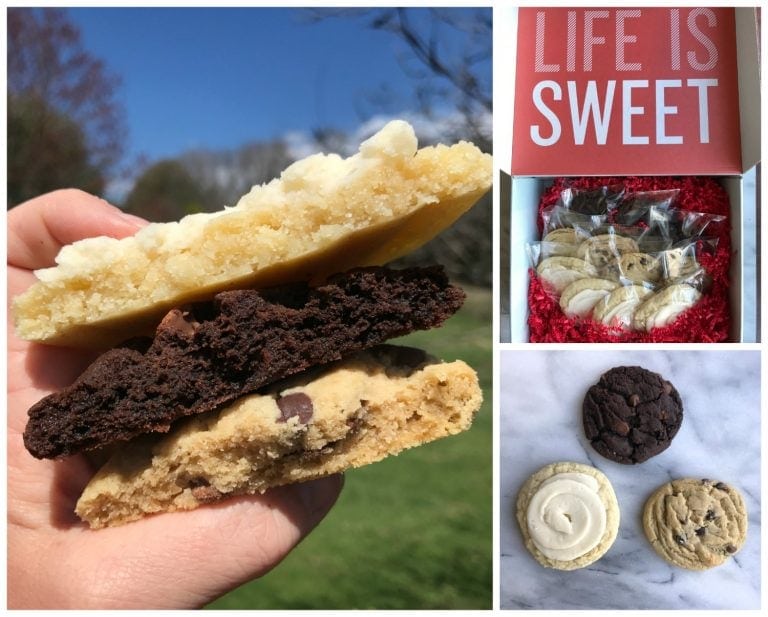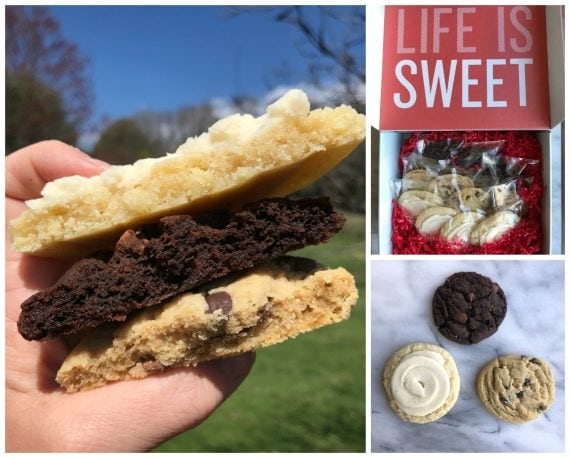 I was super excited to try these cookies, because I have friends (whose cookies opinions I trust) out in Utah that have posted about them before. The packaging was very cute, but the delivery time was pretty long, arriving 7 days after I placed the order. These came from Utah to NJ, so I understand it's a long way, but I ordered other cookies from Utah that arrived in 2 days. The chocolate chip and chocolate chocolate chip were just ok in my my opinion…I could see how these would be AMAZING if they were fresh, but since the shipping took so long, they tasted a little past their prime. BUT the frosted sugar was really great if you like almond extract. Unfortunately, I don't, but that doesn't take away from the fact that it was a really good cookie.
Multiple locations in New Jersey, Maryland, Rhode Island, New Hampshire, Vermont, Massachusetts, Connecticut, Delaware, and DC
Price: 12 Assorted for $26
Shipping: Arrived 2 days after order was placed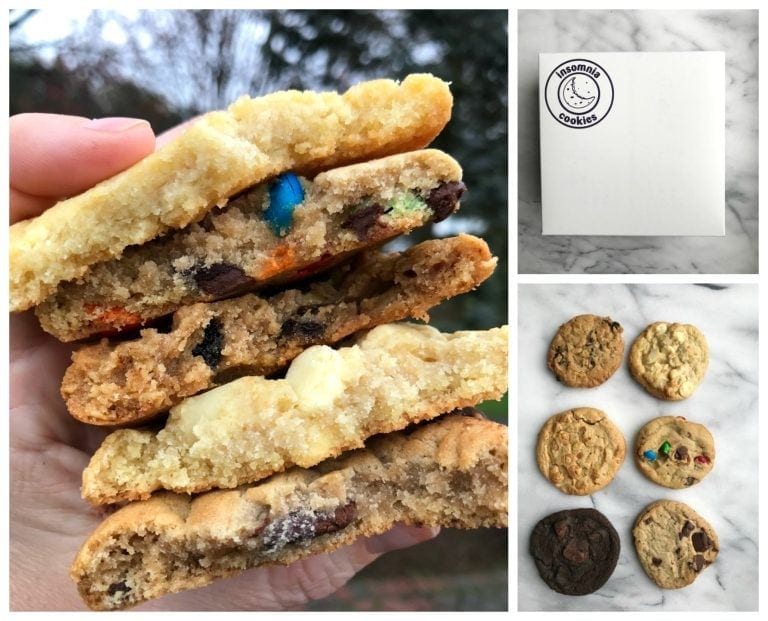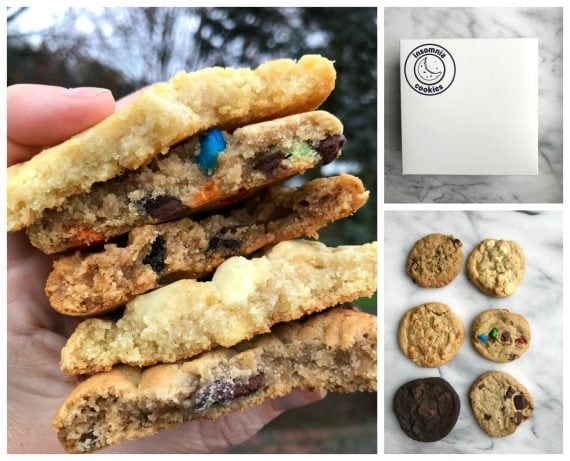 A lot of you guys recommended Insomnia for me to try, and they were good. The cool thing about Insomnia, is that if you live local to one of their locations, you can order cookies, and have them delivered fresh and warm. I mean YES. I live in NJ, and there are 2 locations IN NJ, but they aren't within range of their same day delivery service, which according to their website takes 30-45 minutes. I bet fresh and warm these would have been amazing, but they arrived 2 days after the order was placed, and while they were still fresh, they weren't WOW to us. Hey, Insomnia! Open up a location in NW NJ! Kthanks!
Multiple locations in Utah
Price: 12 cookies for $23.99
Shipping: Arrived 2 days after order was placed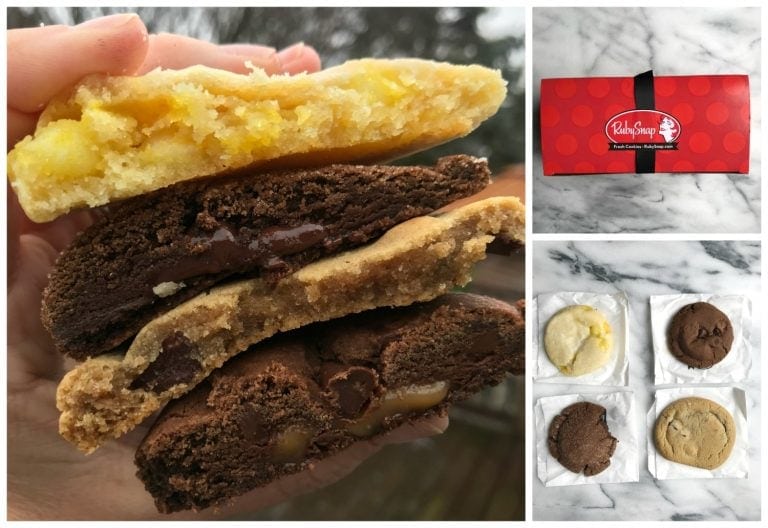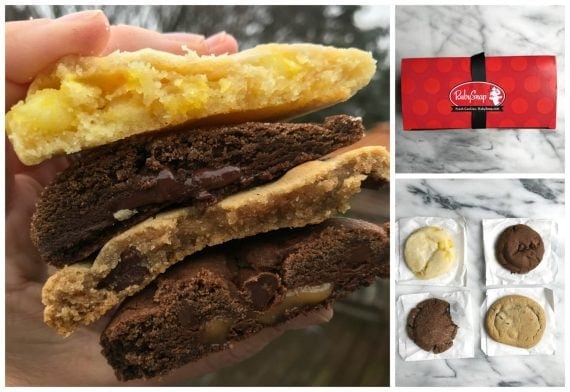 We liked Ruby Snap! They were fresh and soft when they arrived. I liked the fact that the online ordering process allowed you to select the flavors you wanted in your set-price dozen, as opposed to a predetermined variety, because Ruby Snap has some fun flavors. The chocolate chip cookie was my least favorite, and I ordered a Lemon Head Cookie, called The Lilly, which was a lemon cookie with Lemon Head candies. It was a fun idea, but the candies were whole and too crunchy for the cookie, in my opinion. I might try and recreate these and crush the candies into the batter! At this point in the competition, you can't really go wrong with any of the cookies I ordered.
Utah (online only)
Price: 6 assorted for $12
Delivery: Arrived 8 days after order was placed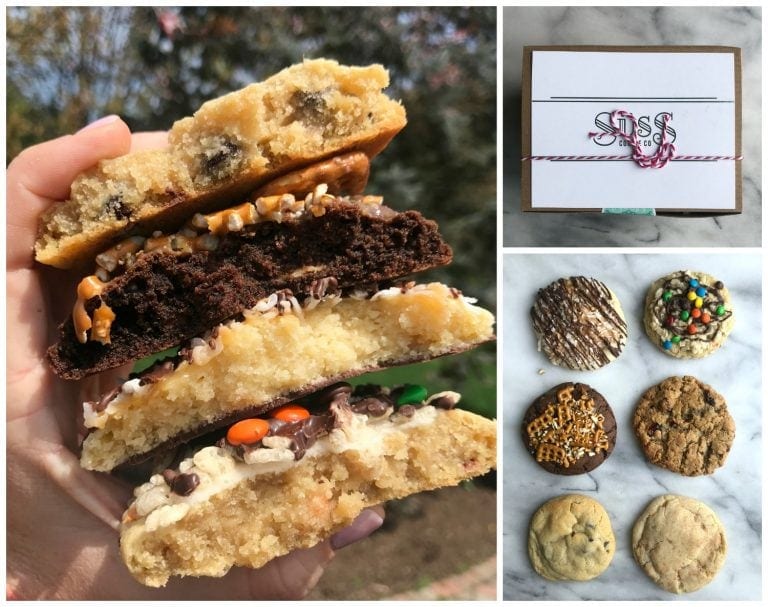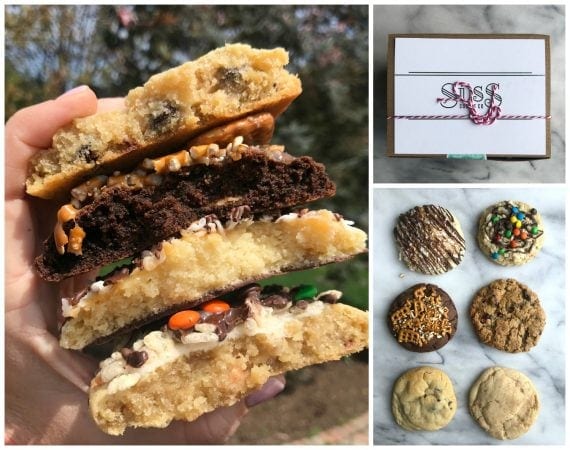 Süss is another Utah based cookie company. I think it's safe to say that Utah knows its way around a cookie! After reading online, it looks like Süss is a one-woman operation, which is fantastic! Jess bakes her cookies from her home and ships them out. The packaging was cute, and cookies were really good. The shipping time was the longest of all of my orders, arriving 8 days after the order was placed…but the cookies still tasted fresh. The price was good on these cookies, and it looks like she has some regular flavors, and also switches out some too…there is a Lemon Sour Cream cookie available now that I would have loved!
#6 Swig n' Sweets
Multiple locations in Utah
Price: $50 for assorted 24 pack
Delivery: Arrived 2 days after order was placed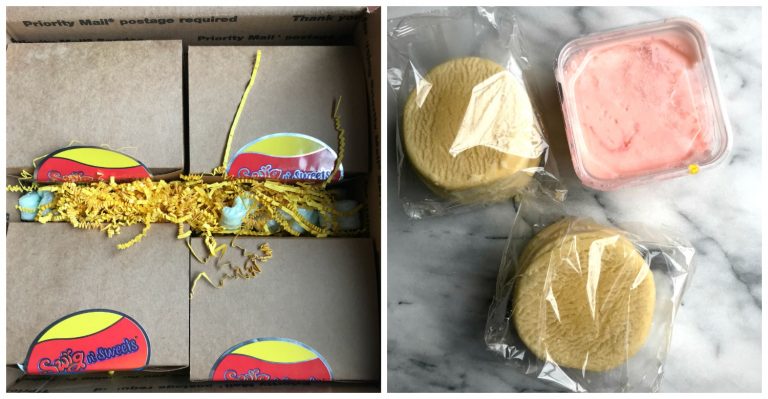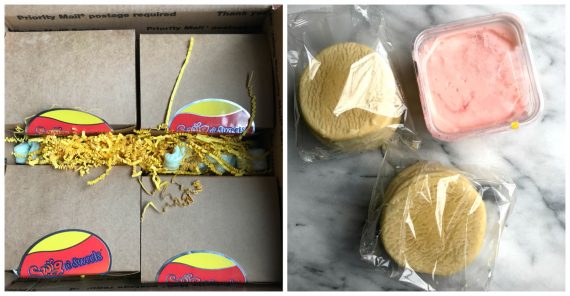 Ok, I hesitated to put this cookie on my list because it's a chain. But since it looks like there are only locations in Utah (correct me if I'm wrong), I decided we should include it. Plus, I have been DYING to try a Swig Cookie. Another reason I didn't want to include this on the list is they only have one option to purchase if you don't live near a pick-up location….which requires you to buy a 24 pack of cookies. You do get to pick and choose which type of cookie out of the 6 choices, but it still felt very limiting. AND the sugar cookies came unassembled. They shipped the frosting separate, so you had to frost your own. There are pros and cons to this… obviously frosting the cookies yourself prevents them from getting squished and ugly during shipping, but having to frost them yourself takes away from the presentation, in my opinion. Sweet Tooth Fairy shipped their frosted sugar cookies, already frosted and they were beautiful when they arrived, so we know it's possible.
Also, we ordered 12 sugar cookies in our pack and they included one tub of vanilla frosting and one tub of chocolate frosting. They don't give you the option of the frosting flavor, and I assumed they would all be vanilla frosting because chocolate frosting is only a small footnote as a special option on their full menu, while not being mentioned at all on their online order menu. So when we received the chocolate frosting as well, we gave it a try and no one liked it…it's a very pale chocolate frosting. I feel like the lack of clarity on the ordering process was not great. What ended up happening, is we had frosting for half the cookies, and then since no one liked the chocolate, we had 6 cookies that had no frosting at all, which is a total bummer. So you ask, if there were so many issues, how did they rank #9 on your list? Well friends, everyone LOVED the pink frosted sugar cookie. Like, LOVED.
BUT we all ONLY loved the sugar cookies with the (vanilla) pink frosting. So if I were to do this again I wouldn't bother ordering the variety of cookies, I'd order 24 frosted sugar cookies and make it clear that I only want pink, vanilla frosting. These were the cookies that there were no arguments or debates over, everyone just really liked them. It was a thick, soft sugar cookie, with a delicious, pink buttercream.
5466 Wilshire Blvd, Los Angeles, CA 90036
Price: Assorted 6 for $16
Shipping: Arrived 4 days after order was placed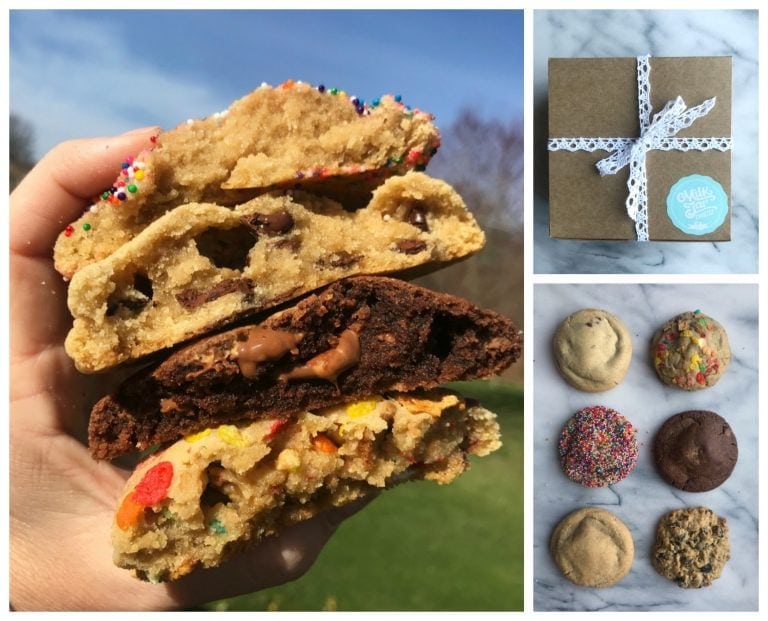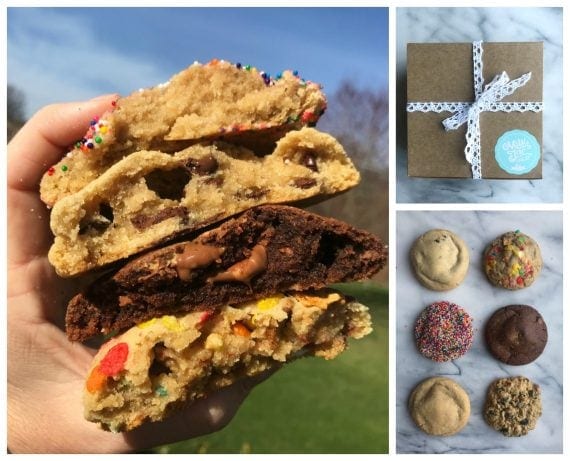 Milk Jar Cookies has been on my list of bakeries I have wanted to get to….unfortunately it's in LA, and I haven't been out there in a LONG time. When these arrived, the packaging was extra cute, and they all arrived fresh and gooey! They were crisp on the outside, and doughy on the inside. The Birthday Cookie was our favorite of all, with the Chocolate Peanut Butter a close second.
Lower Level, 251 W 18th St, New York, NY 10011
Price: 4 assorted for $20
Shipping: Arrived 2 days after the order was placed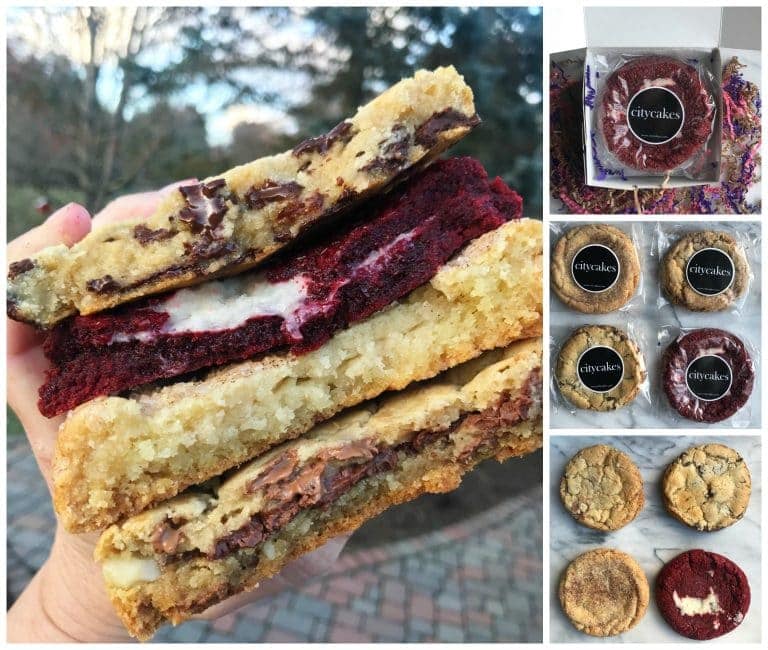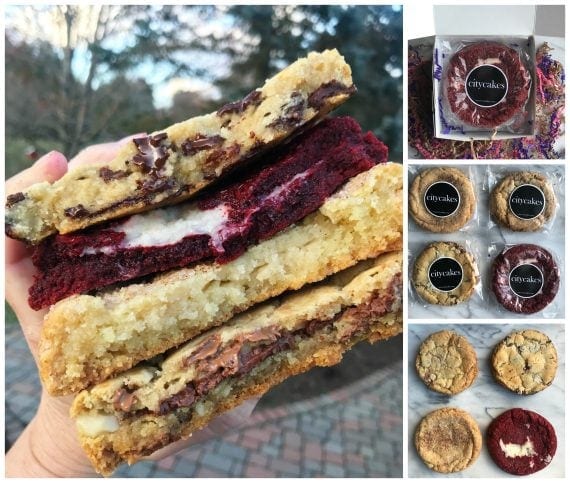 Ok, here is where things get a little murky…
Not murky in terms of these cookies…they are FABULOUS…I mean murky in terms of "THE BEST". I will go as far to say that any of my top 4 could be voted THE BEST depending on the day of the week and the mood I am in.
But let's talk about City Cakes…they are HALF POUND COOKIES, which yes, just yes. They are CRAZY delicious, the owners are fantastic, and they are just as good shipped to you as they are in the store. I visited their small NY location last year, and they are just some of the best cookies out there. If you are in NYC make sure you stop by and say hi to Chef Marc. The chocolate chip cookie is AMAZING, but my favorite is the cream cheese stuffed red velvet. Also, I'll tell you, of ALL the cookies we ordered, these stayed freshest the longest stored airtight at room temperature.
Multiple locations in NYC
Price: Assorted 4 for $27
Shipping: Arrived 1 day after order was placed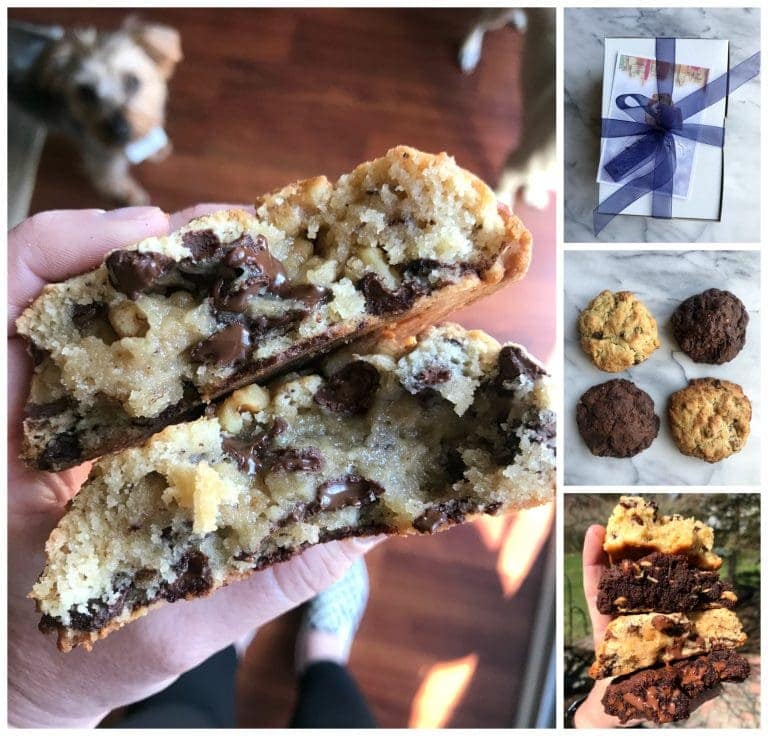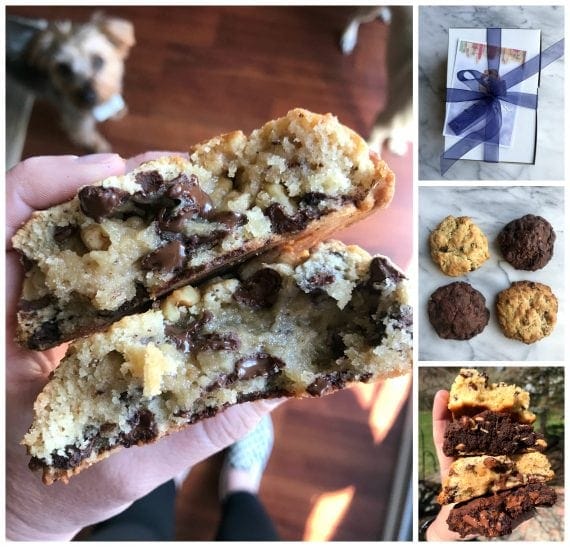 So Levain has ALWAYS been my gold standard cookie. It was the first cookie I ever had that was literally "life changing". I have always held all other cookies up to the standard of Levain, with very few coming close. If you are in NYC you HAVE to get to one of their locations and have one fresh. It's stupid how amazing they are. With that said, their shipped cookies are pretty freaking fantastic as well. You can pop them in the microwave or oven to try and recreate that NYC experience. The only downside to the Levain chocolate chip cookie, is that it has nuts, which I know turns a good 50% of you off. I am generally not a nuts in cookie girl, but I eat them gladly in a Levain cookie. Everyone in my family had a different favorite Levain cookie, Mine being the chocolate chip, Max's being the chocolate peanut butter, Jake's was the chocolate chocolate chip, and my husband loves their Oatmeal Raisin. The only downside of these, is there are only the 4 flavors…and the texture has been described to me as a tad "biscuity" if they sit for a few days.
But this cookie has been ranked over and over and OVER as the best cookie in NYC, and who doesn't want a bite of that?
1183, 3230, Summit Ave, Jersey City, NJ 07307
Price: 6 assorted for $30
Shipping: Arrived 1 day after order was placed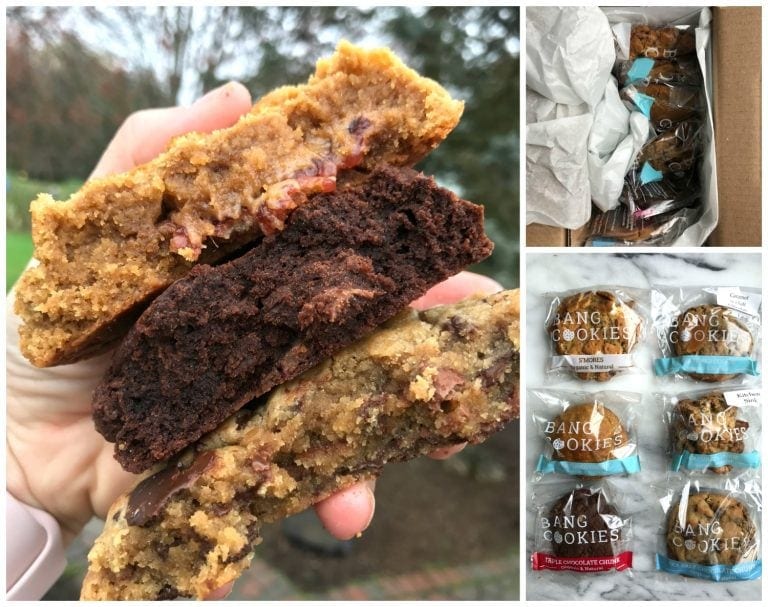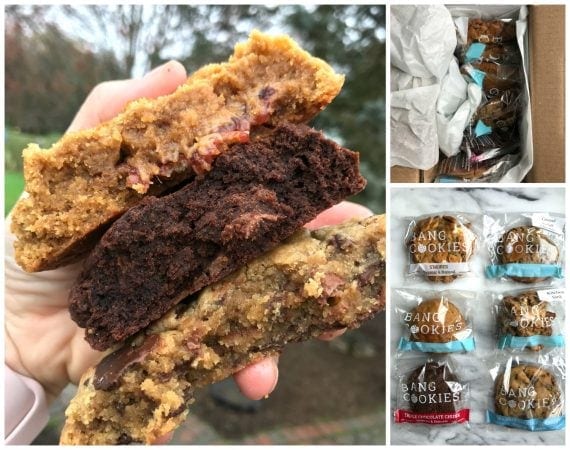 I wish I wish I WISH I had gotten better pictures of these cookies. The photos I snapped do NOT do them justice. This was on a day that I received 8 cookie orders, and I was trying to get pictures before digging in! Let me just tell you, these cookies were bangin. Ignore the pun. Like FREAKING LEGIT. It was WITHOUT QUESTION, the BEST chocolate chip cookie of ALL the orders.
Even better than Levain. There I said it.
Every single person who tried the Sea Salt Chocolate Chunk said, without a shadow of a doubt, it was THE BEST. And it was.
BUT, with that said, they have a cookie (pictured top in the stack) that has changed the cookie game for me FOREVER. I ordered it on a whim, trying to get a good selection of cookies, and wasn't expecting much.
It's the PB&J cookie and I want to eat it everyday for the rest of my life.
I URGE you to order these cookies, and make sure you order plenty of the Sea Salt Chocolate Chunk and PB&J.
I debated on whether or not Bang should be #1 on the list…and the reason it didn't get the top spot was because while ALL the cookies were good, it was the 2 that really stood out. We LIKED the S'mores, we LIKED the Kitchen Sink, We LIKED the Triple Chocolate Chunk, but the Chocolate Chip and the PB&J were the 2 that were stand outs.
3 locations in Chicago
Price: 4 for $27 (but I couldn't decide because OMG THEY ALL LOOK SO GOOD, so I ordered 3, 4 packs!)
Shipping: They arrived 2 days after the order was placed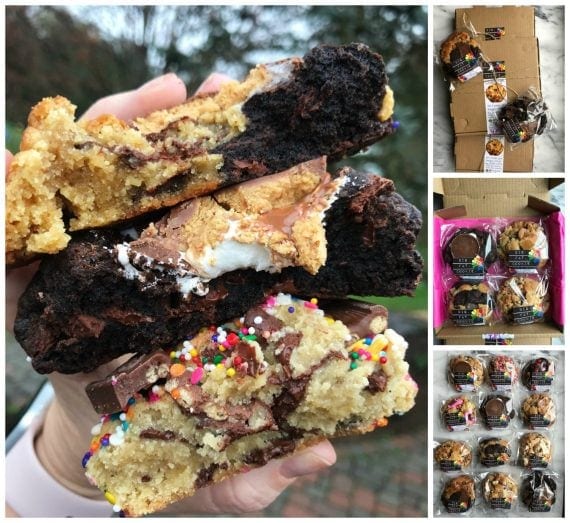 OMG WE MADE IT TO NUMBER ONE!!! OMG YOU GUYS!! I want to type this whole paragraph IN ALL CAPS BECAUSE OMG LOOK AT THOSE COOKIES!!!
Ok, let's just start with WHAT IS HAPPENING RIGHT NOW? How are these cookies even real life?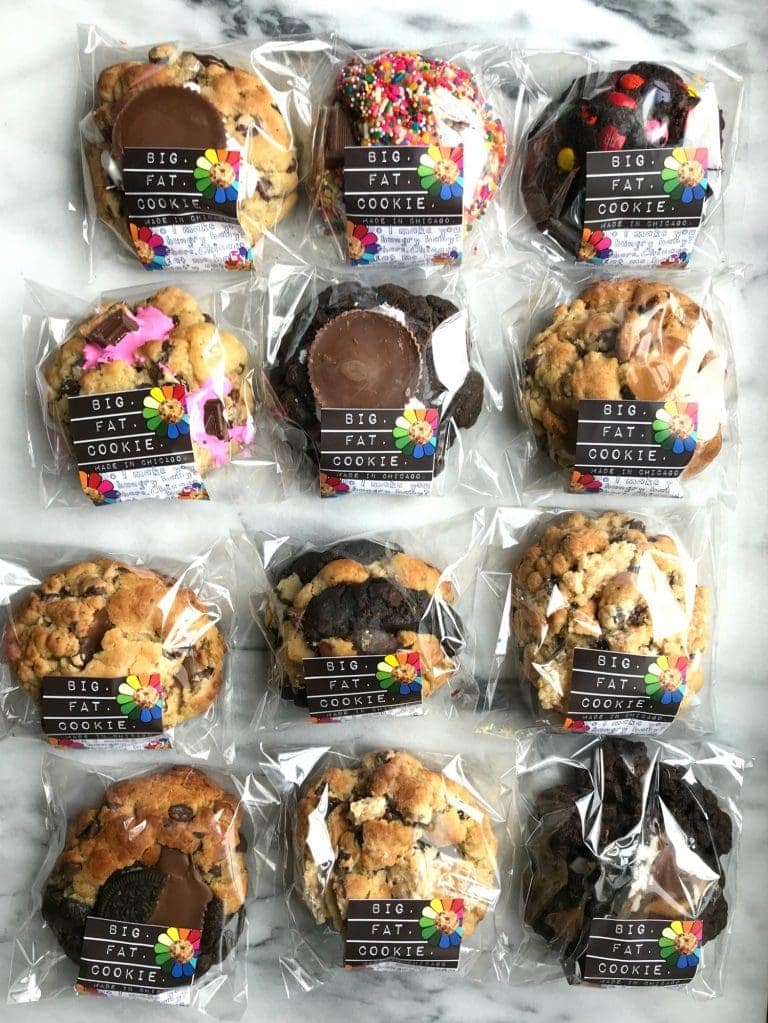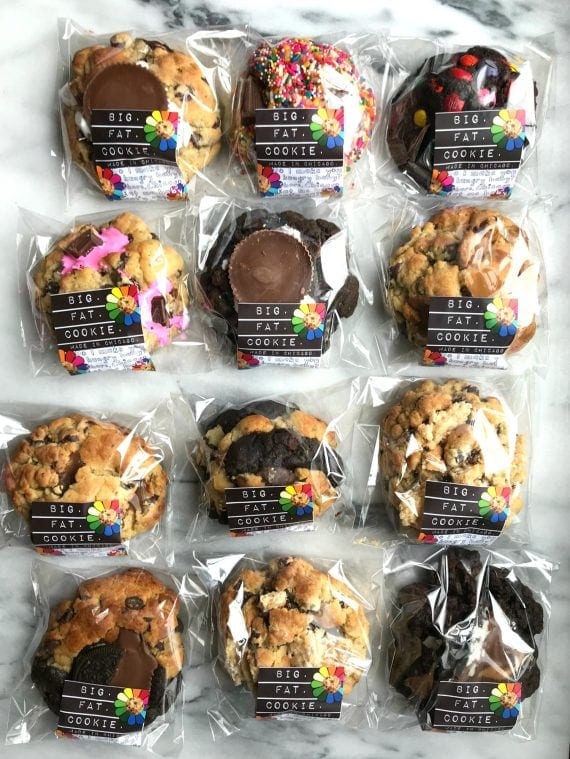 I had never heard of these until one of my Instagram followers told me about them…and as soon as I saw the website I placed my order. Like HELLO…these are a cookie lovers dream come true.
But let me talk about why they won…because that's why we're all here, right?
A) They were amazing cookies. They were thick, with crispy edges and gooey, soft centers.
B) They are show stoppers. Imagine getting a box of these in the mail? Open the box and you kind of gasp. I mean, I did.
C) The flavors are super fun and CREATIVE!! Right now they have a Fiesta Pack with and one example of what sets these apart is how unique the flavors are! I mean, hop over to their site and TRY not to drool.
D) They use peanut butter cups liberally.
E) They have a cookie stuffed with Rice Krispie Treats which I will be making ASAP here at home.
F) And did I mention JUST LOOK AT THEM? It's a thing of beauty.
If you read the website, they let you know how to reheat the cookies to make them Insta-worthy (LOVE THAT) and also included a few details about how they make each cookie perfect:
"From picking the gross white thing out of each egg, to painstakingly weighing each cookie and adding individual chocolate chips to make sure the cookies look perfect, to obsessively baking and wrapping each batch- your cookies are hand made with the same craftsmanship, enthusiasm and creativity I have brought to my jewelry business since 1986."
No one liked the gross white thing! ha!
Overall, if you're looking for the TOTAL COOKIE PACKAGE, Big.Fat.Cookie is the winner. They have the looks, the taste, the creativity, the packaging, and the speed of shipping.
ARE YOU HUNGRY YET??
So that wraps up my 3 week long cookie adventure. I have gained a total of 2 pounds, spent a lot of money, and probably gave myself a cavity or two, but it's safe to say it was SO worth it.
Again, this post is completely unsponsored, based soley on my opinions, and not meant to be anything but informative. It's also safe to say that every bakery on this list is someone's favorite, so do your best to check them all out and make your own decisions. I'd LOVE to know if you agree with me!
But for now, BIG.FAT.COOKIES for Prez!
xo