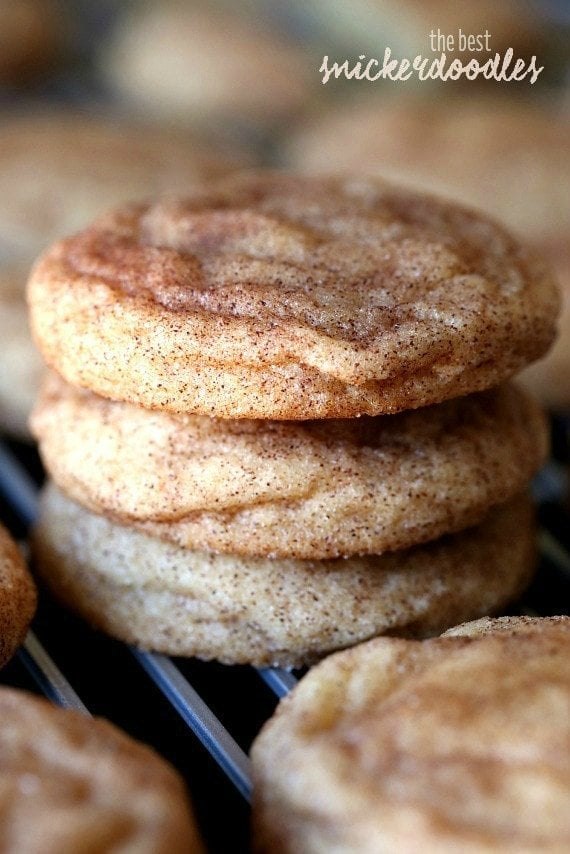 This Perfect Snickerdoodle recipe is truly the best! These Cinnamon Sugar Cookies are soft, buttery, thick and loaded with flavor!
I always hate calling something "the best" or "perfect"…because WITHOUT FAIL there will be someone out there who indeed, does NOT think they are perfect. Or the best.
I get it.
AND attaching "Perfect" or "The Best" to a cookie like the Snickerdoodle is entering into pretty dangerous territory…

MY OTHER RECIPES
Everyone makes Snickerdoodles…and everyone thinks their recipe is the best. Add in the probability that their recipe is most likely their Grammies, my claims to have the best recipe are fightin' words.
This ain't my first rodeo.
So with ALL that said, please note: My claims that these cookies are perfect and the best are my opinions solely. Well, mine and everyone who has tried them. Fists UP!
But hey y'all. Let's not fight. Let's bond over the delicious cinnamony-sugarness that is the Snickerdoodle.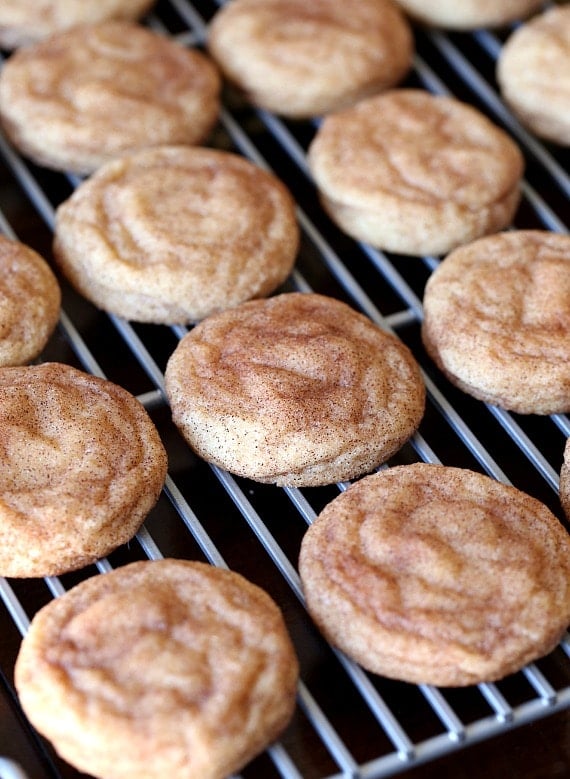 Also, let me state that I actually have an old-timey recipe for Snickerdoodles on my site already from GASP 2008. You can look, it's ain't pretty. That recipe was the one that MY mom always made. It was from the red and white checked BHG cookbook that everyone had (has) in their kitchen. It's a good recipe. Solid for sure, but it wasn't MY recipe.
AND I knew that it was high time I got busy making my own…plus I wanted to improve on the texture of the Snickerdoodle…and after a few tries I nailed it.
Also, let's talk about Cream of Tartar…I don't necessarily think you have to use it to have a good Snickerdoodle. BUT after my attempt at omitting the annoying ingredient from a batch of Pumpkin Spice Snickerdoodles I made last September I got my fair share of feedback that it didn't actually count as a Snickerdoodle without CoT.
Fine y'all.
Although I will say that using baking powder in place of baking soda and CoT is basically the same difference. But I'm here to please.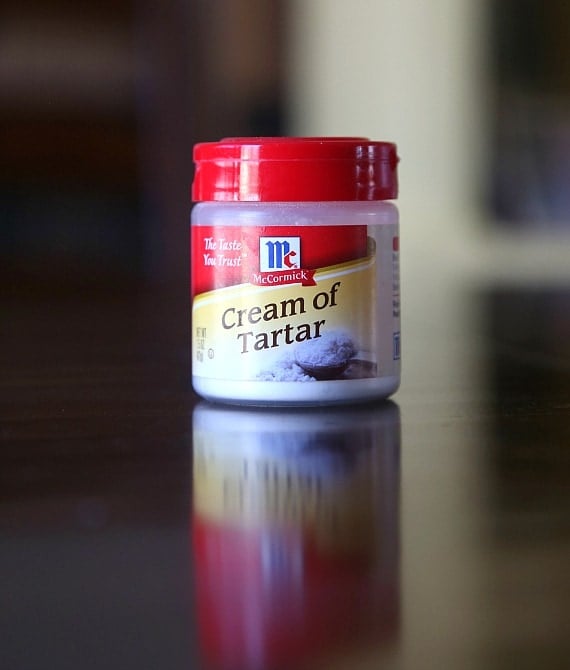 My recipe is super straightforward…no secret ingredients, no tricks and Y'ALL…NO CHILLING!
So that means these beauties will be on your table in 20 minutes. YES.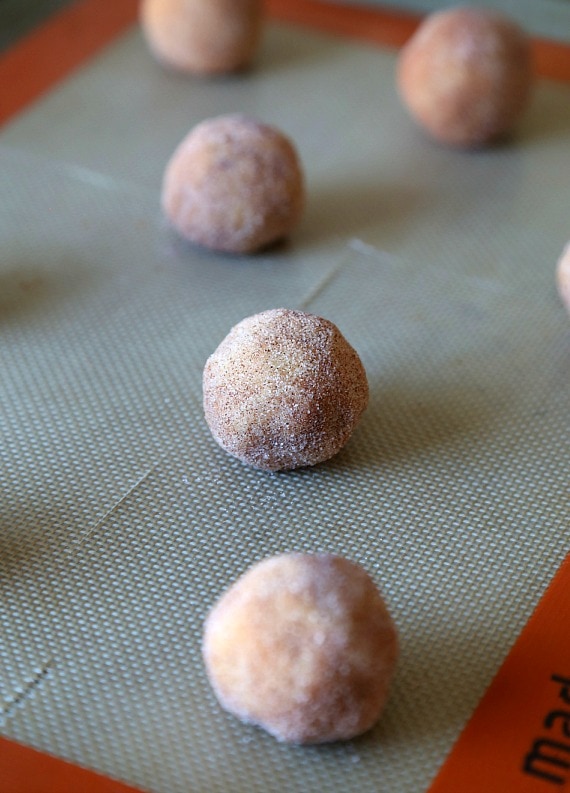 I bake them for EXACTLY 10 minutes every.single.time. with perfect results. But I know all ovens are different, so I wrote 10-12 minutes in the recipe. If you over bake them, they won't be as soft. It ain't rocket science, so if you prefer a crispier cookie, go ahead and add in an extra 2 minutes or so. No judgement here.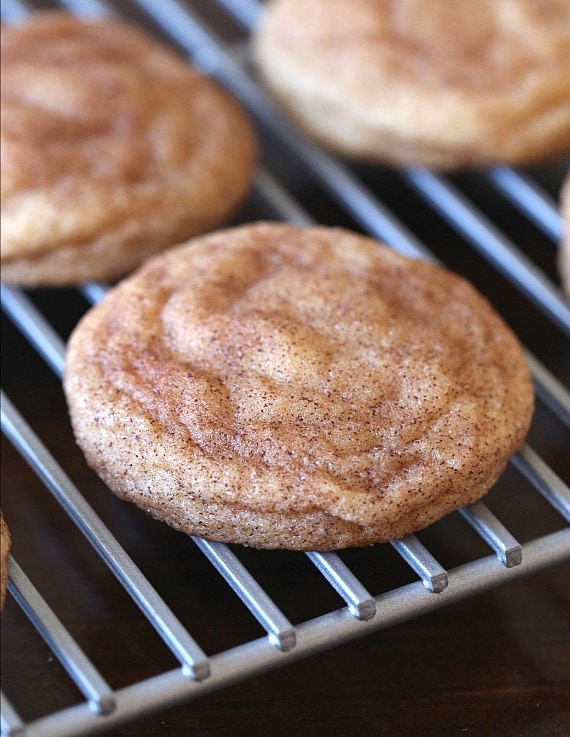 When you take them out of the oven, the edges should be slightly golden and the tops might seem slightly undercooked. It's ok! They will set up as the cool.
The insides will look glorious…like LITERALLY perfect…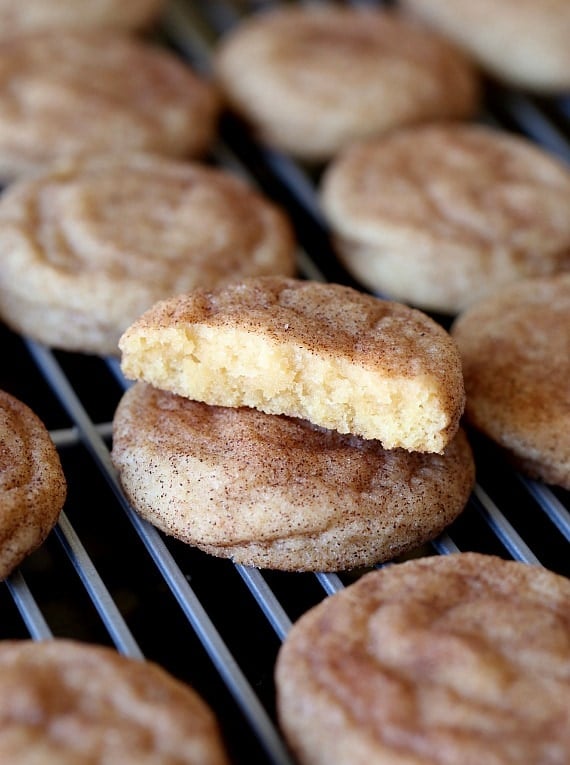 I hope you guys love these as much as I do!! SO make 'em, eat 'em and let me know what you think!
xo
Print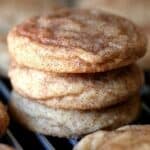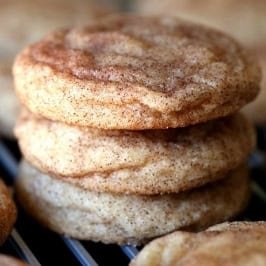 Perfect Snickerdoodles
Author:

Prep Time:

5 mins

Cook Time:

10 mins

Total Time:

15 mins

Yield:

20 large cookies
---
Description
The BEST most PERFECT Snickerdoodle cookie recipe ever! Super soft and buttery, loaded with cinnamon and sugar. Plus, there's no chilling the dough necessary, so they can be made QUICK!
---
Ingredients
1 cup butter, room temperature
3/4 cup granulated sugar
1/2 cup light brown sugar
1 egg, plus 1 yolk
1 Tbsp vanilla
1 tsp baking soda
1 tsp cream of tartar
1/2 tsp kosher salt
1 tsp cinnamon
2 3/4 cup flour
Cinnamon Sugar
1/4 cup granulated sugar
1 Tbsp cinnamon
---
Instructions
Preheat oven to 325°
Line a baking sheet with a silicone mat or parchment paper, set aside.
In bowl of stand mixer beat butter and both sugars until light and fluffy, 2-3 minutes. With mixer on medium speed add in egg, yolk and vanilla and beat for another minute, scraping the sides as necessary.
Turn mixer to medium low and mix in baking soda, cream of tartar, salt and 1 tsp cinnamon. Mix for 30 seconds, scraping sides as necessary.
Turn mixer to low and add in flour, mixing until just combined.
In a separate small bowl make your Cinnamon Sugar by mixing together cinnamon and sugar, stirring until evenly combined.
Using a cookie scoop or spoon, measure out about 2 Tbsp of dough and roll into a ball. Then roll each cookie dough ball into the Cinnamon Sugar mixture.
Place on prepared baking sheet about 2 inches apart. Bake for 10-12 minutes, turning cookie sheet halfway through baking.
*I baked mine for exactly 10 minutes every time I make these cookies with perfect results, but I know ovens vary, so bake only until the edges are slightly golden. The tops may seem slightly undercooked, but they will firm up perfectly when they cool. If you prefer a crisper cookie, bake for 2 additional minutes.