Today I'm sharing Perfect Carrot Cake! This Carrot Cake Recipe is so easy, made in a 9×13 pan, loaded with essential extras like pineapple, coconut, and raisins that make is THE BEST. AND it's all topped with an ultra creamy cream cheese frosting!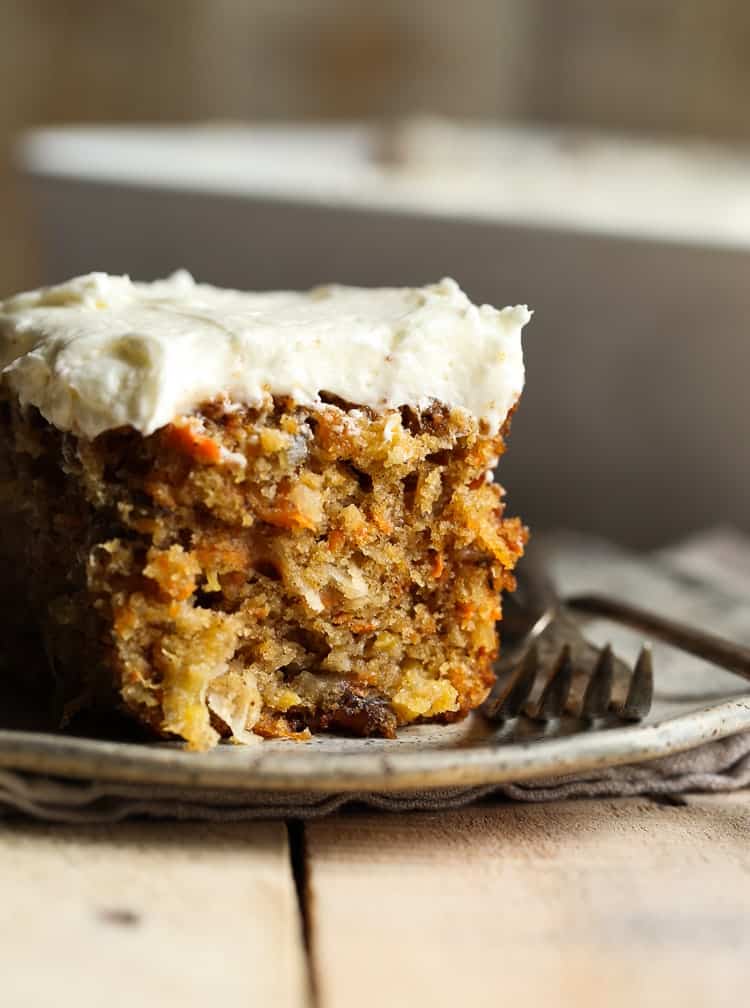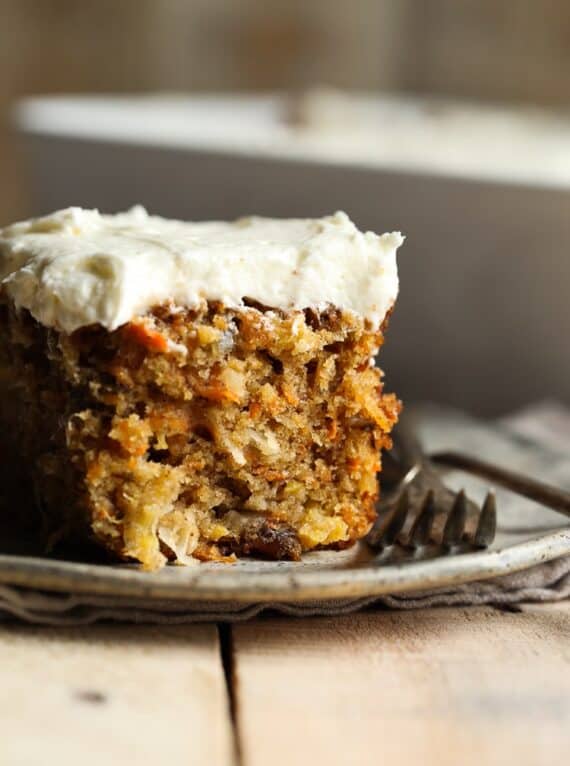 Today I'm Sharing The BEST Carrot Cake Recipe EVER!
I feel like I have been holding out on you. I've had this carrot cake recipe in my back pocket for years and years. I've made it countless times…sometimes as a layer cake, but most of the time in a 9×13 as a sheet cake because…well…it's easier, and I am lazy. #alreadyestablished.
Carrot Cake has always been a favorite of mine…BUT I am a little picky. I am not a fan of "plain" carrot cake…you know the kind without any extras, typically from a boxed mix. The thing is the "extras" are where the magic happens: flavor, texture, moistness. If there aren't bits of carrot poking out…a raisin here or there…coconut to add sweetness…or (gasp) walnuts to add crunch…well, no thank you, please. So let's stop talking and start doing!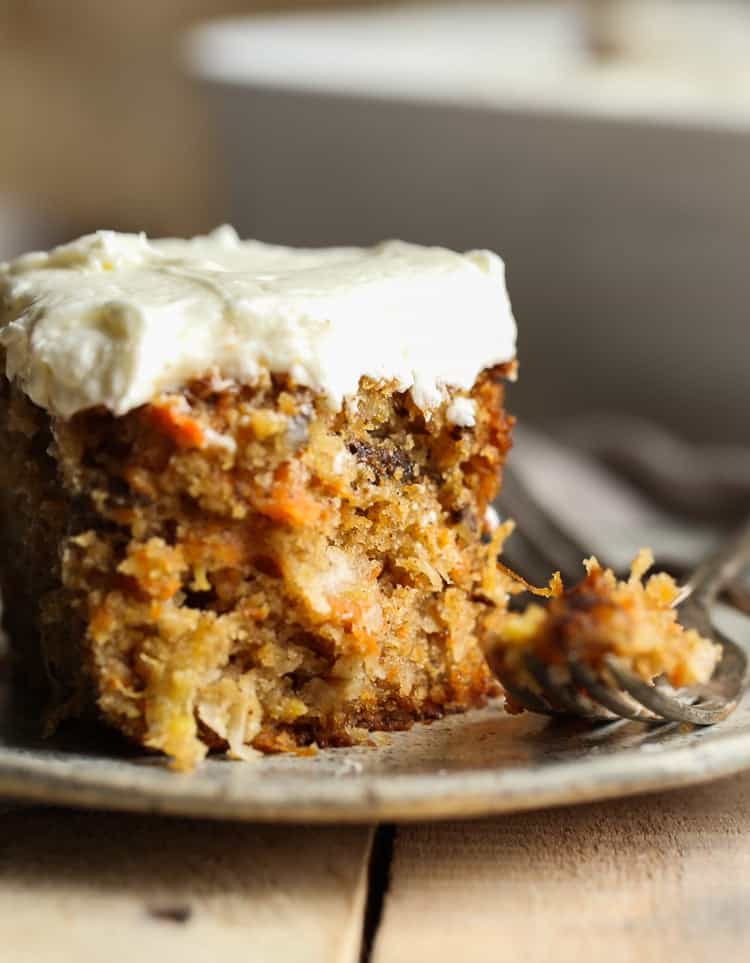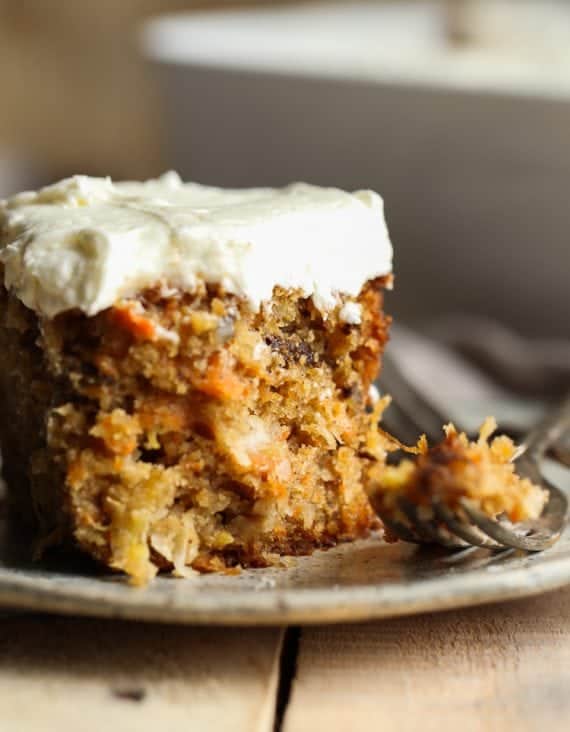 What Makes This Carrot Cake the BEST?
So this perfect carrot cake recipe is all about my personal preferences. SO let's talk about some of the things that I add INTO my recipe that I think are a must.
Fresh Grated Carrots: Don't skip this step and buy the pre-grated carrots. The ones you buy in the bag are too thick, and they will be crunchy in your cake. No thanks. Plus they are coated with something to help preserve them. Please if you listen to me at all, make sure this is the one take-away. Grating carrots isn't hard, I promise.
Pineapple: I use crushed pineapple from the can, and I drain it well. The pineapple will add sweetness and moisture, but make sure you drain it, otherwise it will be too liquidy in your cake and the texture will be mushy. Also make sure that the pineapple is packed in water and not syrup!
Walnuts: Ok, I am a no-nuts-in-desserts kind of gal, but in this cake they are a piece of the puzzle. Chop them up fine, so you don't have big nut chunks. Trust me.
Coconut: Sweetened Flaked Coconut is so perfect in this recipe. Try it, I swear…even if you "don't like coconut".
Raisins: Yes always and forever in carrot cake. Make sure they're fresh raisins too, old raisins are hard and too chewy. Use regular or golden, just don't skip them.
Do You Have To Add All Those Ingredients?
Now, I know, I know, I will get questions…Can I leave out the coconut? Can I skip the nuts? Can I CHANGE ALL THE THINGS? Well, the answer is yes. But no. Sure, you can leave out the coconut, or nuts, or raisins…SURE YOU CAN. But I'm just asking…unless you have a life-threatening allergy…try my carrot cake recipe the way God intended. Just this once.

Tips On Making Carrot Cake
I hit on some of the carrot cake tips above, but let's break down the process…which is seriously easy!
I use vegetable oil in this recipe, as opposed to butter. I do this because there are so many flavors in carrot cake, that the butter isn't essential for flavor. PLUS oil tends to give cakes a slightly lighter texture, and with all the add-ins like pineapple, carrots, etc you don't need anything that will make the cake more dense.
The combo of brown sugar and granulated sugar in equal parts provide a little extra moisture and flavor then if you used all granulated.
The addition of cinnamon in the cake adds another layer of flavor, but don't worry it isn't overwhelming at all.
A whole tablespoon of vanilla might seem like a lot to you, but it is competing with a lot of other flavors, so don't worry, use a heavy hand!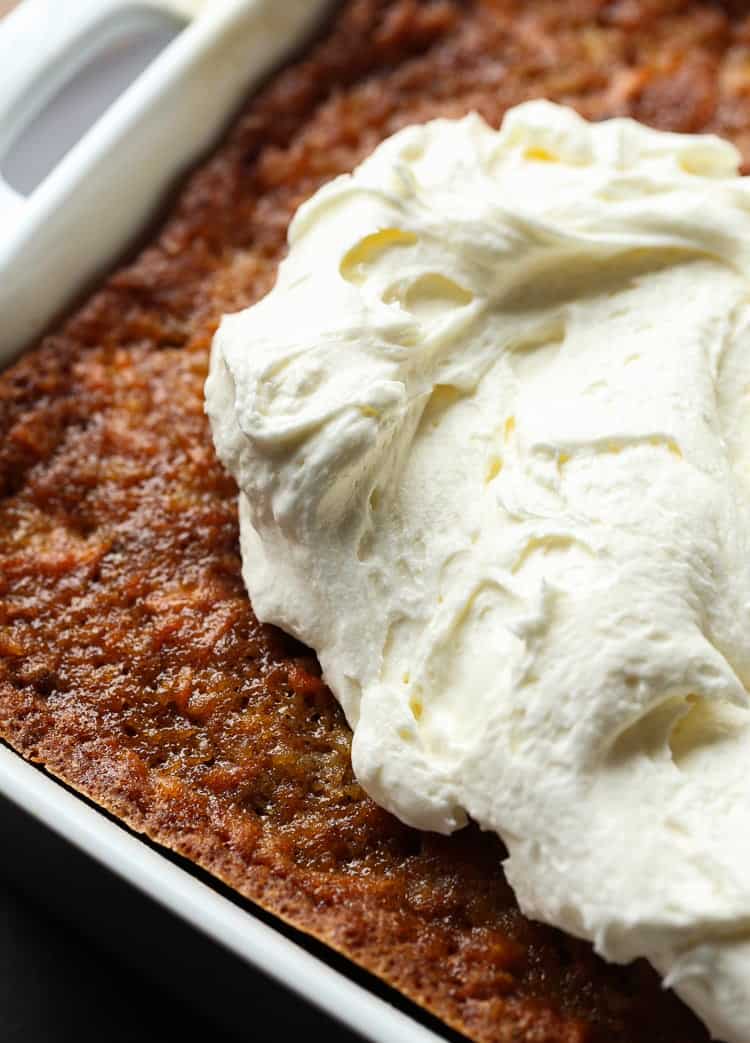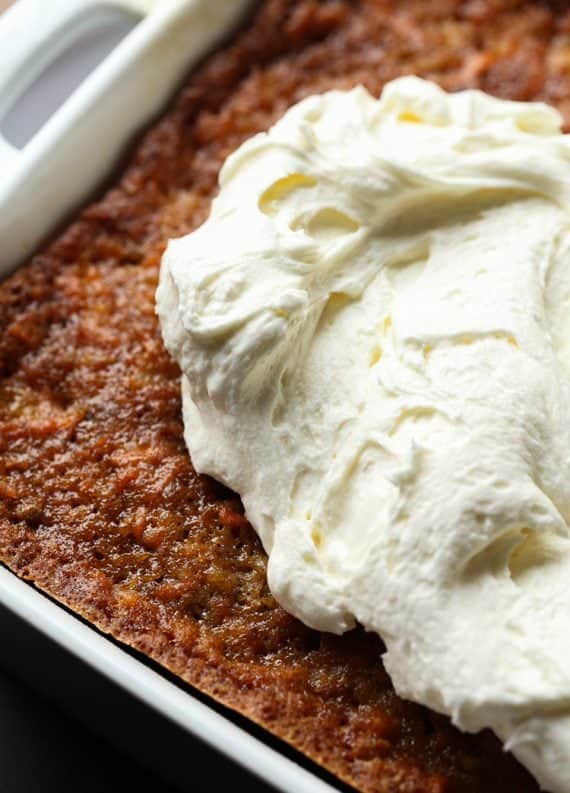 Cream Cheese Frosting Is A MUST!
Cream Cheese Frosting and Carrot Cake go together like the best of friends. AND I happen to make the actual best cream cheese frosting in all the land. It's perfectly fluffy, totally pipe-able, and it spread on like a dream if you use an off-set spatula. If you are just completely opposed to cream cheese frosting here are a few other options of frosting you could use: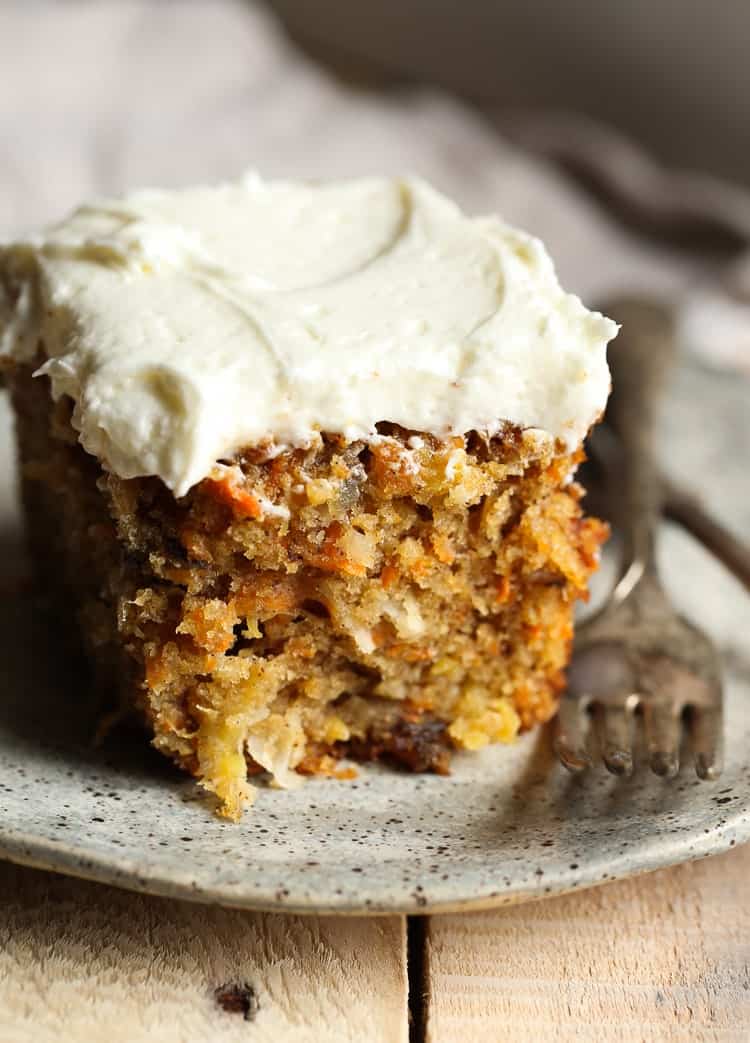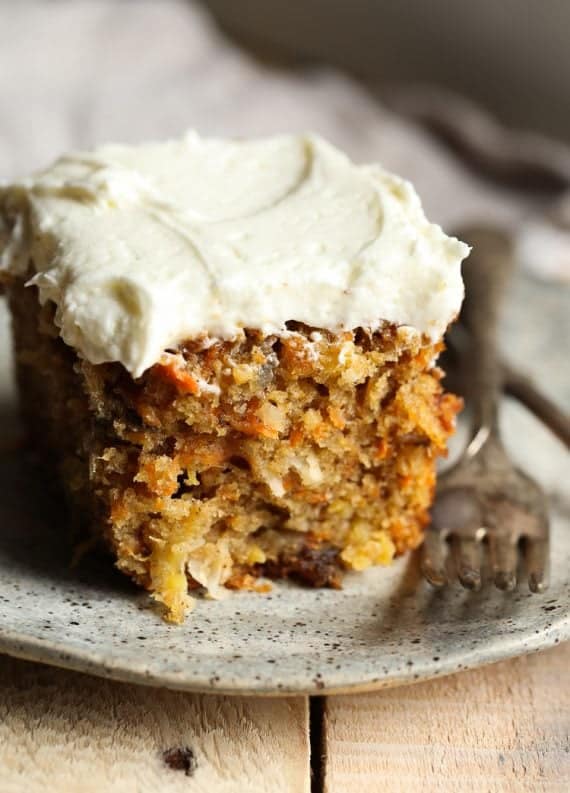 Can You Make This Into A Layer Cake?
Yes, you can ABSOLUTELY make this into a layer cake. Use 2, 8 or 9- inch round cake pans. Make sure they are greased and line them with parchment rounds. Bake the cakes for 25 – 30 minutes and check the doneness, add more time if necessary.
Note, if you do decide to make this into a layer cake you will need to increase the amount of frosting by 50% (at least) so you can fill it and cover the whole cake with a generous amount of frosting. If you are looking to pipe pretty swirls on top of the cake for decorations you might need to double the frosting to make sure you have enough!
Looking For More Carrot Cake Inspired Recipes? Try These:
Print
Perfect Carrot Cake
Author:

Prep Time:

20 mins

Cook Time:

45 mins

Total Time:

1 hour 5 mins

Yield: serves

12

1

x
Category:

Cake

Method:

Baking

Cuisine:

Dessert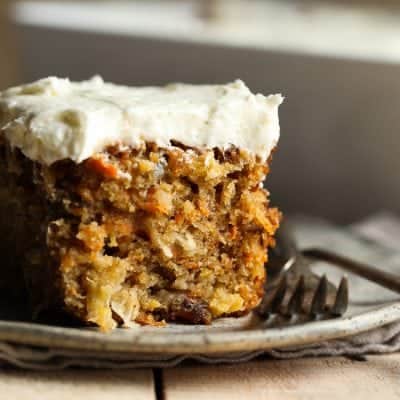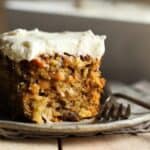 ---
Description:
The Best Carrot Cake Recipe EVER!!
---
Ingredients:
Cake
1 cup

granulated sugar

1 cup

light brown sugar

1 1/4 cup

vegetable oil

4

eggs

1 tablespoon

vanilla

1 tablespoon

ground cinnamon

2 teaspoons

baking powder

1 teaspoon

baking soda

1 teaspoon

kosher salt

2 cups

flour

2 3/4 cups

grated carrots, approximately 5

1

(8 ounce) can crushed pineapple, drained

3/4 cup

chopped walnuts

1/2 cup

raisins (regular or golden)

1 cup

sweetened flaked coconut
Frosting
1

(8 ounce) block cream cheese, room temperature

1/2 cup

butter, room temperature

5 cups

powdered sugar
optional – 1 teaspoon vanilla extract OR 1/2 teaspoon almond extract
---
Instructions
Preheat oven to 350°F. Coat a 9×13 pan with nonstick spray. Set aside.
In the bowl of your stand mixer fitted with the paddle attachment mix both sugars, vegetable oil, eggs and vanilla together on medium speed until smooth, 1 minute.
Add in the cinnamon, baking powder, baking soda, and salt and continue mixing for 30 seconds, scraping the sides of the bowl as necessary.
Mix in the flour until just combined.
Add in the carrots, pineapple, walnuts, coconut, and raisins and stir until evenly incorporated.
Pour batter into the prepared pan.
Bake for 40-45 minutes, or until a toothpick inserted in the center comes out clean. Allow to cool completely.
Frosting
In the bowl of your stand mixer fitted with the paddle attachment mix the cream cheese and butter together on medium speed until combined.
With mixer on low, slowly add in the powdered sugar.
Once incorporated, turn the speed up to medium and mix for 1-2 minutes until smooth and creamy, scraping the sides of the bowl as necessary.
Spread the frosting on top of the cooled cake.
---
Notes:
store airtight for up to 3 days.
* I don't ever refrigerate this cake, even with the cream cheese frosting, and it's fine. But you can absolutely refrigerate this if desired.
Keywords:: Carrot Cake, Best Carrot Cake, Carrot Cake Recipe, Cream Cheese Frosting
Want To Save This Recipe?