Wondering how to make a Baking Powder Substitute? Read on for some helpful tips and tricks on homemade baking powder!
Make sure to check out my easy Homemade Buttermilk too!
My Favorite Baking Powder Substitute
Have you ever run out of baking powder and wondered if you could sub in baking soda? Or baked up some biscuits/muffins and wondered why they were so flat? If so, you're not alone.
To solve these problems, I've put together this collection of homemade baking powder substitutes that you can turn to when your baking powder runs out or expires. Each method is pretty easy to mix together, but more importantly, they'll get you the leavened results you're looking for!
Why Would You Need to Replace Baking Powder?
Baking powder may need to be replaced because, like anything else, it has an expiration date. After it expires, it becomes less effective as a leavening agent, which means it won't lift your baked goods like it's supposed to.
You can test the baking powder to see if it has expired by putting 1/2 tsp or so into some warm water. If the mixture fizzes, it's still good. If it doesn't, you'll want to throw the rest of the baking powder out.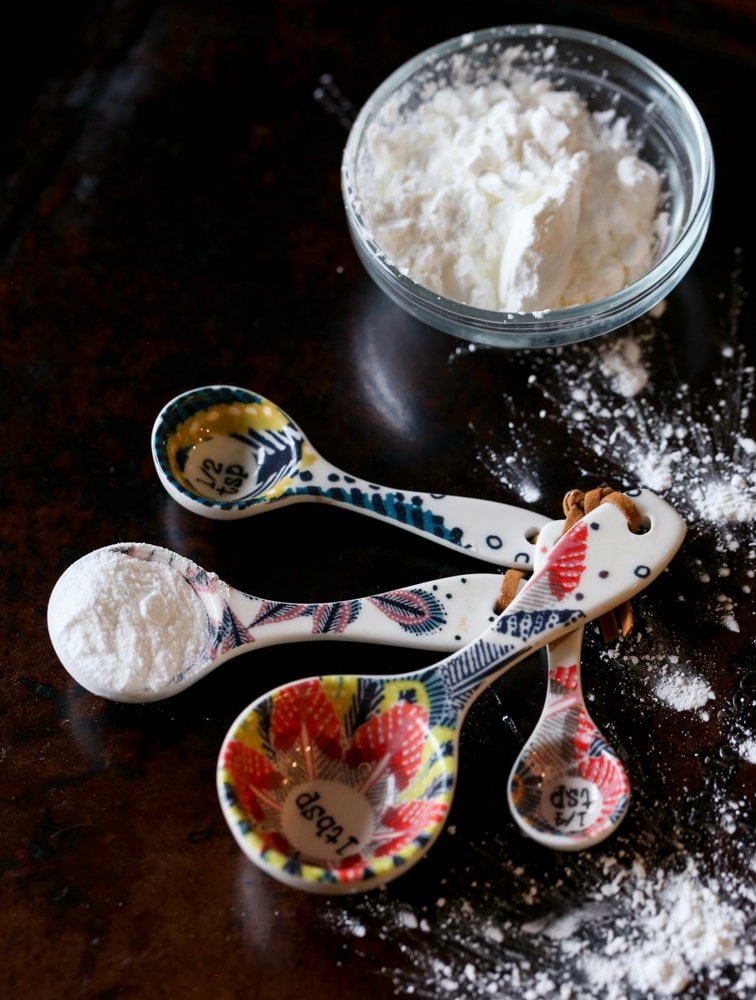 What Does Baking Powder Do in a Recipe?
Baking powder is a leavening agent that will help your baked goods rise, and it can also lighten the texture of whatever it is that you are making.
When mixed with water, the dry acid in the baking powder reacts with the base, and the result is a release of carbon dioxide. That release causes bubbles to form, which in turn makes your recipe rise.
PRO TIP: Always make sure you are using ALUMINUM FREE Baking Powder when baking!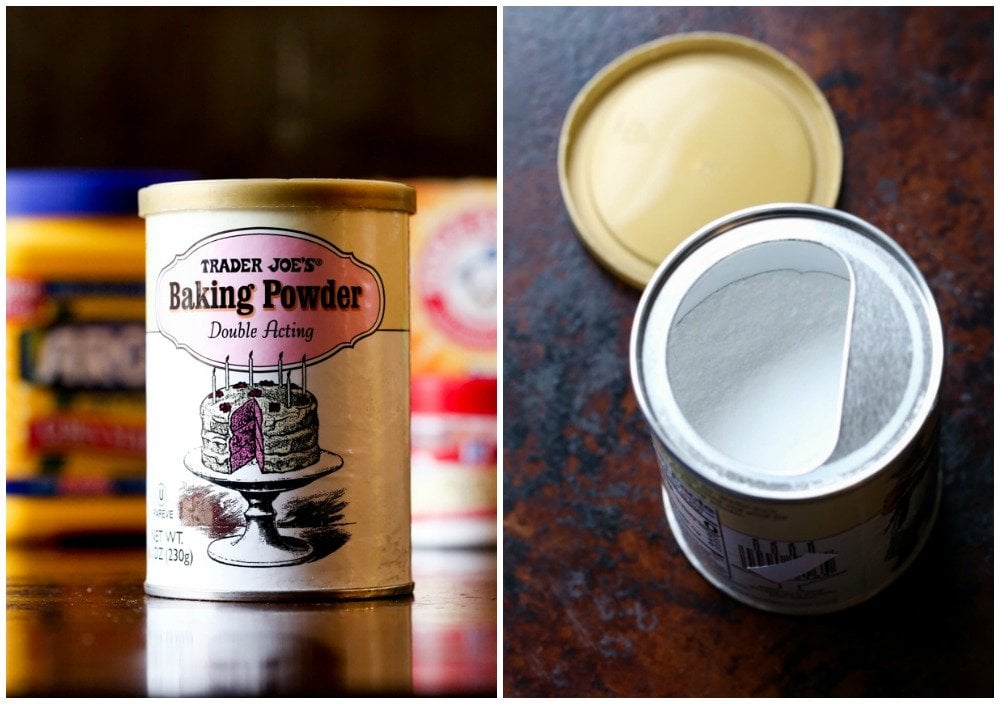 What is the Difference Between Baking Powder and Baking Soda?
There is a difference between the two, even though you will sometimes hear people mix them up. They are both used to help whatever you are baking rise up nice and tall, but you can't just substitute one for the other without changing the amount the recipe calls for.
Baking soda is a base, which means that it needs to mix with an acidic ingredient, like lemon juice or milk, in order to leaven something. If it is not mixed with an acid, it leaves a metallic taste in the baked good, which is obviously not the desired result.
Baking Powder is a mix of baking soda and a dry acid (and sometimes cornstarch), which means that it doesn't need another acidic ingredient in order to leaven the baking product, like baking soda does.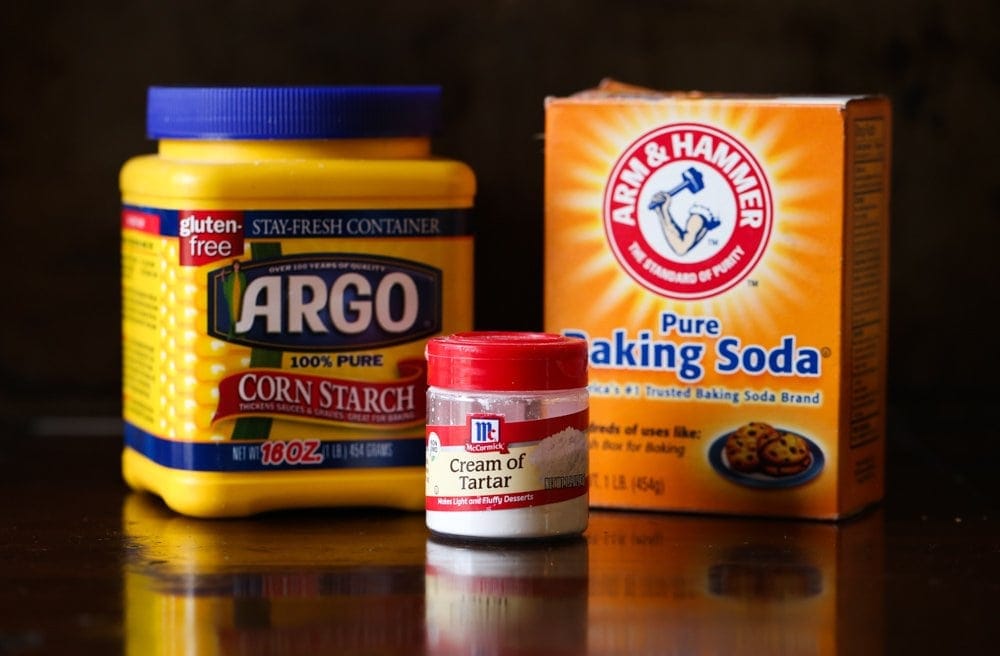 Baking Powder Substitute Options
What are the actual substitutes? Let me tell you about them! There are a couple of different options:
Make Your Own
To make 1 tsp, all you need is cream of tartar, cornstarch, and baking soda – the three ingredients used in baking powder. Use 1/2 tsp cream of tartar, and 1/4 tsp of the remaining ingredients, and you're good to go! To make more, double or triple the proportions.
Use Baking Soda
Baking soda can be substituted for baking powder, but it requires more than just swapping one for the other. Baking soda is 3 times stronger than baking powder, so if a recipe calls for 1 tbsp of baking powder, you'll want to use 1 tsp of baking soda. You will also need to add 1 tsp of an acid (such as vinegar or lemon juice) per every 1/2 tsp baking soda to balance out the base.
Use Lemon Juice
A slightly different mixture of lemon juice and baking soda will also work. Use 1/2 tsp lemon juice and 1/4 tsp baking soda as a substitute for every 1 tsp baking powder.
Use Self-Rising Flour
Self-rising flour has leavening agents already inside of it, so by subbing that in for all-purpose flour, you eliminate the need for extra baking powder. For example, if a recipe calls for 1 cup all-purpose flour, use 1 cup self-rising flour.
How to Store Homemade Baking Powder
The best way to store baking powder is to keep it at room temperature in an airtight container.
Print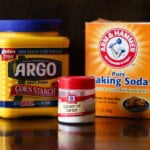 Baking Powder Substitute
Author:

Prep Time:

1 minute

Cook Time:

0 minutes

Total Time:

1 minute

Yield:

1 teaspoon

1

x

Category:

DIY

Method:

Whisk

Cuisine:

Baking
---
Description
DIY baking powder is easy to make in a pinch!
---
1/2 teaspoon

cream of tartar

1/4 teaspoon

cornstarch

1/4 teaspoon

baking soda
---
Instructions
Mix the cream of tartar, cornstarch, and baking soda together to replace 1 teaspoon of baking powder in any recipe.
You can double, triple, or increase this recipe as needed.
---
Notes
If you make this in bulk store airtight at room temperature
Keywords: cookies and cups, baking powder, homemade baking powder, baking powder substitute
Want To Save This Recipe?
Find more recipes like this:
PIN for later: