Salted Brown Butter Chocolate Chip Cookies are THE BEST chocolate chip cookies ever! I'm sharing all my tips on how to make the prettiest bakery-style cookies that require NO MIXER and NO CHILL TIME. This is my go-to chocolate chip cookie recipe…it's absolutely the best.
So today's recipe, my Brown Butter Chocolate Chip Cookies is by far my most MADE (and most requested) cookie recipe: a) because it's seriously delicious , and b) you don't need a mixer and c) there is no chill time necessary. Plus, this recipe has browned butter, and it does, indeed, make a HUGE difference. Honestly I haven't met a person yet who doesn't absolutely love these cookies. They are THAT cookie.
But I have a pretty extensive catalog of chocolate chip cookie recipes here on my site. Recently I made a Copycat Crumbl Cookie Recipe that you guys have gone crazy for, AND I even have one titled My Favorite Chocolate Chip Cookies. Which is mostly true. Let me explain…
That recipe IS actually my favorite in terms of a traditional chocolate chip cookie. It's thick, flavorful, made with mini chips (my fave), and overall a classic. BUT the reason I don't make them as much as I make THIS recipe, is the chill time. Sometimes you just want cookies now (read: most of the time). And also I mentioned these have browned butter, right?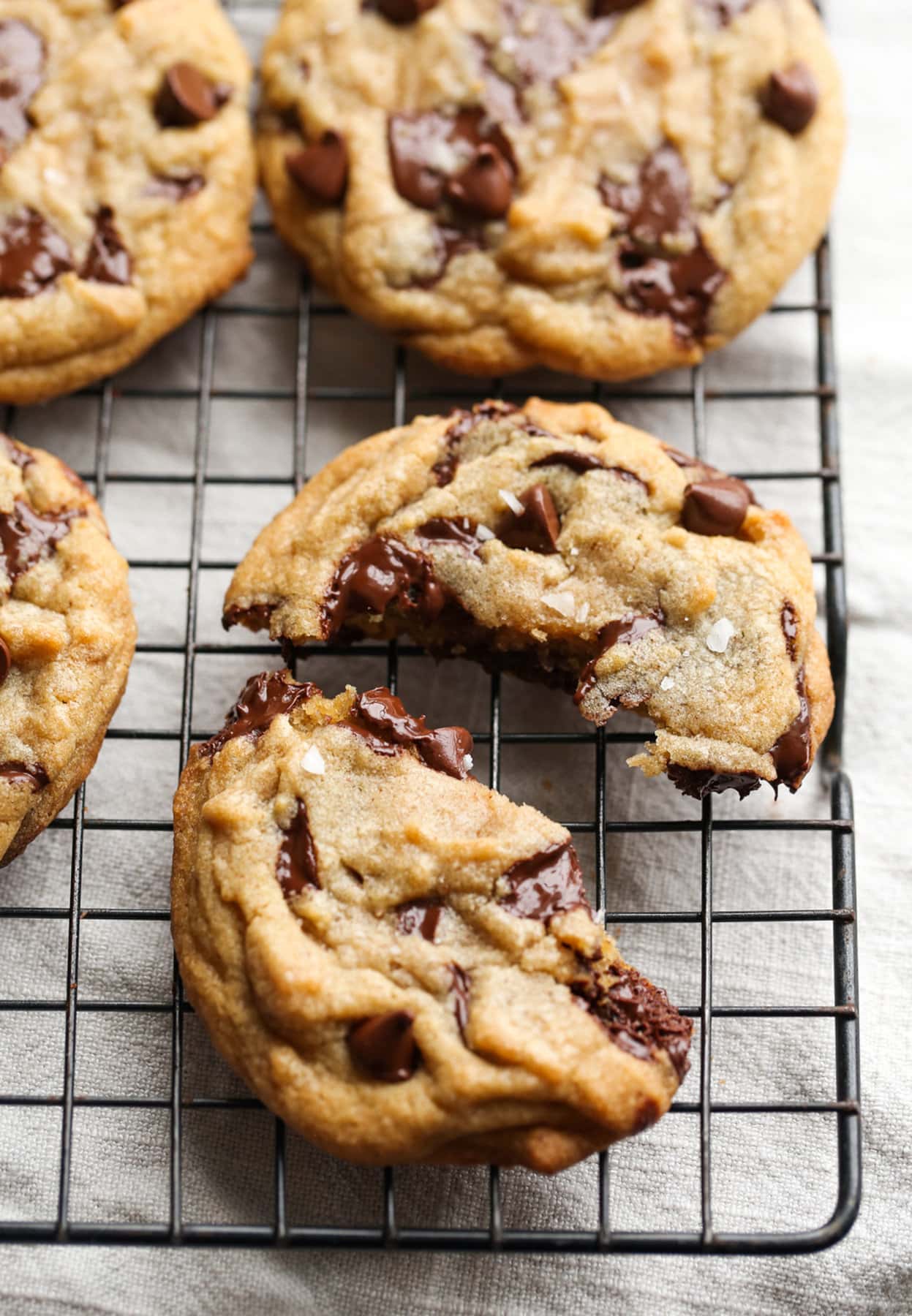 NOTE: This recipe is actually the cover recipe from my book, and by far one of the most popular recipes from the book…So I decided I needed to share the recipe here on my site as well for everyone who doesn't own The Cookies and Cups Cookbook!
Why Brown the Butter?
Browning butter is a simple way to add a real depth of flavor without much effort at all. The fat solids in the butter become a deep amber color and intensify the richness and nuttiness of the butter.
You want it to cool enough that your chocolate chips don't melt, but you don't want it to become a solid again, since you won't be using a mixer. If your butter cools too much and it does firm up, no problem just reheat it a little bit! Or, if it cools completely and instead of reheating it you can simply make this recipe in the mixer using the paddle attachment. You have flexibility.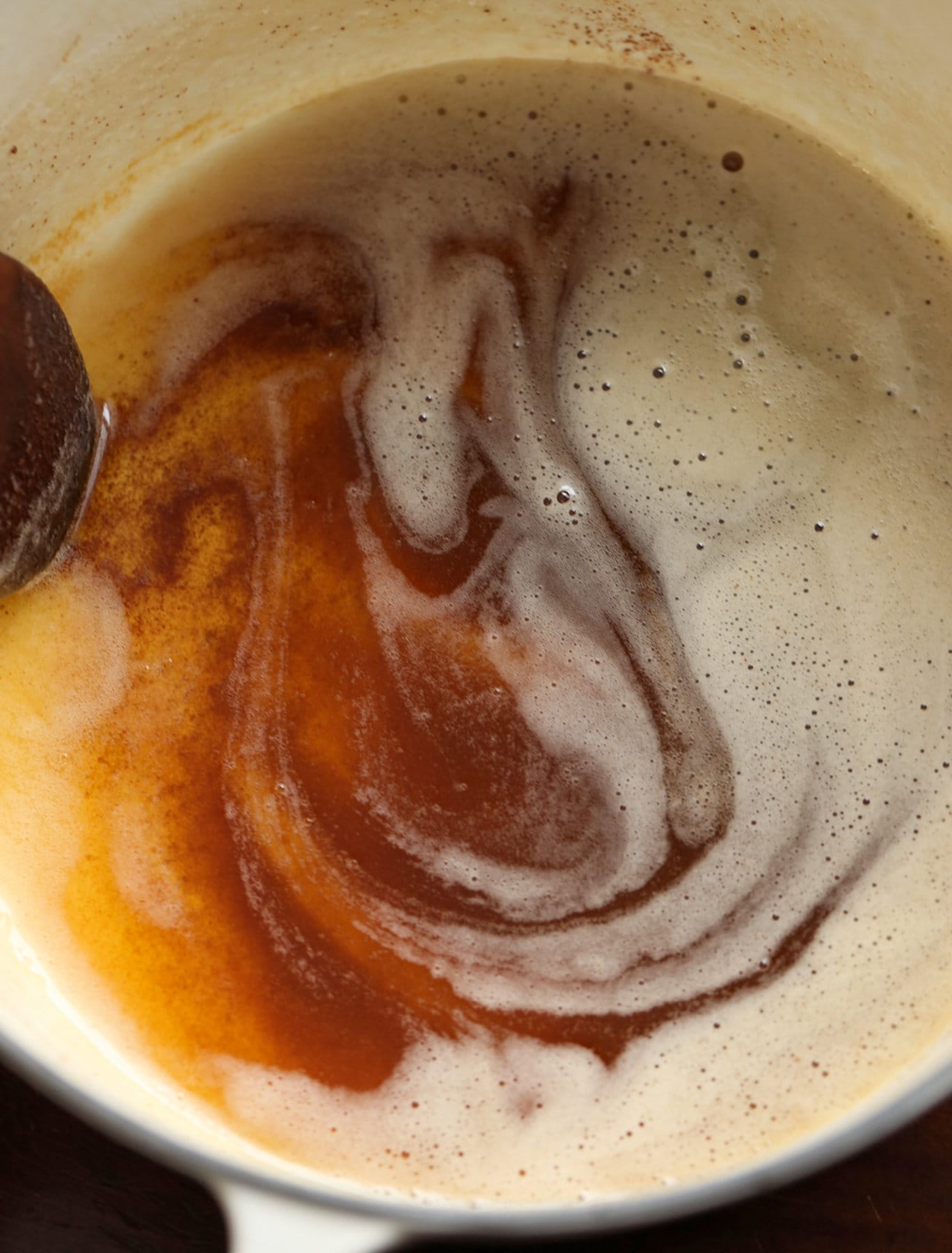 How Do You Brown Butter?
Browning butter is so easy! All you do is:
Melt your butter over medium-low heat.
Bring the butter to a boil and swirl the pan continuously (or stir continuously) until the butter foams up and becomes a deep amber color.
It will take a few minutes to start to brown, but once the butter begins to brown it will happen quick so don't walk away!
Once the color is a deep amber, remove it immediately from the heat and allow it to cool.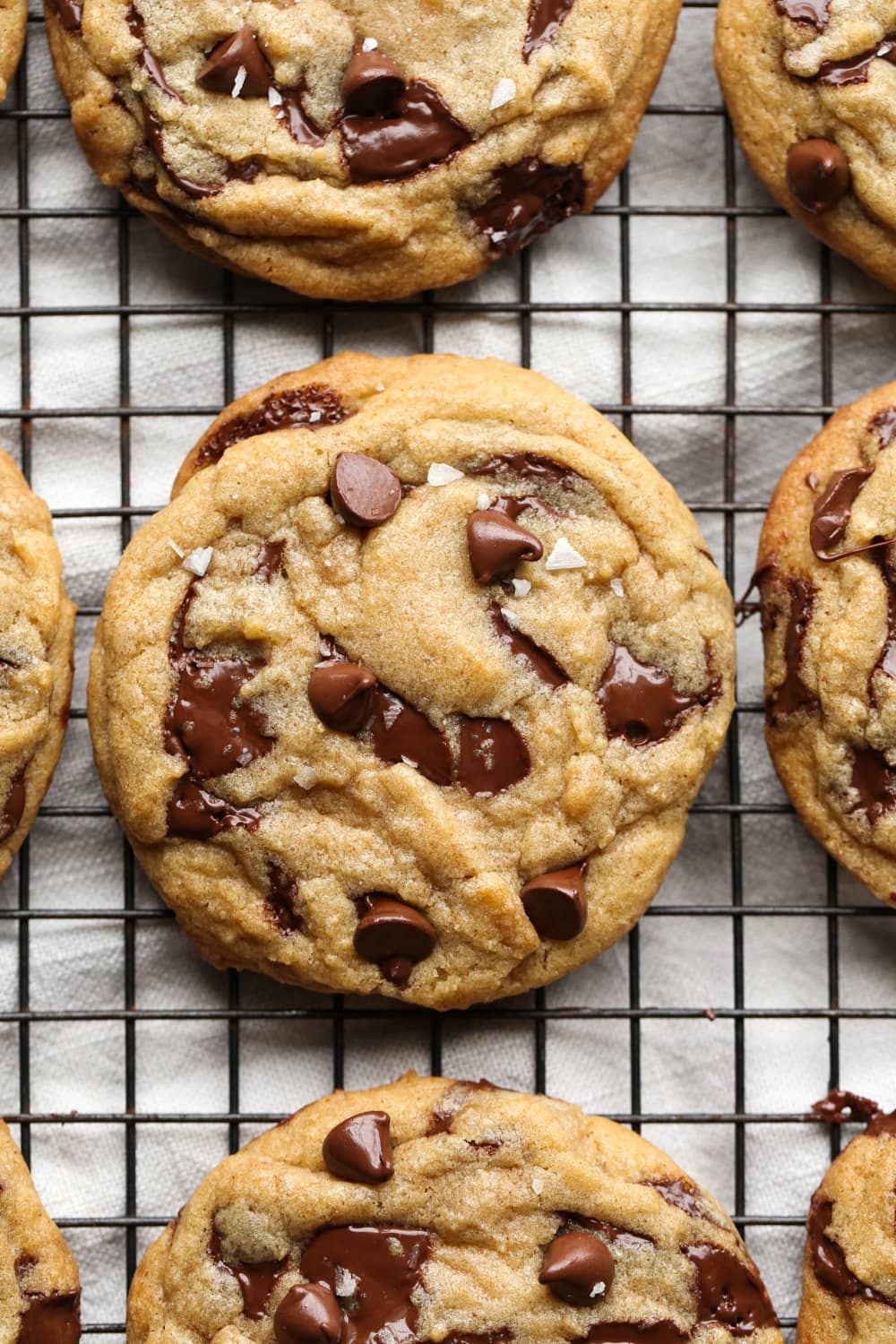 Salted Butter. I prefer salted butter in all my cookie recipes, but especially this one, as the saltiness of the butter combined with the addition of coarse sea salt makes these truly a balanced sweet/salty cookie experience.
Sugars: I use a combination of light brown sugar and granulated sugar in this recipe.
Large eggs. Pull the eggs out of the refrigerator before you brown your butter. This will give them a chance to come up to room temperature. Since the butter will still be a little warm when you add the eggs, it's better to try to keep all the ingredients close to the same temperature.
Vanilla extract. Always and forever use your vanilla extract in your chocolate chip cookies.
Dry Ingredients: Baking soda, coarse sea salt, and all purpose flour
Chocolate chips. You can use just about any type or brand of chocolate chips in these cookies, but I will hit on my favorite below.
I like to use semi-sweet chocolate in my chocolate chip cookies! Milk chocolate can make things pretty sweet, but you can always use a combo or milk and dark (semi-sweet).
My most favorite brand of chocolate to use in my cookies is Callebaut. I order it in bulk on amazon. I buy the chocolate disks (callets), which a re a little more flat than a chip, but basically the same…and they melt like a dream. Seriously, if you haven't tried it do yourself a favor and give it a shot. If I'm out of Callebaut, I'll use Guittard or Ghirardelli.
Why Salted Butter and Coarse Sea Salt?
Well…these are Salted Brown Butter Chocolate Chip Cookies…it's literally the name of the recipe lol! BUT if you just aren't into salt in your cookies no problem at all! You can use unsalted butter and leave out the coarse sea salt. If you use unsalted butter you will want to add back a little more salt though, 1/2 teaspoon is what I would recommend for anyone with a salt sensitivity.
But using salted butter and coarse sea salt really creates the magic of these cookies in my opinion.
Once, about 16 years ago, my mom was making cookies in my kitchen and couldn't find the salt so used my coarse sea salt instead and I couldn't believe how delicious it was! The little bits of salt throughout the cookie was an incredible combination with the sweet chocolate. Ever since then, this is how we've been making cookies…way before the sea salt trend started!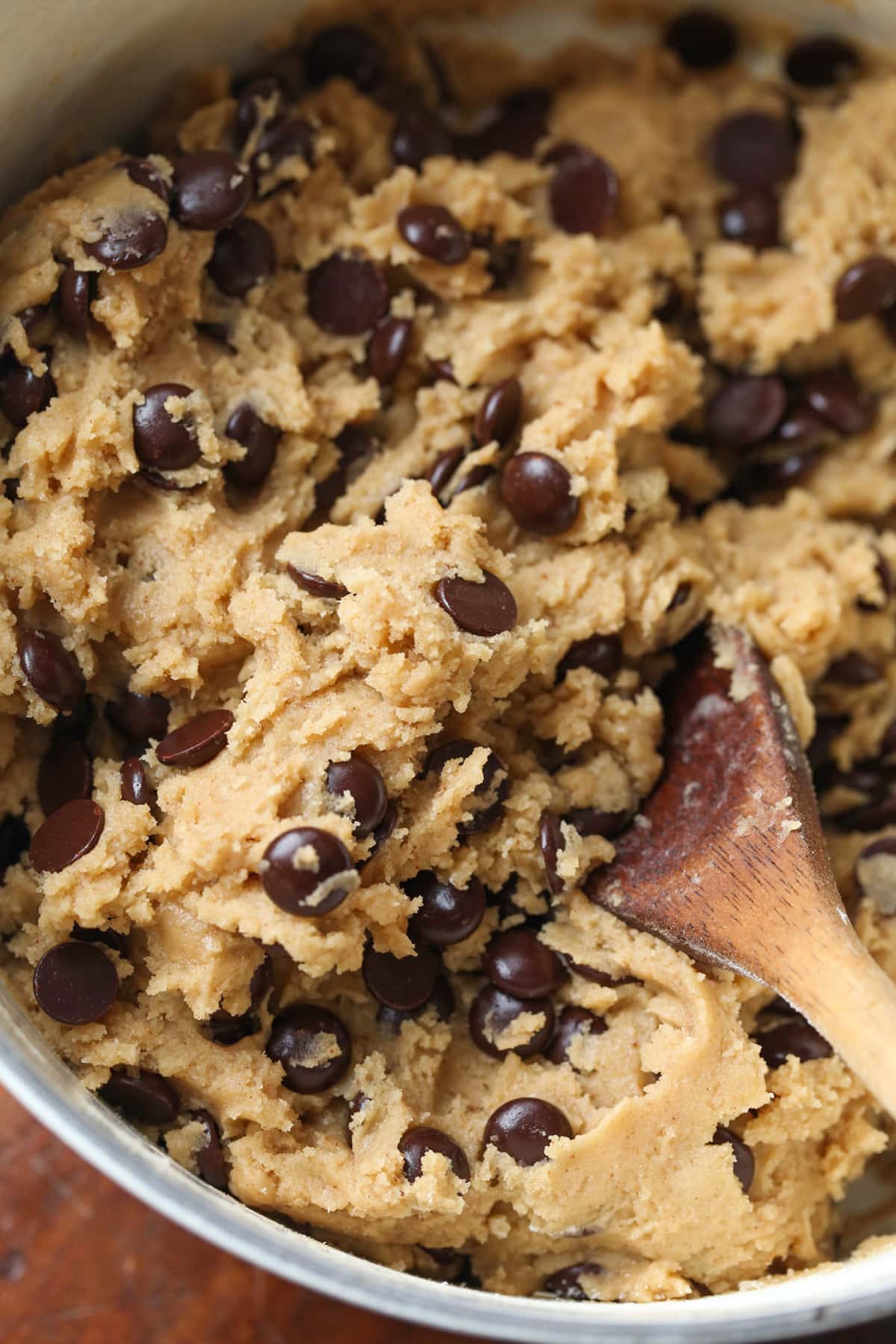 The steps are extra easy for these cookies…no mixer or chill time required! Here is a quick rundown of the steps, but for the full recipe scroll down to the recipe card!
Mix in both the brown and granulated sugar into the brown butter. You can transfer the butter into a mixing bowl to use an electric mixer if you would like, but I like to work directly in the saucepan that I browned the butter in. Less mess!
Stir in the eggs, vanilla, salt, baking soda, and flour. Then finally mix in the chocolate chips.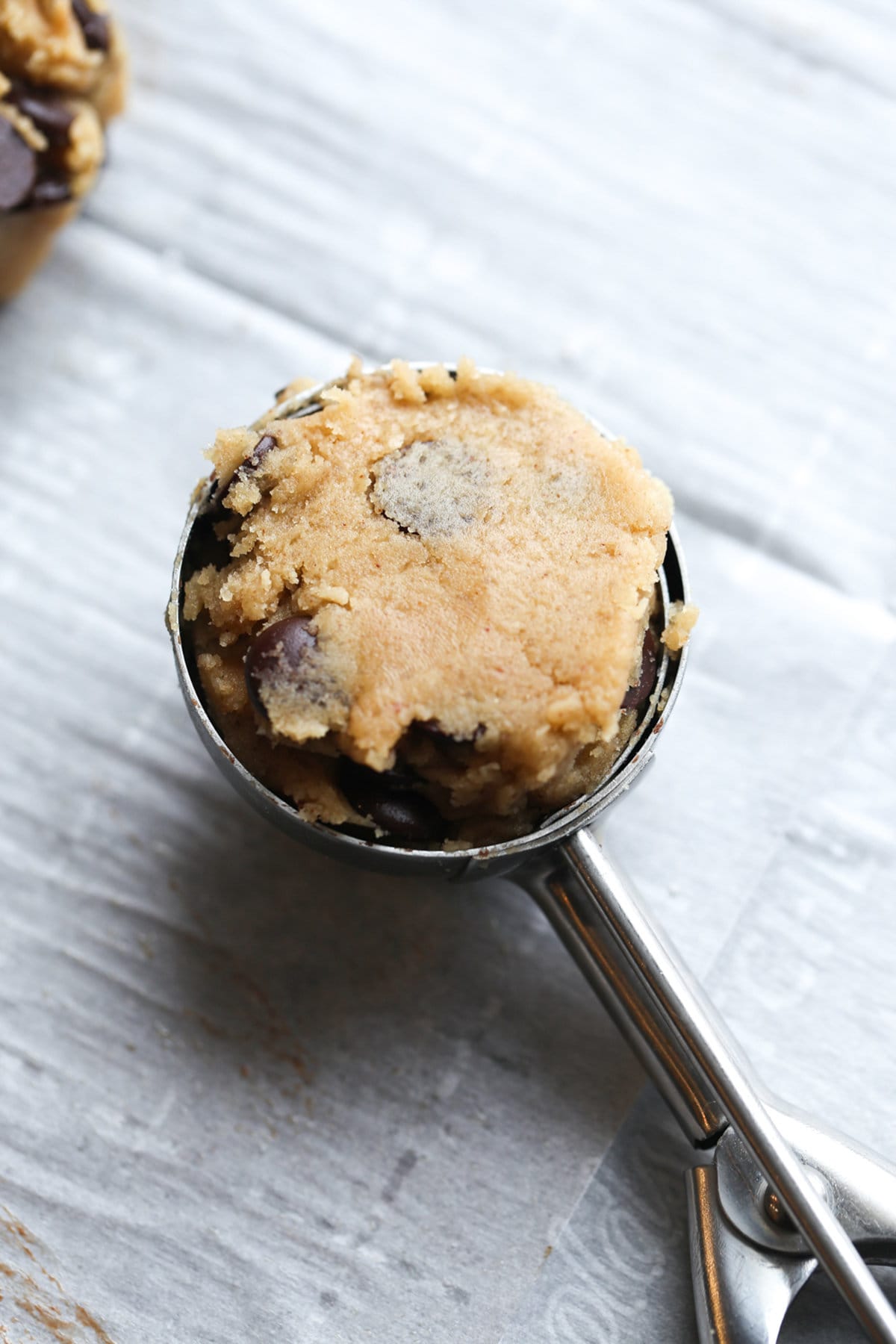 Scoop out the dough and place it on a baking sheet 2- inches apart. Bake them for 10 – 12 minutes at 350°F until they are just set. You don't want to over-bake these, but be careful not to under-bake!
When they are golden brown at the edges and just set in the center pull them out of the oven and if you want, sprinkle with a little extra sea salt!
There are few things more satisfying than making a pretty cookie…and luckily it's pretty simple! Here are my tips!
Use A Cookie Scoop…
This is a super easy cookie making tip. This ensures that all your cookies are the exact same size, which means they will all bake evenly! Plus, using a cookie scoop is just an easier way to portion out dough.
The Crackly Tops…
Ok, I recently just learned this trick, but it is a GAME CHANGER! It really gives your cookies a bakery-style look! Here are the steps:
Scoop the dough out with your cookie scoop and then release the dough from the scoop and break it in half.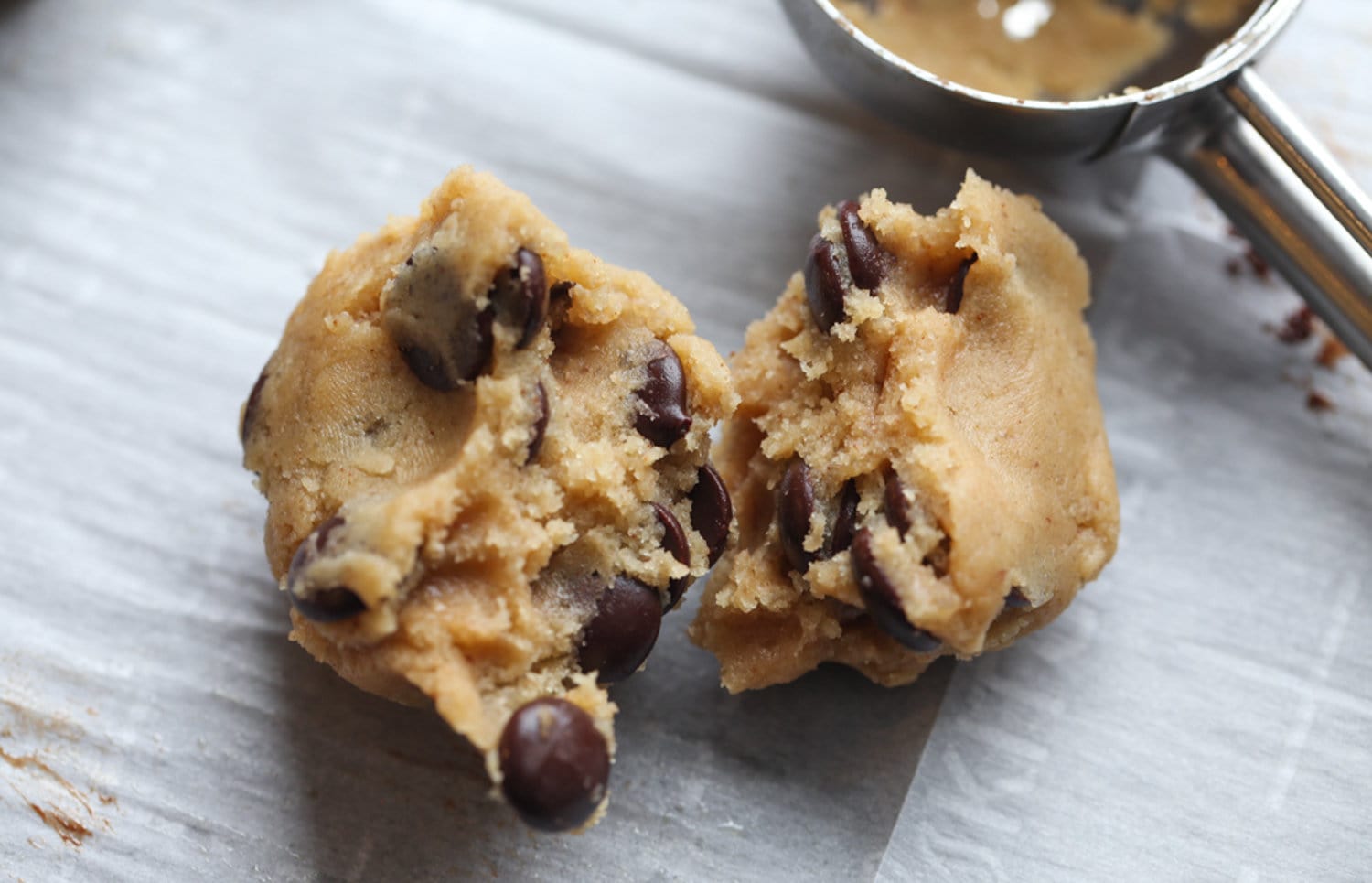 Now, turn the sides that were broken upward (so the jagged edge is on top) and press the smooth sides of the dough back together. Make sense?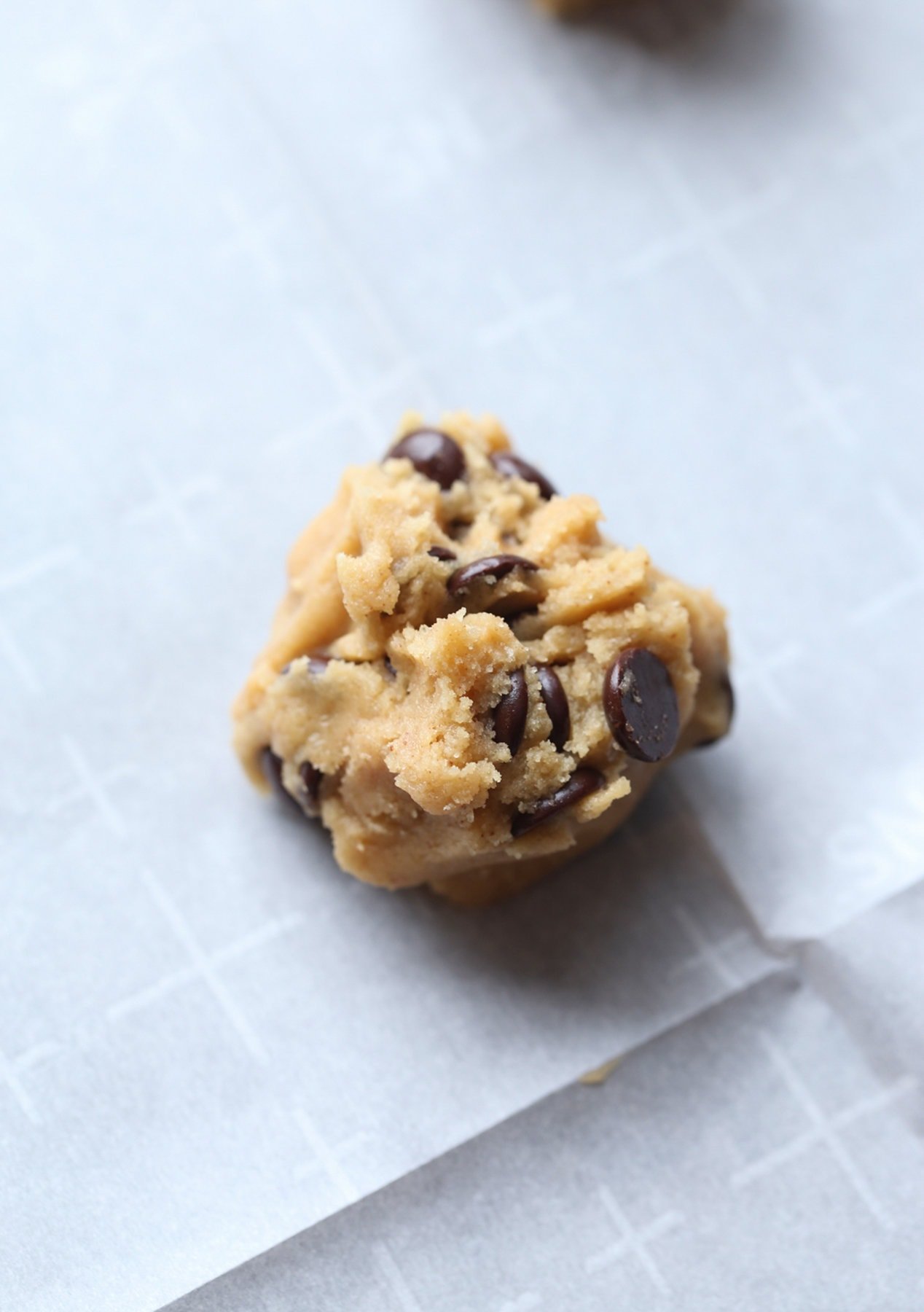 The dough should still be tall, as it will flatten as it bakes, but the top should have the broken side up, so as it bakes it settles into a textured top!
Shape Them While They're Warm!
As the cookies bake occasionally they can lose their perfectly circular shape. It's an easy fix! Immediately when they come out of the oven take a spatula and form the cookies back into circles while still on the baking sheet.
If you wait too kong they set up and their shape can no longer be manipulated. so make sure to do do this while they are still hot!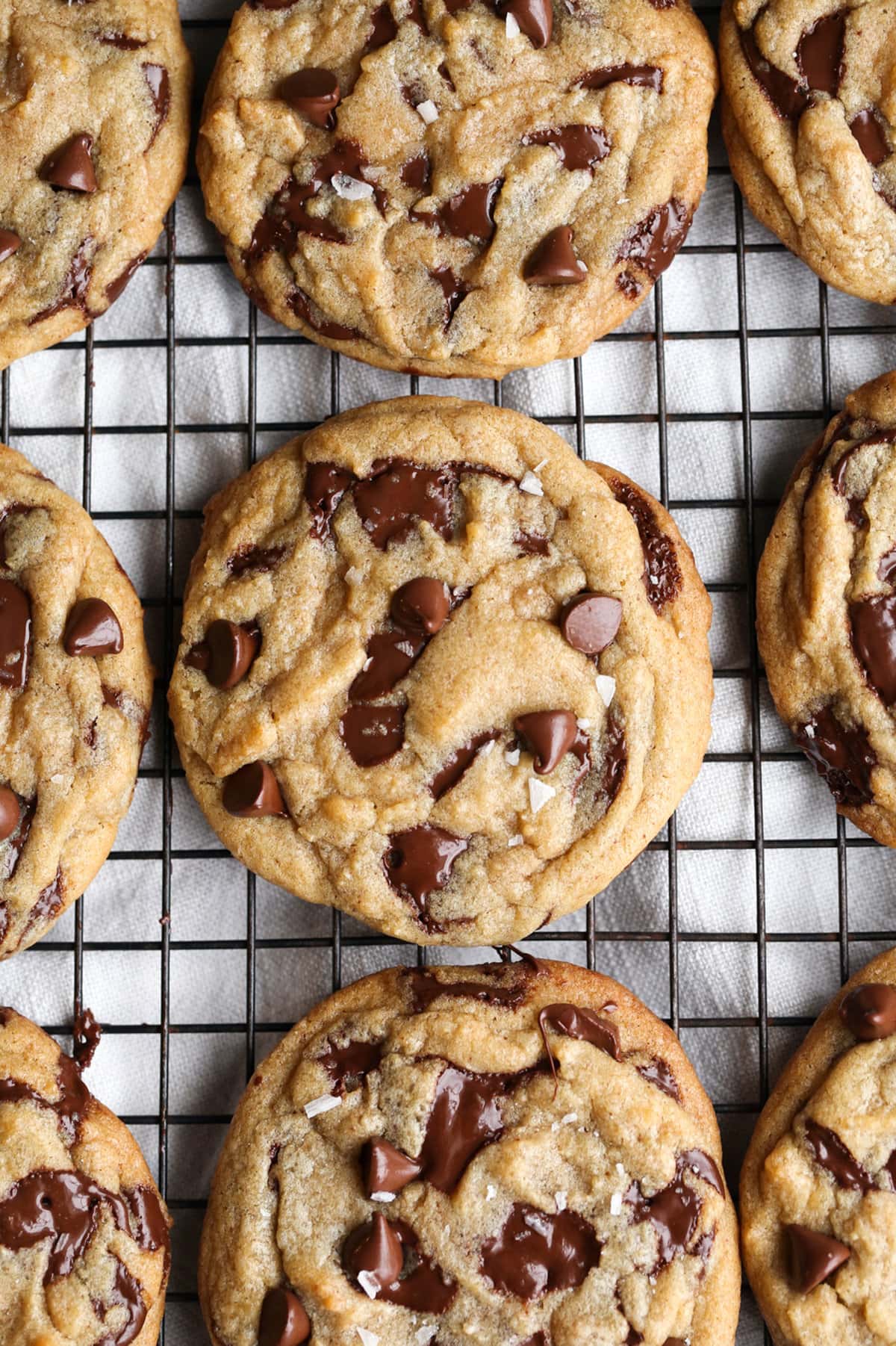 Add A Few Extra Chocolate Chips On Top…
I do this every time I bake chocolate chip cookies! As soon as they come out of the oven place a few extra chocolate chips on top of the hot cookies. The chips will melt a little, securing them to the cookie, and give them that pretty, professional look!
Print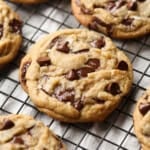 Author:

Prep Time:

30 minutes

Cook Time:

10 minutes

Total Time:

40 minutes

Yield:

24

cookies

1

x

Category:

Cookies

Method:

Oven

Cuisine:

Dessert
---
Description
This is my go-to chocolate chip cookie recipe. Not only do you not need to use a mixer, there is no chill time needed getting depth of flavor from the brown butter and sea salt.
---
1 cup

salted butter

1 cup

light brown sugar

1/2 cup

granulated sugar

2

large eggs

2 teaspoons

vanilla extract

1 teaspoon

baking soda

1 teaspoon

coarse sea salt

2 1/2 cups

all purpose flour

2 cups

semi-sweet chocolate chips
---
Instructions
In a medium saucepan over medium heat melt the butter and bring it to a boil. Once it starts boiling swirl the pan, or stir constantly until the butter passes the foamy phase and becomes a deep amber color.
Remove from heat and allow butter to cool for 20 minutes.
While the butter is cooling preheat the oven to 350°F.
Line a baking sheet with parchment paper and set aside.
Add the light brown sugar, granulated sugar, eggs, vanilla, baking soda, and salt into the cooled butter and stir to combine using a rubber spatula or wooden spoon.
Stir in the flour until the dough comes together and the ingredients are evenly incorporated.
Finally mix in the chocolate chips.
Using a large cookie scoop (3 tablespoon sized), scoop the dough out onto the lined baking sheet, 2 inches apart. *See note in the post for my trick to pretty cookie tops!
Bake the cookies for 10 – 12 minutes until the edges are lightly golden and the centers are just set.
Remove the baking sheet from the oven and allow the cookie to cool for 5 minutes on the baking sheet before transferring them to a wire rack to cool completely.

If desired, sprinkle a small amount of flaked sea salt on top of the cookies as they are cooling.
Notes
Store airtight at room temperature for up to 3 days for best freshness.
Freeze for up to 30 days.
Nutrition
Serving Size:

1 cookie

Calories:

263

Sugar:

23 g

Sodium:

186.8 mg

Fat:

13.5 g

Carbohydrates:

34.4 g

Protein:

3.3 g

Cholesterol:

35.8 mg
Keywords: cookies and cups, cookies, chocolate chip cookies, cookie recipe, brown butter, sea salt
Want To Save This Recipe?
Find more recipes like this:
PIN for later: