This is the absolute BEST Chili Recipe ever! Also known as Chili Con Carne, this easy recipe is filled with shredded beef and tons of flavor. Make it on the stovetop or in the slow cooker, then prepare to win your next chili cook off!
This Is the BEST Chili Recipe Ever!
So like many of you we make chili a lot. It's a staple in our house from September through March. It does get some play over the summer to serve up on hot dogs, or Frito Pie at a party, but chili just feels right during football season, don't you agree?
Finally after years in the making I truly believe this is the BEST chili recipe. It's fairly simple, but it's definitely unique in a lot of ways. I'm so excited to share this one with you and hope you make it soon!
What Makes this Recipe So Good?
We've tried countless chili recipes over the years and the recipes we have enjoyed the most have a few similarities. I've incorporated all those elements into this recipe:
Chuck Roast. While ground beef chili recipes are great and really easy to make, slow cooking chuck roast infuses the chili with tons of flavor. The meat gets so tender you can shred it with a fork. Using chuck roast is a simple switch that packs a punch!
No Chili Powder. I know, this might seem crazy, but this chili recipe relies on a blend of spices – not chili powder – to create a robust, deepy satisfying bowl of chili. You certainly could use a little chili powder if you would like, but you don't have to!
Corn. This can absolutely be omitted if you really don't like corn in your chili, but for us we love the sweet flavor it adds!
Tomato Paste. My recipe uses a combo of beef broth, crushed tomatoes and tomato paste instead of diced tomatoes. We found that we preferred a chili without chunks of tomatoes.
Chili Ingredients
chuck roast
salt and pepper
olive oil
red bell pepper
onion
garlic
spices: cumin, garlic powder, oregano, smoked paprika, regular paprika, and cayenne pepper
tomato paste
beef broth
crushed tomatoes
kidney or black beans
canned corn
Do You Have To Use Chuck Roast?
Nope, you don't have to! BUT I like to use it in this recipe because it's marbled with fat which gives great flavor while also being tender after slow cooking.
Also note that you can use just about any cut of Chuck Roast and it will be fine in this recipe: Chuck Shoulder, Chuck Eye Roast, or Top Chuck.
If your supermarket doesn't have Chuck Roast you can use a few other cuts of meat in its place. Ideally you don't want to use a cut that is too lean because you'll lose that extra flavor from the fat and might take a little longer to get tender, but they will work in a pinch:
Bottom Round Roast
Bottom Eye Roast
Rump Roast, Eye Round Roast
Top Round
Round Tip Roast
English Roast
Pot Roast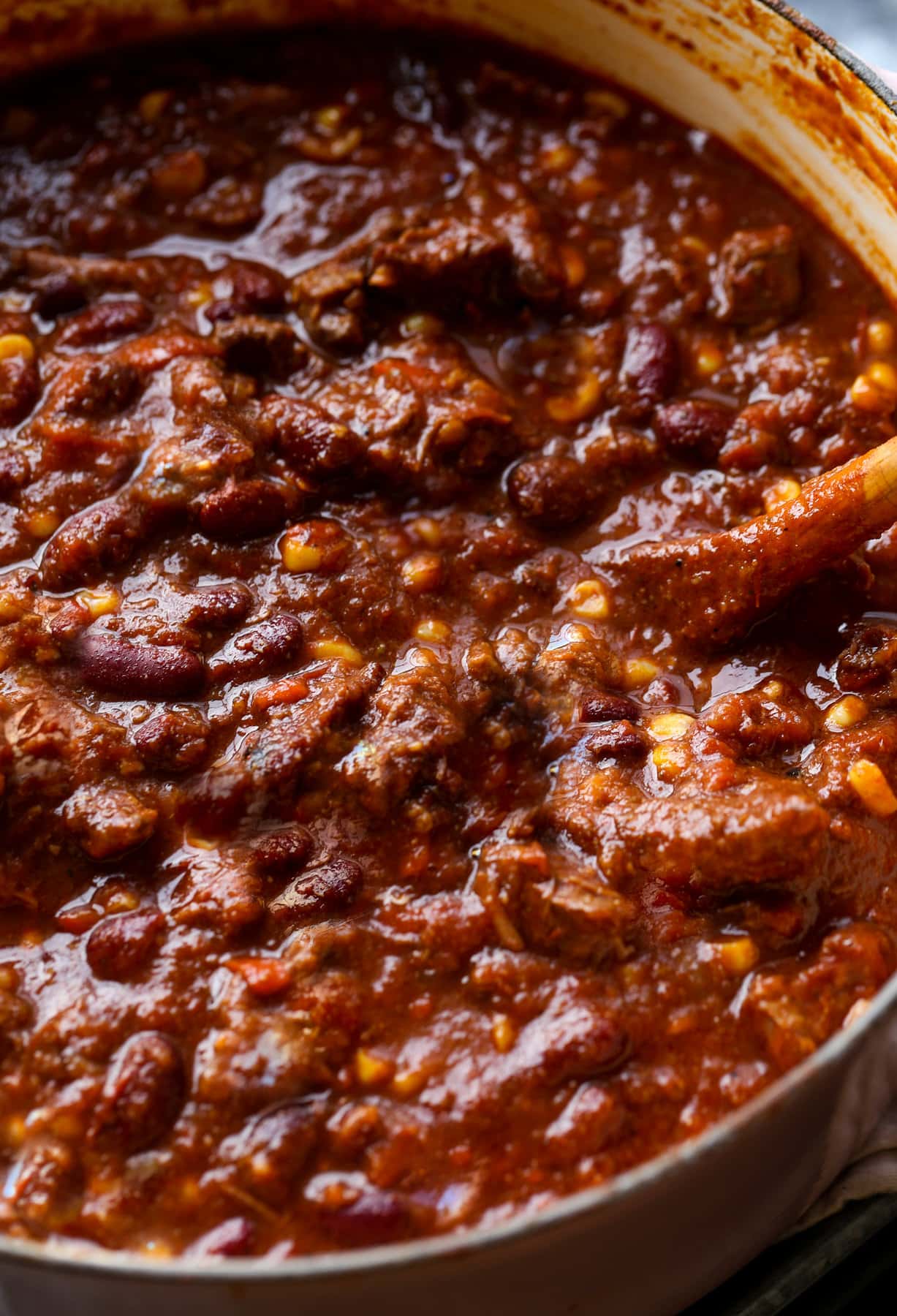 How To Make Chili (Stove Top Instructions)
I'm going to share a simplified version of the steps here, but for the full recipe, scroll down to the bottom of the page to the recipe card.
This is a pretty simple recipe, it just has a decent amount of ingredients (most being spices) that might seem overwhelming. Don't worry!! It's easy!
Season the meat with salt and pepper. Trim the excess fat off of the chuck roast, but leave it in 3 – 4 inch chunks. You will be shredding it after it's tender, so this is fine!
Heat a large Dutch Oven over medium-high heat and brown the meat. This adds flavor! Transfer the meat to a plate while you cook your veggies!
Cook the veggies. Add a little oil to the hot pot and cook the onions and peppers until they are soft. Add in the garlic and cook for just a minute.
Add the tomato paste and broth. Scrape up all the brown bits in the pan…MORE flavor!
Add the meat back into the pot along with the crushed tomatoes and spices. Bring the mixture to a boil, reduce the heat and cook for about 2 hours uncovered, until the meat is tender and shred-able. If you notice the chili is getting too thick you can add more broth as it cooks.
When the meat is tender, shred it, and add in your beans and corn. Cook for another 15 or so minutes and then serve!
Crock Pot Instructions
If you prefer to make this in the slow cooker it's totally do-able. I just don't like making chili in the crock pot as much because I find the flavors aren't as bold.
When you cook chili on the stove the flavors intensify as the liquid cooks down. By contrast, the slow cooker is tightly sealed, so the liquid doesn't evaporate, leaving you with a more soupy chili. You can thicken it up, using a few methods that I will share, but I just don't think you ever get the exact same result.
With all that said, I do know there is a time and place for the crock pot, and sometimes it's the best option for what your schedule allows.
Season your meat with salt and pepper and brown it in a skillet on medium-high heat. Transfer the meat to a plate.
Sauté your onions and bell peppers in the same skillet until they are soft.
Place the meat and sautéed vegetables in your slow cooker.
Add in the remaining ingredients (reducing the amount of beef broth to 1 1/2 cups) and cook on high for 4 hours or low for 6-8 hours, until the meat is tender and shred-able.
How To Thicken Chili…
Don't judge your chili thickness before you shred up your meat. This will absorb a LOT of the liquid. But if you've made your chili in the slow cooker, added too much broth, or for some unknown reason your chili is not thick enough after shredding the meat, there are a few ways you can thicken it up:
Make a slurry. A slurry is simply 1 tablespoon of cornstarch and 1 tablespoon of cold or room temperature water mixed together and added to the chili. Simmer for 10 minutes and you will see a result. You don't want to add too much slurry to your chili though, as it can add a cornstarch taste which isn't ideal. If the slurry doesn't thicken it up enough try one of the other methods.
Add Masa Harina. Add 2 tablespoons into your chili and let it simmer for 10 minutes. This should give you a good idea if you need to add more!
Add mashed beans. Mashing beans and adding it to your chili is an easy starchy way to thicken it up, plus it adds flavor!
Pro Tip:
If you are planning on serving this chili recipe at a party or a tail gate and won't have time the day of the event to make it…OR you just really would like to use your slow cooker, here's what I recommend…and it will actually give you the BEST results:
Make the chili the day before your event using the stove top instructions.. Cool it completely and then refrigerate it overnight.
A few hours before you are going to serve the chili, transfer it to your slow cooker on low to heat up and keep warm.
This is actually the IDEAL way to enjoy chili, because we all know that chili (or any soup or stew) is always better the next day as the flavors really have time to combine!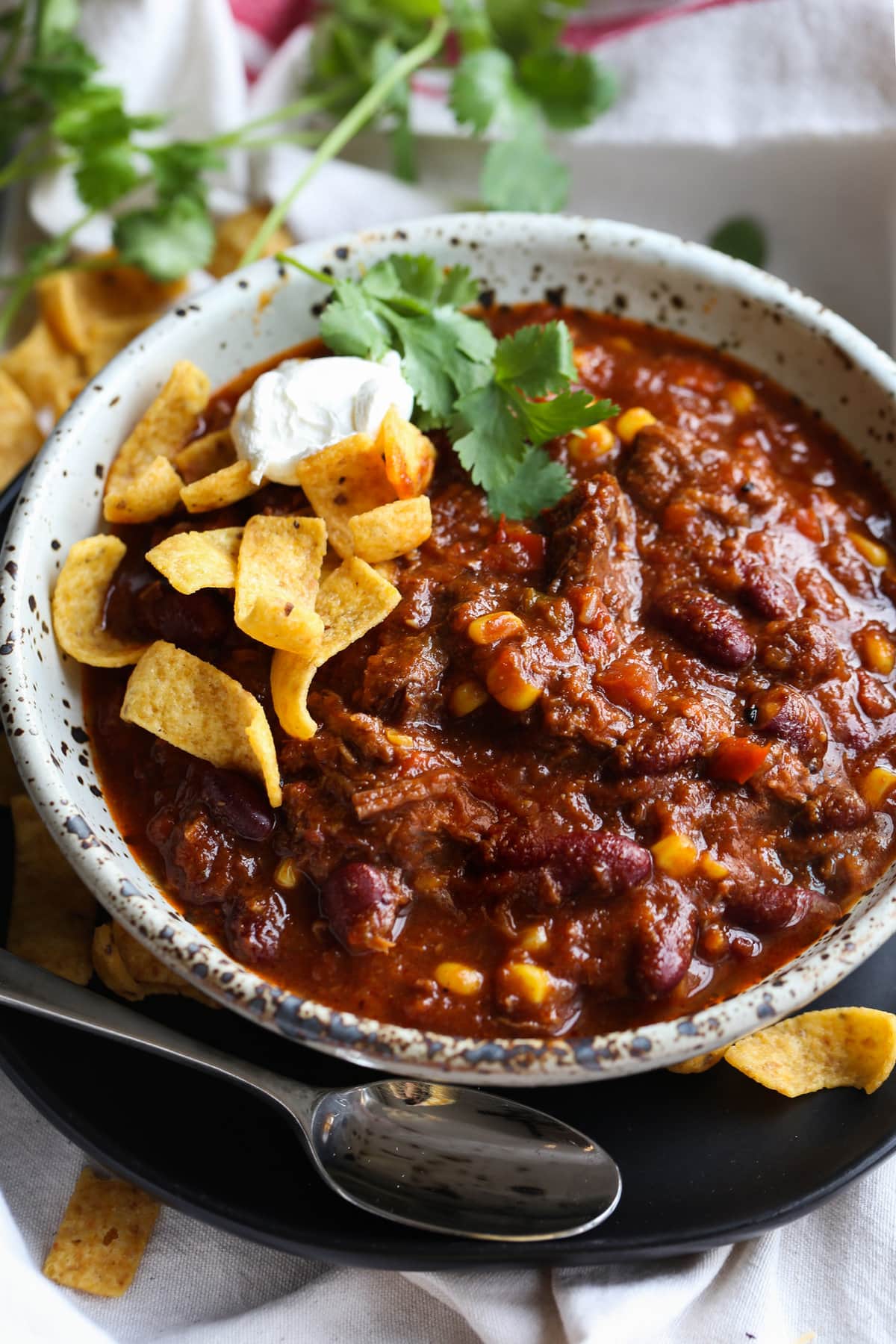 Fun Ways To Serve Chili:
On hot dogs and hamburgers
On baked potatoes
On Nachos
Walking Tacos
On a bun like a Sloppy Joe
On top french fries
Topping Ideas:
I love to make a chili bar when we have chili at home and everyone can pick and choose their own garnishes! Here are some ideas:
Cilantro
Grated Cheese
Jalapeños
Sour Cream
Fritos or Tortilla Chips
Avocado or guacamole
Diced onions
Lime wedges
Can You Freeze Extras?
Absolutely! Chili freezes really well, and is a great make ahead meal. This recipe serves 10, so if you have a smaller family you can serve half for dinner and freeze the remaining for later.
Just store airtight for up to 30 days.
To Reheat:
Thaw in the refrigerator and then heat on the stove top on medium-low in a covered Dutch Oven, stirring frequently until warmed.
More Chili Recipes to Try
Print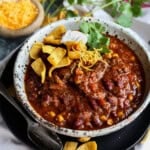 Chili Recipe
Author:

Prep Time:

30 minutes

Cook Time:

3.5 hours

Total Time:

0 hours

Yield:

serves

1

0

1

x

Category:

Chili

Method:

Stove Top or Crack Pot

Cuisine:

Dinner
---
Description
The BEST chili recipe ever! This recipe took years to develop, playing around with methods and ingredients. I think you're going to love it!
---
5

–

6

pounds chuck roast, trimmed of excess fat and cut into large chunks

2 teaspoons

kosher salt

2 teaspoons

black pepper

2

–

4

tablespoons olive oil

2

red bell pepper, diced

1

large onion, diced

4

cloves garlic, minced

1 tablespoon

cumin

2 teaspoons

garlic powder

1 tablespoon

oregano

2 teaspoons

smoked paprika

2 teaspoons

paprika

1 teaspoon

cayenne pepper

1

(4- ounce) can tomato paste

2

–

3

cups beef broth

1

(28- ounces) crushed tomatoes

2

(16- ounce) cans kidney or black beans

optional – 1 (11- ounce) can corn, drained (I like to use Mexicorn)

Salt and pepper to taste

topping ideas – Fritos, sour cream, grated cheese, jalapeños, cilantro, lime wedges
---
Instructions
Season the chuck roast with salt and pepper.

Heat 2 tablespoons of olive oil in a large (7- quart) Dutch oven or stock pot over medium-high heat.
Add the chuck roast in batches, browning on each side. Transfer to a plate and repeat with all meat.
Reduce the heat to medium and heat the remaining 2- tablespoons of olive oil. Add in the onions and bell pepper and cook for 3-4 minutes, until softened.
Add in the garlic and cook for an additional minute, stirring frequently.
Add in the tomato paste and 2 cups of beef broth and stir to combine, scraping up the brown bits.
Add the meat back to the pan, add in the crushed tomatoes, cumin, garlic powder, oregano, smoked paprika, paprika, and cayenne pepper. Stir to combine.
Bring the mixture to a boil and reduce heat to low. Simmer for 2 1/2 -3 hours stirring occasionally, or until the meat is tender. Add in more beef broth if chili is getting too thick.
When the meat is tender, shred using a fork. Add in the beans and corn, if desired.
Cook for an additional 15 minutes. Season with more salt and pepper as desired.
---
Notes
Store airtight in the refrigerator for up to 3 days. Freeze for up to 30 days.
Nutrition
Serving Size:
Calories:

377

Sugar:

9.4 g

Sodium:

713.5 mg

Fat:

13.2 g

Carbohydrates:

23.9 g

Protein:

42.1 g

Cholesterol:

107.2 mg
Keywords: cookies and cups, best chili, how to make chili, thicken chili
Want To Save This Recipe?
Find more recipes like this:
PIN for later: