Crock-Pot® Slow Cooker Taco Truck Chili is the perfect fall comfort food! It has all the flavors of a taco, and the toppings are really where you make it your own! This is one cozy dinner idea you can really dig into!
Looking for even more chili recipes? I highly recommend this recipe for the best chili ever.
Easy Slow Cooker Taco Truck Chili
Fall has arrived, which means recipes in my Crock-Pot® are officially on regular rotation. I'll admit it outright: chili is my most favorite of all slow cooker recipes. Cooking the medley of beef, onions, beans, and spices for long hours on low heat really ties the ingredients together and marries all the delicious flavors.
Today I'm going to share an easy taco truck-style chili con carne recipe that's right up there with my best ever recipe for chili as one of my all-time greatest. Like many slow cooker recipes, this one is fantastic to make ahead. The flavors will develop even more with time! Enjoy this hearty chili as an easy weeknight dinner, or crack it out on game day – and whatever you do, don't forget the taco toppings.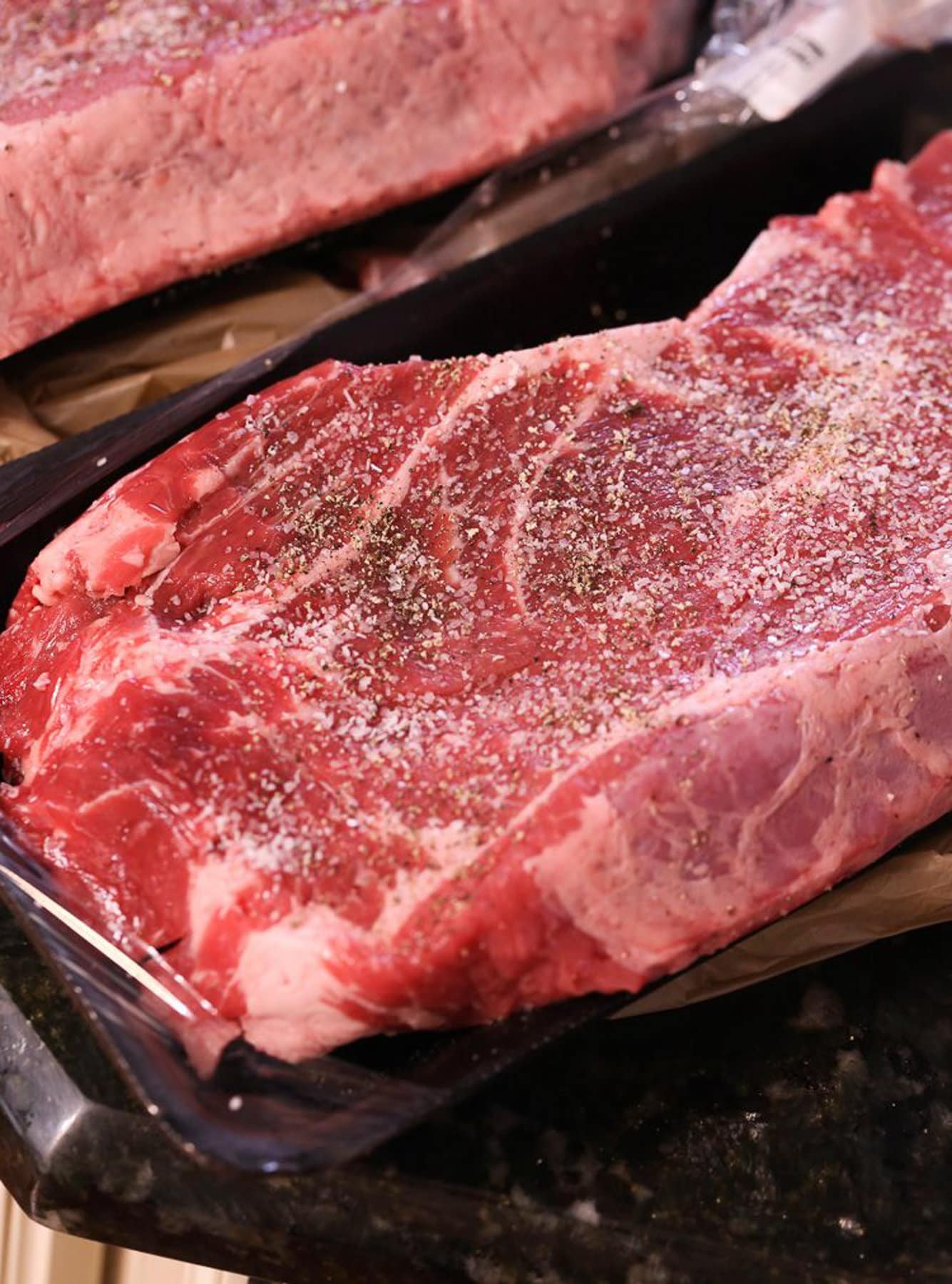 What You'll Need
I use shredded beef for this chili to mimic the classic taco truck way of doing things. And the results are honestly irresistible! Not only does shredded chuck roast really beef up the flavor, but the slow cooker method makes the meat insanely tender and extra delicious.
Here are the other ingredients you'll need for this authentic taco truck chili:
Chuck Roast: A boneless chuck roast is the best cut of meat for this recipe, IMO, as it shreds really nicely. Pick a piece that's marbled with a good amount of fat lines.
Red Pepper and Onion: One large red pepper and one large onion, diced. I prefer yellow onions for their particular flavor profile, but almost any onion will do.
Garlic: 5 whole cloves, minced, but you can use more or less depending on preference.
Chipotle Peppers: I use canned chipotles in adobo and dice them.
Tomatoes and Green Chilis: One can of diced tomatoes and green chilis (like Rotel), undrained.
Corn: Canned or frozen. If using canned, don't forget to drain the liquid!
Black Beans: Drained and given a rinse.
Beef Stock: Alternatively, substitute stock with beer.
Ground Spices: Smoked paprika, cumin, chili powder, and ground coriander.
Flour
Olive Oil
Salt and Pepper
What is Chuck Roast?
Chuck roast, also labeled shoulder steak, is a fattier and richer cut of beef than a brisket. It's perfect for pot roasts and it shreds really nicely, making it ideal for this meaty chili recipe.
How to Make Taco Truck Chili
Thanks to our handy Crock-Pot®, this chili recipe is only 3 steps!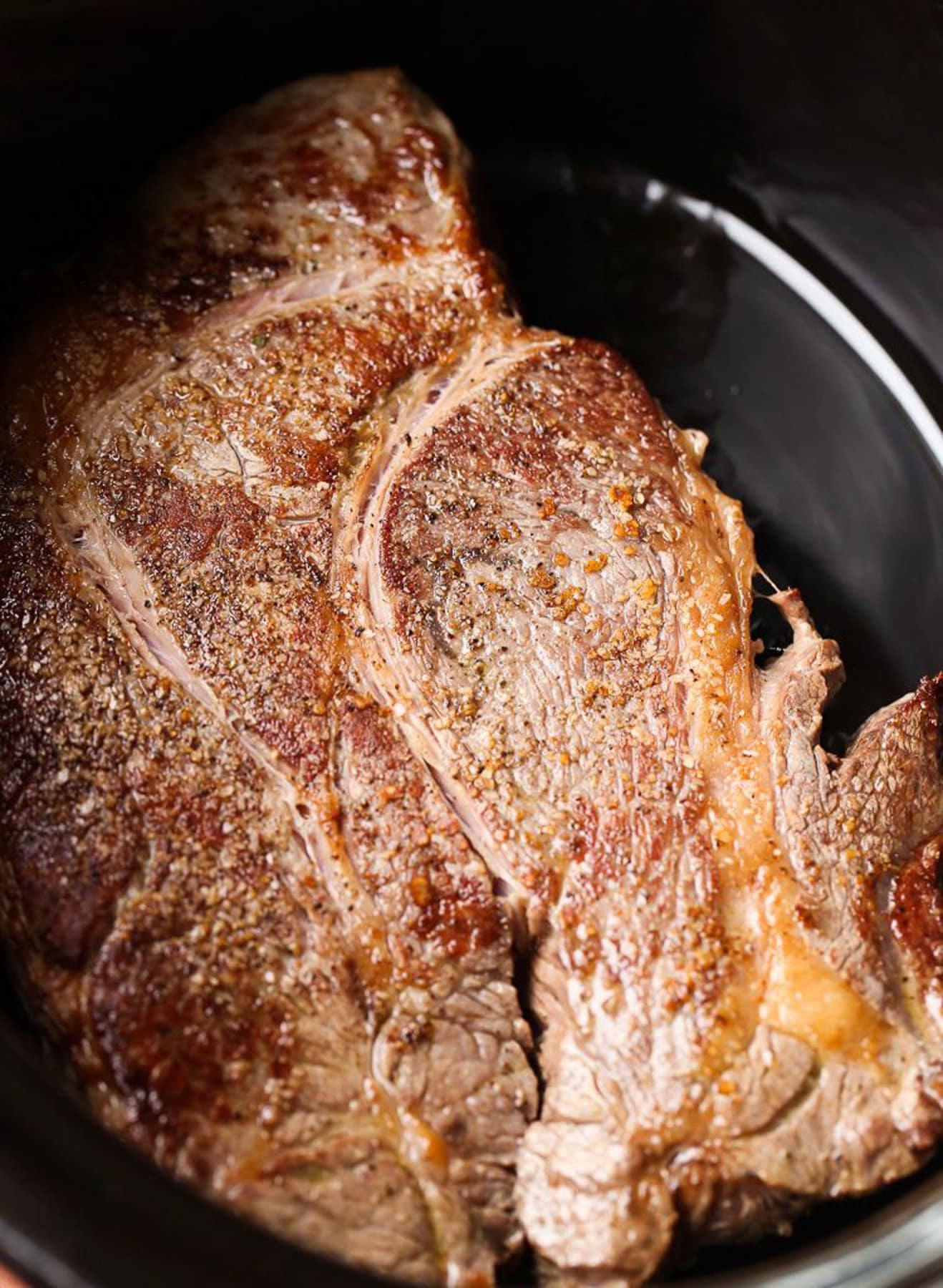 Season and Sear the Beef: Season the chuck roast with salt and pepper and sear the meat on all sides. If you're short on time, you can skip this step. However, searing really does lock in the flavors in a way that can't be duplicated!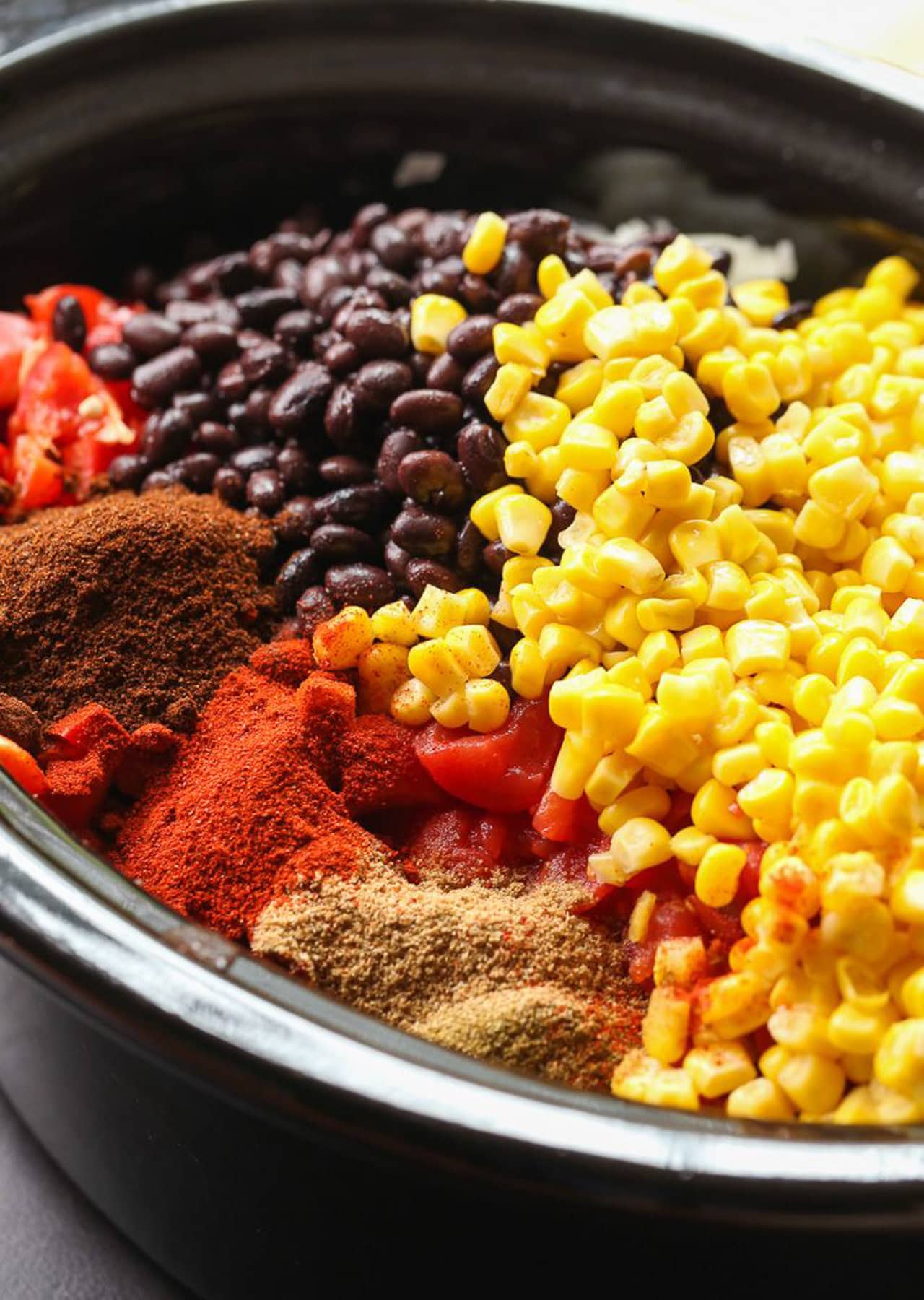 Combine in the Slow Cooker: Place the meat in the Slow Cooker and add in all the remaining ingredients. Give it a stir for good measure to get everything combined.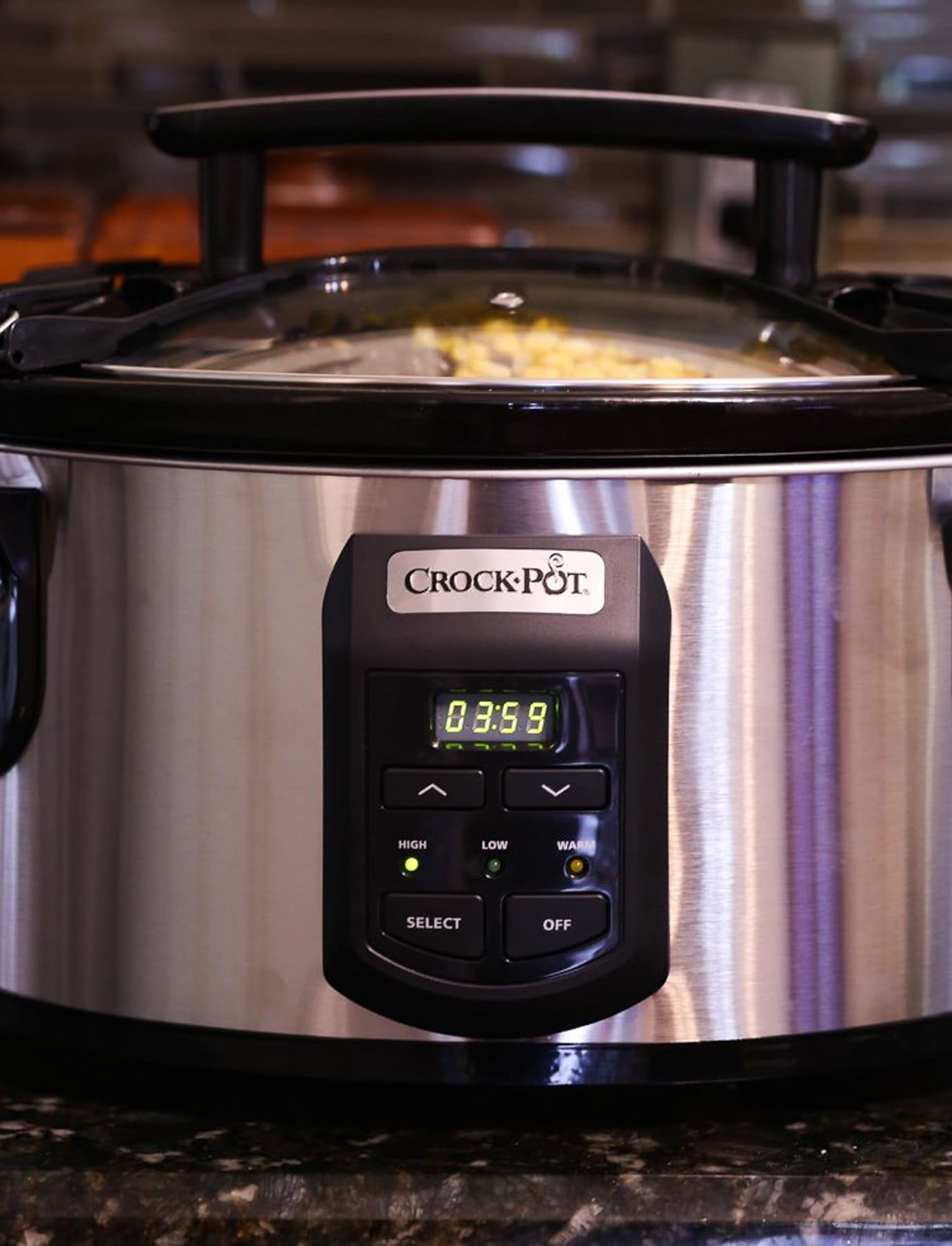 Cook: Leave the contents to cook on high heat for 4-6 hours, or on low heat for 8-10. Before the chili is done, remove some of the liquid, mix in the flour, and then pour the liquid back in and allow the chili to thicken.
You can check that the chili is done when the meat shreds apart easily. I like to shred the meat right in the pot, but you can also remove it, shred it, and add it back in if you prefer.
Serve the chili right away with your favorite taco toppings, or you can let it cool and store it in the fridge or freezer.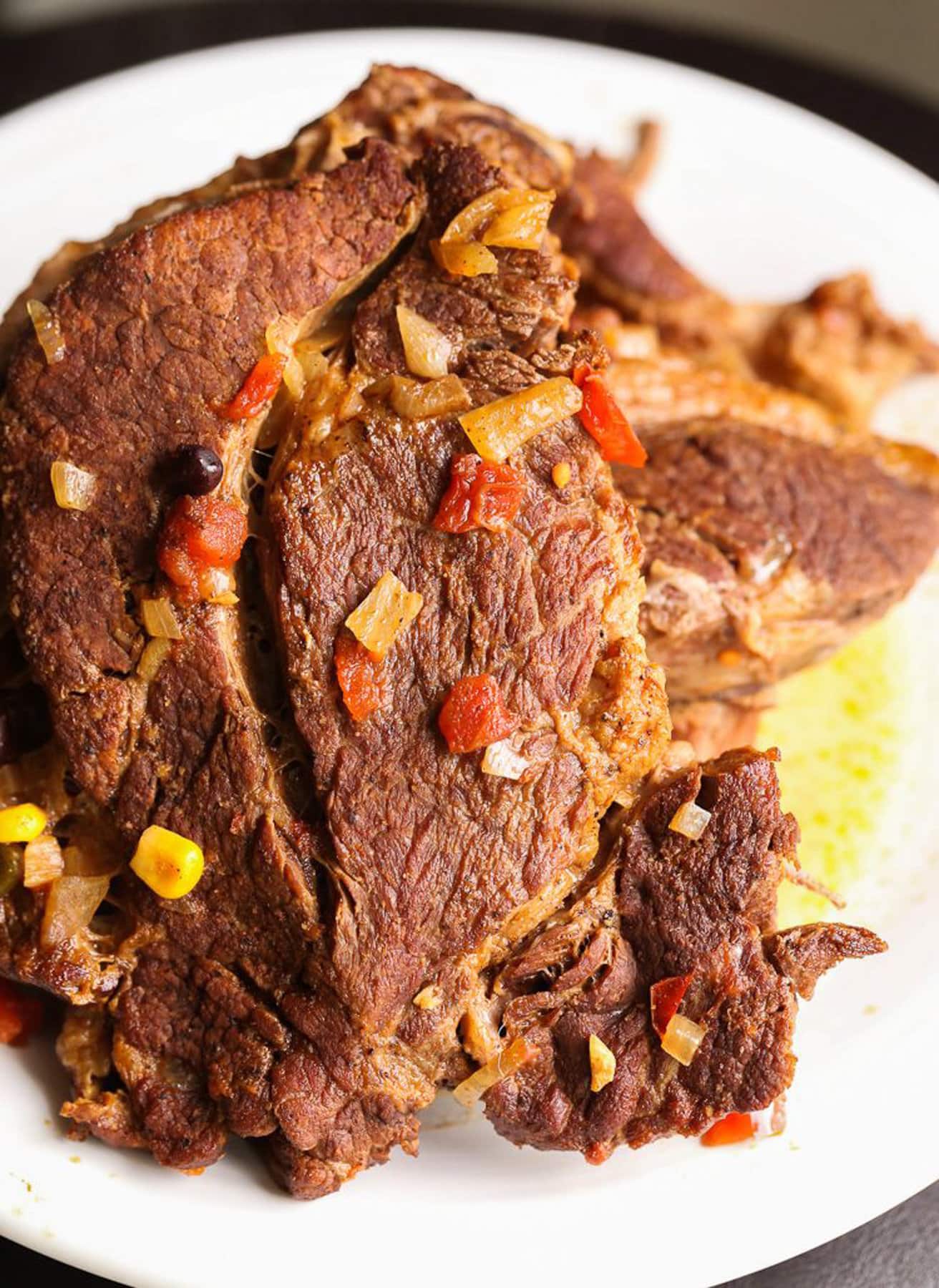 Tips for Success
If You Replace the Stock with Beer: You can use any beer you have handy, though I find that brown ales and stouts really compliment and kick up the flavor of the chili.
Cook It Long and Low: Time is key to a fantastic chili; be patient and really let the long hours in the crockpot do their thing! The payoff is beautiful chili that's jam packed with flavor, and ingredients that meld together perfectly.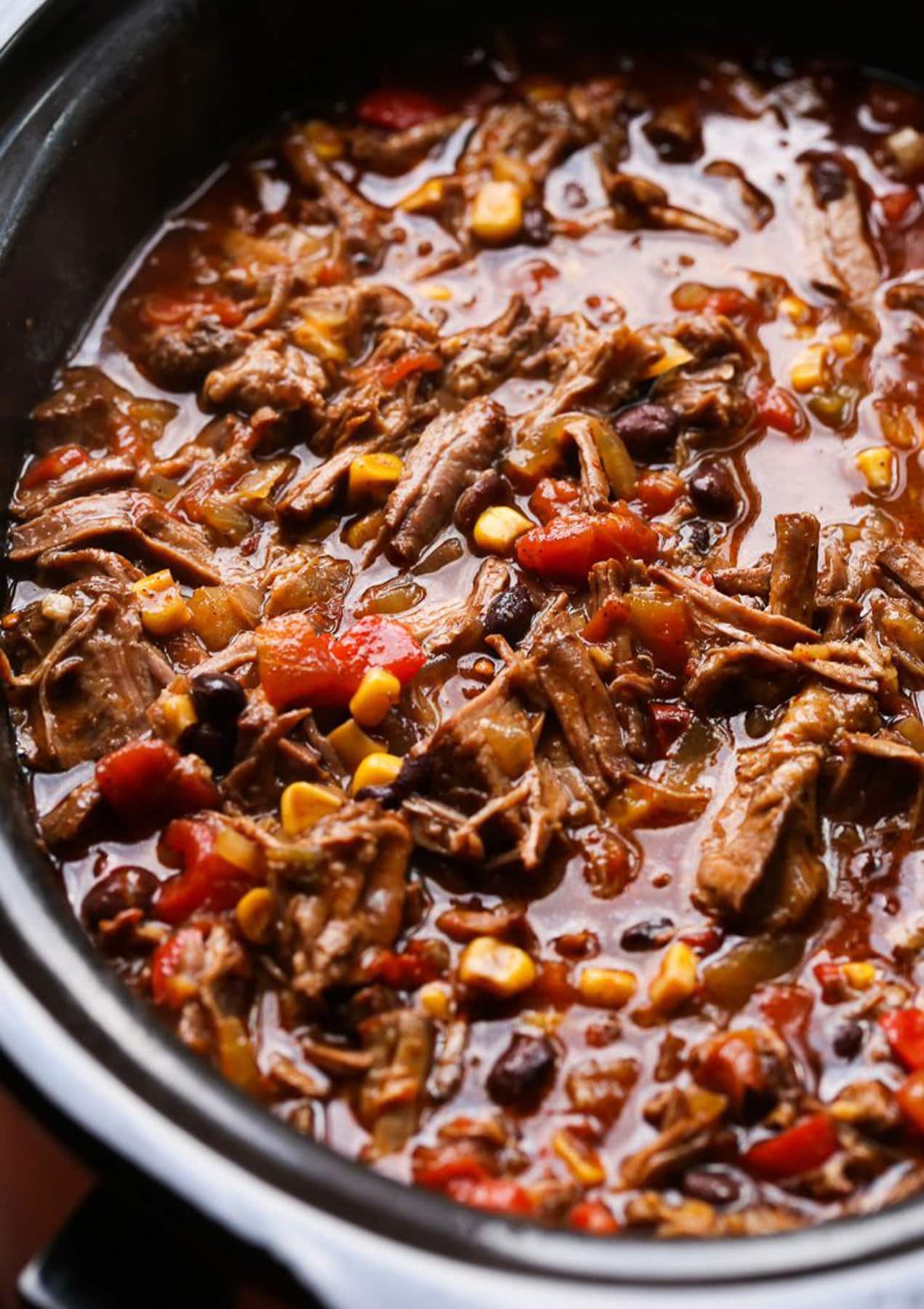 Topping Ideas
Chili is one of my family's favorite meals because it's literally all-in-one! While you can definitely enjoy it by itself, this chili lays the perfect groundwork for all kinds of delicious dressings and toppings. In true taco truck style, you can really get creative with chili toppings. Here are some suggestions:
Sour cream or creme fraiche
Avocado
Corn chips
Shredded cheese or cream cheese
Shredded lettuce or cabbage
Salsa or salsa verde
What Goes with Chili?
Chili pairs best with a cozy winter evening! From a serving perspective, there are many easy sides to pair with chili. Try these:
You can also serve this chili spooned over baked potatoes or mashed potatoes. I've even been known to bake it into a hearty Chili Mac and Cheese.
If you're feeling like something lighter, serve this chili with ​​Southwestern Cobb Salad or Creamy Homemade Coleslaw.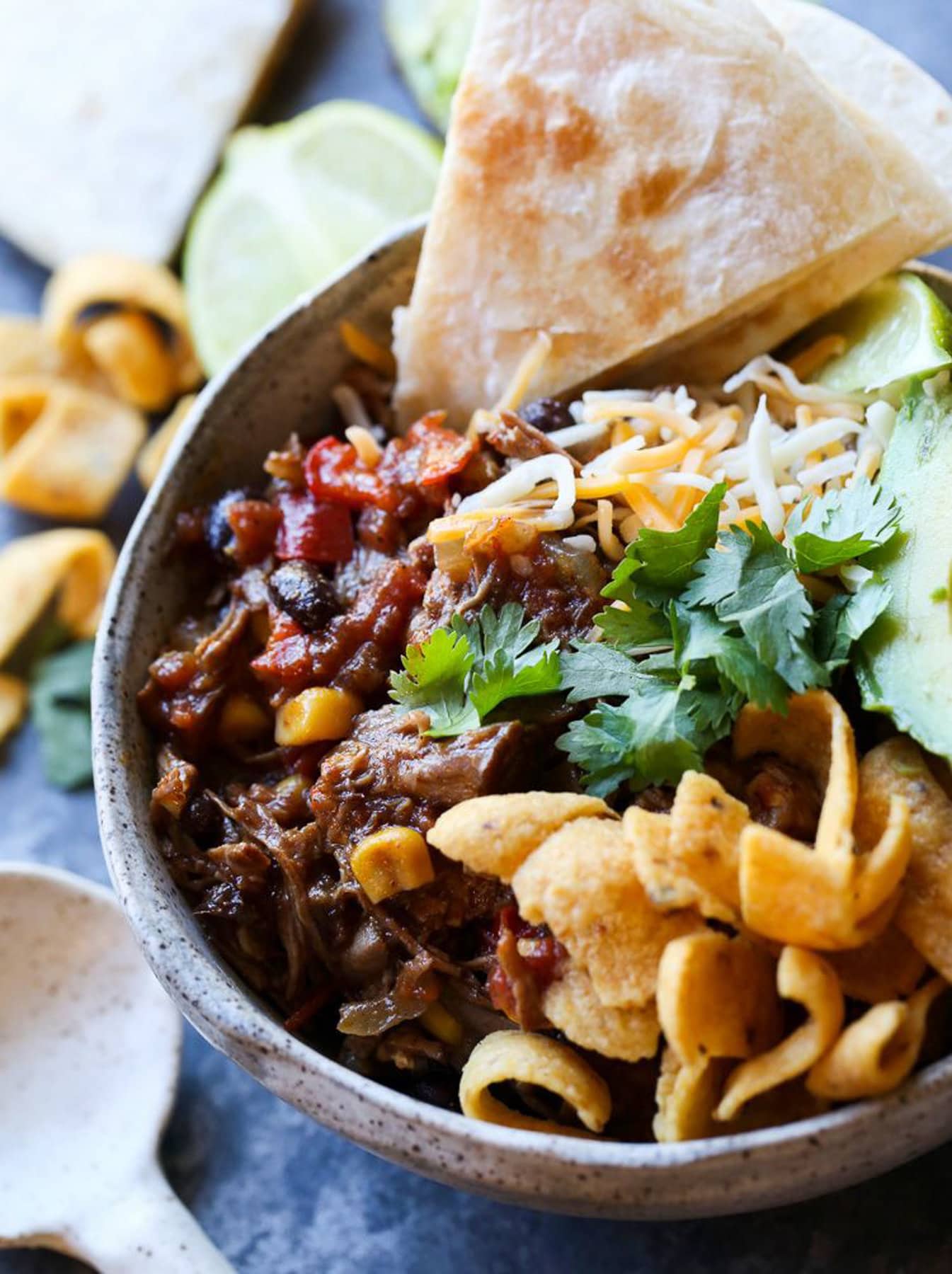 How to Store and Reheat Leftovers
Leftover chili will last 3-4 days when stored airtight in the fridge. To reheat, transfer the chili to a microwave safe bowl or dish and place in the microwave until heated through. You can also reheat chili on the stovetop on low.
Can I Freeze Extras?
Chili freezes really well. Store leftover chili in a freezer safe container or ziplock freezer bag and store frozen for up to 3 months. Let chili thaw in the fridge overnight and then reheat in the microwave or on the stovetop.
More Hearty Crockpot Recipes
Print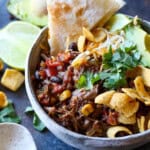 Crock-Pot® Slow Cooker Taco Truck Chili
Author:

Prep Time:

10 minutes

Cook Time:

6 hours

Total Time:

6 hours 10 minutes

Yield:

serves

10

–

1

2

1

x

Category:

Dinner

Method:

Slow Cooker

Cuisine:

American, Mexican
---
Description
Crock-Pot® Slow Cooker Taco Truck Chili is the perfect fall comfort food! It has all the flavors of a taco, and the toppings are really where you make it your own! This is one cozy dinner idea you can really dig into!
---
2 tablespoons

olive oil

3

–

4

pounds chuck roast
salt and pepper

1

large onion, diced

1

large red pepper, diced

5

cloves garlic, minced

1

–

2

chipotle peppers (from can of chipotle in adobo), diced

2

can Rotel, undrained

1

can corn, drained

1

can black beans, drained and rinsed

1 cup

beef stock or beer

1 tablespoon

smoked paprika

1 tablespoon

cumin

1

–

2

tablespoon chili powder

1 tablespoon

ground coriander

1/8 cup

flour
---
Instructions
Heat oil in skillet over high heat. Sear the meat on both sides and place in Crock-Pot®.
Add in all the remaining ingredients and stir to combine.
Cook on high heat for 4-6 hours or low heat for 8-10 hours.
-45 minutes before the chili is done remove 1/3 cup of the liquid from the pot. Mix in the flour and stir until smooth. Pour this back into the chili and cover and cook for 30-45 more minutes, or until slightly thickened.
Remove meat from the pot and shred, or alternatively shred meat right in the pan.
Serve with taco toppings, like avocado, cheese, sour cream, and/or with corn chips.
---
Keywords: chili con carne, slow cooker recipe, easy chili recipe
Want To Save This Recipe?
Find more recipes like this: