Crockpot Mashed Potatoes are the perfect make ahead mashed potato recipe! Rich and creamy mashed potatoes that are perfect to feed a crowd. This slow cooker recipe is a definite keeper and will a star at your Thanksgiving dinner!
Crockpot Mashed Potatoes
I don't know why I haven't made Crockpot Mashed Potatoes before. It's SUCH a no brainer! I am all about a make ahead dish, especially one that is perfect for entertaining or feeding a crowd, so I'm not sure what took me so long to try the OBVIOUS… Mashed Potatoes in a dang slow cooker. Annoyingly easy.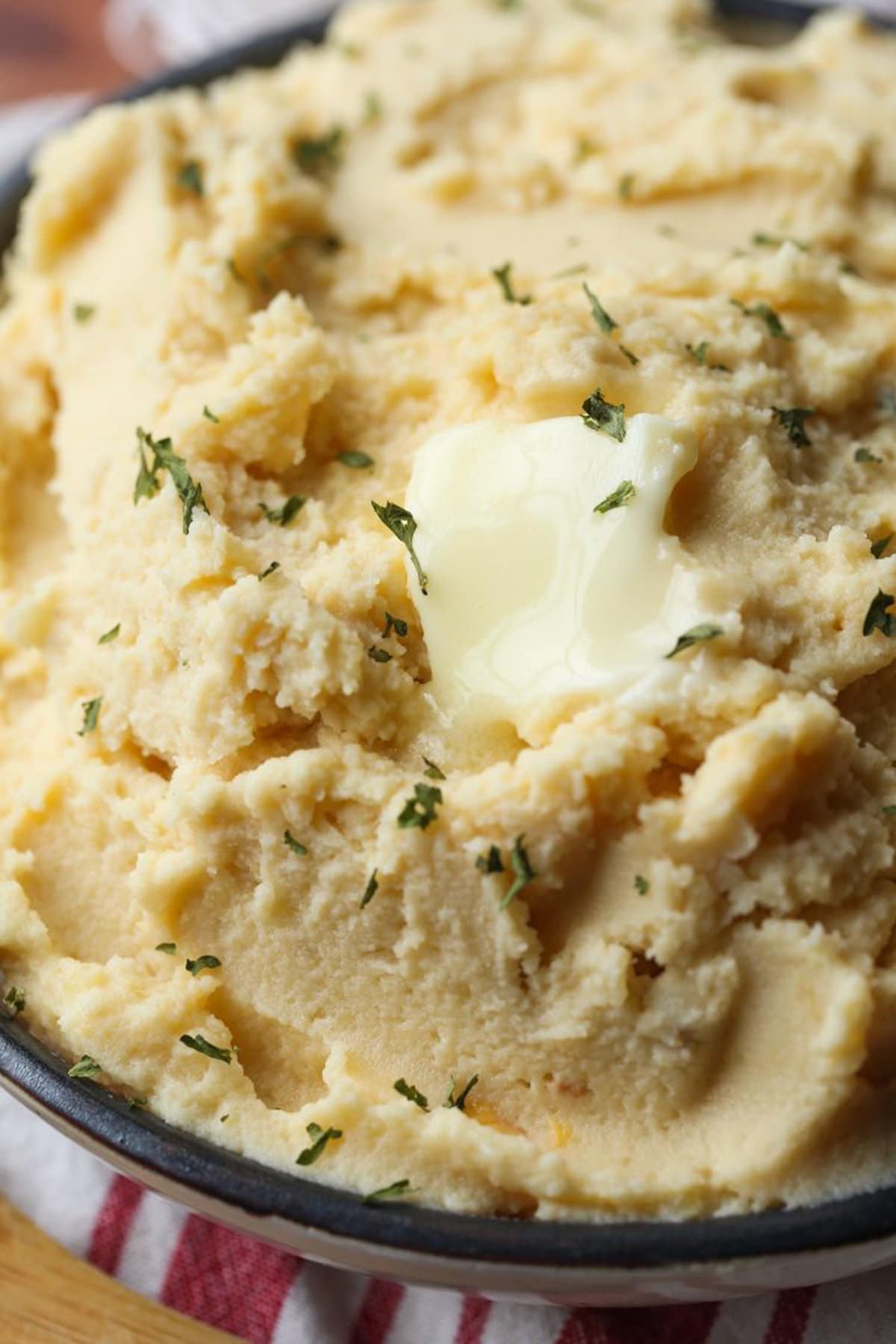 Why Would You Cook Potatoes in a Crockpot?
Slow Cooker Mashed Potatoes are perfect to make ahead on days when you are entertaining, having a family gathering, or even on a weekday when you plan on throwing steaks on the grill or are making an easy chicken recipe. The potatoes will be cooking, and that solves your side dish dilemma!
Taking all or part of your meal planning out of the list of things you have to do on busy days is a great way to make dinner less stressful. Not only can these mashed potato be started early in the day, like any "fix-it-and-forget-it" dish should be, but once you mash the potatoes, you can leave them in the Crock Pot for up to 2 hours on warm, so they will be ready whenever you serve them!
And I have some tips and tricks for you to make sure that not only is this an easy mashed potato recipe, it also makes the best mashed potatoes ever. That's a pretty bold statement, are you ready?
How to Make Mashed Potatoes in a Crockpot
This is an easy mashed potato recipe that I know you are going to love. Once I started making potatoes in the slow cooker I haven't looked back! I do have a few tips that will ensure success when making these crock pot mashed potatoes…
Make sure all your potatoes are cut into the same sized cubes. Obviously the smaller the potato chunks, the quicker they will cook. Also, if you prefer a more rustic-style mashed potato, you can leave the skins on!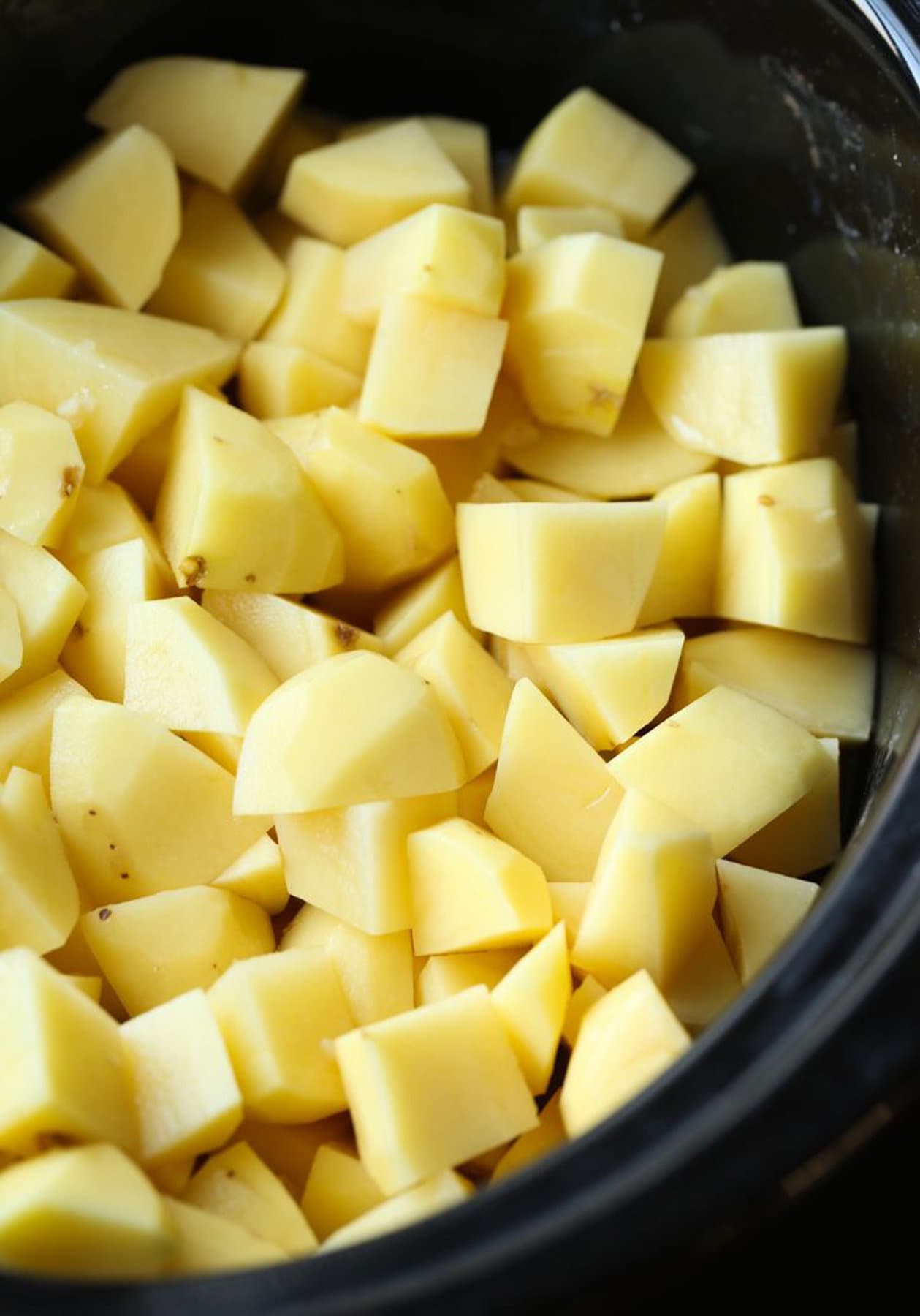 You can cook your potatoes in the slow cooker on low for 6-8 hours, or on high for 3-4 hours, so you have some wiggle room on when you can start them. The potatoes should be fork tender when you mash them. If they are not quite done, you will get lumpy potatoes!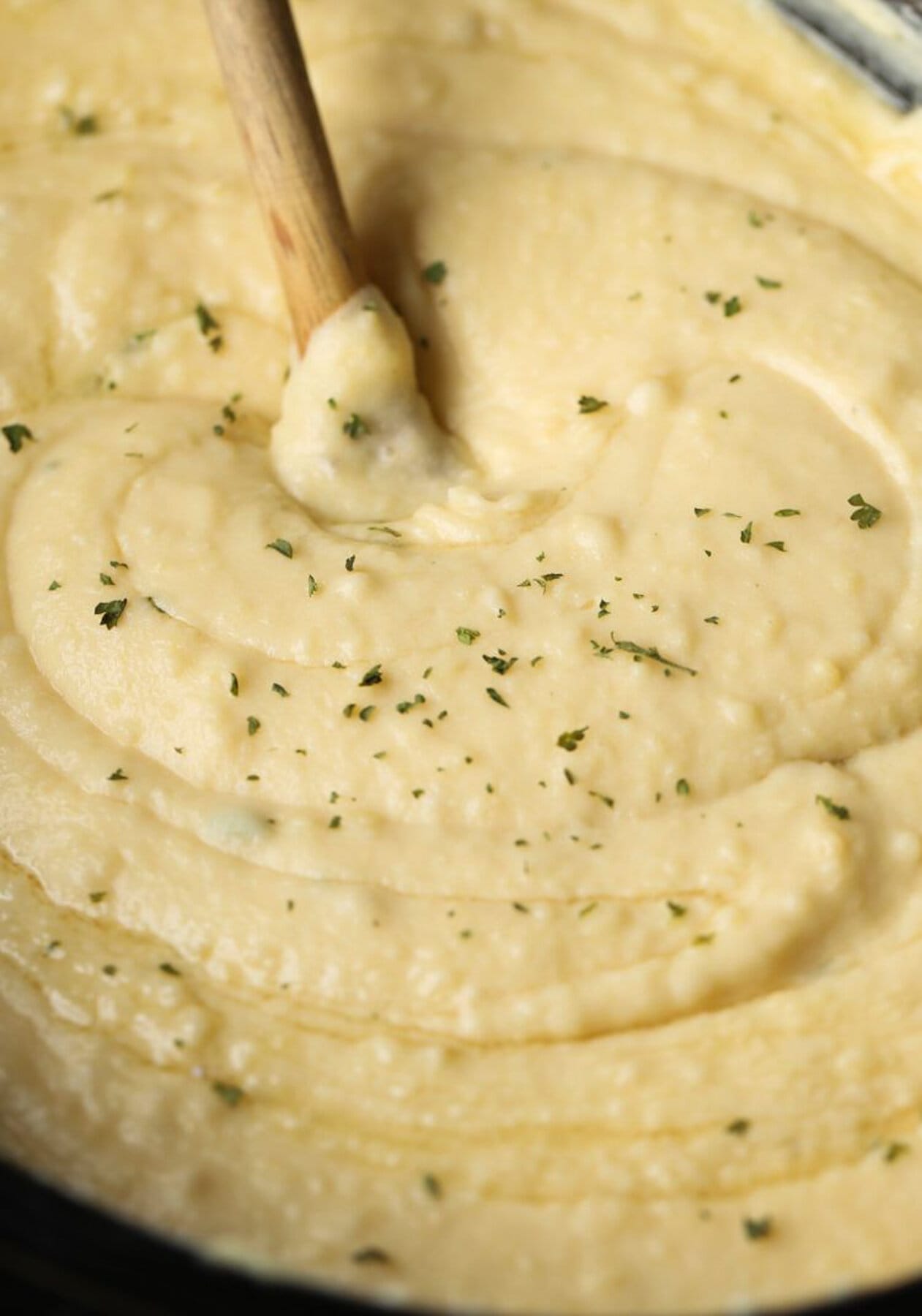 When you first mash these potatoes, they will be a little thinner and creamier than you would expect, but as they cool they thicken up.
Top them with more pats of butter, some chopped parsley, or green onions, or even cheese and bacon!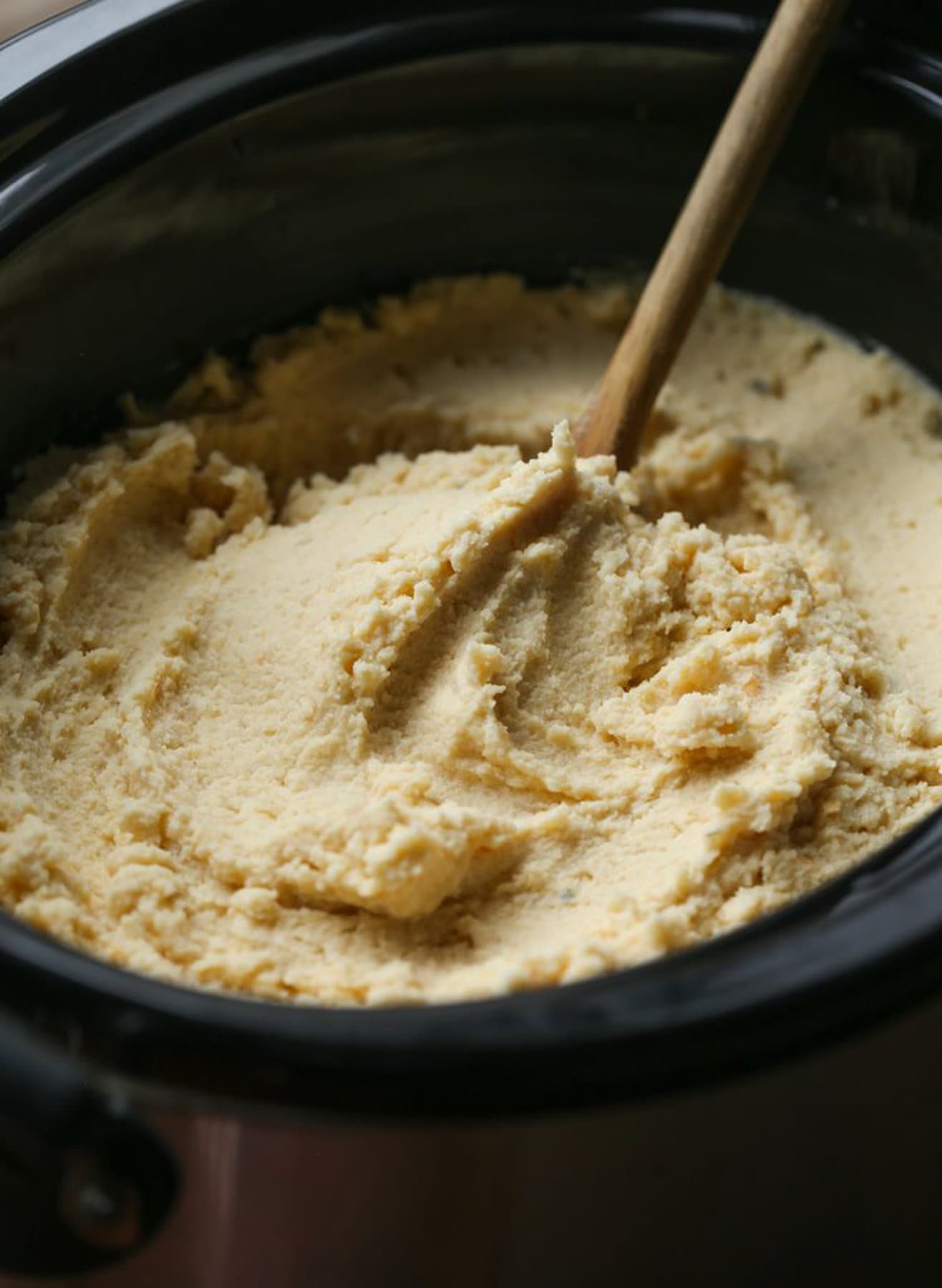 What Potatoes Work Best For Mashed Potatoes?
Russet potatoes are my go-to for mashed potatoes because they have a high starch content and becomes drier when boiled and drained. They produce a fluffier and lighter texture, perfect for absorbing butter and liquids, making the creamiest mashed potatoes.
Yellow potatoes or Yukon Gold potatoes are also a great option as they slightly more waxy than a Russet potato, but still have a high starch content and produce creamy mashed potatoes.
Red potatoes will work as well for mashed potatoes, and will become creamy and smooth when mashed, however, they have less starch than Russets or yellow potatoes and can become gummy if over-mixed. Just boil them until they are very soft which helps prevent lumps and requires less mashing to become smooth!
How To Serve:
This seems like a question with endless possibilities, but I'll give you a few options that are our favorites:
Classic: With gravy! This recipe produces super flavorful potatoes on their own, but mashed potatoes with gravy, stuffing, and turkey in an undeniable Thanksgiving classic.
Make It A Meal: This is my favorite way to eat mashed potatoes: Make a mashed potato bowl! I add a little corn, a protein, like roast, fried chicken, even chicken nuggets, some cheese and you have a whole meal!
One of my most favorite comfort meals is homemade beef stew served in a bowl on top or mashed potatoes. So good!
Simply on a weeknight along side Crispy Chicken Cutlets or Instant Pot Short Ribs.
What Can I Add Into Mashed Potatoes?
Once you make your base potatoes, you can get creative! Here are a few easy ideas to add flavor to your mashed potatoes:
Loaded Mashed Potatoes: Add 1 1/2 cups cheddar cheese, 1 cup chopped bacon, sour cream instead of cream cheese, and garnish with chives!
Garlic Parmesan Mashed Potatoes: Add in an extra 2 teaspoons garlic, and 1 1/2 cups Parmesan Cheese
Mexican Mashed Potatoes: Add in 2 tablespoons taco seasoning, 1 can green chilis, 1 cup drained canned corn, and sub out cream cheese with sour cream! Garnish with cojita cheese and cilantro!
Like I said, these will thicken (or stiffen) up a bit as they cool. They are extremely hot when they come straight out of the slow cooker, but allow them to sit with the lid off (or tilted) for 20 or so minutes before you're ready to serve!
And an extra dab of butter on top never hurt anyone, plus they look so pretty plated with melty butter and parsley sprinkled on top!
Common Mashed Potato FAQs:
Do You Have To Peel Mashed Potatoes?
Nope! You can if you would like to, but you don't have to peel potatoes when making mashed potatoes. Potato skins are said to be high in vitamins C and B6, which support the immune system. And leaving the skin on the potato also makes for easy prep. Just make sure you wash your potatoes well!
What Is the Best Liquid To Add To Mashed Potatoes?
A combination of chicken broth and half and half or cream is what produces the most flavorful mashed potatoes. You can use milk, sour cream, or even buttermilk in mashed potatoes.
How Many Potatoes Are In A Pound?
This will vary depending on the size of your potato, but typically 3 small-medium potatoes will be about a pound.
How Long Do Mashed Potatoes Take To Reheat In a Slow Cooker?
Place the cooked mashed potatoes in a slow cooker on the low setting for 3 – 4 hours, stirring occasionally.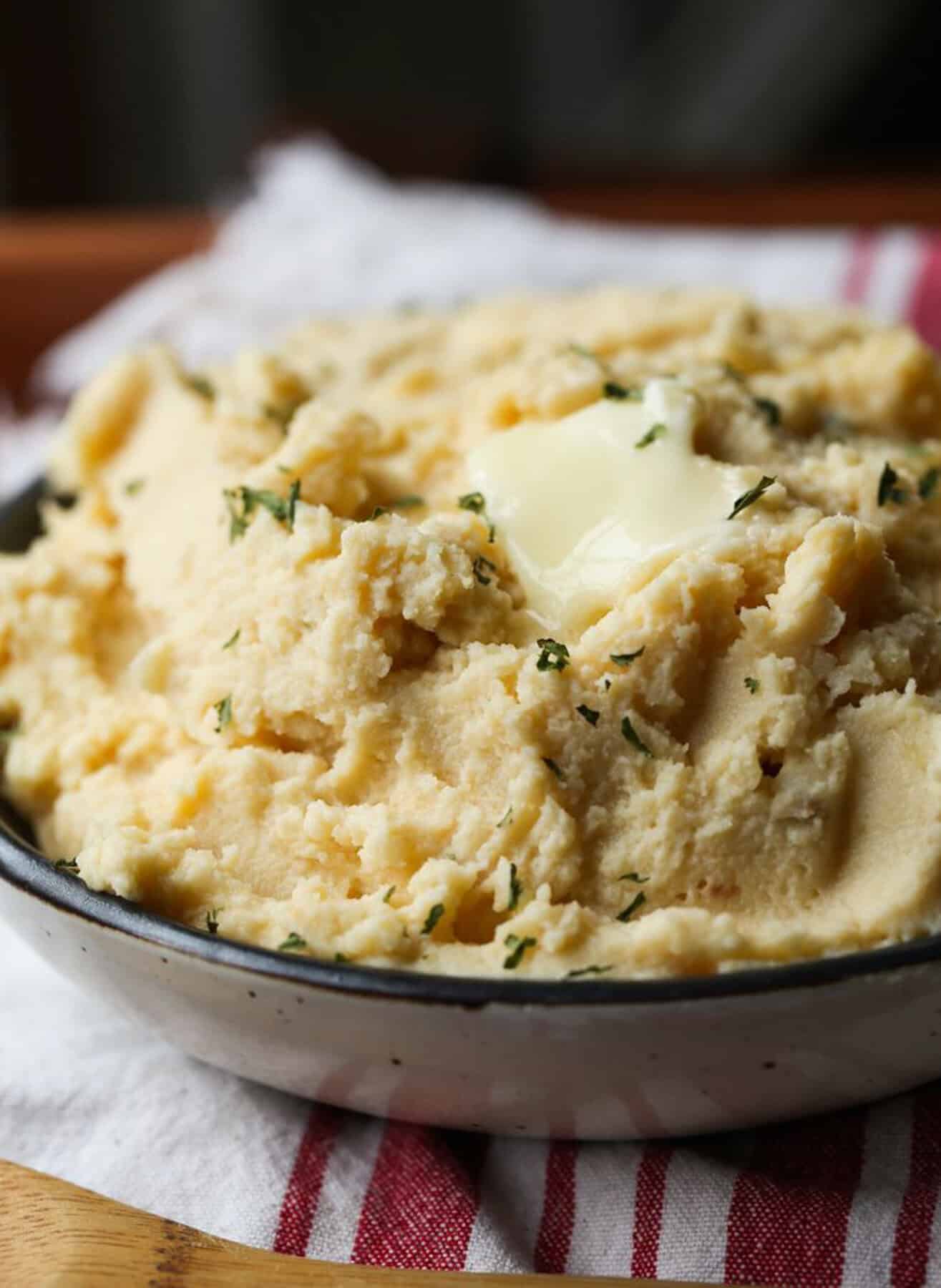 Storage/How To Reheat:
Simply store these mashed potatoes in an airtight container in the refrigerator for up to 5 days. To reheat you can microwave in portions, or you can place the potatoes in a Dutch oven on the stove top over low heat and heat until warmed through. Add a few splashes of milk or broth to help loosen up the potatoes when reheating on the stovetop.
More Crock Pot Side Dish Recipes:
Print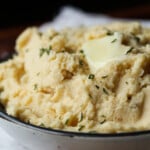 Crockpot Mashed Potatoes
Author:

Prep Time:

20 minutes

Cook Time:

4 hours

Total Time:

4 hours 20 minutes

Yield:

serves

1

5

1

x

Category:

Side Dish

Method:

Slow Cooker

Cuisine:

Dinner
---
Description
Crock Pot Mashed Potatoes are the perfect make ahead mashed potato recipe! Rich and creamy mashed potatoes that are perfect to feed a crowd. This slow cooker recipe is a definite keeper and will a star at your Thanksgiving dinner!
---
5

pounds potatoes (russet, yellow, or red), peeled and cut into 1- inch cubes

1 1/2 cups

chicken broth

1 tablespoon

minced garlic

3

chicken bouillon cubes or

3 teaspoons

Better Than Bouillon

2/3 cup

half and half

3/4 cup

butter, cubed at room temperature

8 ounces

cream cheese, room temperature
Fresh cracked black pepper to taste
---
Instructions
Place the potatoes in your 6-8 quart slow cooker. Add in the chicken broth, garlic, and chicken bouillon. Cover and cook on high for 3-4 hours, or on low for 6-8 hours, stirring once halfway through cooking.
When potatoes are done, add in the half and half, butter, and cream cheese. Mash using a potato masher or hand mixer until desired consistency is reached. You can add more half and half if you prefer creamier potatoes. Season with black pepper as desired.
Serve immediately, or keep warm in slow cooker until ready to serve, up to 2 hours.
---
Notes
Optional: Add in 1 1/2 cups grated cheddar cheese for cheesy mashed potatoes, which I did when I made these for the pictures! I also used Yukon Gold Potatoes in the images shown, as they are our favorite!
garnish with fresh parsley.
Store airtight in refrigerator for up to 3 days.
Nutrition
Serving Size:
Calories:

250

Sugar:

3 g

Sodium:

181.4 mg

Fat:

14.9 g

Carbohydrates:

26.3 g

Protein:

4.1 g

Cholesterol:

40.8 mg
Keywords: slow cooker, crock pot, mashed potatoes, creamy mashed potatoes, mashed potatoes recipe, how to make mashed potatoes, best mashed potatoes, crockpot mashed potatoes, homemade mashed potatoes, make ahead mashed potatoes
Want To Save This Recipe?
Find more recipes like this:
PIN for later: