My MIYM Chicken has got to be one of my all time favorite dinner ideas. Why? Melt In Your Mouth Chicken is an EASY chicken recipe and packs so much flavor into tender chicken breasts. My family devours this recipe.
If chicken recipes are a go-to weeknight option for you too, make sure to check out my BBQ Pulled Chicken Recipe! It is super easy and has a secret ingredient that packs so much flavor!
MIYM Chicken is One of My All Time Most Popular Recipes
We eat more chicken recipes in our house than any other meat for sure, like my Balsamic Chicken, my Cheesy Artichoke Chicken, my Crescent Chicken…the list goes on and on. And real talk, chicken nuggets are basically the perfect food…soooo. Chicken is just an easy starting point for dinner, and you only need a few ingredients to make it completely different every night you use it!
What is MIYM Chicken?
This MIYM Chicken stands for Melt In Your Mouth chicken. It's one of those classic, easy chicken recipes that I am sure you've had at some point in your life. My mom used to make it with mayonnaise and while that was fine, I always thought she may have used a little too much. There is a fine line with mayo in my opinion.
Anyhow, to sideline that whole debate, I use sour cream in my recipe, which seems to make everyone happy, as it's pretty undetectable. Sour cream also tenderizes the chicken breasts, so you end up with these incredibly juicy and flavorful cuts of chicken on your plate. So good!
Plus, there's cheese involved in this chicken recipe, and everyone knows with cheese…too much = perfect.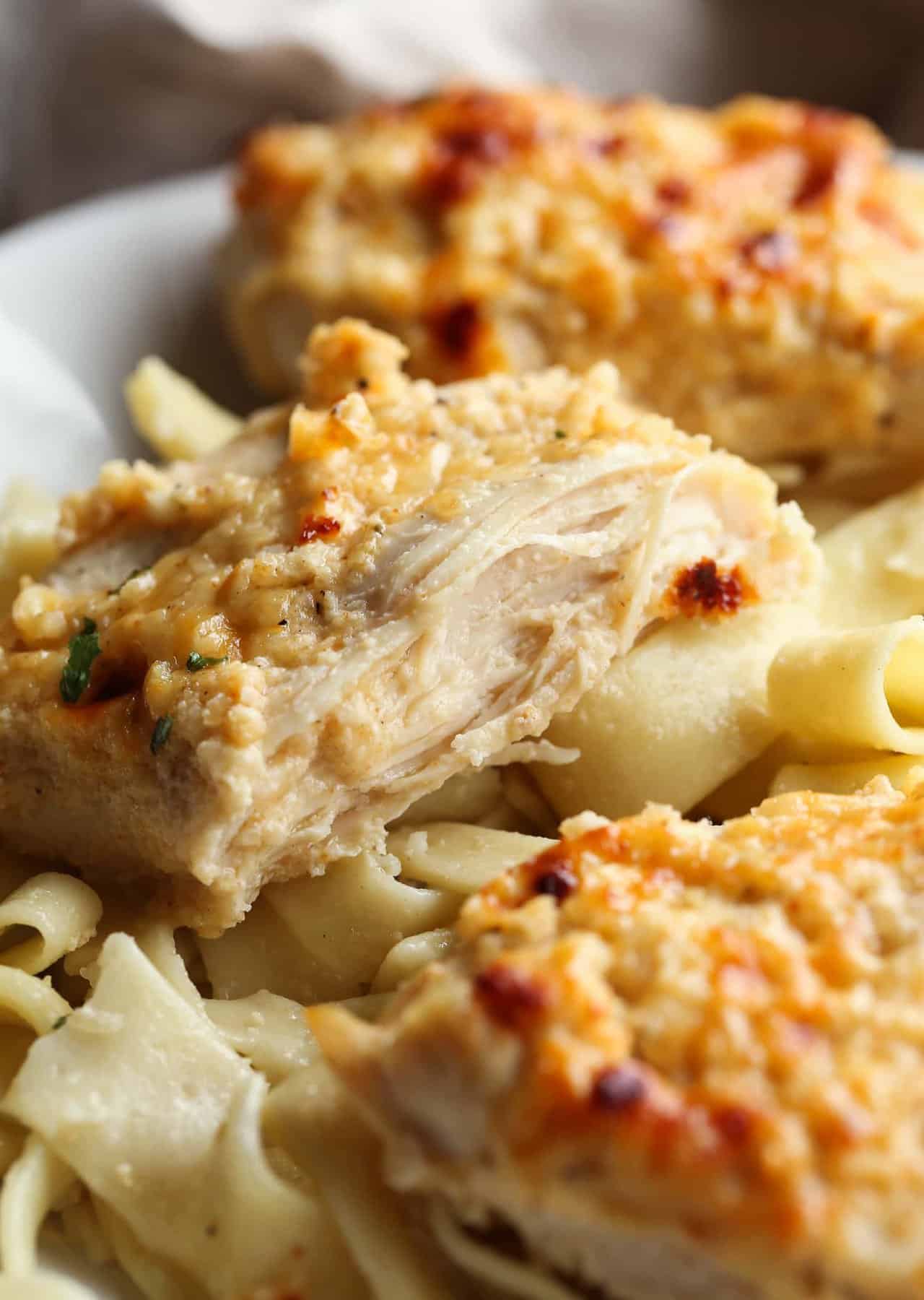 Picky Eater Approved – Melt In Your Mouth Chicken!
If you have peaked at the recipe here, you can see that the ingredients are very simple. But what I love about a good chicken recipe is that everyone in the house agrees that it is a keeper!
So, I've kept the flavors mild and minimal, while still being delicious, moist and tasty! Sometimes chicken dishes can be a bit boring and bland, but I've cracked the code, and found that simple ingredients used the right way can make dinner magic!
Plus, there are so many ways you can adapt the ingredients in this to fit any flavor profile! If you have picky eaters in your family I can pretty much promise that they will love this recipe.
What You'll Need
The prep time on this Melt In Your Mouth Chicken Recipe is literally minutes. Here's what you'll need:
Boneless Chicken Breasts: Here's the deal with chicken breasts, the thinner they are, the faster they bake. I prefer a more "medium" sliced breast, so not ultra thin, but not thick. Be sure to adjust your bake time based on the thickness of your breast.
Sour Cream: This adds moisture to your chicken. You can sub in Plain Greek Yogurt or mayonnaise in its place.
Parmesan Cheese: I love using Parmesan Cheese in this dish because it packs a lot of flavor punch. You can absolutely use another type of cheese, but I would recommend using one that is slightly sharper, like a Gruyere, an Extra Sharp Cheddar, or Asiago.
Seasonings: This is where you can get creative and adapt the recipe to accommodate all the picky eaters in your life! The recipe is written with classic seasonings like garlic powder and seasoned salt, but you can use tons of spices to switch it up! Make it Tex-Mex and use Cumin, make it with a little Italian flair and add Basil or Italian Seasoning, or even add some smoked paprika and cayenne pepper to add a little smoke and heat! I love chicken recipes like this that are so easily adaptable!
How to Make Melt In Your Mouth Chicken
Ok, let's get cooking! Here's how to make this super easy chicken recipe:
Prep your tools. Preheat your oven to 375F. Coat a 9×13 baking dish with PAM and set aside.
Prepare the MIYM mix. In a medium bowl combine the sour cream, garlic powder, seasoned salt, pepper and 1 cup of Parmesan cheese.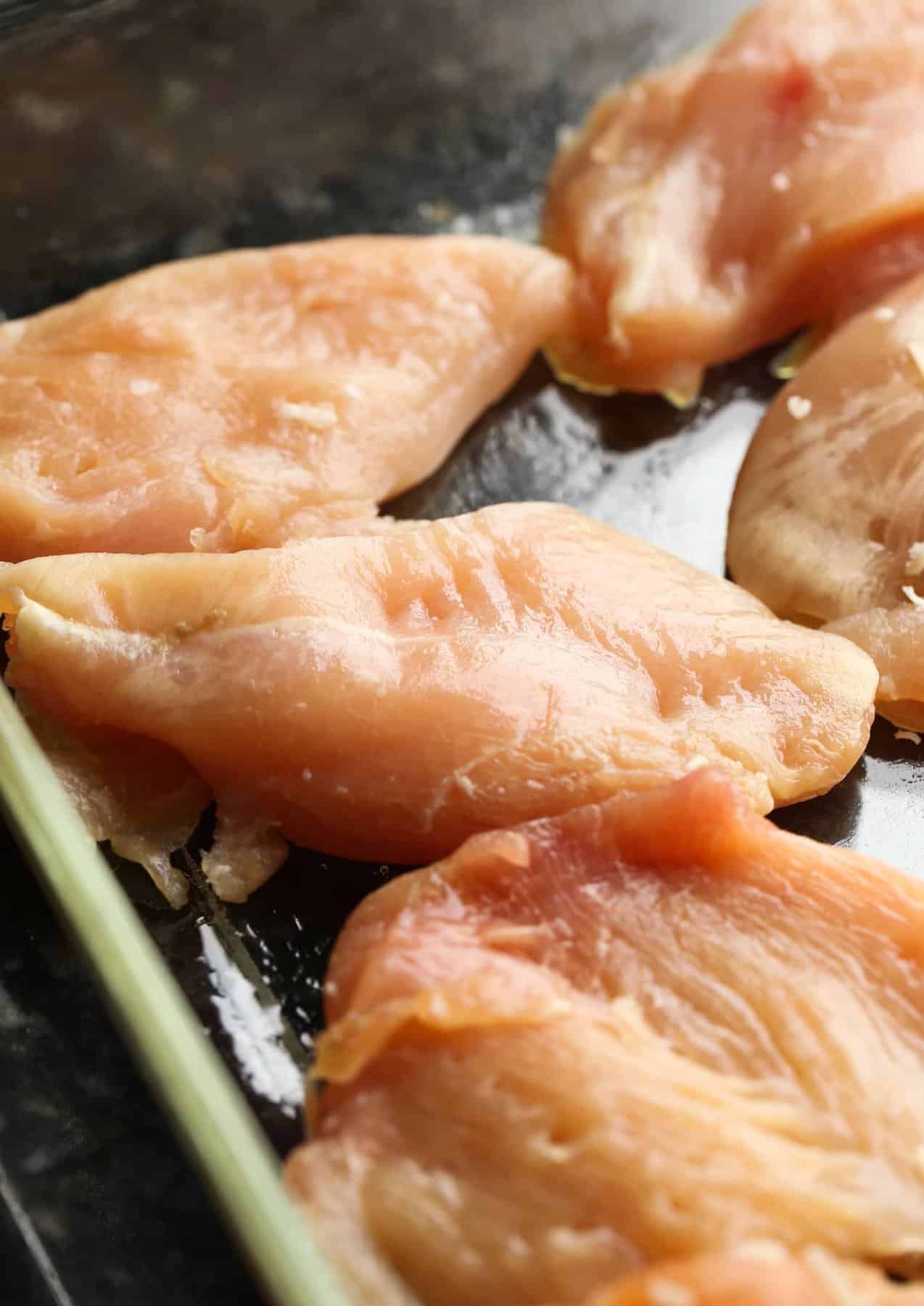 Add the MIYM mix to your chicken. Put the chicken breasts into your prepared pan in a single line, then spread the MIYM mix on top of them. Sprinkle with more Parmesan cheese.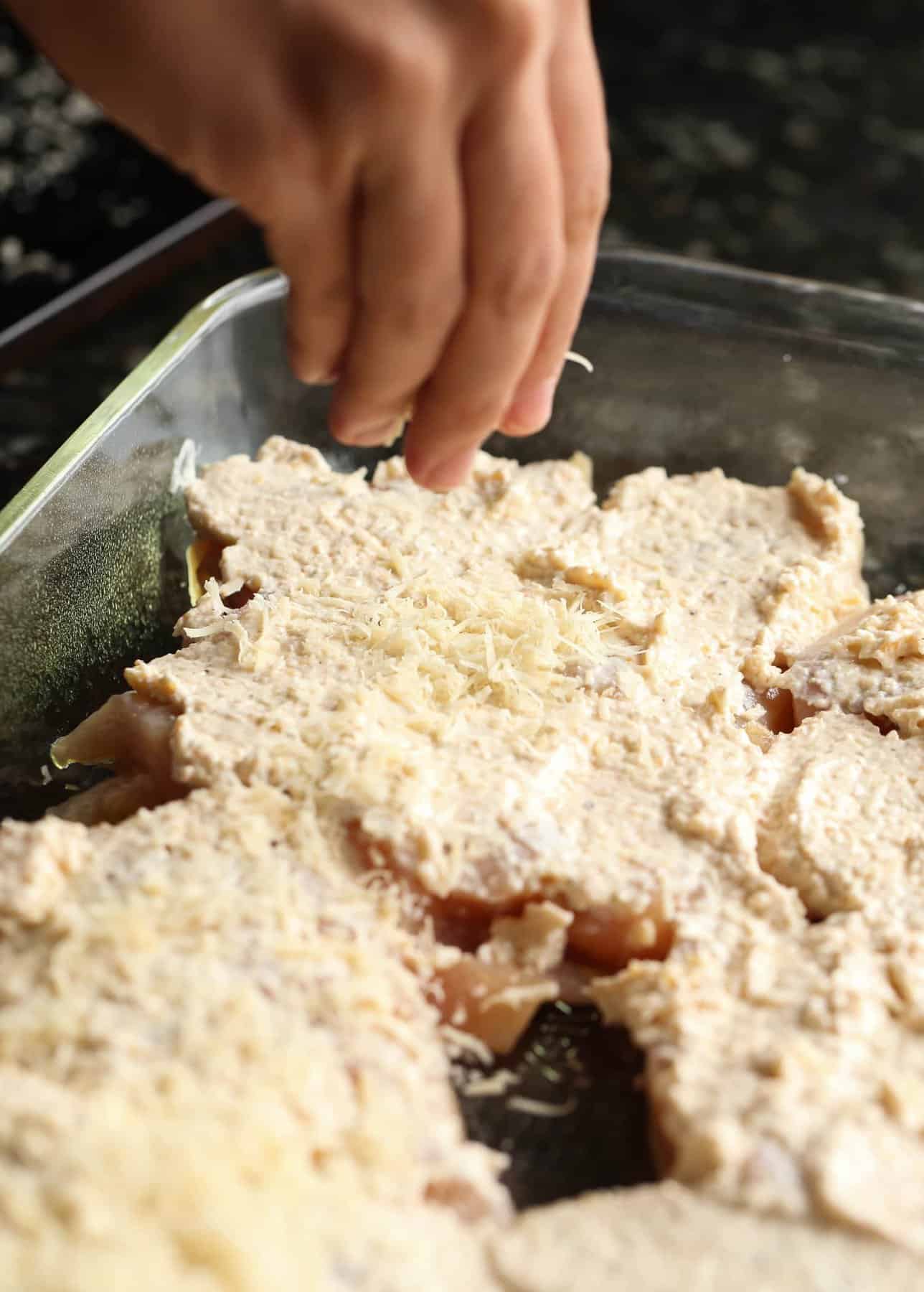 Bake. This chicken recipe cooks in 25-30 minutes.
Broil. I like to broil the chicken for 2-3 minutes, just until they brown a bit on top.
Serve!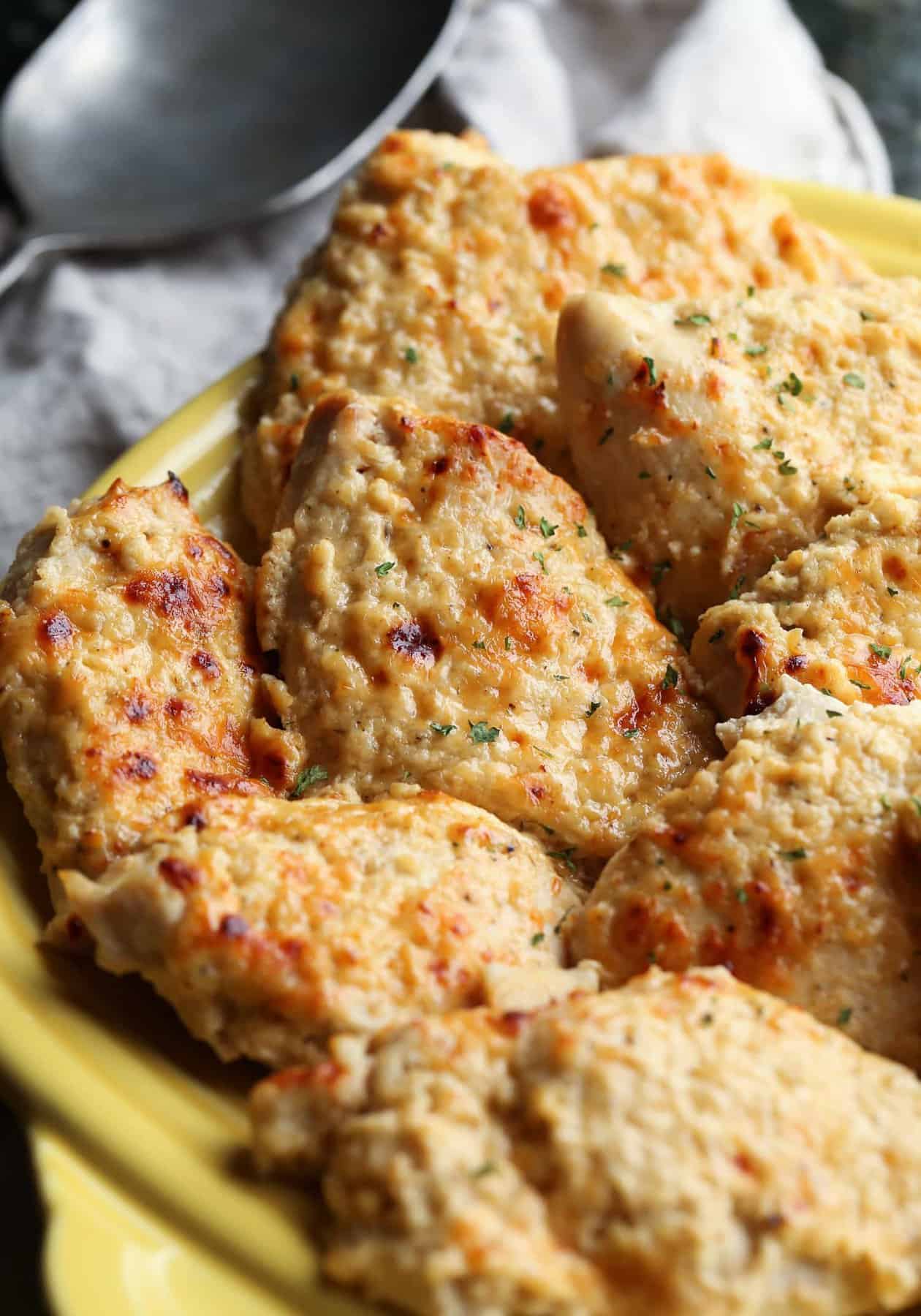 Tips for Success:
The best thing about my Melt In Your Mouth Chicken recipe is how simple it is to make! All you do is arrange your chicken breasts in a 9×13 pan, mix the toppings together in a separate bowl, spread it on top, and top with cheese. That being said, here are some tips for the absolute best chicken, plus answers to FAQs.
You can do all the prep work in advance.
You can do everything up to baking the chicken the day before. Just keep the prepared chicken in the fridge, covered with saran wrap, until you're reading to bake it. Remove the plastic wrap and continue with the rest of the recipe.
How to tell when your chicken is done?
As with any chicken recipe, the answer here is yes based on the thickness of the boneless chicken breasts you use. If your chicken breasts are trimmed thin they will bake faster than a thick chicken breast.
You bake the chicken until the juices run clear, but if you're concerned about the doneness, use a meat thermometer and bake until the chicken reaches an internal temperature of 165°F.
What happens if there is a lot of liquid in the pan?
This is a very common issue with this, and all baked chicken recipes. Let me explain.
Chicken naturally releases juices as it is cooked, and since you're baking this in a dish, those liquids have no place to go, except for…well…the baking dish. You don't notice it as much when you are pan frying chicken because of the high pan temperature the liquid evaporates quickly, but in an oven at 350°F, it won't evaporate fast.
But don't worry, it's completely normal! Just drain the liquid, it will be fine! You can drain the liquid before or after you pop it under the broiler.
The amount of liquid the chicken releases also varies due to a few reasons:
Overcrowding the pan. If you have a less crowded pan, the liquids will have more surface area to spread, naturally creating a thinner layer of liquid, which will evaporate faster.
Not searing the meat. Searing meat locks in the juices so they don't release as much as non-seared meat. You can absolutely sear the chicken for this chicken recipe, to prevent this if it bothers you, but it's not necessary.
Quality of Chicken. This can potentially be a debatable issue, but from my research, there are some chicken producers that soak their chicken in a chlorine-water solution during production to kill bacteria, and this can be absorbed into the meat causing more liquid. This should be labeled on the packaging, so check that out as a potential reason you are getting an excess of liquid.
Again, the liquid that chicken breasts release can vary, but it is not anything to be concerned about, and is natural. Just drain it!
Serving Suggestions:
This Melt In Your Mouth Chicken recipe is a keeper in my recipe box and I know you will love it too! I enjoy serving it with my Homemade Egg Noodles on the side when I have the time to make them. But here are a few more options:
More Chicken Dinner Ideas
Print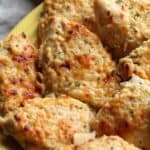 Melt In Your Mouth (MIYM) Chicken Breasts Recipe
Author:

Prep Time:

5 minutes

Cook Time:

25 minutes

Total Time:

30 minutes

Yield:

serves

6

-8

1

x

Category:

Dinner

Method:

Oven

Cuisine:

American
---
Description
A retro/nostalgic & easy MIYM (Melt In Your Mouth) chicken recipe that is in constant rotation in my house!
---
1 cup

sour cream

2 teaspoons

garlic powder

1 teaspoon

seasoned salt

1/2 teaspoon

fresh ground black pepper

1 1/2 cups

freshly grated Parmesan cheese, divided

3

pounds boneless chicken breasts, trimmed of excess fat
---
Instructions
Preheat oven to 375°F.
Lightly coat a 9×13 baking dish with nonstick spray and set aside.
In a medium bowl, mix together the sour cream, garlic powder, seasoned salt, pepper, and 1 cup of Parmesan cheese.
Place the chicken breasts evenly into the pan. Spread the sour cream mixture on top of the chicken. Sprinkle with the remaining Parmesan cheese.
Bake for 25-30 minutes, or until the chicken is cooked through.
Turn the oven to broil and place the pan under the broiler for 2-3 minutes until lightly browned on top.
Serve immediately.
Notes
Store airtight in the refrigerator for up to 3 days.
Reheat on microwave or in oven at 350°F for 10 minutes.
Nutrition
Serving Size:
Calories:

321

Sugar:

0.2 g

Sodium:

642.2 mg

Fat:

12.6 g

Carbohydrates:

3.2 g

Protein:

46.1 g

Cholesterol:

145 mg
Keywords: easy chicken breast recipe, chicken dishes, chicken dinner ideas
Want To Save This Recipe?
Find more recipes like this:
PIN for later: