If you're wondering how to make buttermilk – you've found the answer! Learn how to make a buttermilk substitute with two simple ingredients. I've also included options for vegan buttermilk substitutions!
No Buttermilk? It Happens to All of Us!
It's happened to me before – maybe a bit more often than I'd like to admit. I plan all week in my head to make a legendary buttermilk sheet cake for a big weekend celebration.
Then, the weekend arrives. I start pulling out my ingredients and I realize I'm missing a pretty important ingredient… the BUTTERMILK. Like, seriously – facepalm. But, what can I do?
Run to the store and hope they have some? Maybe, but I don't feel like changing out of my pajama pants. Plus, I'm still sipping on my morning coffee. In situations like these, thankfully I have an easy and quick solution. I just make my own buttermilk! It's easier than you think.
What is Buttermilk?
Back in the days of the pioneers, buttermilk was the liquid leftover after butter had been churned. So as not to be wasteful, they found lots of uses for this creamy treat.
The buttermilk you buy today in the grocery store is a bit different. Today cultured buttermilk is made by adding bacteria to milk the causes it to start fermenting, which is where the tangy flavor comes from. This type of buttermilk is typically thicker and more tangy than traditional buttermilk.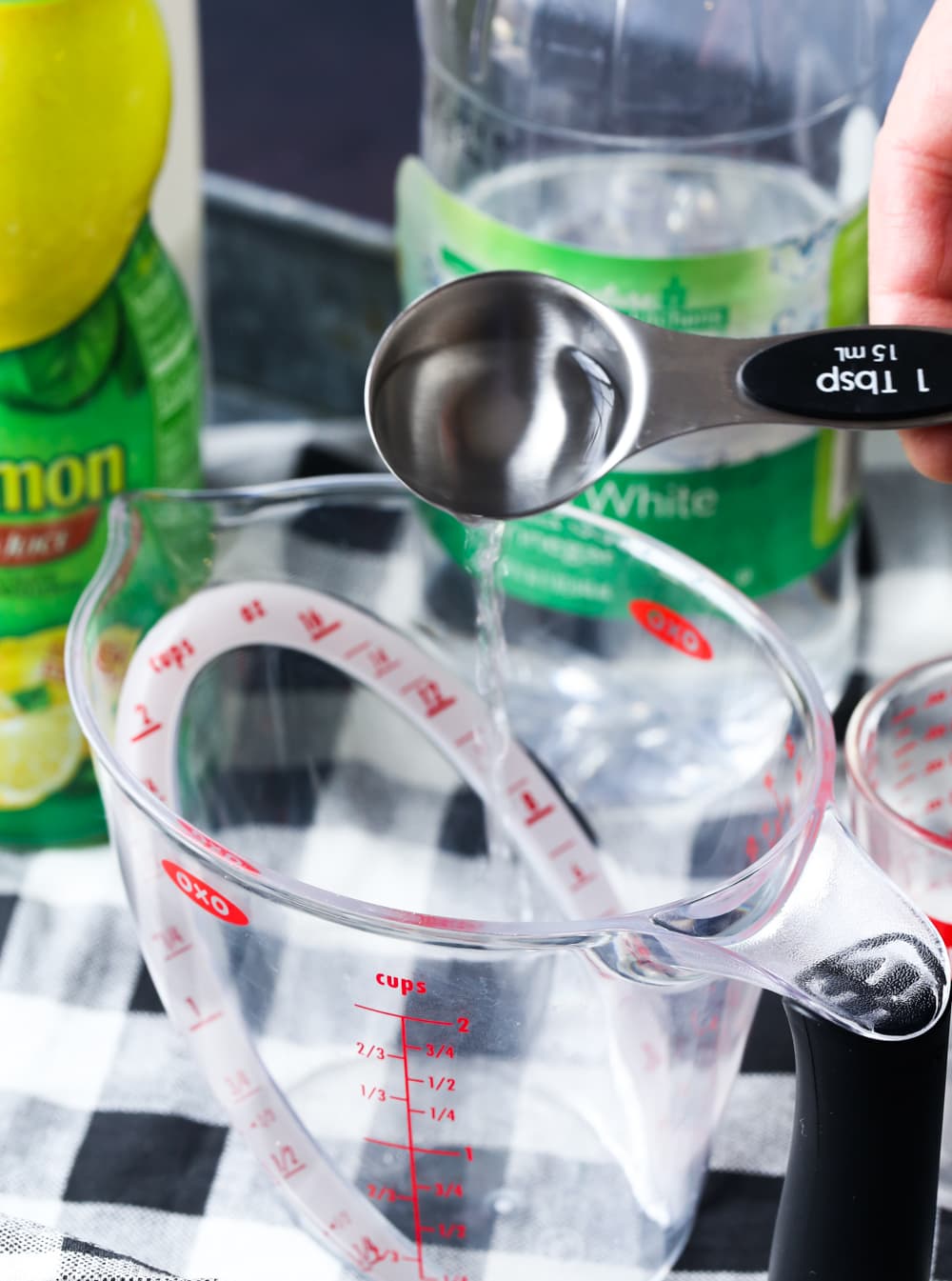 How to Make Buttermilk Substitute
I usually opt to substitute buttermilk with a homemade version using milk and white vinegar or lemon juice. To do this you'll need:
Ingredients
Milk – You can use whatever is your preference – skim, 1%, 2%, or whole. But, the higher the fat content in the milk you choose, the more rich and creamy it will be.
White vinegar or lemon juice – Either will work just fine, use what you have on hand.
How to Make It
Step 1: Combine 1 cup milk and 1 tablespoon lemon or vinegar. This 1:1 ratio works no matter how much buttermilk you need.
Step 2: Let it sit at room temp until it curdles. This should take about 10 minutes. Then, stir it up and use it in your recipe in place of buttermilk!
Yup that's it. Homemade buttermilk really does require only two steps and two ingredients!
What About a Vegan Buttermilk Substitute?
For a vegan buttermilk, use any plant based milk. Keep the same ratio of 1 cup milk to 1 tbsp of white vinegar or lemon juice. I love to use soy milk for my vegan buttermilk.
Here are some additional plant based milk options you can use to make your vegan buttermilk substitute:
Almond Milk
Flax Milk
Oat Milk
Soy Milk
What Else Can I Use as a Buttermilk Substitute?
Here are some more options for a buttermilk substitute:
1 cup buttermilk = 1 cup yogurt thinned with water or milk
1 cup buttermilk = 1 cup sour cream thinned with water or milk
Can I Freeze Buttermilk?
So, if you make your own buttermilk substitute, you can make the exact amount you need and you won't have to worry about freezing the leftovers. I just love making things super easy for ya – hair toss.
But, if you did buy that jug of buttermilk just to use only a half cup or cup and you're wondering if you can freeze the rest before it goes bad in your fridge, here's your answer:
Yes absolutely!!
Buttermilk actually freezes pretty darn well. TBH, I didn't know this until recently! Make sure to freeze your leftover buttermilk or homemade buttermilk substitute in an airtight container and it will remain good for just about 3 month.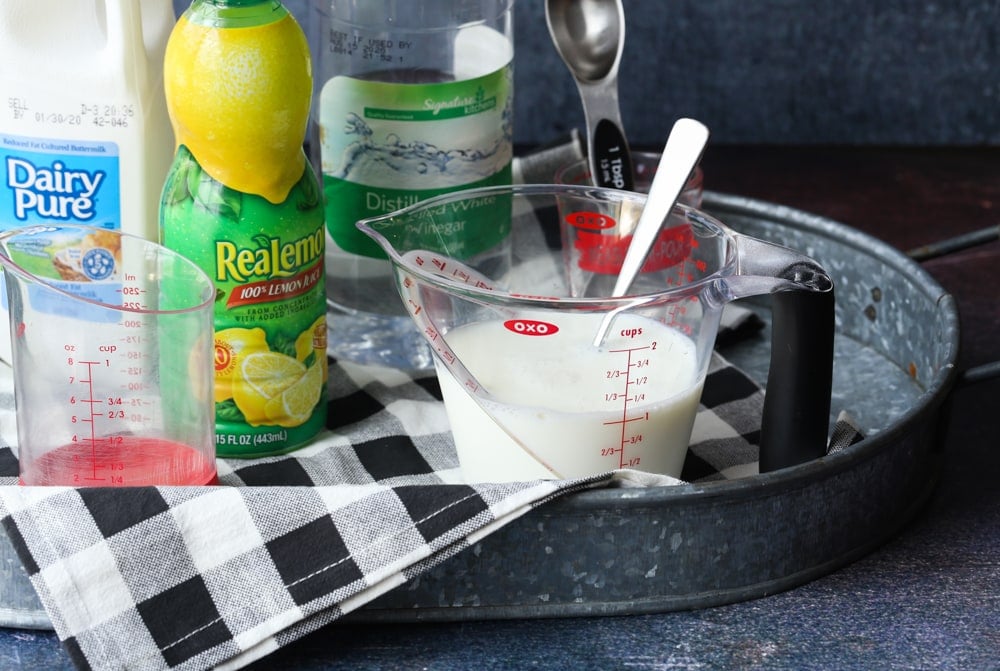 What Does Buttermilk Do in Baking?
When you use buttermilk in your baking, it makes your treats extra moist and tender. This is because buttermilk is acidic, so it reacts with the baking soda in your recipe. When this reaction happens, everything gets all fizzy and the buttermilk loses its sour taste. You're left with super fluffy and moist baked goods!
Recipes that Use Buttermilk
Print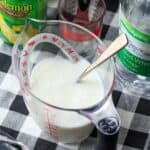 How to Make Buttermilk
Author:

Prep Time:

10 minutes

Cook Time:

0 minutes

Total Time:

10 minutes

Yield:

1 cup

1

x

Category:

How To

Method:

Mix

Cuisine:

American
---
Description
This easy recipe for homemade buttermilk substitute only needs two ingredients and is ready in 10 minutes.
---
1 cup

milk

1 tbsp

white vinegar or lemon juice
---
Instructions
Combine 1 cup milk with 1 tbsp white vinegar or lemon juice.
Let mixture sit at room temperature until it curdles. This should take about 10 minutes.
Stir and use in place of buttermilk.
---
Notes
For a Vegan variation, sub 1 cup of soy milk for the 1 cup of cow's milk.
Keywords: how to make buttermilk, buttermilk substitute, what is buttermilk, buttermilk recipe, homemade buttermilk, buttermilk replacement, sub for buttermilk
Want To Save This Recipe?
Find more recipes like this:
PIN for later: