This Perfect Vanilla Cake Recipe is very easy, with just a few important tricks to make it buttery, and soft and moist!
Everyone Needs A Perfect Vanilla Cake Recipe!!
Can you even believe that in all the year (almost 10!) that I have been blogging, I have never posted a recipe for my favorite vanilla cake! I have shared my favorite vanilla cupcakes, which is very similar, but I have made a few adjustments to make the recipe perfect in cake form.
This Homemade Vanilla Cake is Easy, Soft, and Moist!
So often are homemade vanilla cakes too dense, or dry with that "cornbread" texture. It's pretty dang hard to get that boxed cake texture…trust me I have tried. But what's so great about a homemade vanilla cake is the flavor, and that is definitely not something you can't get in a boxed mix!
My Vanilla Cake recipe will give you a soft, tender crumb thanks to the buttermilk, with a buttery, vanilla flavor. Top the cake with my creamy buttercream and you have the world's most classic birthday cake, or cover it with fondant for something a little more fancy!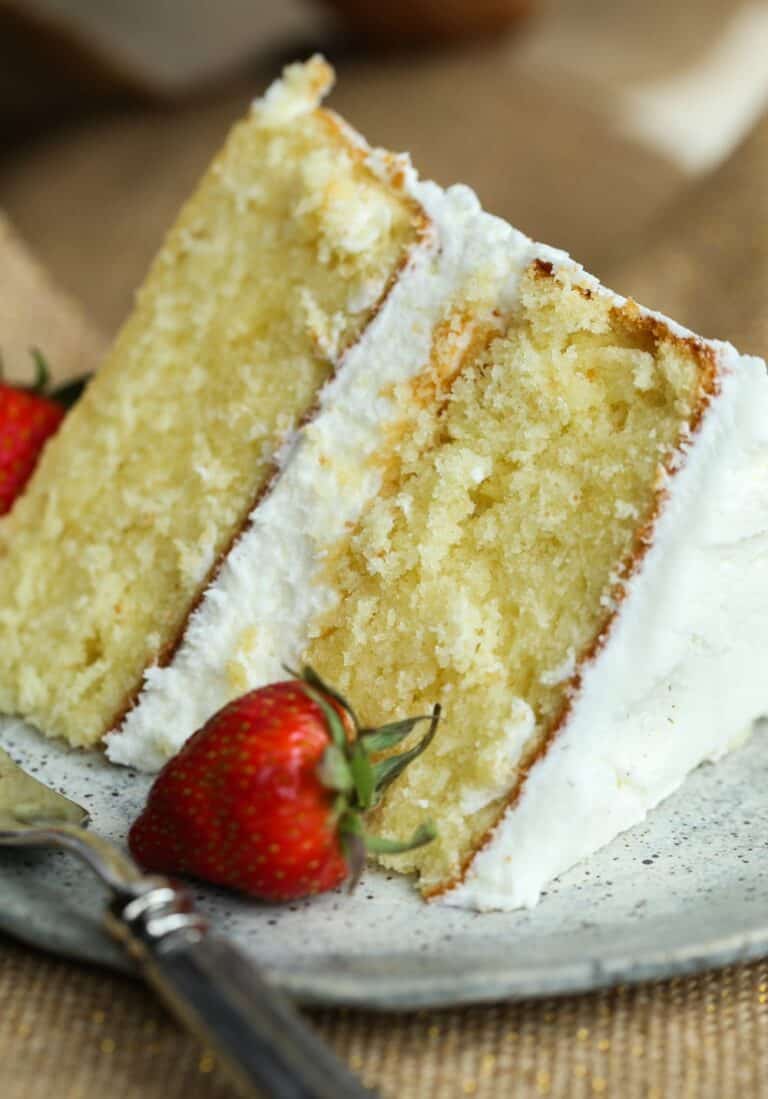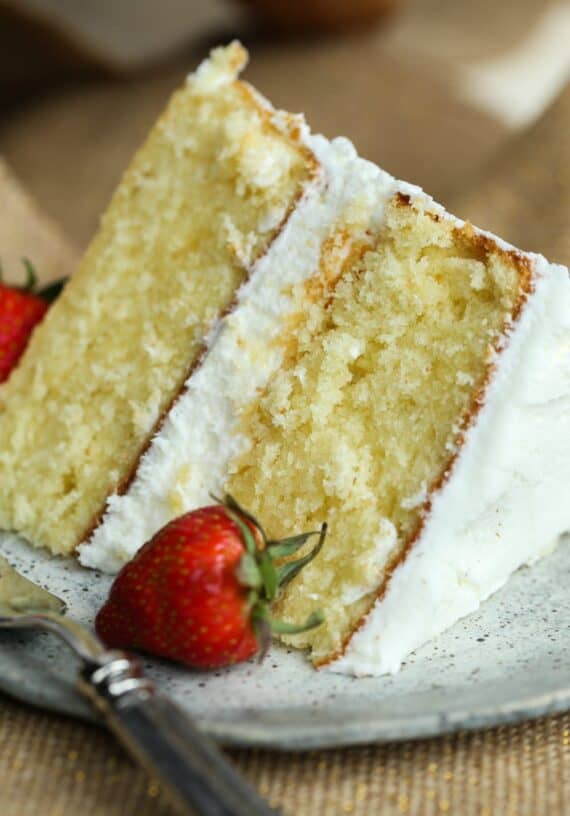 How To Make The BEST Vanilla Cake
So since we're going back to basics today, I have a few steps that will ensure the best results for you vanilla cake! None of the tips I am going to share are difficult at all. They are just easy suggestions that will ensure cake success that came from a lot of trial and error.
What kind of flour should I use in this vanilla cake?
The trick to this vanilla cake recipe is Cake Flour. It always produces a more tender crumb. Certainly you CAN use all purpose flour, and I used to think it wouldn't matter too much, but it does. Oh friends, it does. I even went as far (like with the cupcake recipe) where you use a combo of all purpose and cake flour, which I think is totally fine for cupcakes. But for a cake, I truly feel that 100% cake flour is the way to go. Cake flour has less protein content, and forms less gluten when you mix it giving you a more airy texture!
Also note that I am not a huge stickler for sifting the flour or dry ingredients together. What I do, is add the baking powder and salt in with the eggs and vanilla. I find this gives them plenty of time to get evenly mixed into the batter. I love baking, but I really try and cut down on steps that I feel are unnecessary. It also saves me from washing another bowl. Some might argue this, I have never had an issue!
Can I Over Mix the Cake Batter?
DON'T OVER MIX THE BATTER! Once you add the flour and buttermilk in alternating portions you want your batter to be smooth and creamy, but you don't want to overdo it. This will make your cake tough, and not as tender. The more you mix, the more gluten forms, which you don't want for a light, fluffy cake. You want to want everything to be combined, but that's it! It will take less than 30 seconds after the last portion of flour is added. And again, SCRAPE THE SIDES OF THE BOWL!
Why Buttermilk?
Another non-negotiable is buttermilk. The acid in the buttermilk combined with the baking powder produces the most tender crumb by breaking down the long strands of gluten. If you catch yourself in a pinch and don't have buttermilk in your fridge, here's a buttermilk substitution.
Please note: I do recommend first to sub in milk with lemon juice or vinegar for the buttermilk, as stated in the graphic below. If you don't have either of those, you can sub in plain yogurt as a last resort.
How To Prevent Your Cake From Sticking to the Pan
Don't skip using parchment rounds in the bottom of the pan. I know this might be another step you might want to skip, but it's really a simple step to take to ensure the cakes release from the pan easily. Here's what you do:
Use a baking spray to coat the pans.
Cut circles of parchment paper out that fit into the bottom of the pans.
Place the parchment in the sprayed pan, and spray it again!
There is NOTHING worse than going to all the trouble of baking a cake and having it stick. You might swear that you greased or coated the pan enough…but please, just add the parchment paper for insurance. This cake has a high sugar content and will easily stick to the pan if not properly prepared.
Quality Ingredients Are Key!
Use the best ingredients you can. This is something I feel very strongly about when baking "basics". Ingredients can make the difference between your cake going from good to AMAZING.
High quality ingredients include:
Pure vanilla, not imitation.
Real butter, never artificially flavored margarine.
Quality Cake Flour
*I use salted butter in this recipe, (as I do in most of my recipes) which is completely personal preference. If you have a salt sensitivity, feel free to use unsalted.
How to Frost Your Cake
Frosting is the the fun part of cake baking. And do NOT worry, I am far from an expert cake decorator. I firmly believe it doens't have to look good to taste good. But with that said, there are a few things you can do to make your cake pretty!
Leveling Your Cake
When the cakes are baked they might have formed domes on top. Domes are a visual indicator that your cake has risen and will likely be light and airy on the inside! So yay for domes! BUT domes aren't great when you want to stack your cakes. Simple fix, friends!
Don't get too hung up on being perfect. No need to buy a fancy cake leveler, although, they are nice, they're not necessary at all! Just let your cake cool completely and grab a serrated knife. and carefully trip off any dome at the top, so the cakes will stack evenly.
Do You Have To "Crumb Coat" Your Cake?
Sometimes I trim the sides a little bit if something isn't perfect. But just know, the more you trim, the more crumbs you will get in your frosting, which is why a crumb coat is very important to get a perfect finish! So you don't HAVE to, especially if you're going for that rustic look, but if you want a perfect finish on your cake, a crumb coat is a good idea.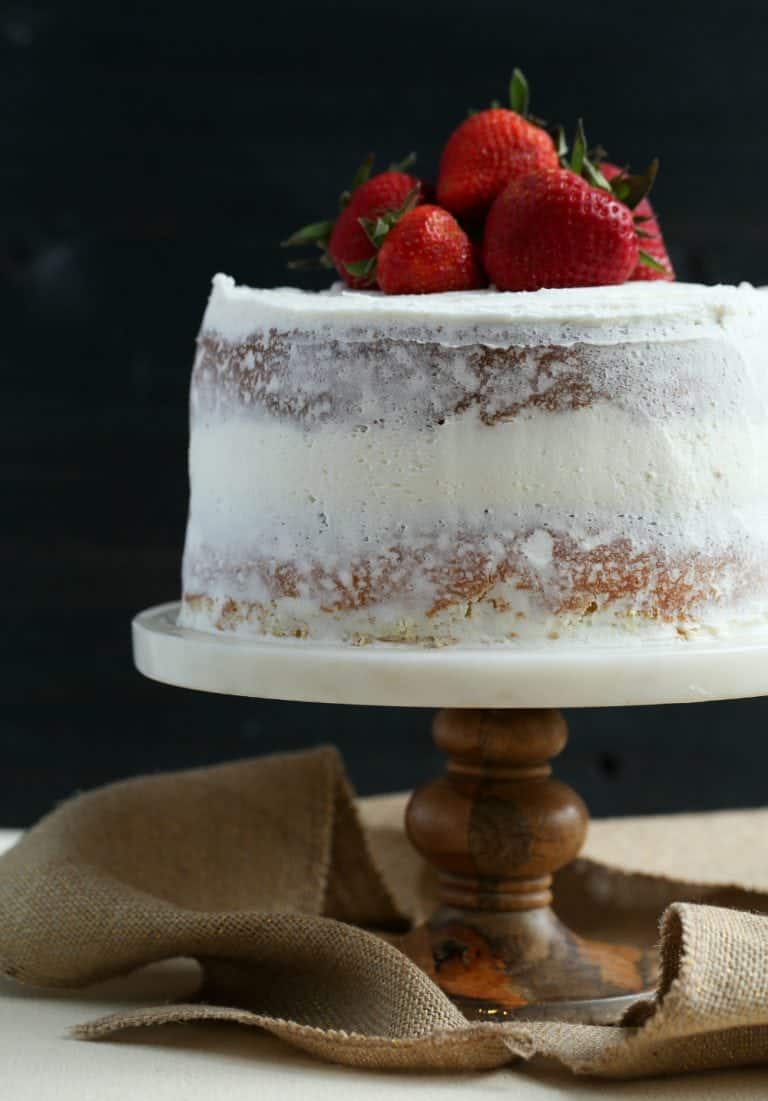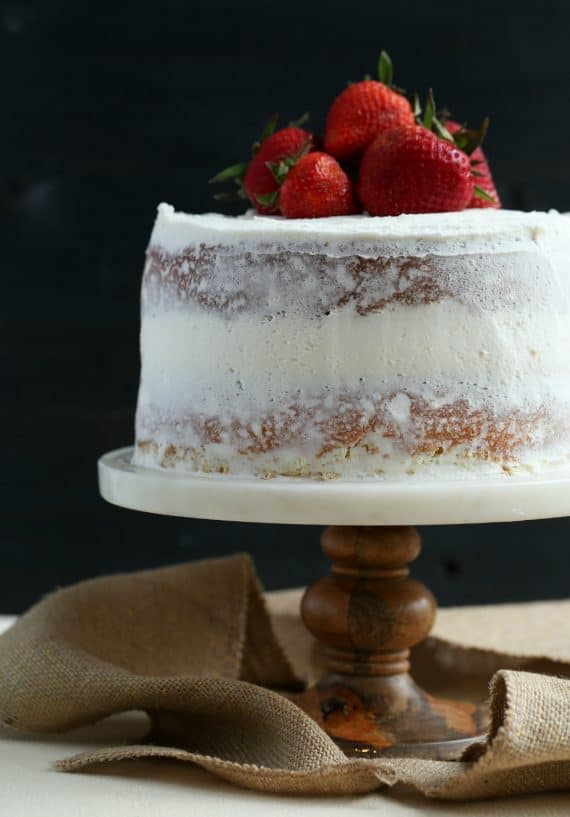 What frosting should I use?
This cake is the perfect vehicle for frosting, and a great way to get creative! The "naked" technique that I used in the pictures is an easy frosting style. All you do is add a layer of frosting in the middle and lightly coat the sides. In these pictures and in the video below I used my Perfect Buttercream Frosting. I love it so much!
You can even slice each layer in half and create a fabulous 4 layer cake! If you choose to do this, increase the frosting amount by at least 50% so you have enough!
Here are a few other frosting recipes that are amazing on the Vanilla Cake:
I hope these tips have helped! Vanilla cake seems so simple, but can often give varied results. So, I hope these tips and vanilla cake recipe will be your go-to recipe from now on!
Print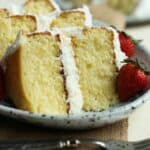 Perfect Vanilla Cake
Author:

Prep Time:

10 minutes

Cook Time:

25 minutes

Total Time:

35 minutes

Yield:

serves

1

0

1

x

Category:

Dessert

Method:

Oven

Cuisine:

American
---
Description
This Perfect Vanilla Cake Recipe is very easy, with just a few important tricks to make it buttery, and soft and moist!
---
1 cup

salted butter, room temperature

2 cups

granulated sugar

1/4 cup

vegetable oil

4

eggs

1 tablespoon

vanilla extract

2 teaspoons

baking powder

1 teaspoon

kosher salt

3 cups

cake flour

1 cup

buttermilk
---
Instructions
Preheat oven to 350°F. Coat 2, 8 or 9- inch round cake pans with nonstick spray. Cut two pieces of parchment paper into 9- inch circles. Place the rounds in the bottoms of the pans. Coat again with nonstick spray. Set aside.
In the bowl of your stand mixer, fitted with paddle attachment mix the butter and sugar together for 2 minutes. Add in the oil, eggs, vanilla, baking powder, and salt, and continue mixing for an additional minute until smooth and combined, scraping the sides of the bowl as necessary to make sure everything is evenly mixed.
Turn the mixer to low speed and in alternating portions add in the buttermilk and flour, beginning and ending with flour. Mix for 30 seconds, until combined and smooth, again, scraping the sides of the bowl as needed.
Pour half of the cake batter into each prepared pan.
Bake for 30 – 35 minutes, or until the center of the cakes are set, and a toothpick inserted in the middle comes out clean.
Allow the cakes to cool in the pans for 10 minutes, and then remove the cakes and allow to cool completely on a wire rack.
Notes
Frost the cake with your desired frosting. I used my Perfect Buttercream Frosting in the pictures and video for this recipe.
If you're making ahead, wrap the cakes tightly in cling wrap and store at room temperature for up to 2 days. Alternately you can wrap the cakes in cling wrap, then place them each in a large zip-top bag and freeze for up to a month.
Nutrition
Serving Size:

1 Slice

Calories:

386

Sugar:

40.3 g

Sodium:

462.6 mg

Fat:

23.4 g

Carbohydrates:

42.4 g

Protein:

3 g

Cholesterol:

126.6 mg
Keywords: best vanilla cake recipe, perfect vanilla cake recipe, moist vanilla cake
Want To Save This Recipe?
Find more recipes like this:
PIN for later: