My recipe for Perfect Buttercream Frosting has only 4 ingredients! This frosting is rich and creamy, with just the right amount of sweetness, and it's the best for spreading and piping onto cakes and cupcakes. This is the only frosting recipe you'll ever need!
Looking for a chocolate version? Try my Chocolate Buttercream Frosting recipe that's just as creamy and delicious.
The Best Buttercream Frosting For Cakes and More!
I am so excited to share this buttercream frosting recipe. Buttercream is such a simple recipe, and with this homemade version in your life, you'll never need to buy canned frosting from the store again. Say it with me: No. More. Canned. Frosting.
A good buttercream recipe has a rich, buttery vanilla flavor and creamy texture that spreads and pipes easily onto cakes and cupcakes. This American buttercream frosting ticks all the boxes! It's also the best buttercream for beginners because it doesn't take much fussing to have it turn out perfect.
What Is Buttercream Frosting?
The ingredient that sets buttercream apart from other frosting is in the name: buttercream. Both classic frosting and buttercream are made by whipping together sugar, fat, flavoring, and milk. However, buttercream uses butter as the fat, while frosting uses shortening or cream cheese (like in my Chocolate Cream Cheese Frosting recipe).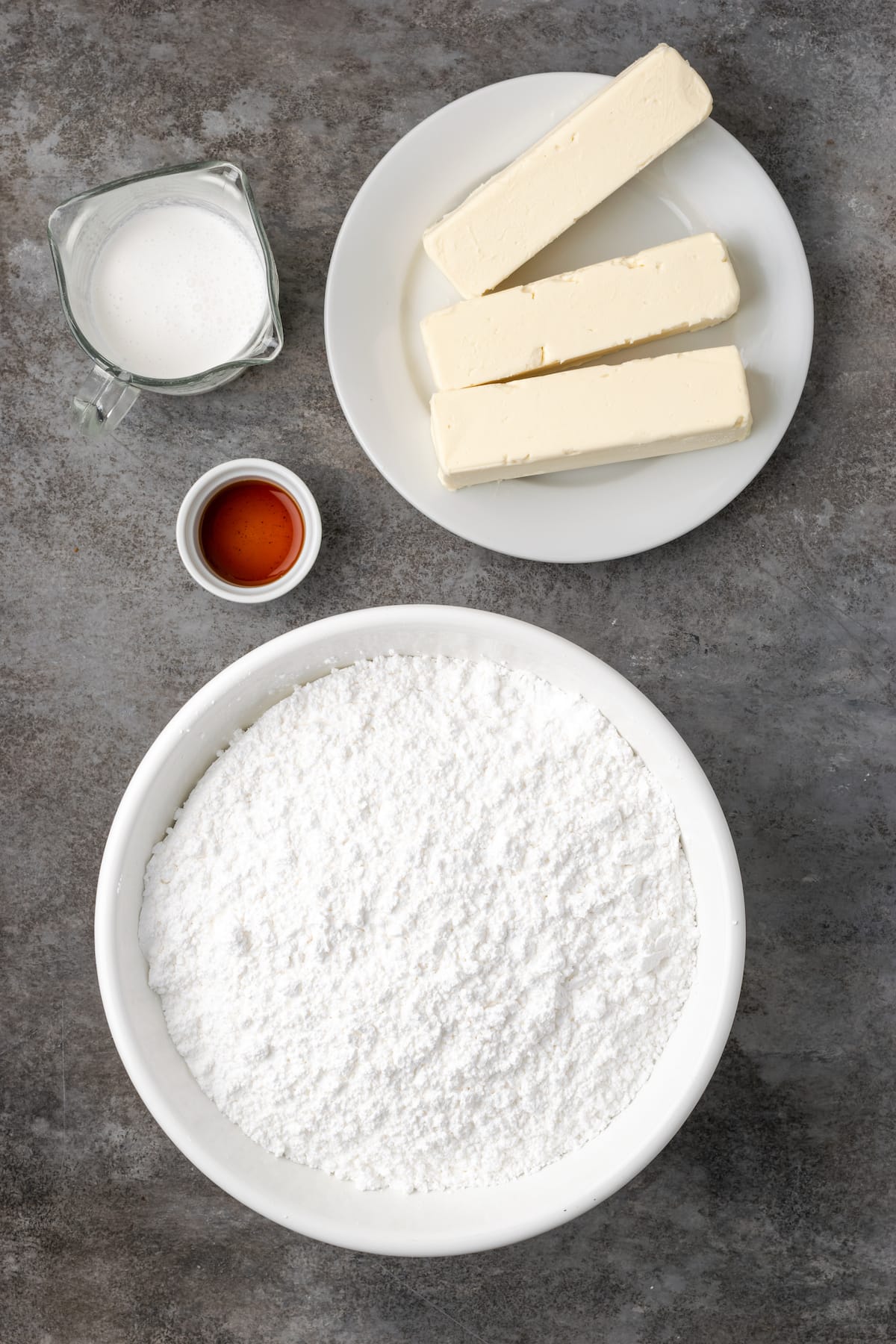 What You'll Need
American buttercream is actually oh-so-simple to make from scratch. You only need 4 ingredients:
Butter: Unsalted butter is best when making buttercream from scratch, to ensure that your frosting doesn't come out salty. You'll also want to take your butter out of the fridge to let it come to room temperature before you begin. Room-temperature butter is essential for the perfect buttercream frosting!
Powdered Sugar: Also known as confectioner's sugar, the fine texture of powdered sugar is necessary for silky-smooth frosting.
Heavy Cream: You can use heavy cream or milk when making this frosting. I prefer heavy cream, because, well, it's creamier. But it is also thicker, so if you use milk in its place, you won't need as much to thin out the frosting.
Vanilla Extract: The classic flavor of a basic buttercream. I highly recommend using pure vanilla extract and not imitation vanilla. You can also flavor your frosting with other extracts if you'd like, see the variation ideas below.
Can I Use Shortening Instead of Butter?
You can substitute shortening for the butter in this frosting recipe, it just technically won't be buttercream. But shortening is a good option if you're making this frosting in a warm climate, or if you want to pipe stiff roses or decorations, as shortening tends to hold its shape better than butter at any temperature.
I prefer butter over shortening if weather and temperatures are not an issue. The flavor is just far superior, IMHO. You can also do a combination of both shortening and butter. I have done this on occasion, when I know the frosting has to hold up to a slightly warmer temperature, but still want to have that rich flavor of butter come through. You can use 50% butter to 50% shortening.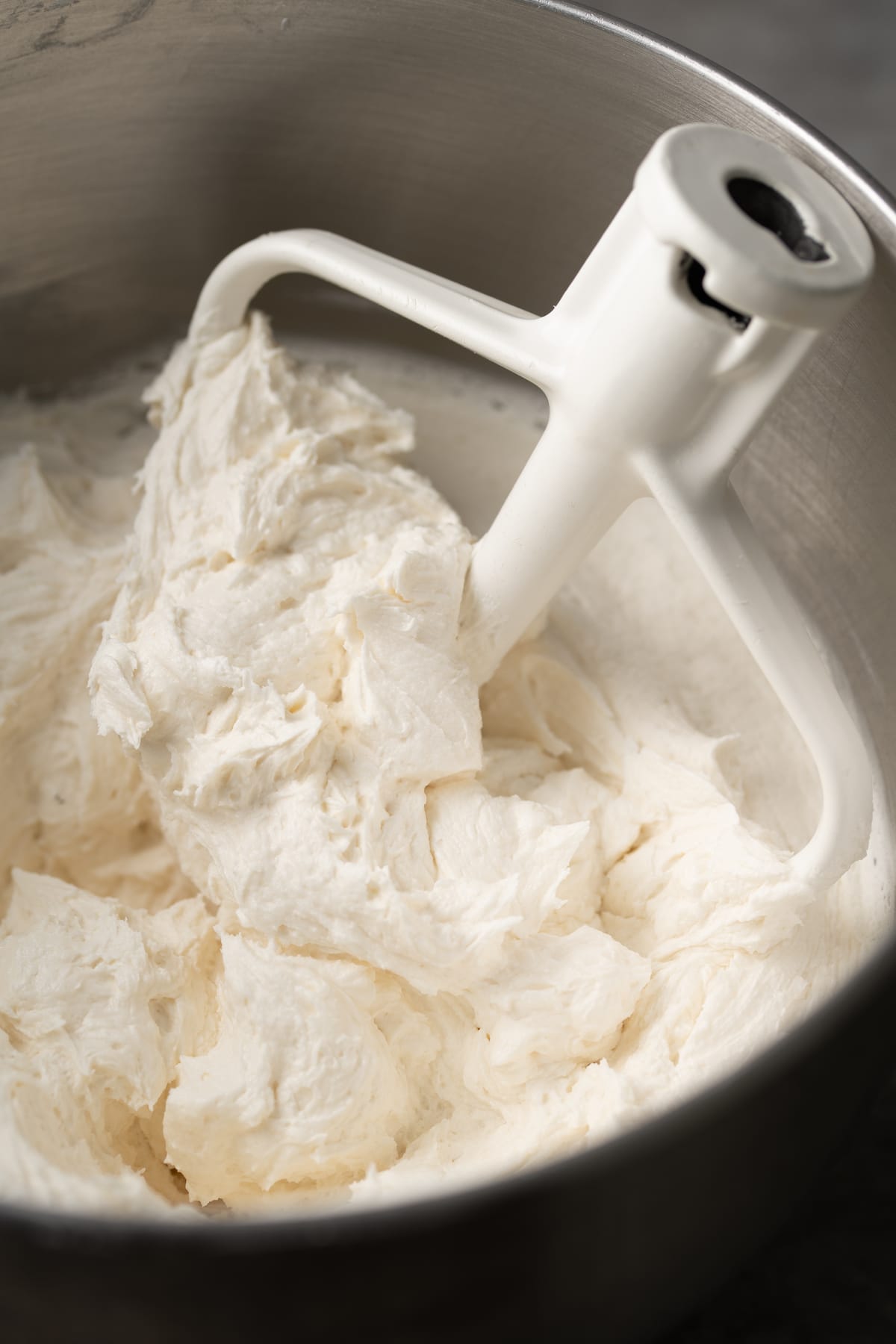 How to Make Perfect Buttercream Frosting
It's really a 3-step process to make a versatile, pipable buttercream!
Cream Butter and Sugar: First, in a stand mixer, beat room temperature butter until it's smooth. Next, lower the speed and gradually cream in the powdered sugar.
Add Heavy Cream and Vanilla: With the mixer still on low, you'll pour in the heavy whipping cream, followed by the vanilla.
Beat: Increase the speed and beat for a minute or so, until the frosting is fluffed and creamy. You can thin out your frosting with additional heavy cream if you'd like.
Afterward, your homemade buttercream frosting is ready to use for decorating cupcakes, cakes, and more. See further on for ways to use this simple, perfect frosting!
How Do I Add Color to Buttercream?
This basic vanilla buttercream frosting is beautiful to use as is, and also the perfect blank canvas for coloring. I recommend using gel food coloring when coloring buttercream. Gel dyes achieve brighter, more vibrant colors with just a couple of drops when compared to traditional liquid food coloring.
Of course, if you have liquid drops from the supermarket, go right ahead and use those if you'd like! Just note that deeper colors require quite a bit of liquid coloring, which can thin out the texture of the frosting.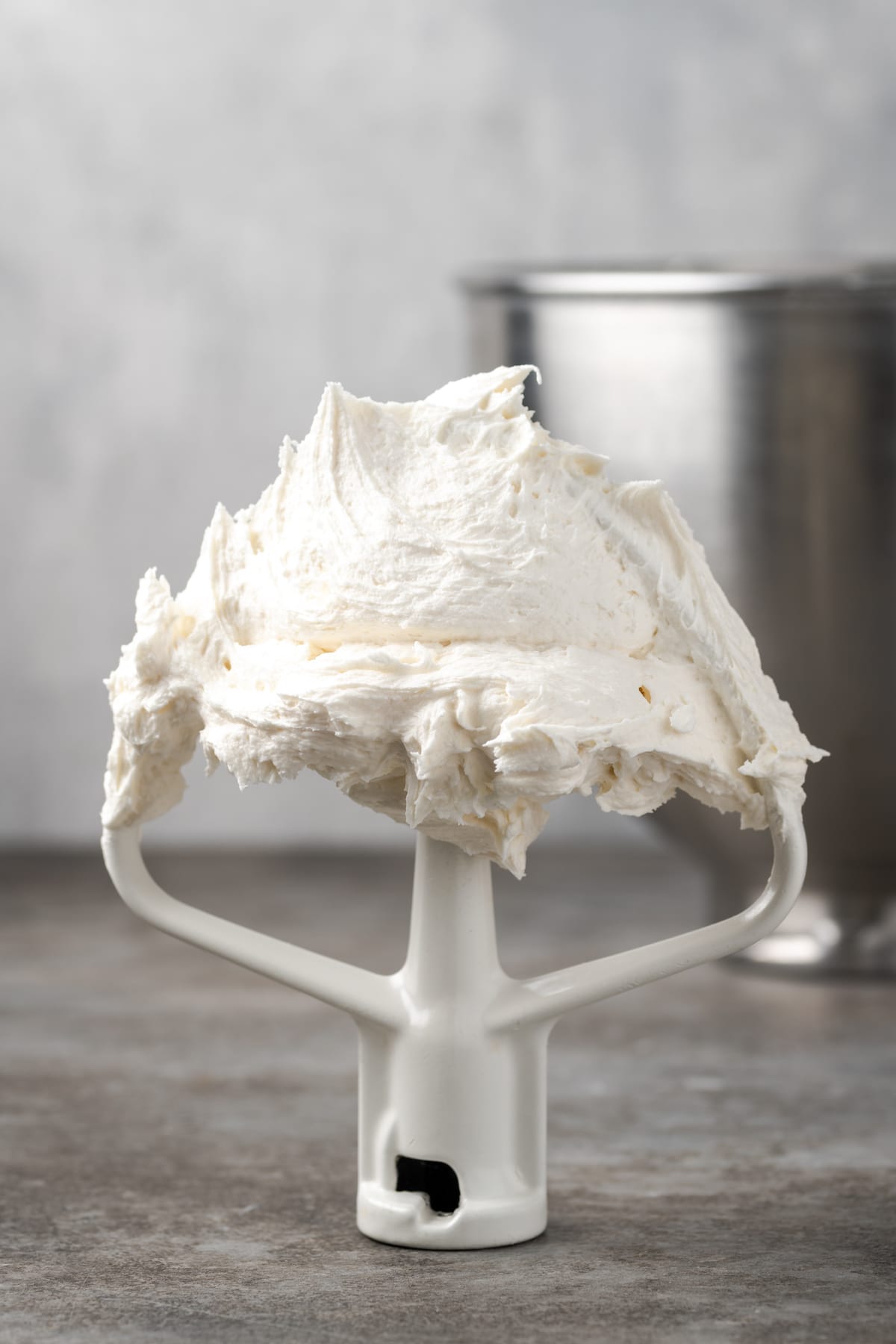 Tips for Success
It doesn't get easier than 4 ingredients and a good whip with the mixer to make this perfect buttercream frosting. Below are some additional tips for getting this frosting right every time you make it:
Use room-temperature butter. Your butter should be soft to the touch, but not melted. This makes it easy to combine with the rest of the ingredients for a thick and creamy frosting.
The trick when making frosting is to add the liquid slowly. You can always add more, but you can't take it out. The amount of milk or cream added also depends on how stiff you want your frosting to be, so add a little at a time, and go by feel.
Your buttercream is at the perfect consistency when it forms a stiff peak with a slight curl. Basically, you want a frosting that's stiff enough to hold up a peak, but soft enough to curl over a little (see photo).
This buttercream frosting develops a light crust when it sits out. I personally love that bit of added texture. However, if you'd prefer your frosting to stay moist, make sure you store it covered and airtight.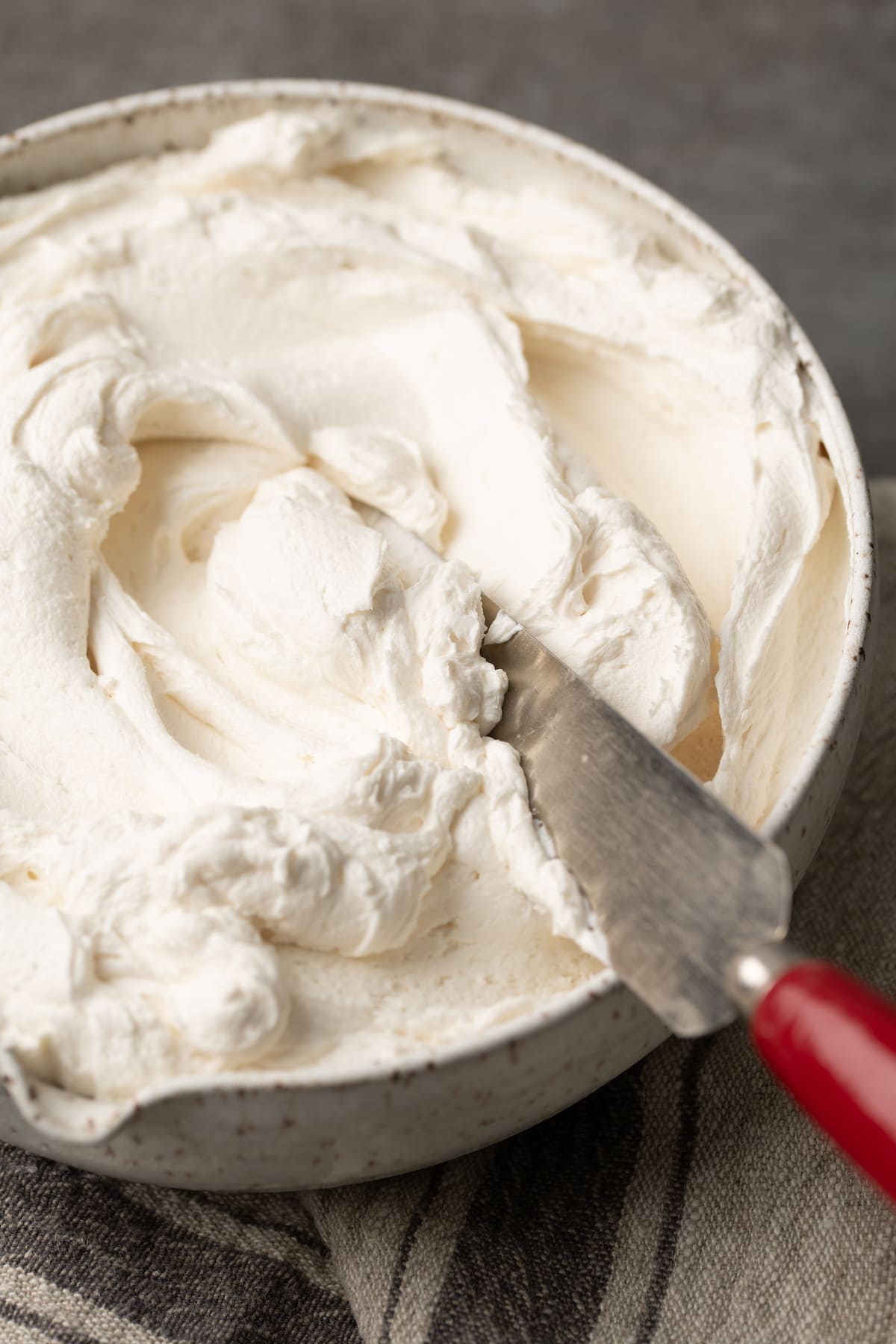 Ways to Use Buttercream Frosting
This recipe makes enough frosting to cover and fill one 9" Layer Cake, or pipe swirls onto 24 Cupcakes. Try these easy baking ideas that are perfect for decorating with homemade buttercream frosting:
You can also use buttercream frosting to mix with the cake filling for Cake Pops, or as a frosting for decorating Sugar Cookies.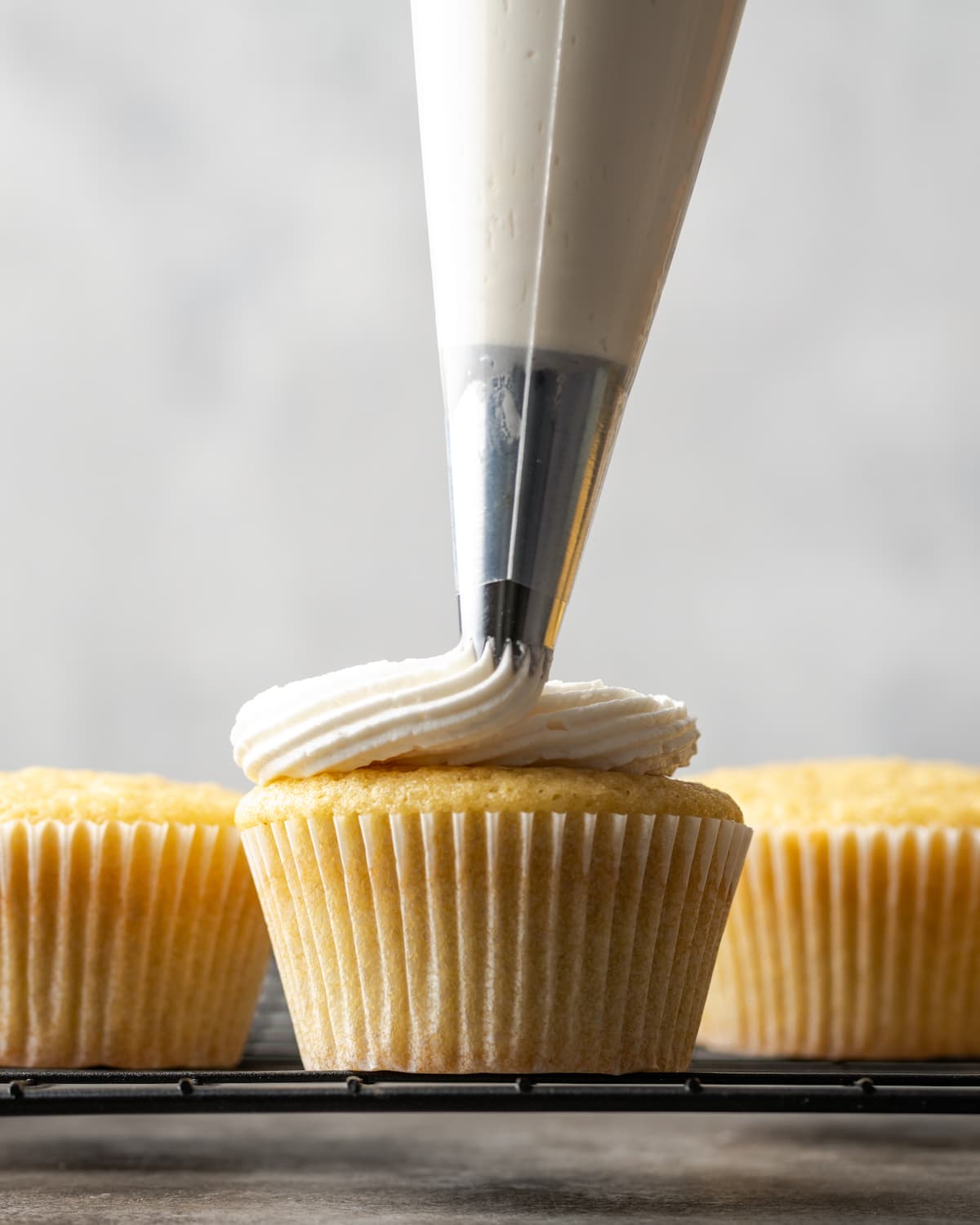 Frosting Variation Ideas
Vanilla extract is an obvious addition to buttercream, but it's so easy to flavor with other extracts and add-ins. You can be as classic or creative as you'd like when it comes to customizing your frosting recipe to suit your decorating needs.
For chocolate lovers, I have a fantastic Chocolate Buttercream Frosting. Or, for something different, try the following variation ideas: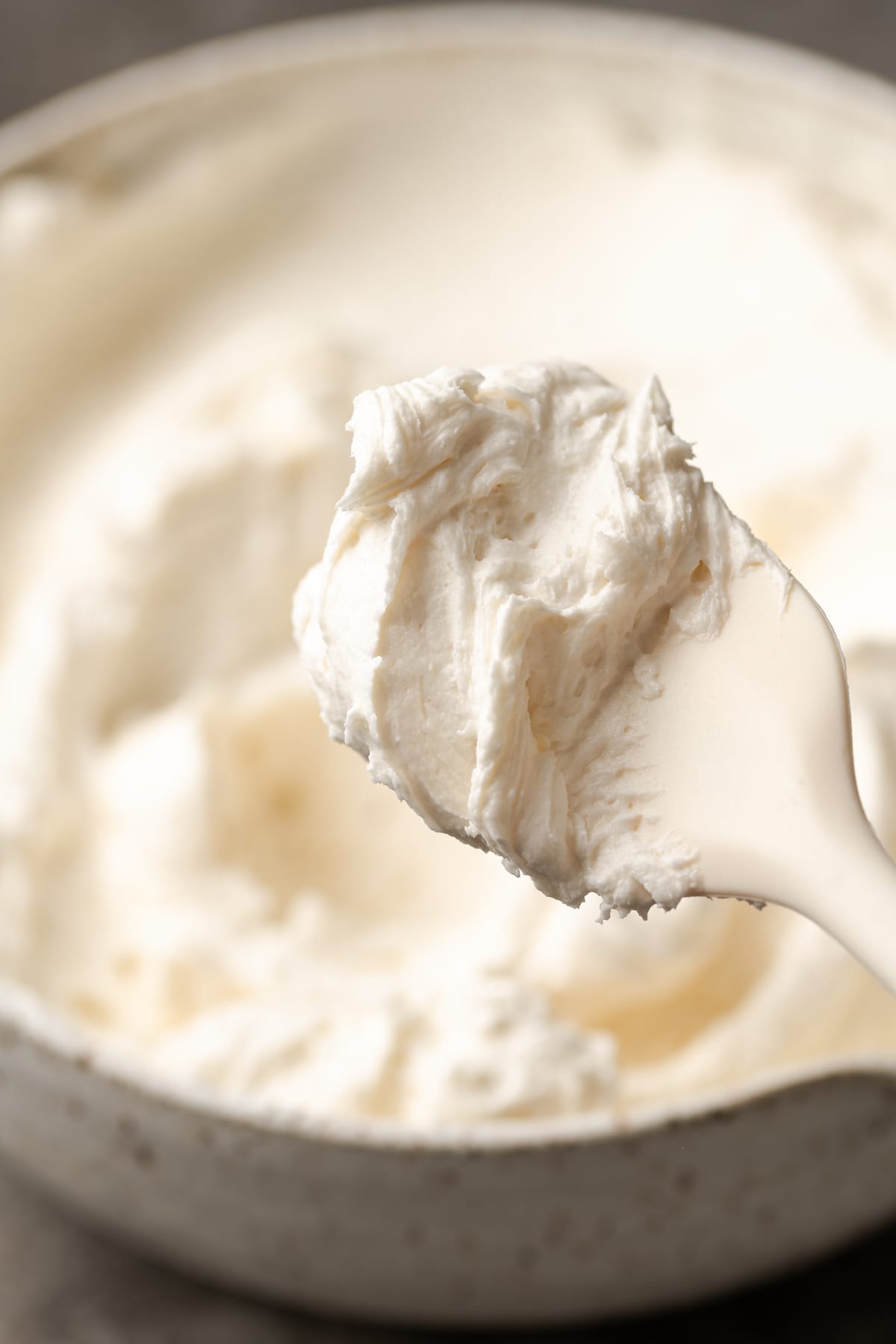 Does Buttercream Need to Be Refrigerated?
Yes. Store your leftover buttercream frosting airtight in the fridge for up to 1 month. Don't forget to take the frosting out of the fridge 15-20 minutes before you want to use it again, to let it come to room temperature.
Can I Freeze Buttercream Frosting?
While homemade buttercream is always at its best on the day it's made, you can freeze this recipe for longer-term storage. Store the frosting airtight and freeze for up to 3-4 months.
Thaw frozen buttercream frosting in the fridge, and let it come to room temperature whenever you need it. I recommend giving the thawed buttercream an extra whip to fluff it up again before you use it.
Print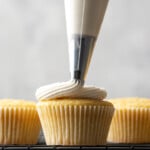 Perfect Buttercream Frosting
Author:

Prep Time:

5 minutes

Total Time:

5 minutes

Yield:

4 cups

1

x

Category:

Frosting

Method:

Mixer

Cuisine:

Dessert
---
Description
Make Perfect Buttercream Frosting for piping and spreading over all your favorite cake and cupcake recipes. This simple, 4-ingredient vanilla buttercream is rich and creamy, and easy to customize!
---
1 1/2 cups

butter, room temperature

7 cups

powdered sugar

1/4

–

1/3

cup heavy cream

1 teaspoon

vanilla extract
---
Instructions
In the bowl of your stand mixer fitted with the paddle attachment, beat the butter on medium speed until smooth.
Turn the speed to low and slowly add the powdered sugar until it's mixed in.
Slowly stream in 1/4 cup of the heavy cream and vanilla. Turn the mixer up to medium speed and mix for 1 minute until creamy. Add additional heavy cream, if a creamier frosting is desired.
Use to decorate cake, cupcakes and more!
Notes
if you opt to use milk instead of cream start with 2 tablespoons and add from there. Milk is thinner than cream and doesn't take as much to loosen your frosting.
*Store airtight in the refrigerator for up to 1 week, or in the freezer for 1 moth. Allow the frosting to come to room temperature before using.
Nutrition
Serving Size:
Calories:

336

Sugar:

42.9 g

Sodium:

4.2 mg

Fat:

18.6 g

Carbohydrates:

43.8 g

Protein:

0.3 g

Cholesterol:

50 mg
Keywords: vanilla buttercream frosting, how to make buttercream, best buttercream frosting
Want To Save This Recipe?
More Easy Frosting Recipes