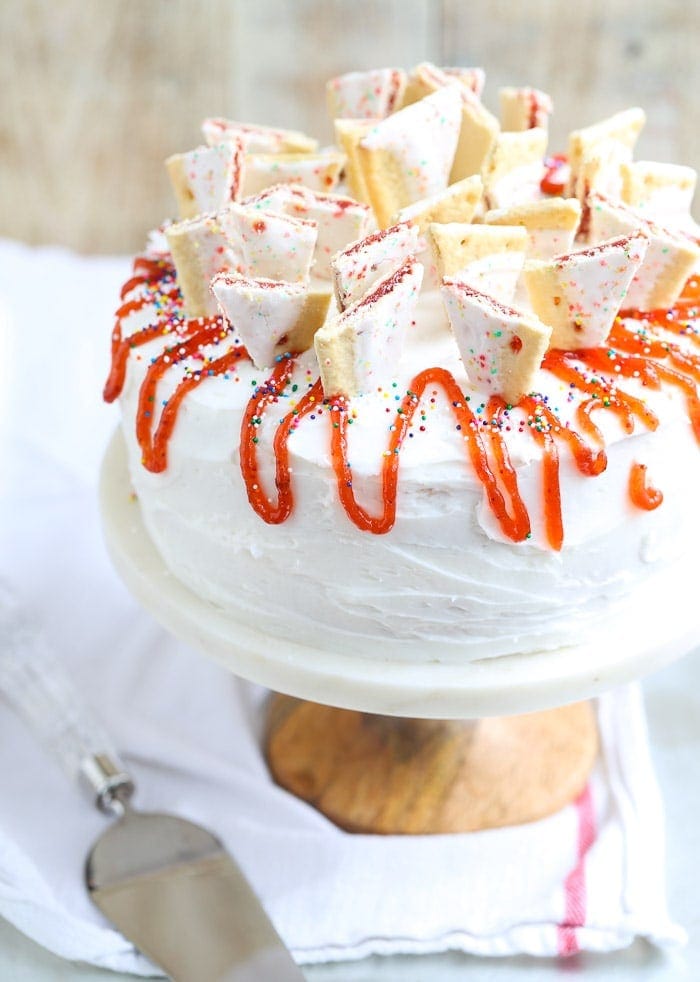 Strawberry Pop Tart Cake…your childhood dreams just came true! You have a soft vanilla cake topped with sweet buttercream and filled with strawberry jam…and of course garnished with Strawberry Pop Tarts! Simple, delicious and FUN!
Layer cakes are one of my least favorite things to bake. Mainly because I have a high sense of urgency. Which is basically a nice way to say I'm impatient.
I mean there's the baking, the cooling, the leveling, the frosting, the piping…they are a true art project. I certainly appreciate a beautiful cake, though. And a REALLY appreciate a cake that's as delicious as it is pretty. As we all know, sometimes the two don't go hand in hand.
So when I make cakes I generally take them down a few notches. I prefer a more "rustic" look. And by rustic I clearly mean sticking a bunch of sliced up Pop Tarts on top, spreading a few sprinkles and calling it a day.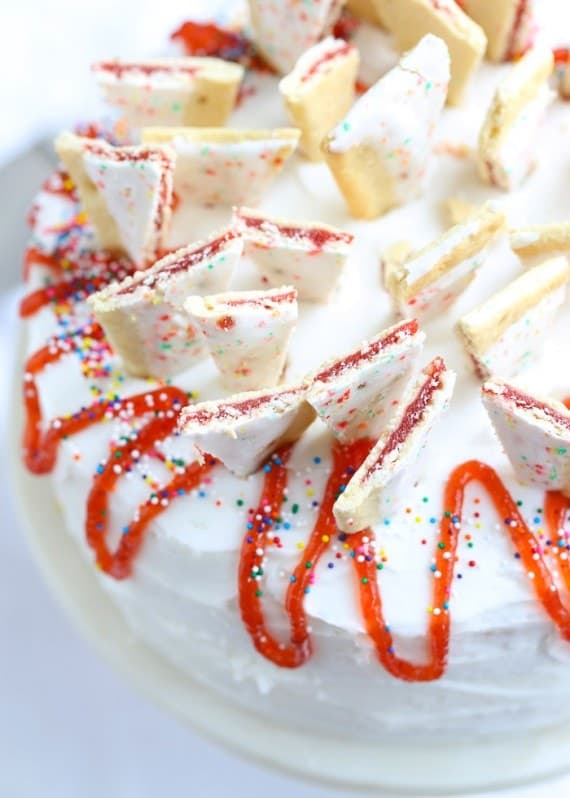 Let's talk about how I did it…the process is actually pretty basic.
Bake the cake…oh and you can TOTALLY use a cake mix on this if you want to take a shortcut.
Then make your frosting and top one layer with some frosting. You're going to want to spread some strawberry jam on top of the frosting, but leave about an inch or so at the edge so it doesn't squeeze out.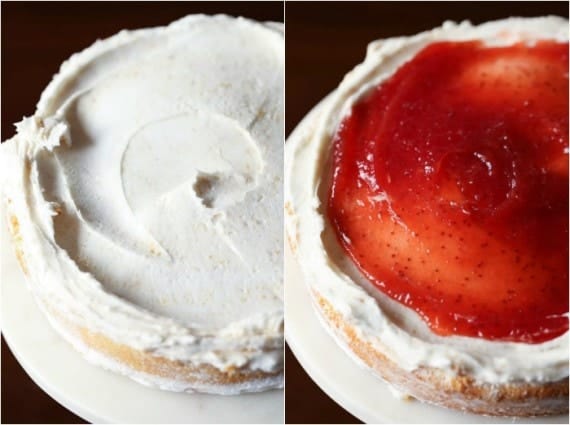 Then top it with your other cake layer and give it a thin "crumb coat" of buttercream to catch the crumbs.
Let that sit for a bit to set slightly…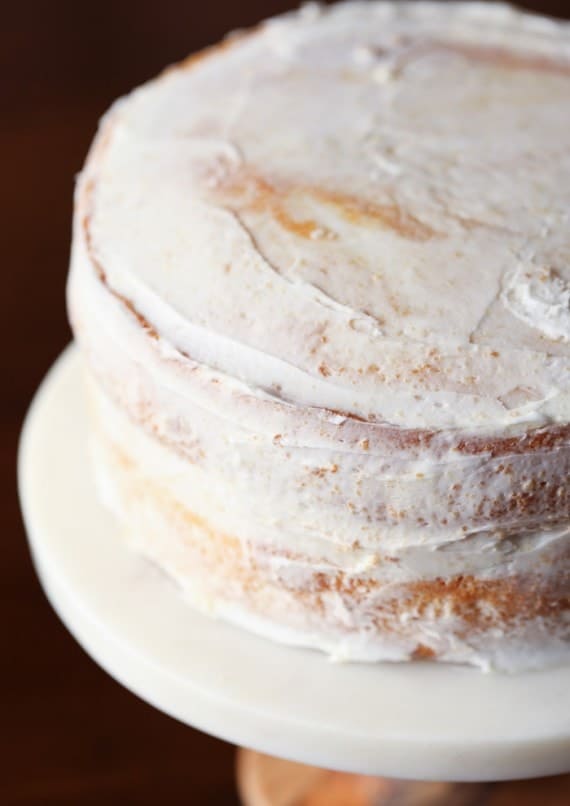 Then frost the cake as imperfectly as you want.
I put some more strawberry jam in a ziptop bag with the corner snipped off and drizzled a little on and then added some sprinkles!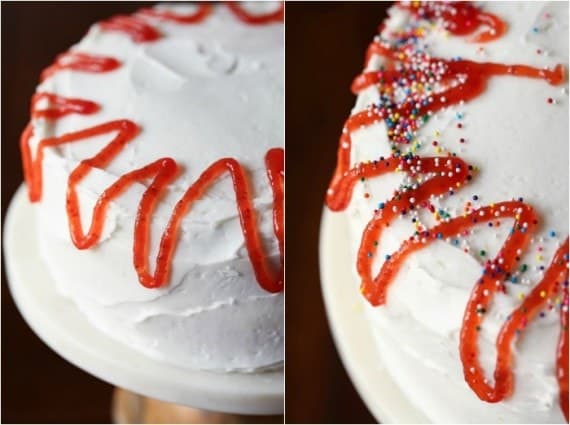 Finally I cut up 3-4 Strawberry Pop Tarts with a knife…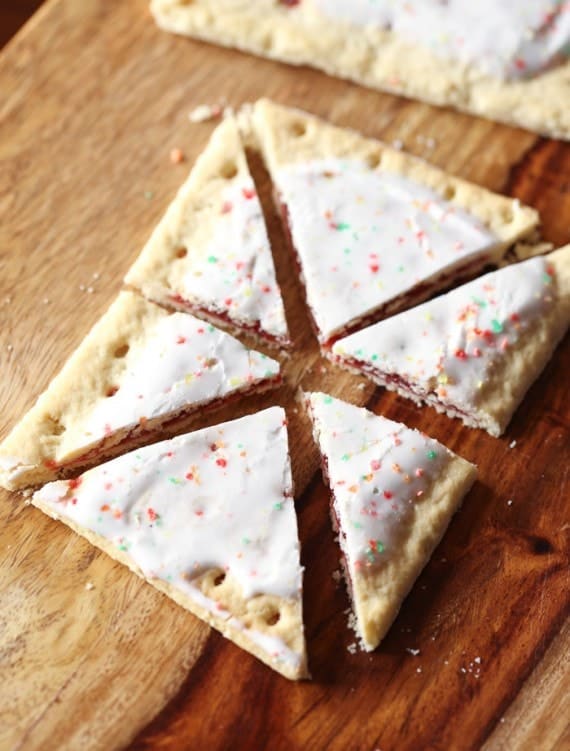 And just jammed them into the cake…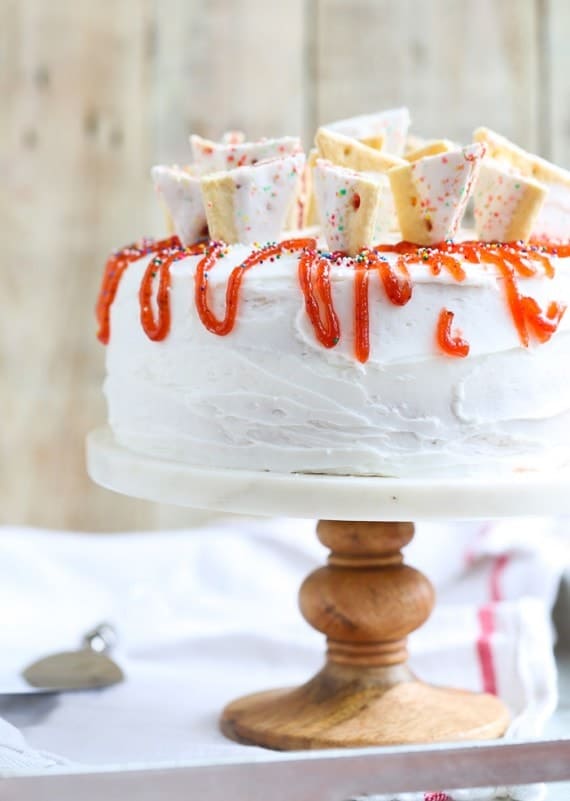 How great does this look?
Classy and trashy all at the same time!
Print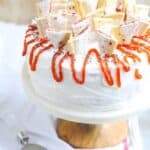 Strawberry Pop Tart Cake
Author:

Yield: serves

12

1

x
---
Ingredients
Cake
2 1/4 cup

s cake flour

3 teaspoon

s baking powder

1 teaspoon

kosher salt

3/4 cup

butter, room temperature

1 1/2 cup

s granulated sugar

3

eggs

3 teaspoon

s vanilla extract

1 1/4 cup

buttermilk
Buttercream Frosting
1 cup

butter, room temperature

5 cup

s powdered sugar

1/4 teaspoon

kosher salt

1 teaspoon

s vanilla

5 tablespoon

s milk
Filling
1/2 cup

spreadable strawberry jam
Garnish
Sliced Strawberry Pop Tarts

1/4 cup

strawberry jem
sprinkles
---
Instructions
Preheat oven to 350°F. Coat 2, 8- inch round pans with nonstick spray. Line the bottoms of each pan with a parchment round, cut to fit the pans. Spray the pans again and set aside.
In a large bowl whisk together the flour, baking powder and salt. Set aside.
In the bowl of your stand mixer, fitted with the paddle attachment mix your butter and sugar together for 4-5 minutes on medium speed until light and fluffy. Add the eggs and vanilla and mix for an additional 2 minutes.
Add the flour mixture and buttermilk in alternating portions, beginning and ending with the flour mixture. Mix until combined and smooth, scraping the sides of the bowl as necessary.
Divide the batter between the two pans and bake for 25-35 minutes until a toothpick inserted in the center comes out clean.
Allow the cakes to cool in the pan for 10 minutes and then flip out onto a wore rack to continue cooling.
Frosting
In the bowl of your stand mixer fitted with the paddle attachment mix the butter on medium speed until smooth. Turn the mixer speed down to low and add in 4 1/2 cups of powdered sugar and salt until combined.
With mixer still on low add in the vanilla and milk, scraping the sides of the bowl as necessary.
Turn the mixer up to medium speed and mix for 1 minute until fluffy. If you prefer a stiffer frosting add in the 1/2 cup more powdered sugar and mix to combine.
When you're ready to assemble the cake, place one layer on a cake stand or plate. Top the cake with frosting and smooth it out to the edges.
Spread the strawberry jam on top of the frosting, leaving about an inch at the edge of the cake. Top the jam with the other layer and spread a light layer of frosting on the cake, also referred to as a "crumb coat". Allow that to sit for a few minutes and then frost the cake with the remaining frosting.
Top with your cut Pop Tarts and squeeze a little extra jam on top for garnish. I used a zip-top bag with the corner cut off. Decorate with sprinkles.
Helpful Tip… Out of buttermilk?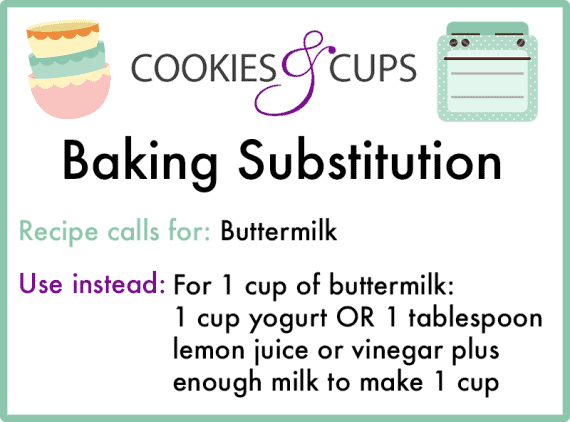 Save