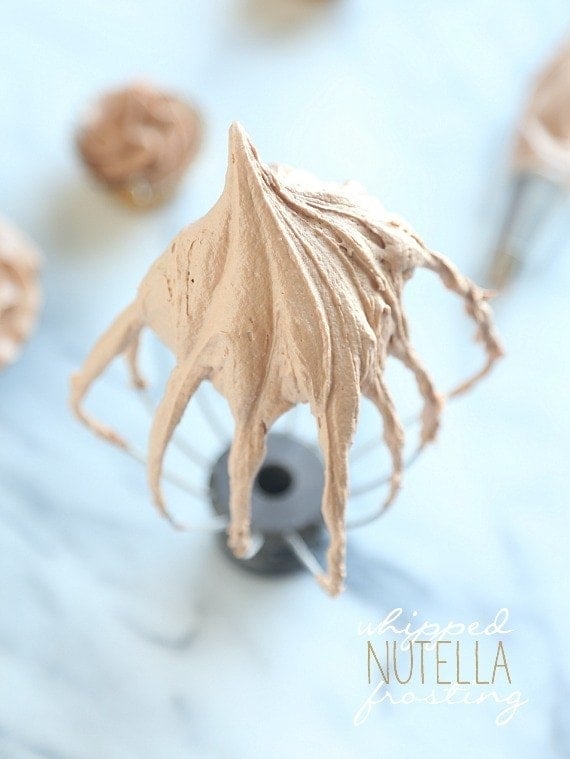 This Whipped Nutella Frosting is so creamy and smooth, you'll want to eat it with a spoon!
I am a frosting girl. That's me. Hi.
I can't be on your team if you have ever uttered the words, that's "too sweet" or, "I scraped the frosting off".
Just no.
My people ask for a corner piece…an extra rose (or two).
My people eat the frosting first…you know, to make sure it's the RIGHT kind of frosting. No fake stuff allowed. Only the real deal for my brethren. If the frosting ain't right, the cake ain't worth it.
I should really write bumper stickers.
Anyhow, today I am sharing with you maybe my new favorite food. And DEFINITELY my new favorite frosting.
I don't want to be all exaggeratey, but today's pretty major.
Whipped Nutella Frosting. OHHHYEZZZZY.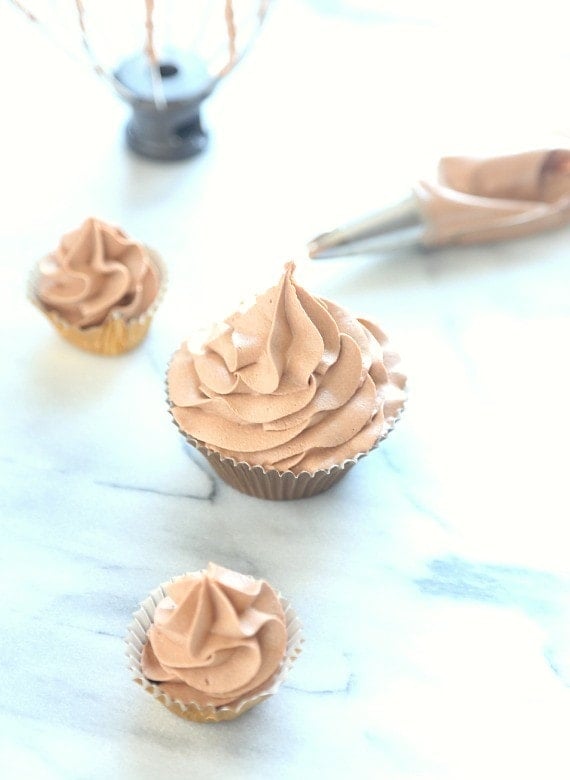 I have to tell you this frosting never made it onto a cupcake, or a cookie or even a toothbrush. It went straight from the mixing bowl and into my face. And when I ate so much I couldn't feel my fingertips any longer I gave the rest to my neighbors, where they also ate it with a spoon, from the bowl.
I was going to make dark chocolate cupcakes and pipe a giant swirl of this creamy love fluff on top. But it never stood a chance.
It's THAT good.
So I will say make this at your own risk…because I know it's not health food or anything. But I'm pretty sure you deserve a giant heap of frosting in your face right now.
I know this because you are my people.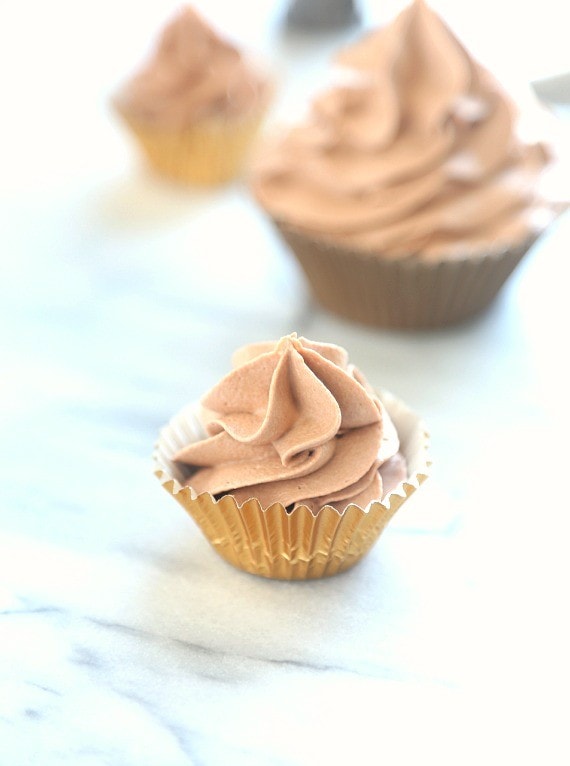 And if you're the type with self-control you betcha it will be great on THESE cupcakes! Or THIS cake! Or even in place of the mousse on THIS CAKE!
Or you know…straight off a spoon 🙂
Enjoy!
Print
---
Ingredients
3/4 cup

salted butter, room temperature

3/4 cup

Chocolate Hazelnut Spread (like Nutella)

2 cup

s powdered sugar

1 tsp

vanilla

2 Tbsp

heavy cream
---
Instructions
In bowl of stand mixer fitted with whisk attachment beat the butter and Nutella together for 2 minutes until combined and creamy, scraping sides as necessary.
Turn mixer to low and add in the powdered sugar, vanilla and heavy cream.
Once the powdered sugar is mixed in turn mixer back up to medium high and whip for 2 more minutes until creamy and fluffy, again, scraping sides as needed.
Spread or pipe on top cake or cupcakes.
---
Notes
Store airtight in the refrigerator for up to a week. Freeze up to a month.