My Chocolate Chip Banana Bread is ultra moist because I use a secret trick! This banana bread recipe can be made with or without the chocolate chips and is guaranteed to be your new go-to recipe!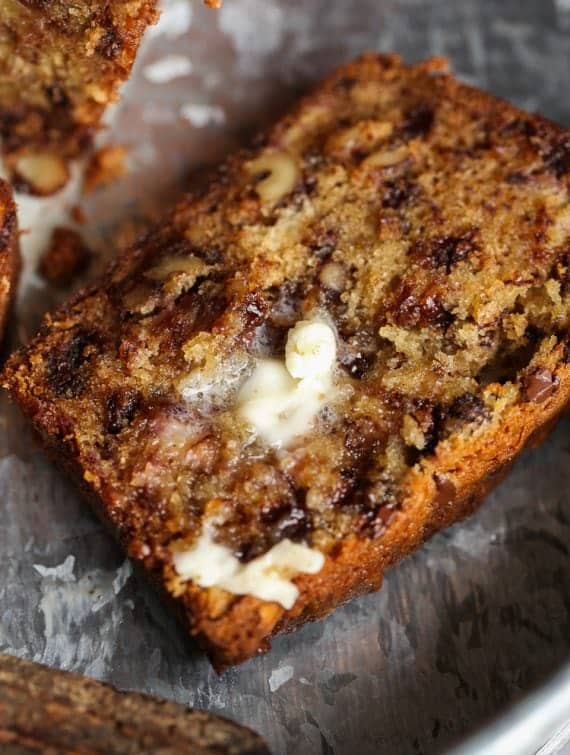 My BEST Chocolate Chip Banana Bread Recipe Uses A "Secret" Method 
Before you start yawning at yet ANOTHER Banana Bread recipe, please, please give me a chance to explain. I mean I get it, you're probably wondering why mine is the best Chocolate Chip Banana Bread? You have your Granny's recipe that is the best. Or you've made my Toasted Coconut Banana Bread and don't think you need to look any further. But I am not one to leave well enough alone…you know that about me by now. I've even claimed to make the BEST Banana Muffins…which, btw are totally THE BEST.
But I will tell you I have officially cracked the banana bread code here. This chocolate chip banana bread that I am sharing with you today is EVERYTHING. Like, I am fairly certain I will never post another banana bread recipe here on Cookies & Cups.
That was a pretty bold statement.
Why Is This the BEST Banana Bread?
Let me explain why this is the last banana bread recipe you'll ever need. First off, it's outrageously moist (sorry). This recipe has butter as well as sour cream, which not only make it unbelievably soft, they also give great flavor, as opposed to a lot of banana bread recipes that are made with oil. Of course I use walnuts in this recipe, that you can omit if you must, but I urge you not to, at least the first time you make this recipe.
BUT the real secret to this recipe on supreme moistness and banana flavor is…wait for it…SLICED BANANAS. You add some mashed and some thinly sliced. Is your mind blown yet?
Adding the sliced bananas into the bread leaves little pockets of banana that you wouldn't normally have when it's mashed. Not enough that it is mushy, that wouldn't be good… just the exact perfect thing your banana bread has been missing all along. I'm telling you, this is legit.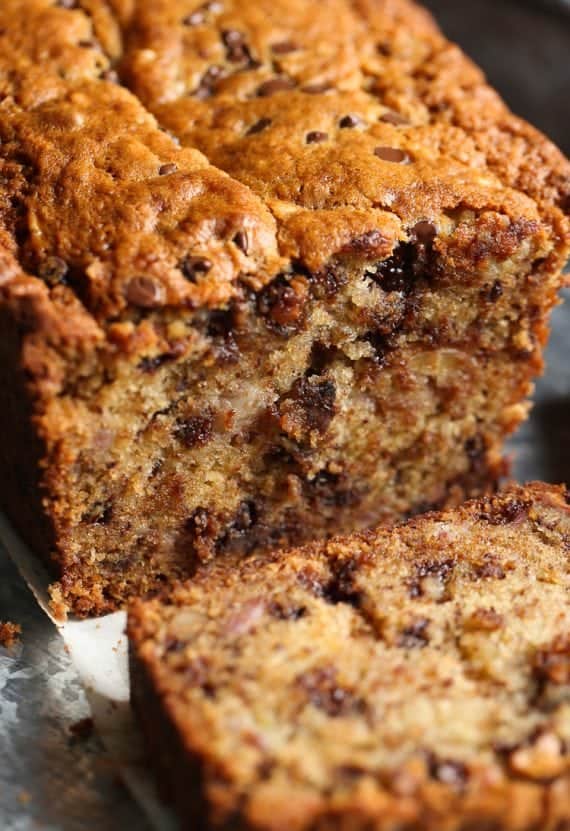 Of course you can totally omit the chocolate chips if you are a purest…I have made this both ways.
But like I said, the sliced bananas are the magic…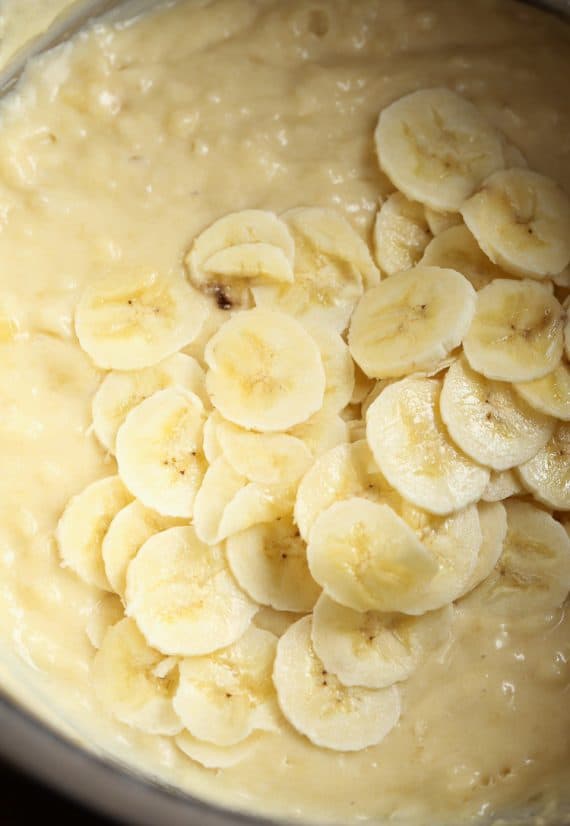 You'll just want to fold them in with the other extras. The sliced bananas just add pockets of extra moisture, that paired along with the sour cream create banana bread perfection.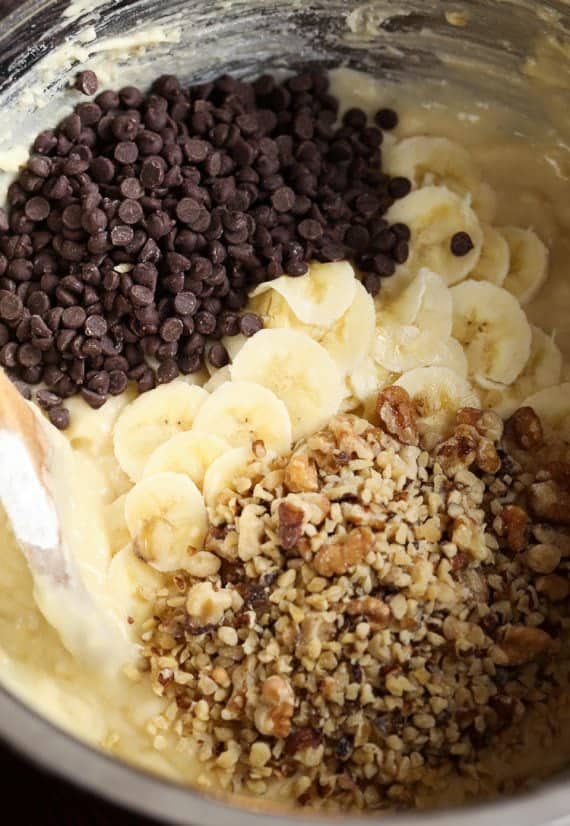 And then sprinkle some extra chocolate chips on top for posterity.
Do You Have to Add Nuts to Banana Bread?
Nope! If nuts aren't your thing, you can absolutely omit them. You can even add in a few extra chocolate chips, or even leave the chocolate chips out! My Banana Bread recipe is a great one to adapt. You can even try adding different flavor combinations of chips and nuts!
What kind of Nuts Can I Add to Banana Bread?
You could easily sub in pecans in place of the walnuts in this recipe. I would recommend using a softer nut, like a walnut or pecan, just to keep the texture of the bread at its bread. If you would like to experiment with say, pistachios or peanuts in this recipe, just make sure to chop them!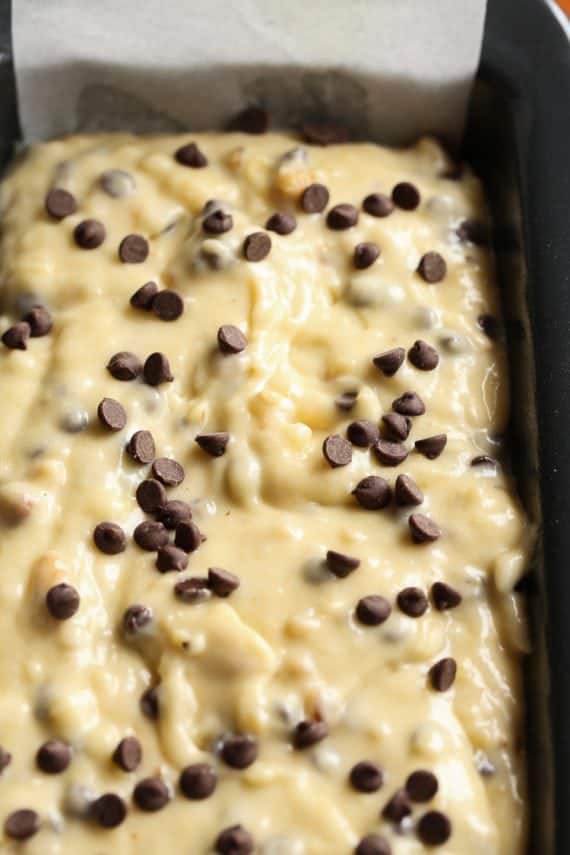 Can You Freeze Banana Bread?
Yes! Freezing banana bread is a great way to save any extras you might have, or double the recipe and save a loaf for later. Just thaw the banana bread at room temperature, and slice and serve!
How to Reheat Banana Bread
If you have frozen the bread, then like I said above, let the bread thaw completely first. Next preheat your oven to 350°F, and wrap the loaf in foil. Heat it for 10-15 minutes and it will be as good as new!
You can also toast slices of leftover banana bread, which is a great way to have a warm individual slice without reheating the whole loaf!
And yes, certainly you can reheat a slice of banana bread in the microwave, although it's never the recommended method because it doesn't heat evenly. BUT, in a pinch heat a slice for 10-12 seconds and it will be good to go!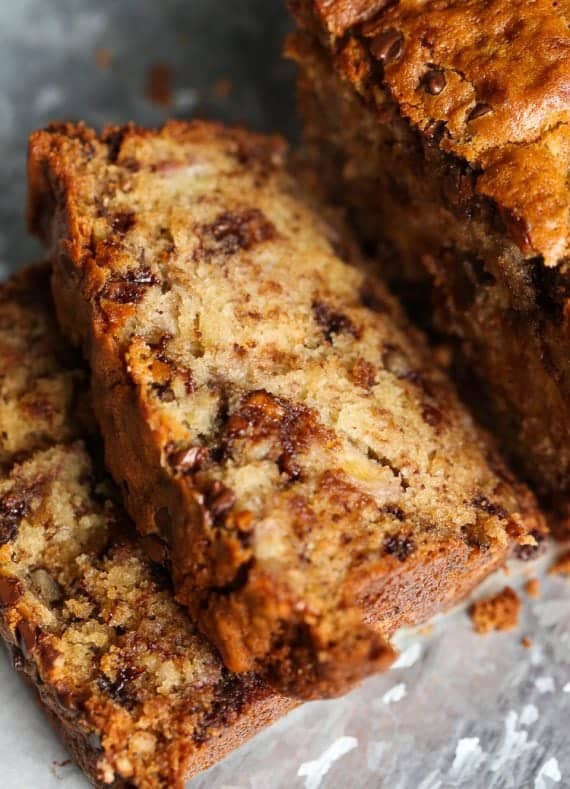 But I can't say that we've ever had any leftover.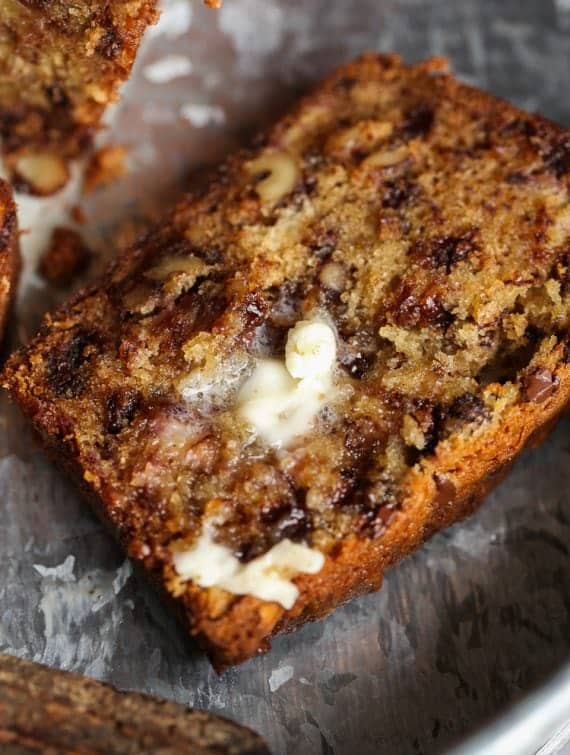 So warm, right out of the oven is my favorite. And of course, then add butter.
The thing with this chocolate chip banana bread is that it's out of control delicious when it's warm…but it is also SO GOOD the next day! The flavors have a chance to blend together and get really soft and friendly.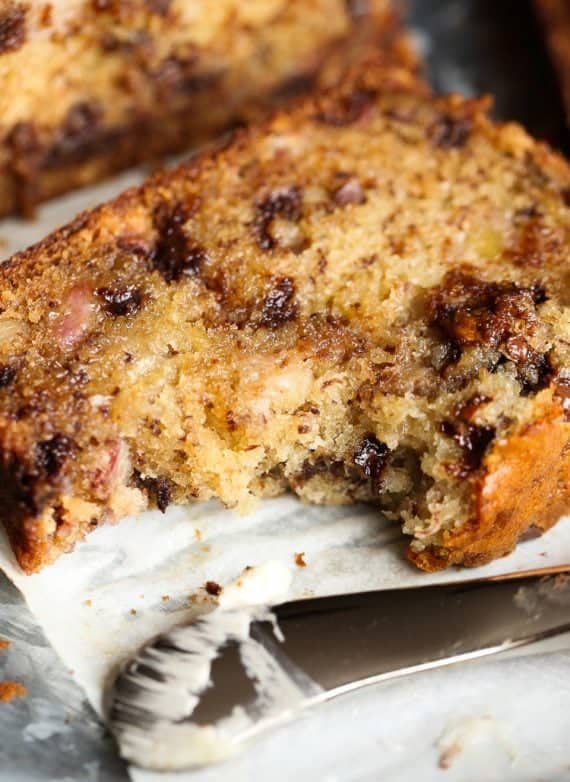 Friends. Please try this Chocolate Chip Banana Bread Recipe asap and report back. I am positively positive you will love me forever.
Looking for more Banana Bread Recipes? Try these:
Print
The Best Chocolate Chip Banana Bread
Author:

Prep Time:

10 mins

Cook Time:

60 mins

Total Time:

1 hour 10 mins

Yield: serves

8

1

x
Category:

Bread

Method:

Baking

Cuisine:

Dessert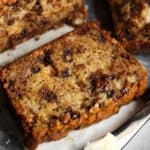 ---
Description:
The BEST Banana Bread Recipe EVER!
---
Ingredients:
3

medium bananas, divided

1/2 cup

butter, melted

1 cup

granulated sugar

2

eggs

2 teaspoons

vanilla

1/2 cup

sour cream

1 teaspoon

baking soda

1 teaspoon

kosher salt

1 1/2 cups

all purpose flour

1/2 cup

mini chocolate chips

1/2 cup

chopped walnuts
---
Instructions
Preheat oven to 350°F. Spray a 9×5 loaf pan with nonstick spray. Line the bottom and up the short sides with a strip of parchment paper. Spray again with nonstick spray. Set aside.
In a medium bowl mash 2 of the bananas with a fork, leaving them slightly lumpy. Slice the remaining banana thinly, and set aside.
In a large bowl stir together the butter and sugar. Mix in the eggs and vanilla and stir until smooth. Add the sour cream, mashed bananas, baking soda, and salt, and stir until blended. Next mix in the flour until incorporated.
Fold in the chocolate chips, walnuts, and sliced banana.
Pour batter into the prepared pan and bake for 50-60 minutes, or until a toothpick inserted in the center comes out clean.
Cool in the pan for 15 minutes, and then using the parchment paper as handles, carefully lift the banana bread out of the pan to cool on a wire rack.
---
Notes:
store airtight for up to 3 days
Keywords:: banana bread, cookies and cups, banana, chocolate chip, recipe, banana recipe, quick bread
Want To Save This Recipe?
Helpful tip… Out of sour cream? Here's a great sour cream substitution!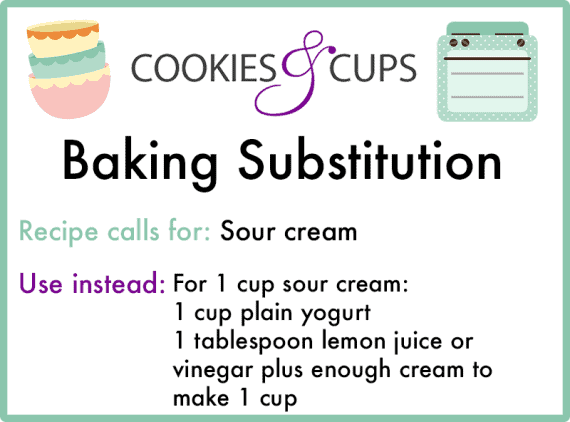 Save