Toasted Marshmallow Buttercream Frosting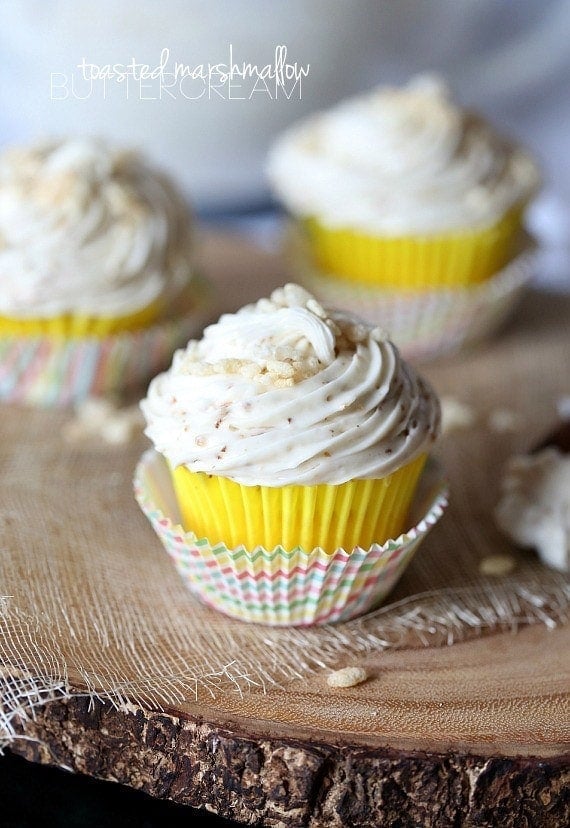 This frosting is SO fun! It's Toasted Marshmallow Buttercream Frosting…with toasted marshmallows mixed right into the buttercream. The toasted marshmallows give the frosting a delicious flavor and marshmallow texture! Perfect for cake filling or cupcake frosting!
So this frosting. I'm just gonna say that's it's insanely delicious. Not because I made it.
Well, maybe that. But because how did I not think of this sooner? And I didn't Google it because I would like to go on believing I invented it. And Google is an inventors dream-killer.
But anyway it's so super simple I can't take it… it's buttercream frosting recipe, with toasted melty marshmallows mixed right in.
Duh, right?
The marshmallows give it an insanely yummy flavor, but also a cool texture! Like a cross between marshmallow and frosting, which obvi… it is. Of course, piped some on top of a vanilla cupcake and sprinkled Rice Krispie Cereal, because Rice Krispies are my love language.
But I could totally get down with this on a chocolate cupcake with graham cracker crumbs sprinkled on top. S'mores, FTW!
So let me show you…Toasted Marshmallow Buttercream Frosting…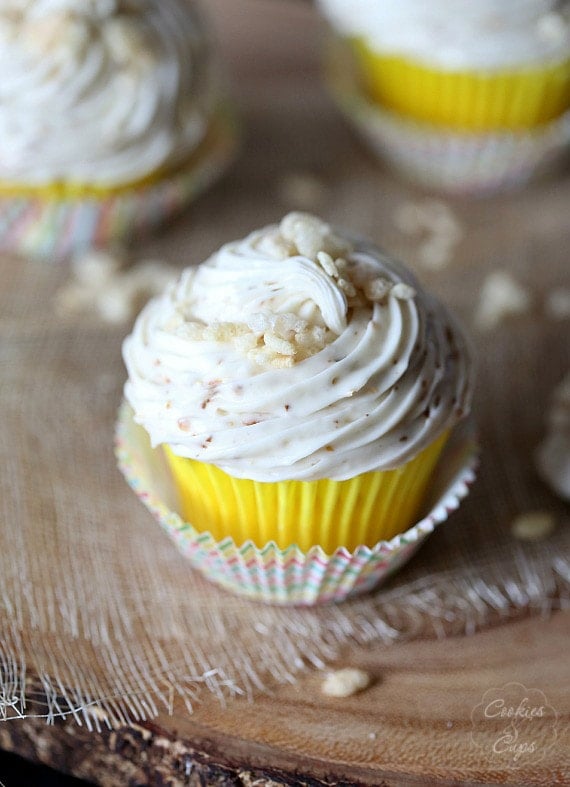 Just mix up a basic buttercream. You're gonna go a little lighter on the sugar because the marshmallows add sweetness.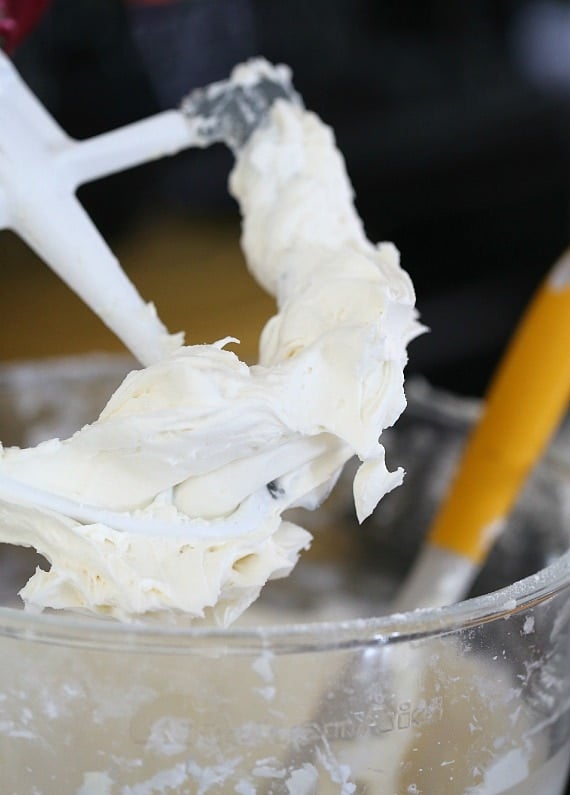 Then spread marshmallows on a parchment lined baking sheet…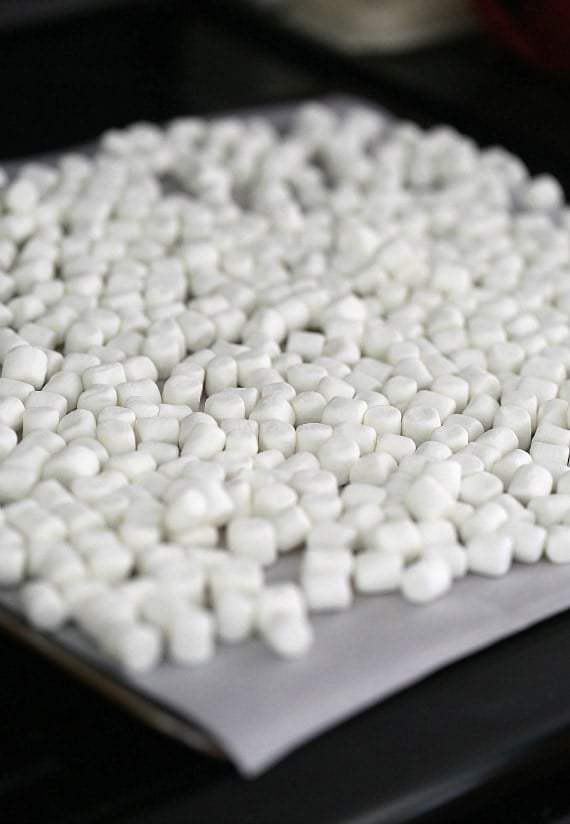 And toast them under the broiler for just about 45 seconds, until they look like this…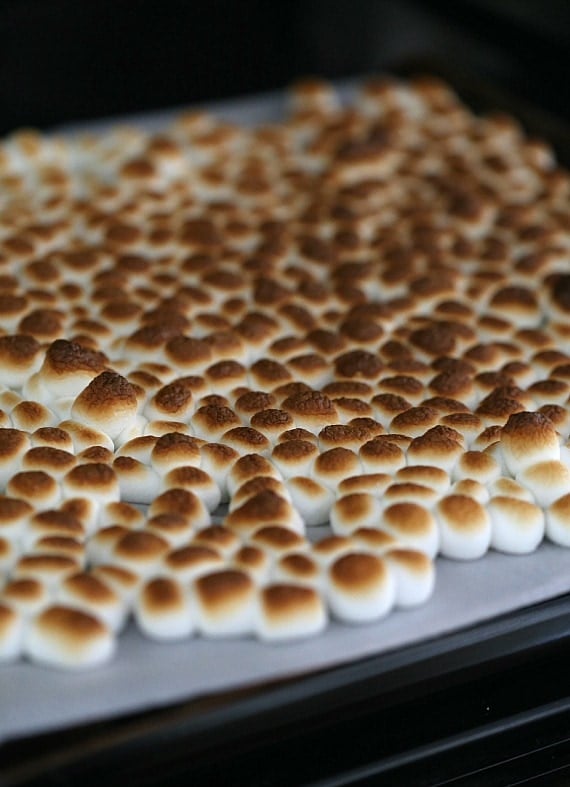 Immediately mix that right into the frosting.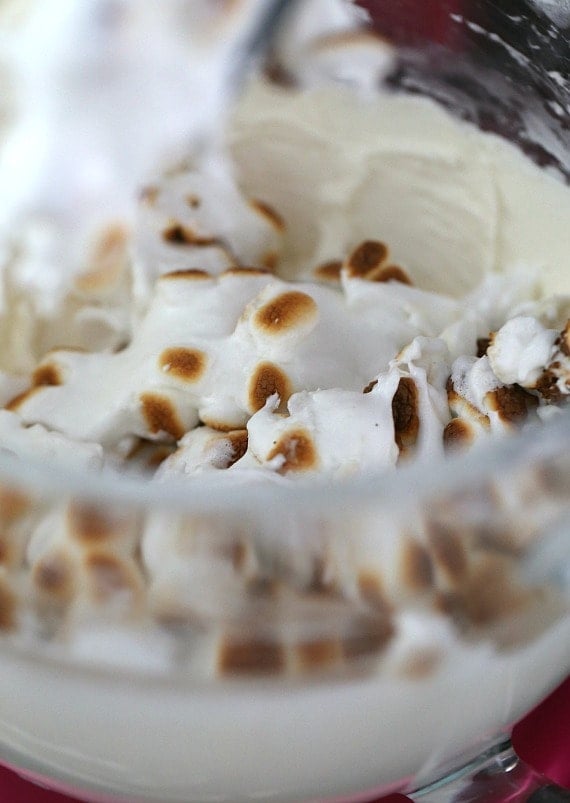 And beat the heck out of it!
Let it cool a bit before piping or spreading. You're gonna LOVE the texture of this frosting.
And it works perfect as a filling to a cake!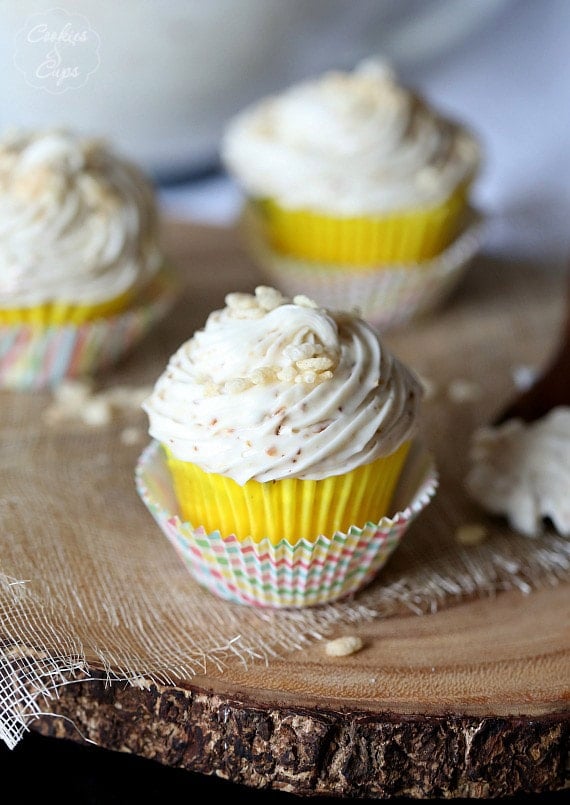 As it cools it will stiffen up, so don't go adding a bunch more powdered sugar!
Print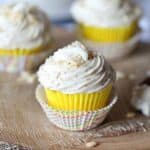 Toasted Marshmallow Buttercream Frosting
---
Ingredients
1 cup

butter, room temperature

4 cup

s powdered sugar

2 Tbsp

milk

10 oz

mini marshmallows
---
Instructions
In bowl of stand mixer beat butter until smooth. Add in powdered sugar slowly and then milk and continue mixing until smooth.
Turn oven onto broil. Line a baking sheet with parchment paper and spread marshmallows out in an even layer. Place under broiler for about 45 seconds until they are browned and puffed. Watch closely because they will burn very quickly.
Immediately scrape the marshmallows in to the butter mixture and beat until smooth.
The frosting will be warm due to the marshmallows, so allow it to cool completely before spreading or piping.