White Chocolate Cake is my new favorite white cake! The cake is soft, with a tender crumb and a buttery, white chocolate flavor. The frosting is out of control delicious, and there's an extra layer of strawberry preserves sandwiched in between that compliments the white chocolate perfectly!
Make sure to try my White Chocolate Macadamia Nut Cookies too!!
White Chocolate Cake Is Rich, Buttery, And Might Be Your New Favorite!
So cake. Are there ever too many cake recipes? The correct answer is no ma'am.
And today we are going WHITE CHOCOLATE. Now, from what I hear, people either love or hate white chocolate. I am firmly planted in the love category. White chocolate always and forever.
But I will say, that adding white chocolate to cake can be tricky business. I've tried it before and the cake always ends up super dense…which isn't necessarily a bad thing, but I was looking for a lighter texture. So when I came across the method that I ended up using in this recipe it changed everything!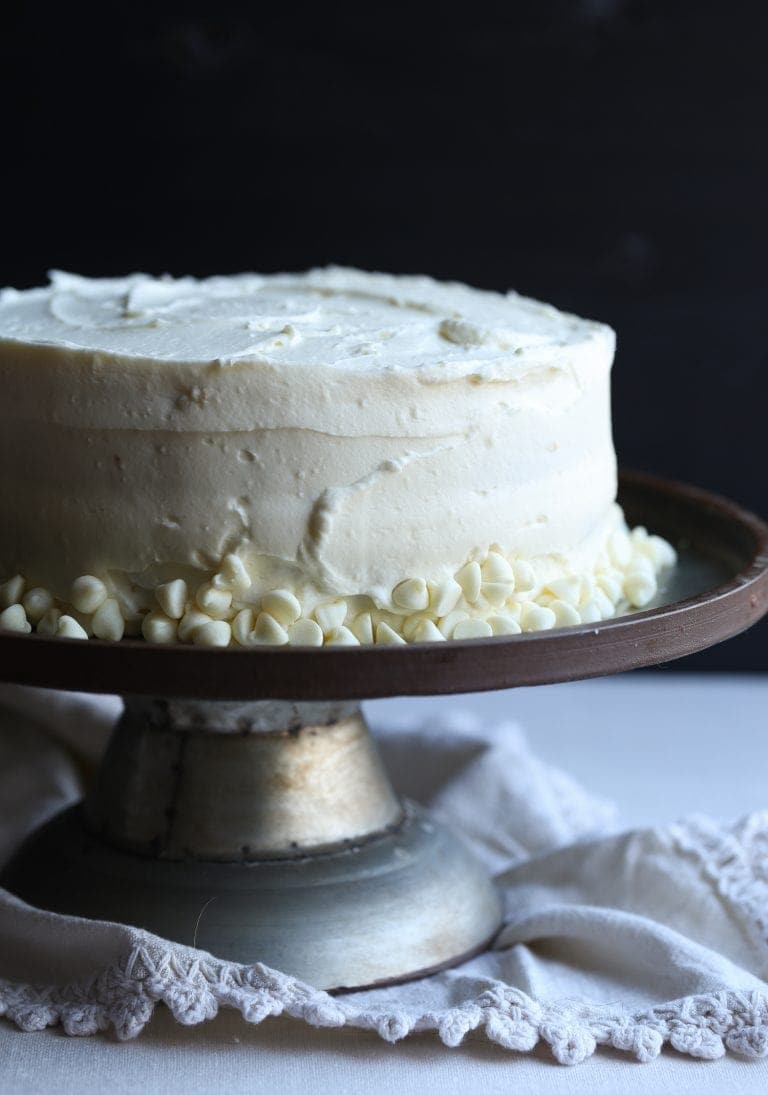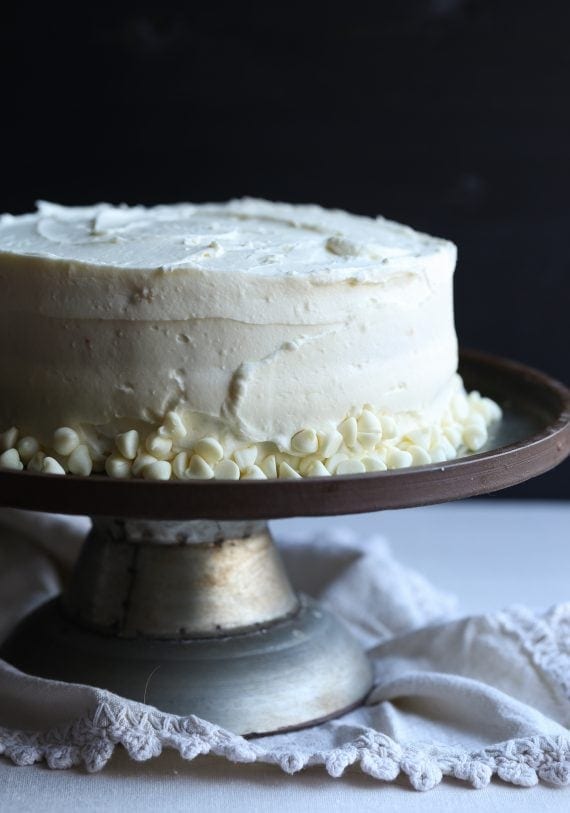 Let's Talk About HOW You Make White Chocolate Cake!
The process is actually pretty easy, but there are a few steps that you don't want to skip to ensure success!
How To Melt The White Chocolate
See, what you do is melt white chocolate together with some water, which thins out the white chocolate. I was nervous about doing this the first time, but it works!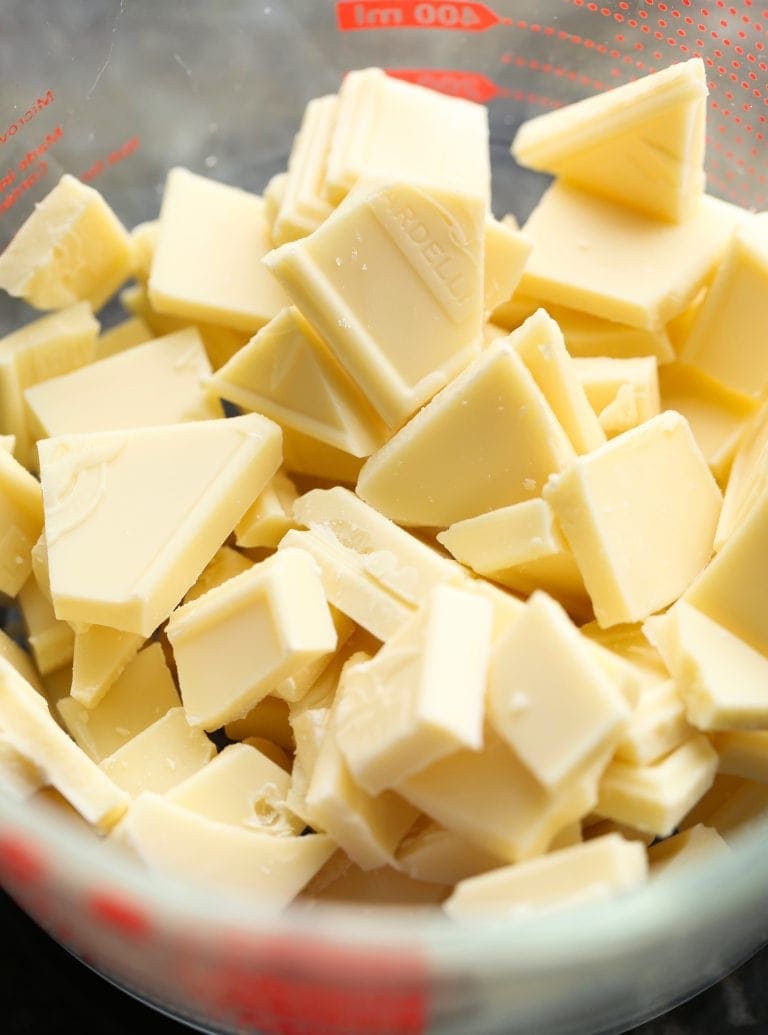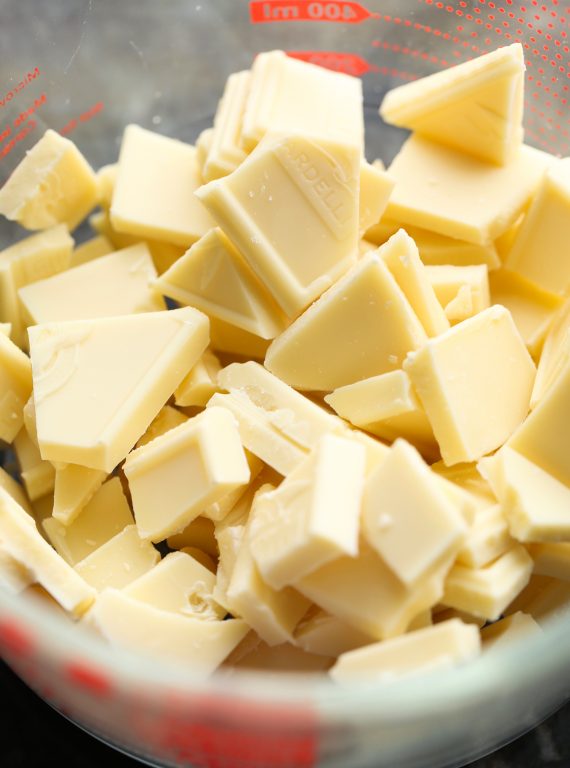 WHY Would You Melt Chocolate With Water?
You might think this could ruin the chocolate. That's what I thought at first too! I mean I've melted chocolate before and a drop or two of water has gotten into it and seized it up!
BUT when you melt the water WITH the chocolate it changes the consistency slightly by thinning it out. This is so genius because you still have the buttery white chocolate flavor, but it mixes into the batter making it thinner but not adding more fat…which would create a heavier, denser cake.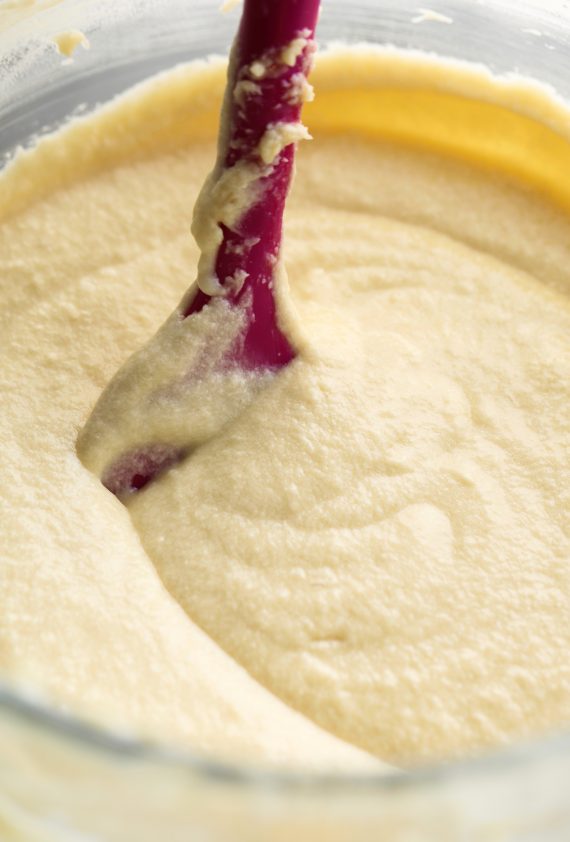 The cake bakes up so perfectly. I feel like the buttery white chocolate really makes this cake something special. It adds a little densness, but it's still fluffy and light at the same time!
Don't Forget Filling!
But why stop there? I mean when in doubt more is more. So, let's add some gorgeous strawberry preserves…
The strawberry paired with the cake adds a gorgeous sweetness and compliments the white chocolate perfectly!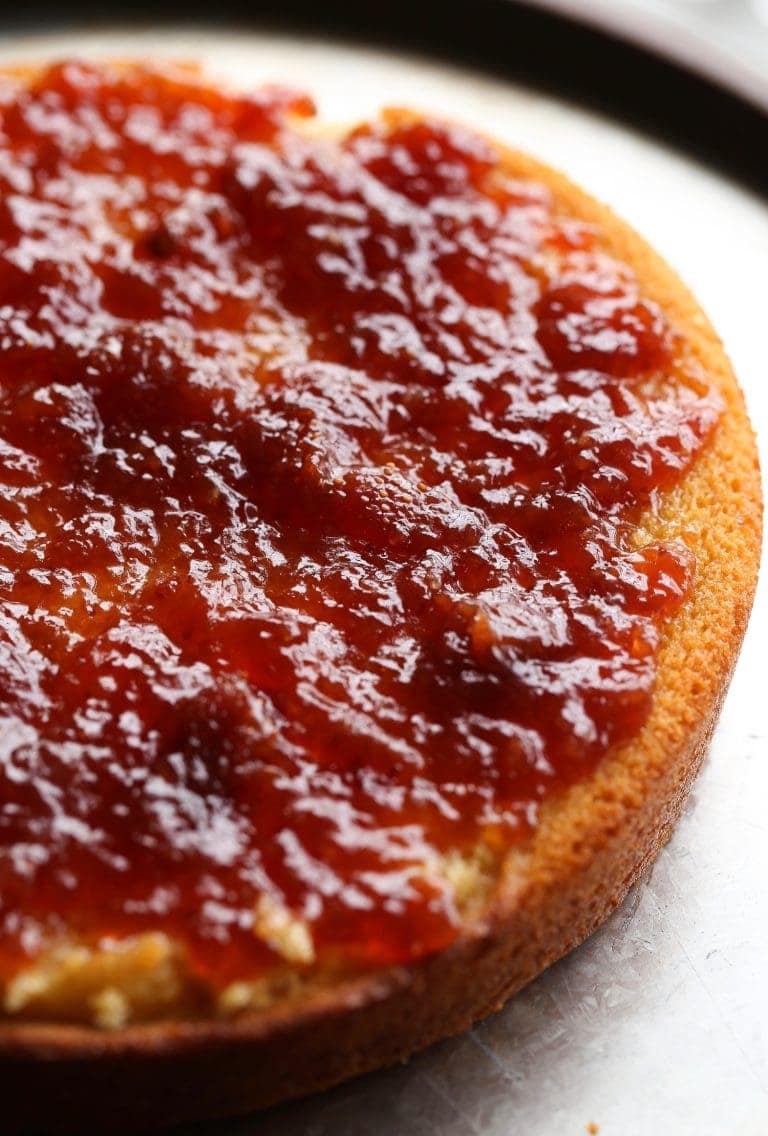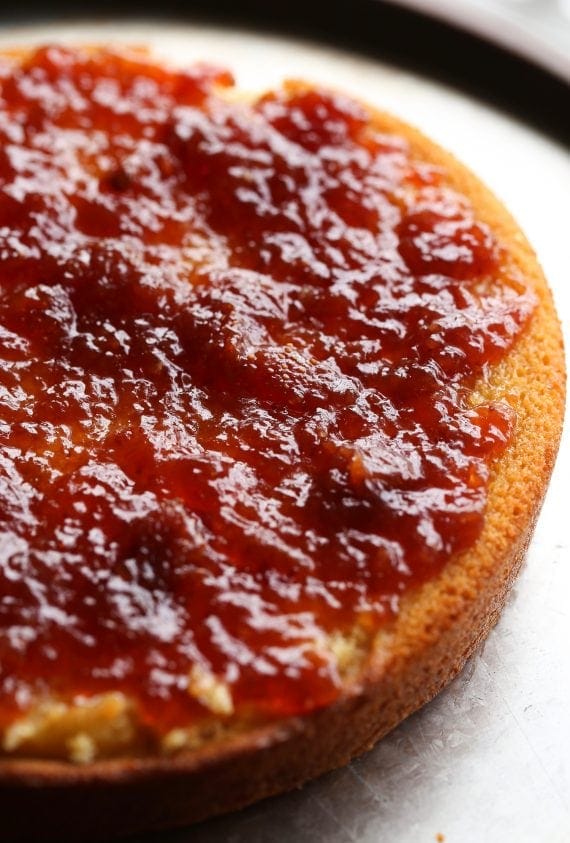 White Chocolate Frosting!
Then, of course, the glorious white chocolate frosting. It's really easily, and includes melted white chocolate right in the frosting. The frosting is what really brings the white chocolate flavor…so if white chocolate isn't your most favorite (argh) make the cake and slather it with whatever frosting you would like. Maybe Creamy Chocolate Frosting, or even Perfect Party Frosting!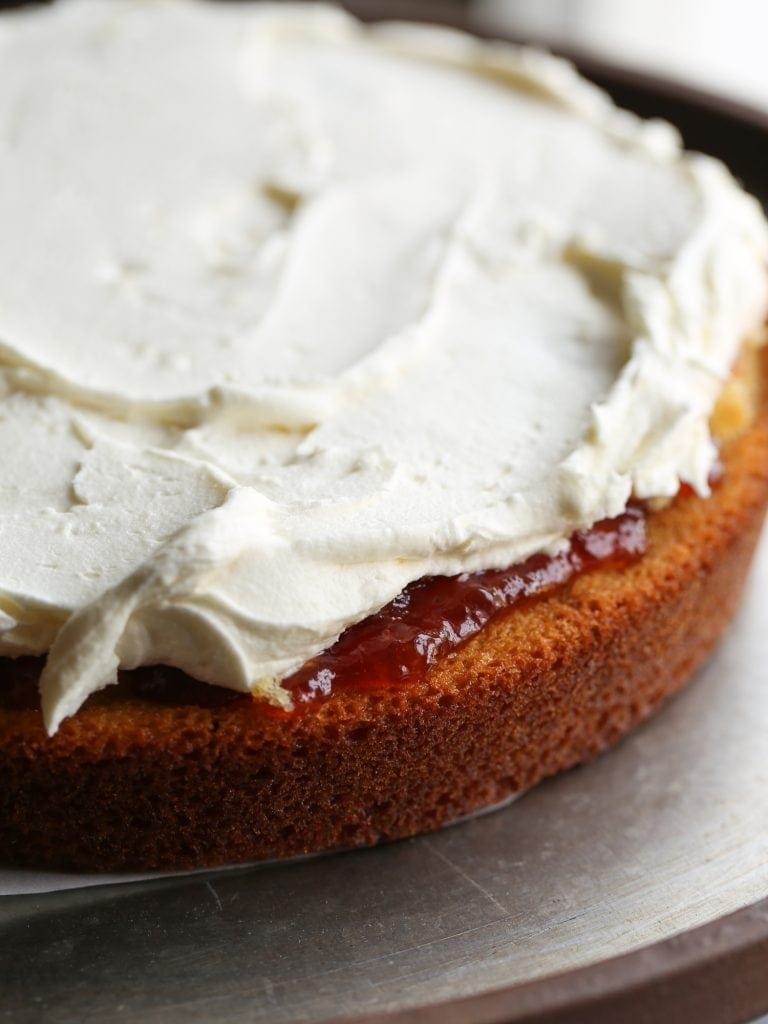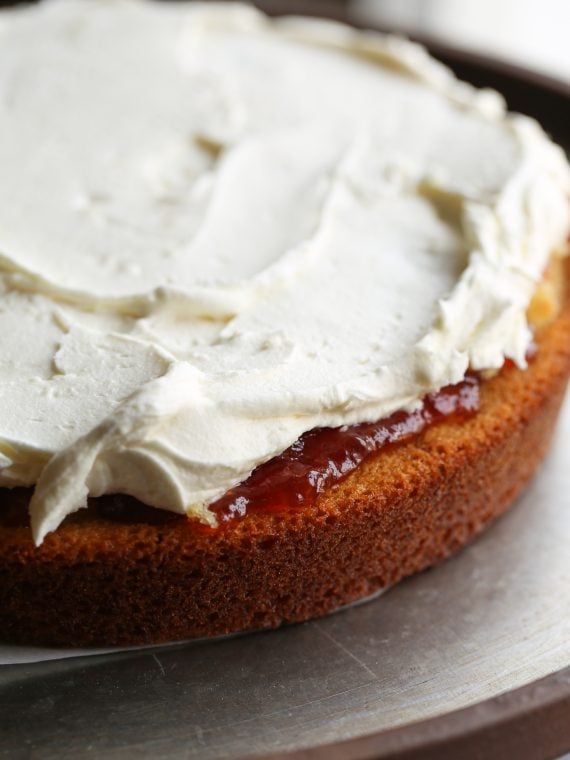 Then just easily assemble the cake!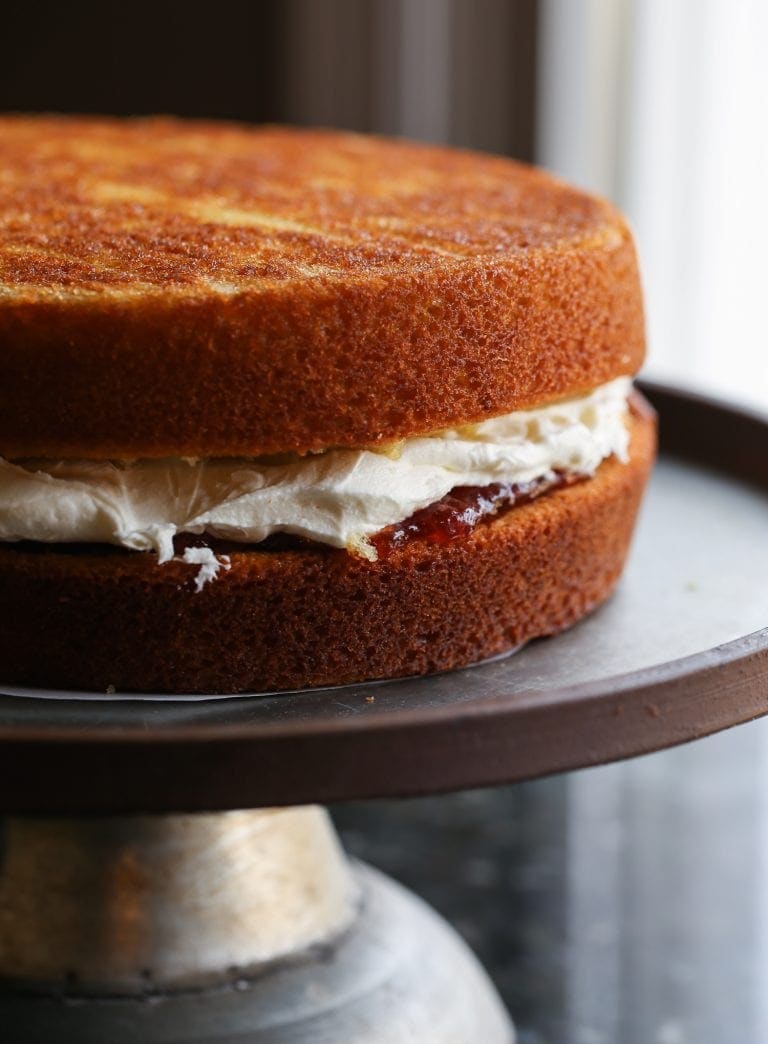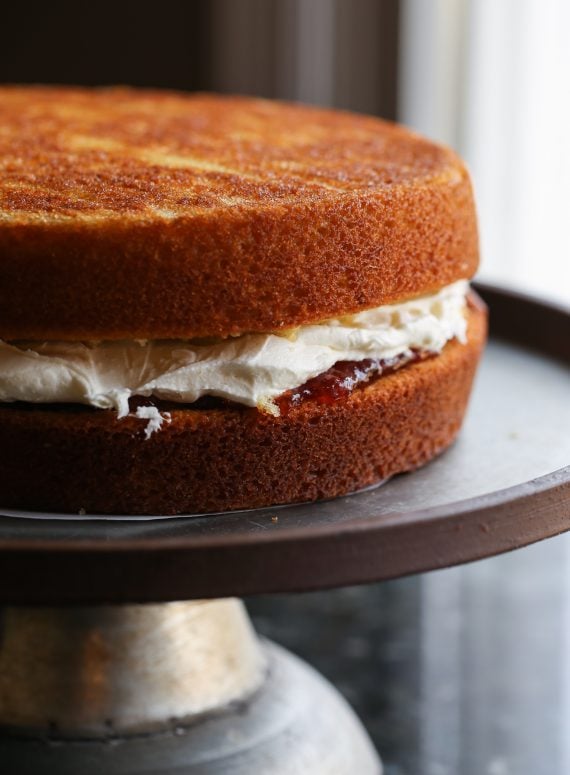 You could add some strawberries on top or keep it simple with white chocolate chips!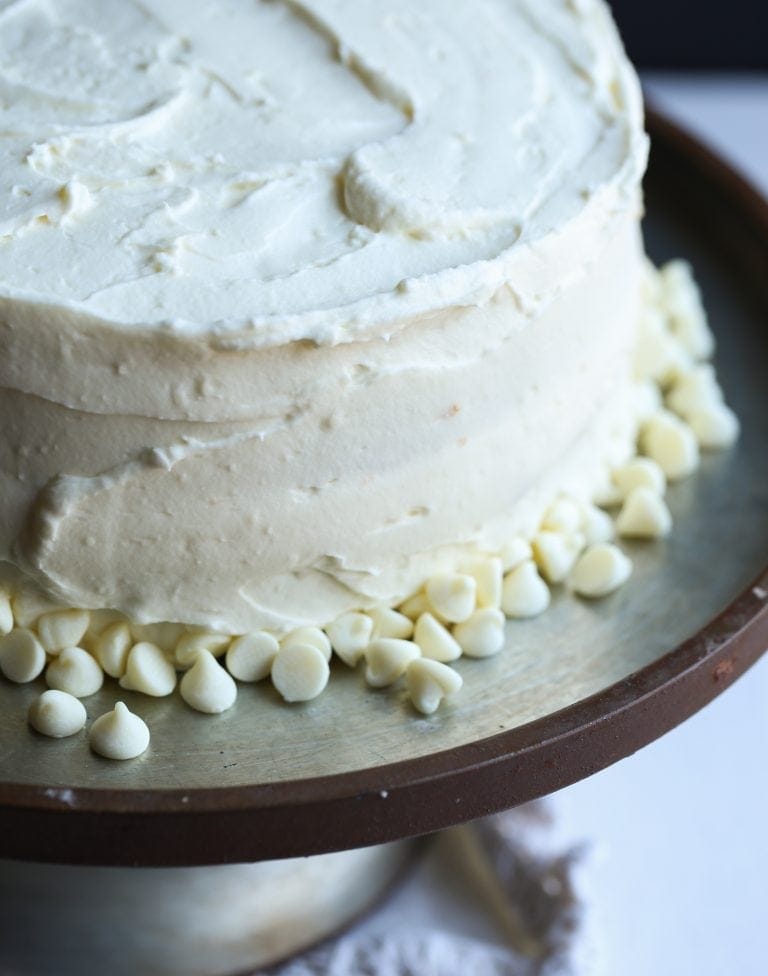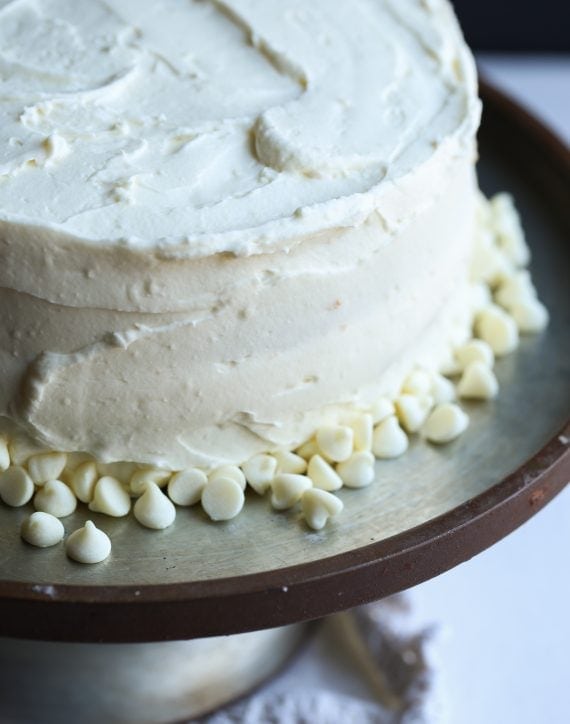 And then, for the love of God, eat a slice!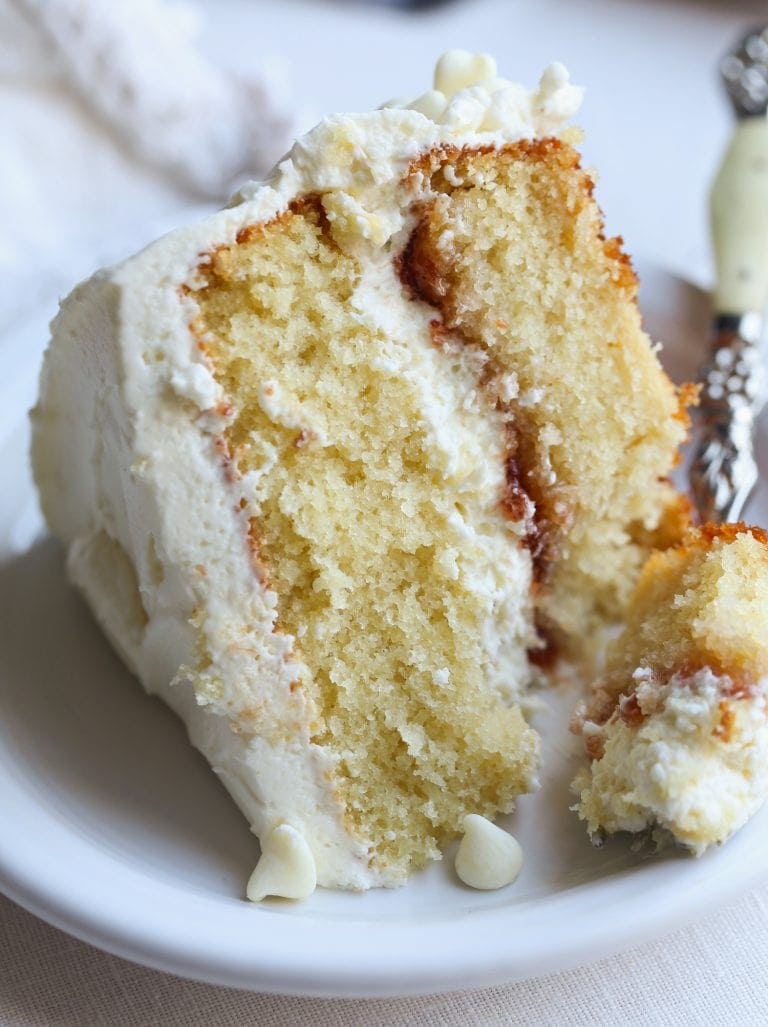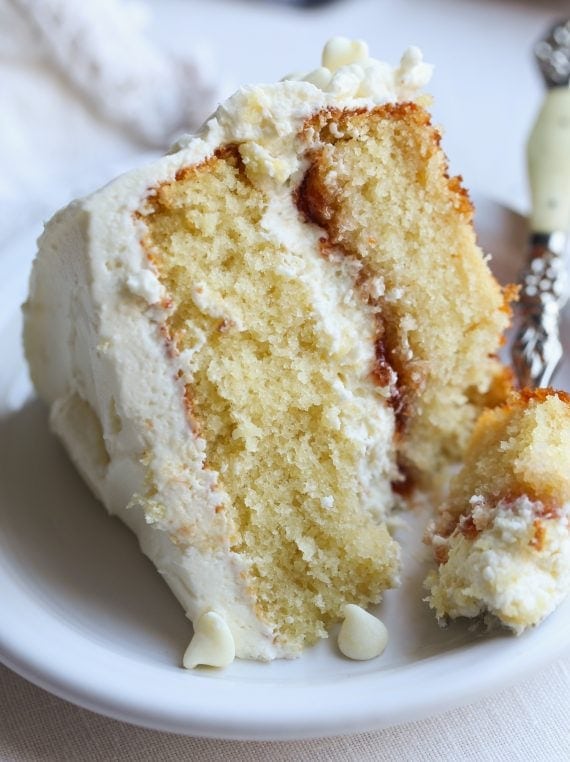 Warning: only make if you like delicious, buttery cake.
Love White Chocolate? Try These Other Recipes:
Print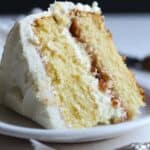 White Chocolate Cake
Author:

Prep Time:

20 minutes

Cook Time:

30 minutes

Total Time:

50 minutes

Yield:

serves

1

0

1

x
---
Description
This is a stunner of a cake! It's dense, but oh so moist. The white chocolate pairs beautifully with the strawberry jam!
---
Cake
6 ounces

white chocolate, chopped

1/2 cup

hot water

1 cup

butter, room temperature

1 1/2 cups

granulated sugar

3

eggs

1 teaspoon

vanilla

1/2 teaspoon

kosher salt

1 teaspoon

baking soda

1/2 teaspoon

baking powder

2 1/2 cups

all purpose flour

1 cup

buttermilk
Frosting
1 cup

butter, room temperature

2 cups

powdered sugar

12 ounces

white chocolate, chopped
To fill: 1 cup strawberry jam
---
Instructions
Cake
Preheat the oven to 350°F. Coat 2, 8- inch round pans with nonstick spray. Cut parchment paper into rounds that fit in the bottom of the pans, and place into spray pans. Coat again with nonstick spray. Set aside.
In small saucepan over medium-low heat, melt together the white chocolate and hot water, stirring until smooth. Set pan aside to cool slightly.
In the bowl of your stand mixer fitted with the paddle attachment, mix together the butter and sugar on medium speed until light and fluffy, about 2 minutes. Add in the eggs, vanilla, salt, baking soda, and baking powder. Mix until combined, scraping the sides of the bowl as necessary.
Turn mixer to low and add in the flour and buttermilk in alternating portions, beginning and ending with the flour. Mix in the melted white chocolate, mixing until smooth.
Pour the batter equally into the prepared pans.
Bake for 25-30 minutes, or until a toothpick inserted into the center of the cake comes out clean.
Cool the cakes in the pan for 5 minutes, and then invert onto a wire rack to cool completely.
Frosting
Place the chopped white chocolate into a microwave-safe bowl. Melt the white chocolate in the microwave on full power in 30 second increments, stirring after each until the white chocolate is melted and smooth. Set aside to cool to room temperature.
In the bowl of your stand mixer fitted with the paddle attachment mix the butter and powdered sugar until smooth and creamy. Add in the cooled white chocolate and continue mixing for 2 minutes until creamy.
Assemble
Place one of the cakes onto a cake platter. Spread the 1 cup of strawberry jam on top of the cake. Top with approximately 1 1/2 cups of frosting. Place the remaining cake on top and coat the cake with the remaining frosting.
---
Notes
recipe adapted from allrecipes.
Want To Save This Recipe?
Find more recipes like this: