The Best White Chocolate Chip Cookies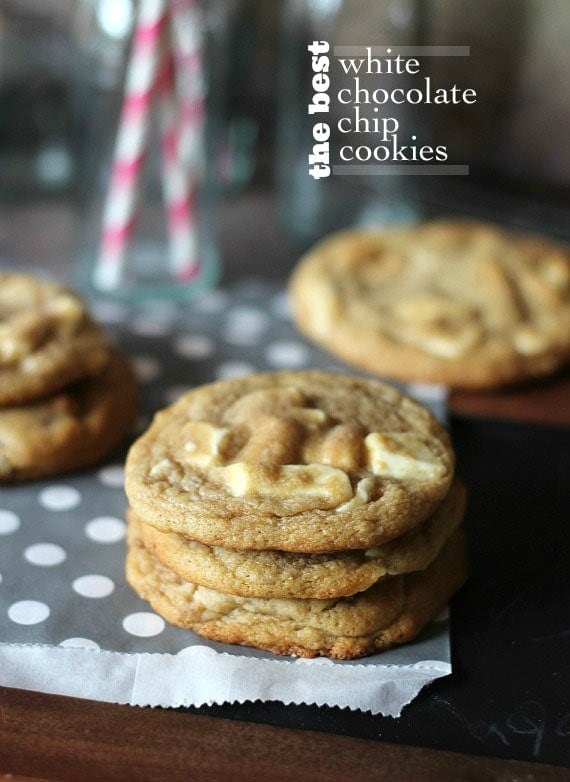 I'm sorry about these cookies in advance.
And I should also apologize about the name.
I sorta kinda hate when someone tells me something is the BEST.  Well, because then I need to prove you wrong.
So let me say, these are the best white chocolate chip cookies that I ever ate.  Is that better?
You see, usually white chocolate chip cookies come with other stuff mixed in, like coconut, or macadamia nuts.
Well, nuts aren't my thing.
That's what she said.
But really, they aren't.  Unless it's peanut butter.  Whatever.
And while I love coconut, there's a time and place people. Time and place.
Plus, simple is pretty much better.
Never once have I ever heard, "Can you please make this recipe a little more complicated?"
Simple wins.
The Best White Chocolate Chip Cookies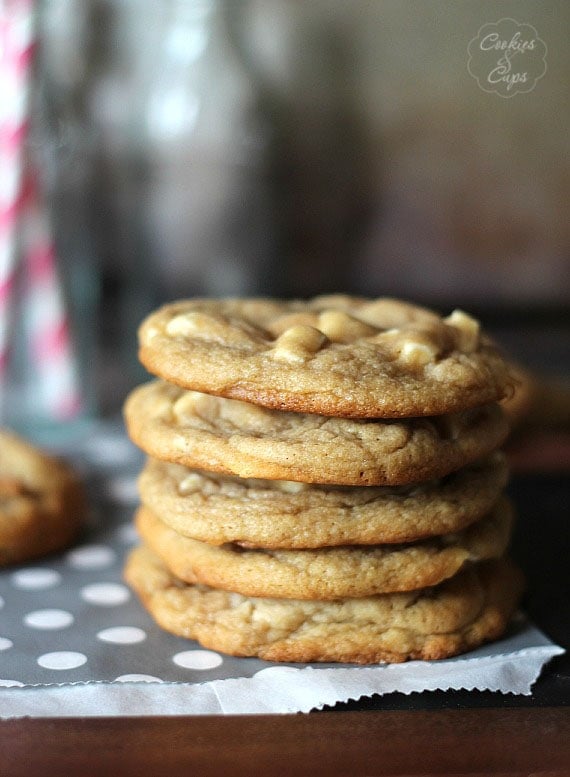 Let's talk about why these are the best.
First they are LOADED with white chocolate chunks.
(And also, makers of white chocolate…can you people please make mini white chocolate chips?  While I wouldn't use them in this recipe, I would work those guys out in other ways.)
Second, they are buttery and soft and an eensy bit crispy around the edges.
And thirdly, well…ALLTHEWHITECHOCOLATE!
Here's how I did them…
Brown sugar is key…
I used 20 ounces of white chocolate, chopped fairly coarsely.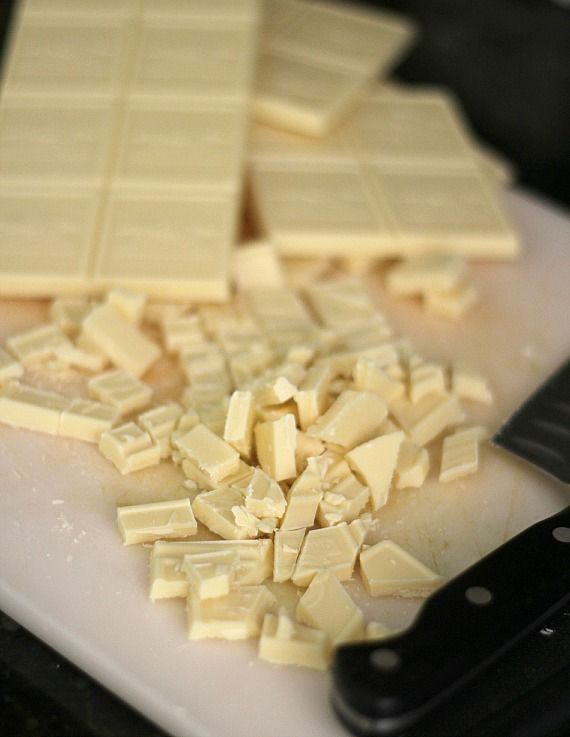 I like the huge chunks in these cookies.
I'm not a huge chocolate chunk girl, but white is a whole different story.
The batter is pretty easy.
Once you get the chocolate chunks folded in, you can chill the dough OR you can bake them straight away. LOVE that option!
Form the dough into balls and place on a lined baking sheet about 2 inches apart. You can use a cookie scoop too, whichever you prefer!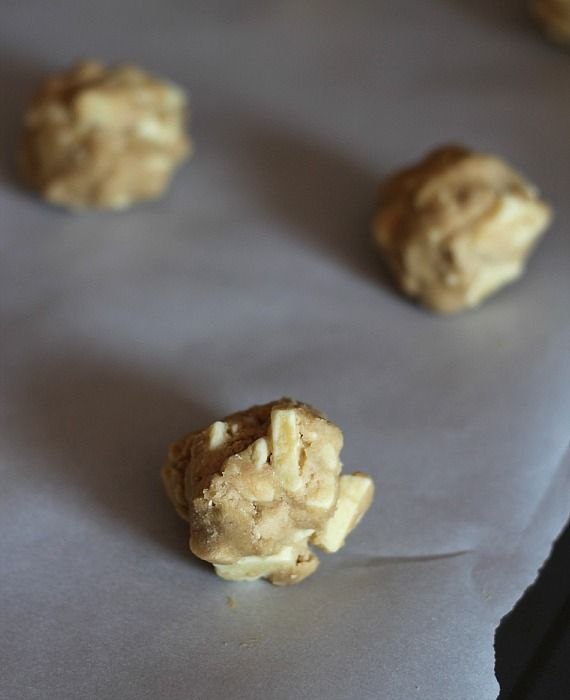 When they bake they'll look like this…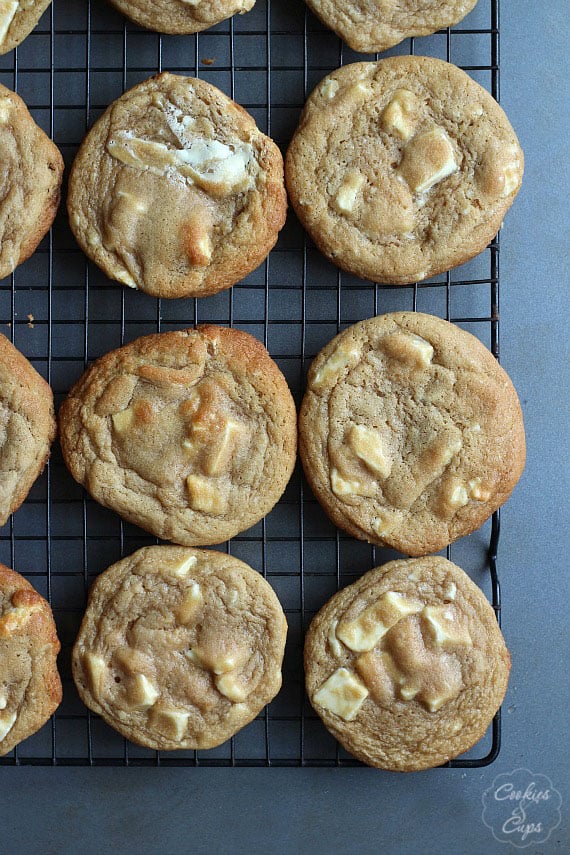 I know, right?
So you should make these for sure.
I mean, if you like white chocolate…
And if you don't,  I'm not sure we can still be friends 🙂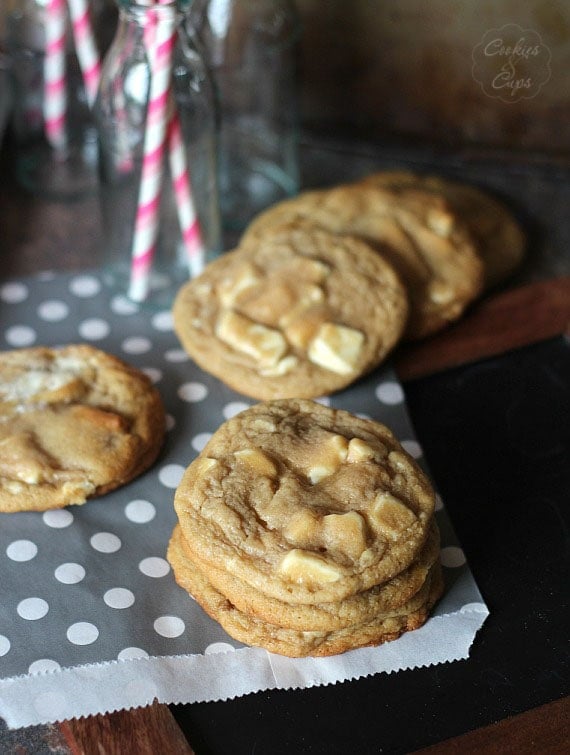 I have adapted this recipe slightly over the years, based on reader feedback! I've made chilling the dough an optional step (although I still like to). And I tweaked a few ingredients based on mixed results. I love this recipe and with some of your comments I think these cookies can't be beat!

Print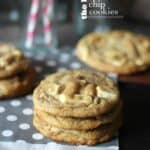 The Best White Chocolate Chip Cookies
---
Description
makes 36 cookies
---
Ingredients
1 cup

butter, room temperature

1 cup

light brown sugar

1/2 cup

granulated sugar

2

eggs

1 1/2 Tablespoon

s vanilla extract

1 teaspoon

kosher salt

1 tsp

baking soda

1/2 tsp

baking powder

2 1/2 cup

s flour

20 oz

coarsely chopped white chocolate (2 1/2 –

3 cup

s) You can use white chips as well
---
Instructions
Preheat oven to 350° and line an baking sheet with parchment paper, set aside.
In bowl of stand mixer cream together butter and both sugars for 2 minutes in medium speed.
Turn speed to low and add in eggs and vanilla. Turn mixer back up to medium and beat until smooth, about 20 seconds.
Turn mixer back to low and add in salt, baking soda, baking powder and flour, mixing until just combined.
Fold in white chocolate chunks.
Form dough into heaping tablespoon sized balls (I used a 2 Tbsp cookie scoop), placing 2 inches apart on baking sheet.
Bake for 8-10 minutes until golden around edges. Don't over-bake.
Allow to cool on baking sheet for 3-5 minutes before transferring to wire rack to finish cooling.