Helloooo people!
Today I'm looking out for ya!  Honest.
…A giver, a people pleaser, an all around go-to girl, that's what I am. The thing is, I hear you need fruit in your diet.  Health is important.
So today two fruits for the price of one. See?  A giver!
Plus there's dairy and fiber: cheesecake and shortbread. A people pleaser!!!  I told ya!
OR, I suppose you could say I'm a saboteur.  A mean girl.   An enabler…
Because, honestly I'm trying to sell you cheesecake bars as a well rounded meal. But I'm pretty much sure that might make me the coolest mean girl ever.
You say tomato.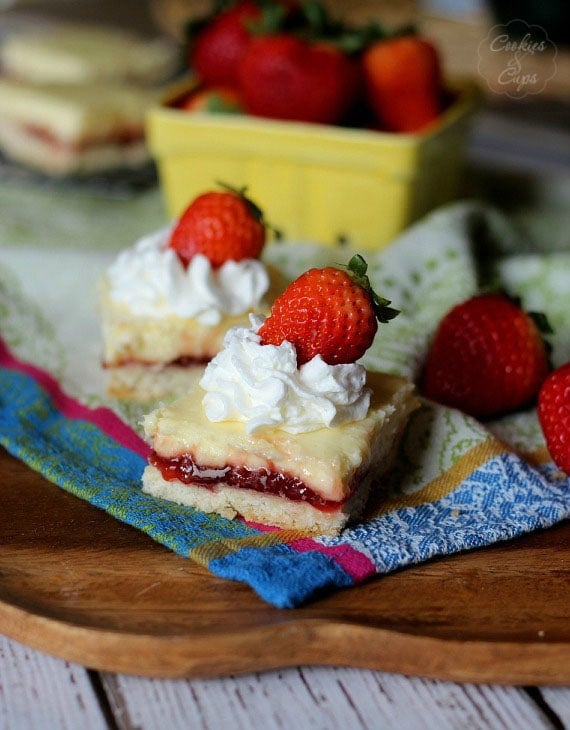 Strawberry Lemon Cheesecake Bars. Complete daily sustenance. Feel free to eat 30.
The crust is yummy shortbread…and I actually used my pastry cutter…I knew I bought that thing for a reason!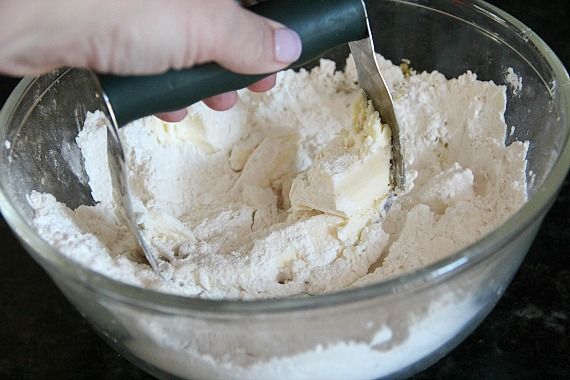 It'll be super crumbly and dry.  Don't you worry…
Press it into the pan and bake it until the edges are beginning to golden up.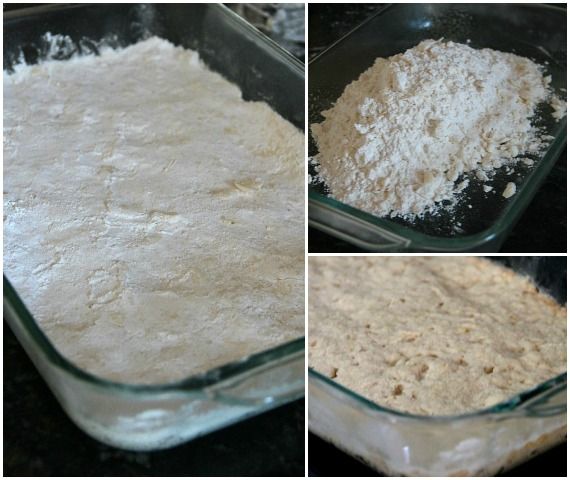 When the crust is partially cooked, pull it out and spread on some Strawberry preserves.  Use good ones, people.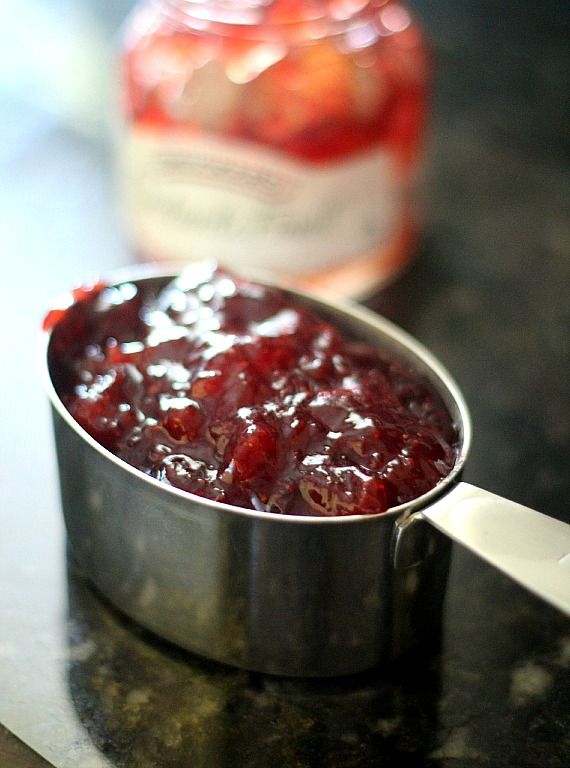 How pretty is that?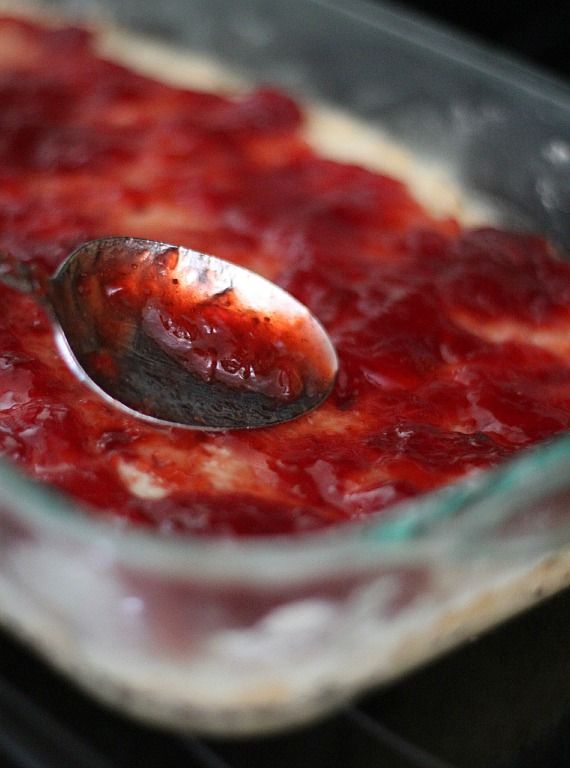 Then pour the lemon cream cheese mixture on top of that.
I didn't show this step, but while the crust is partially baking, you can mix this up.  Super simple.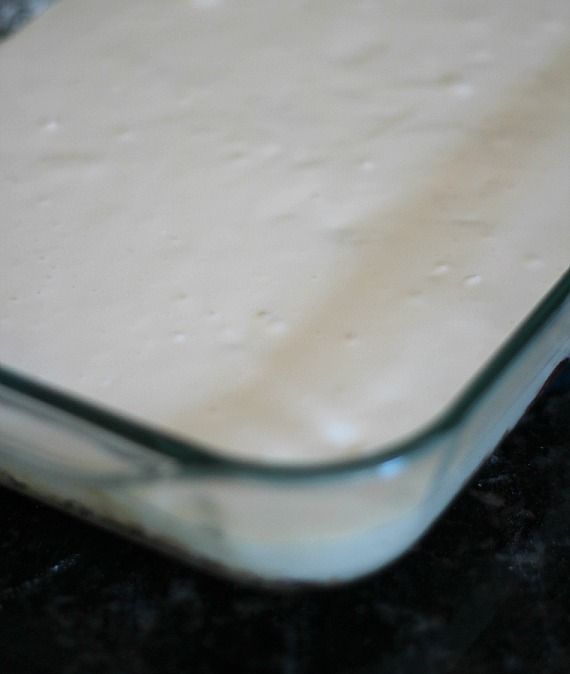 While it's baking clean up.
No one likes a messy kitchen 😉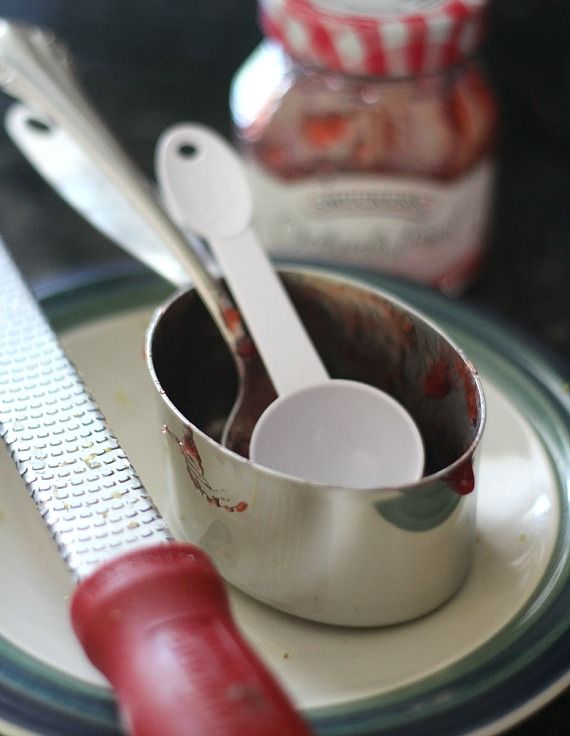 And finito!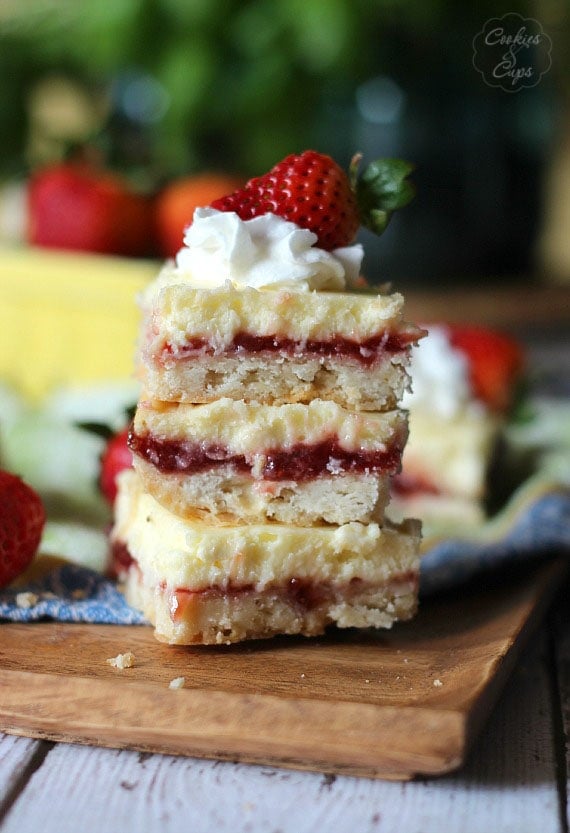 I'm telling you, a full meal.
Print
Strawberry Lemon Cheesecake Bars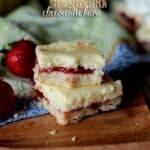 ---
Description:
makes 36 squares
---
Ingredients:
2 cup

s all purpose flour

1/2 cup

powdered sugar

2 tsp

lemon zest, divided

3/4 cup

cold butter, cut into tablespoon sized pieces

2

(8 oz) packages cream cheese, room temperature

3/4 cup

granulated sugar

2

eggs

1 1/2 Tbsp

lemon juice

1 cup

strawberry preserves
---
Instructions:
Preheat oven to 350°
Spray a 9×13 baking dish with cooking spray.
In a large bowl combine flour, powdered sugar, 1 tsp lemon zest and butter. Cut together with a pastry cutter until mixture is crumbly. It will be dry, don't worry.
Press the mixture into the prepared pan.
Bake for 20 minutes until edges start to golden.
Meanwhile, in bowl of stand mixer beat together cream cheese, remaining zest and granulated sugar until smooth. Add eggs one at a time, stirring until combined. Stir in lemon juice.
When crust is golden, remove from oven and spread strawberry preserves evenly on top. Pour cream cheese mixture on top of preserves.
Continue baking for 25 minutes until cheesecake is set in the middle.
Allow to cool on wire rack for 20 minutes and then chill in refrigerator for at least 4 hours.
Cut into squares when ready to serve.
---
Notes:
Garnish with whipped cream and strawberries if desired.
Recipe adapted from Southern Living
Want To Save This Recipe?