So I have a pretty busy week ahead.
I'll share it all with you soon enough…trust me, it's nothing major.
But since I will be busy, I figured you might be busy too.
I just assume things like that…because I apparently think the world revolves around me.
Wait, it doesn't?
So yeah..this week we have a theme.
Busy people still need sweets!
I'm thinking that is pretty much the best theme ever.
So, "Busy people still need sweets" week has begun.
And since there's nothing quicker than a cake mix, we're gonna start there.  All week.
So yeah, my theme just got longer…
"Busy people still need sweets that start with cake mix" week.
Concise, I clearly am not.
Annnywayyy…
My mom made these bars for years.
I kinda thought she was a cooking genius.
Until I saw that this is just about, basically, almost exactly the same recipe that EVERYONE IN ALL THE LAND uses for Gooey Butter cake.
But, my mom did add white chocolate.  Which is really a genius move.  At least in my book.
Here's what you do…
Start with a yellow cake mix and some cold butter.  Mix the 2 ingredients together until you have a crumbly consistency.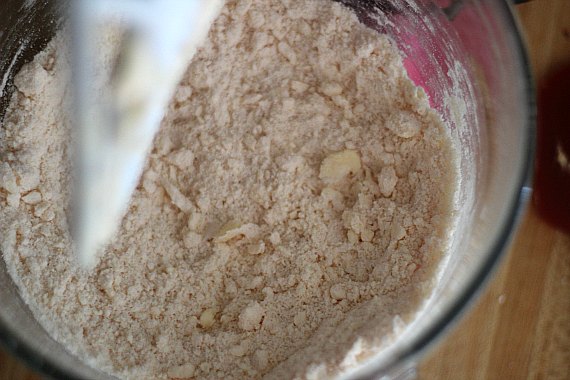 Then add in an egg and vanilla…the dough will be thick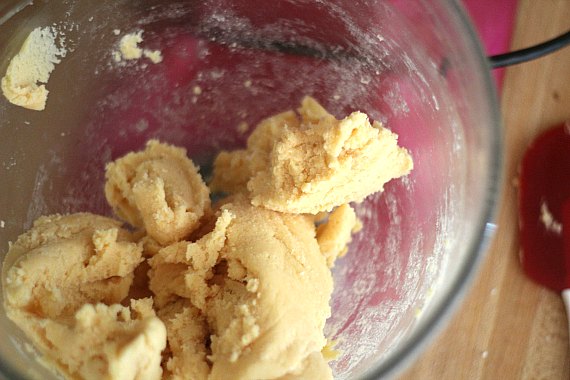 Press it into a greased baking dish…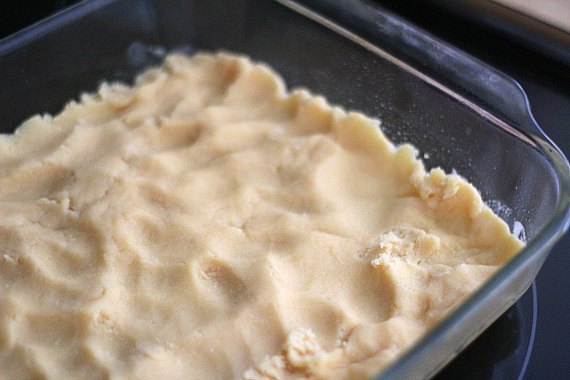 Sprinkle your white chocolate chips all over the unbaked crust.
Next mix up some cream cheese, powdered sugar, eggs and vanilla.  Pour this on top of the white chocolate chips.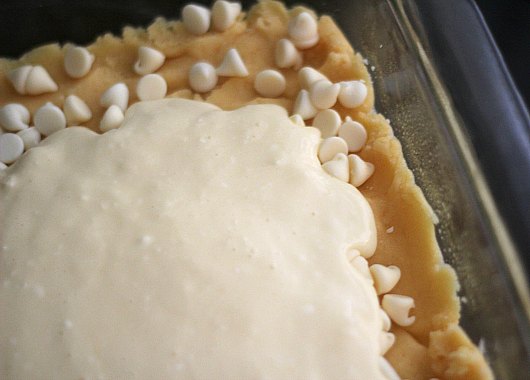 Bake it up.
If you have self control you should wait for this to cool before cutting into squares.
Self control is optional where I come from…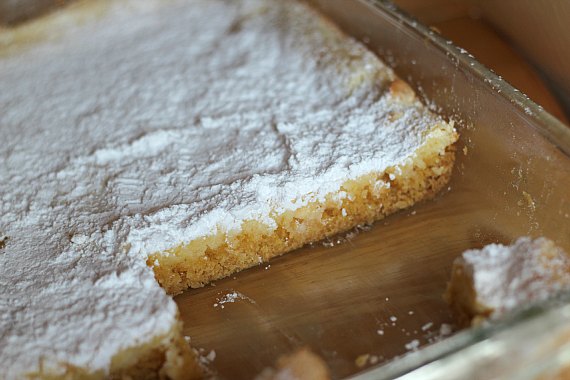 So, I do this thing when I eat directly from the baking dish…hush…and then try and cut it in a straight line before my husband sees evidence of my gluttony.
It's a dirty little secret.
Sometimes I keep cutting and eating and cutting and eating until my line is perfectly perfect.  I'm kind of a perfectionist.  It's my plight in life.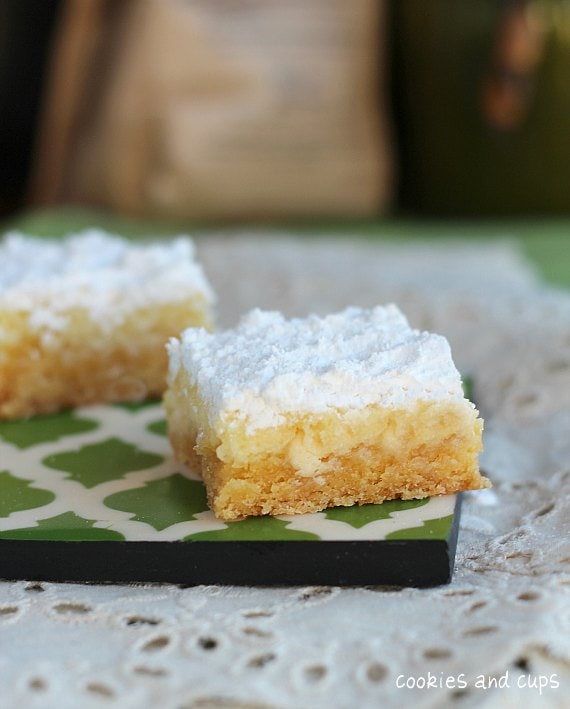 So now that you have sweets, you can go back to being busy.
Print
White Chocolate Butter Bars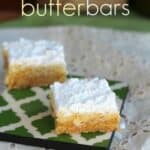 ---
Ingredients:
1/2 cup

cold butter

1

box yellow cake mix

1

egg

1

, 8 oz block of cream cheese, room temperature

2 cup

s powdered sugar, plus more for dusting

2

eggs

2 tsp

vanilla extract

1 1/2 cup

s white chocolate chips
---
Instructions:
Preheat oven to 325°
Spray a 9×13″ pan with cooking spray
In your mixing bowl combine the butter and cake mix. Beat on medium until the cake mix looks crumbly.
Add egg and beat until smooth. Batter will be stiff.
Press your mixture into your prepared pan.
Sprinkle the white chocolate chips evenly over batter.
In another mixing bowl, beat together cream cheese and powdered sugar until smooth.
Add eggs and vanilla and mix until combined.
Pour this evenly over white chocolate chips and spread to edges of pan.
Bake for approx 30 minutes until center is set.
Remove from oven and dust with powdered sugar.
Let cool before cutting into squares.
---
Notes:
Store in refrigerator for up to 3 days.
Want To Save This Recipe?