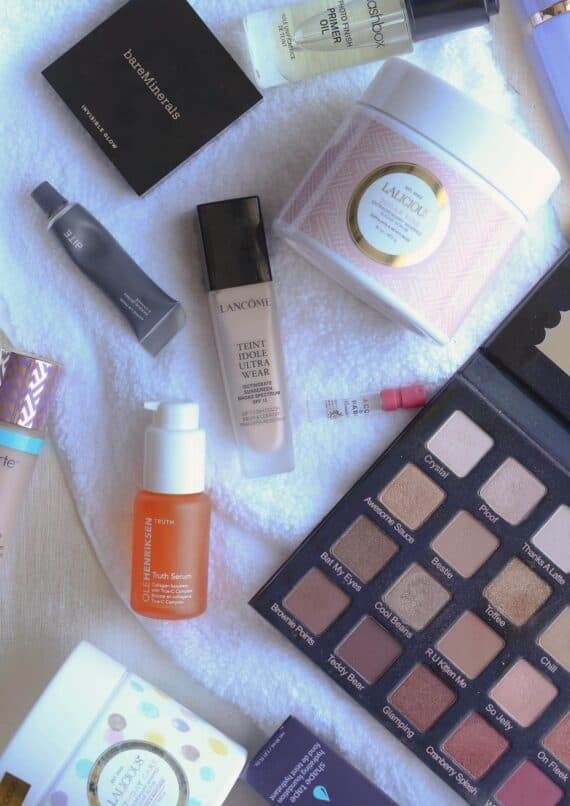 Hey HEY! So January 2018 is officially in the books. It felt like the longest month to ever happen. We're still in the thick of winter here in NJ…January and February are my least favorites of the year BY FAR. All the cold with no end in site. So basically online shopping keeps me sane. Kinda kidding?
So I don't have any new food related favorites. January is typically a slow baking month around here, like I am sure it is in a lot of your kitchens after the holiday burn-out. BUT I am sure I will be back in February with some fun new discoveries! I plan on taking a quick Girl's Weekend trip at the end of Feb to Asheville, NC. Have you been? Any recs?
ANNNND my family and I are planning, yes another, Disney trip in March with some family friends for our anniversary. It's the Flower and Garden Festival and March is such a pretty time there. So I have some things I am definitely looking forward to in the coming months.
BUT back to January. While it was a slow food month, I found some great beauty stuff that I am LOVING! Let's chat!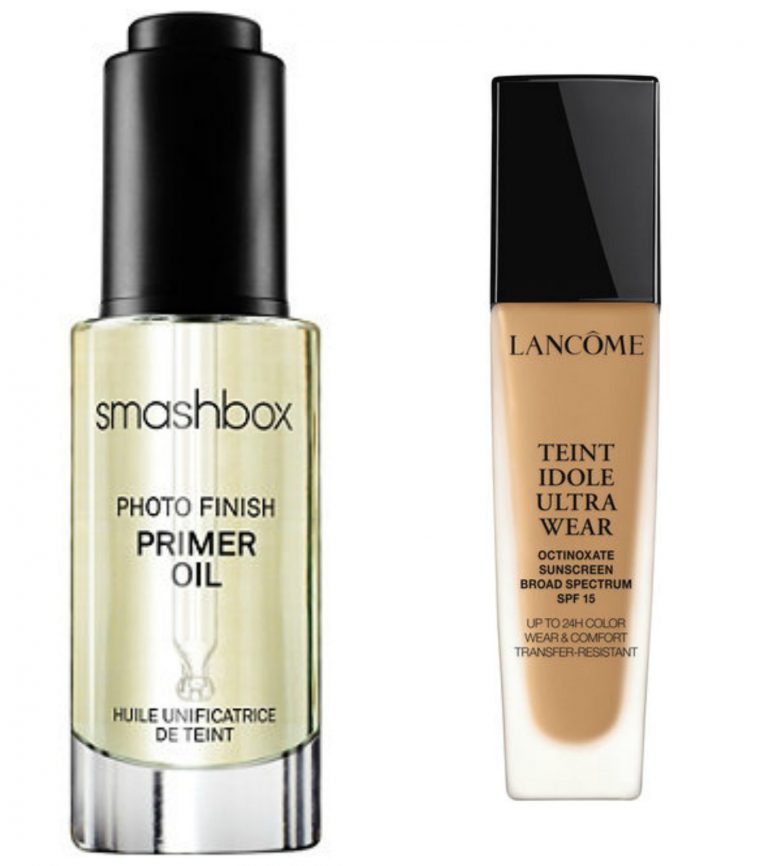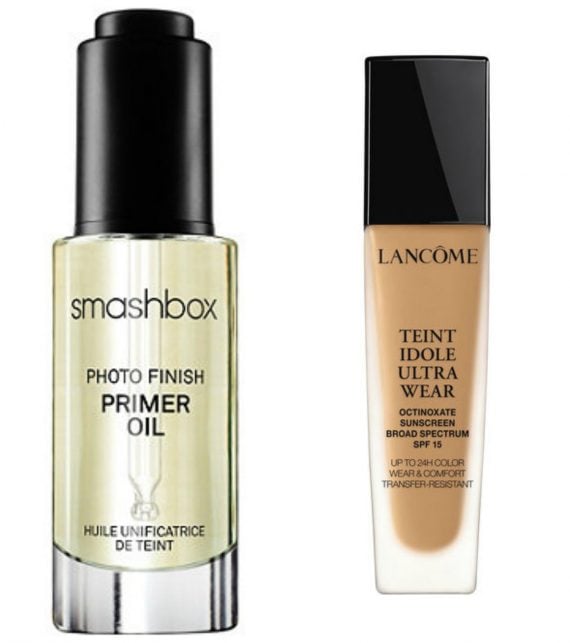 Smashbox Photo Finish Oil Primer / Lancome Teint Ultra Wear
First and foremost, I have found my holy grail primer/foundation combo…at least for the colder months. I have dry/combination skin so definitely keep that in mind before I explain.
I am ALL about a full coverage foundation…however, I have found after trying TONSSSSS of foundations that full coverage/long wearing have a tendency to be more matte, which always seems to emphasize my fine lines, hence making me look like I'm 400 years old. NO good. I've always used serums, moisturizers, hydrating primers, etc to help under the long wearing foundations, and while some are better than others, I've never been super happy with how my face looked after a few hours of wear. When I saw this primer oil I thought it was too weird. Like OIL under my foundation? Yeah no.
But friends, it works.
Now, if you have oily skin, this is probably not the right product for you. BUT if you have skin that is on the drier side, and like a full coverage foundation TRY IT. I have been using it for a while under different foundations and have liked the results, but when I paired it with my Lancome Teint Ultra Wear I FELL.IN.LOVE. Backstory: the sales lady at Ulta sold me this foundation…I wasn't really looking at it, nor after I got home and tried it, did I really love it. I was actually planning on returning it. Glad I didn't.
Anyhow, using the two together, my foundation literally looks as good 9 hours later as it does when I first apply it (with a beauty sponge). It's gorgeous coverage, and with the oil primer it doesn't look dry, or cakey. If you have dry-ish skin and like a fuller coverage foundation you need this combo in your life. The only thing I recommend is getting color matched because there are a TON of shades.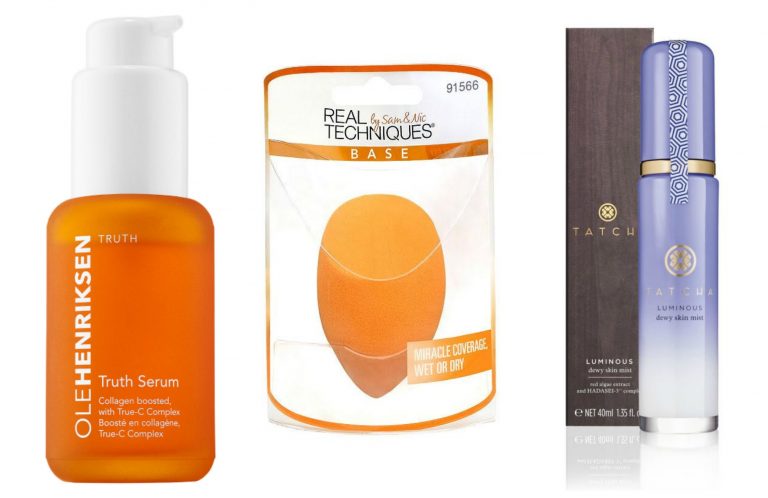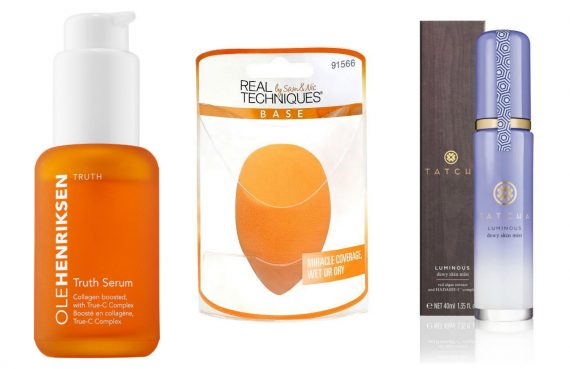 OleHenricksen Truth Serum / Real Techniques Beauty Sponge / Tatcha Luminous Dewy Skin Mist
I'm pretty constant with my beauty routine, but I just started using this OleHeneicksen Truth Serum and seriously am loving it. I've used SO many serums in the past…some are nice, some are too expensive, and most are forgettable…but this is the first one that after a week of use I actually see a more even skin tone and a visible difference in my skin's texture. It's a silky texture, and you only need about half a pump, but I have been using it morning and night and am 100% obsessed. Excited to try more of this line!
Next up a have used Beauty Blenders on and off for years. I never understood why they were so expensive, but I continued using them. Until I grabbed the Real Techniques Beauty Sponge (at Target I think?) and haven't looked back. It's way cheaper, just as soft, and I like the one with the angled side. I will say it does seem to absorb a tiny bit more product than the Beauty Blender, but my makeup just seems to go on better with the Real Techniques.
And yep, I'm back on my Tatcha Skin Mist. I have been a fan of this for years, but I'm that person who always thinks there might be something better out there. And while there are other great skin mists, this one is THE BEST for hydrating and giving your skin a pretty glow. And another use for it, besides directly on your face is give your beauty sponge a mist before you apply foundation for an extra dewy finish. Love it.


Violet Voss HG PRO Eyeshadow Palette / Lalicious Exfoliating Sugar Scrub / Physician's Formula Butter Bronzer
I have SO many eye shadow palettes…but I will say I am great about donating them, or giving them to friends if I am not 100% in love. But this Violet Voss HG Palette I bough back in October (I think?) is so freaking good. First off, the formula is gorgeous. Super blendable, highly pigmented shadows, and the colors are 100% what I am into right now. Warm tones work on my skin tone and these are in gorgeous pink-bronze-neutral family that can be used everyday, or for a more dramatic look. SO good.
I am never hugely impressed by Sugar Scrubs…they are all about the same in my book… but Lalicious makes SUCH good ones I couldn't not tell you about them. I am using Sugar Wish right now and it smells so yummy, but also hydrates fantastically. Plus, the scent stays with you for a long time. So good. I also have the Birthday Cake scent which smells like a tub of frosting. Love it.
ANNND speaking of smells that are SO SO GOOD. The Butter Bronzer from Physicians Formula is EVERYTHING. I am telling you, while it's a gorgeous, subtle, buildable bronzer that is so natural and pretty, the smell is reason enough to try it. SO into this right now.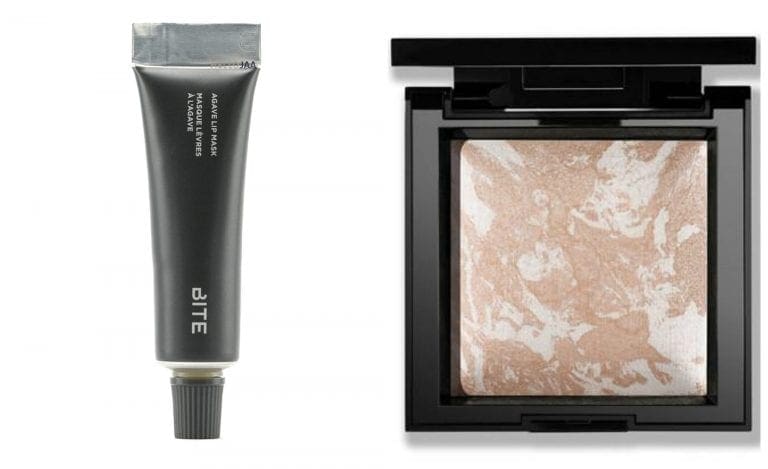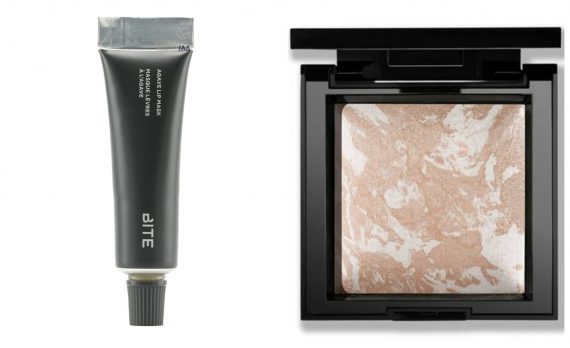 Bite Agave Lip Mask / Bare Minerals Invisible Glow
I have used this Bite Agave Lip Mask for LONG time. It's pricey, but SO worth it. I have a tube of this is all my purses, in my kid's backpacks and on my night stand. I have never tried the tinted versions, but the clear is a staple of mine and can't imagine not having it. I don't know why it's called a lip mask per say, but it is a thick balm. I use it during the day and also at night. It's the best.
Recently I started using this Bare Minerals Invisible Glow Powder to set my make up and under eyes… I have never been a huge powder fan, because dry skin and powder can be all wrong if you don't have the right one. But this is a little radiant…not super shimmery…just enough to give your face a healthy lit-from-within glow if applied sparingly. You can certainly build it up and use it as a highlighter, but I love the way it sets my make up, gives me a little fresh glow, and doesn't settle into fine lines.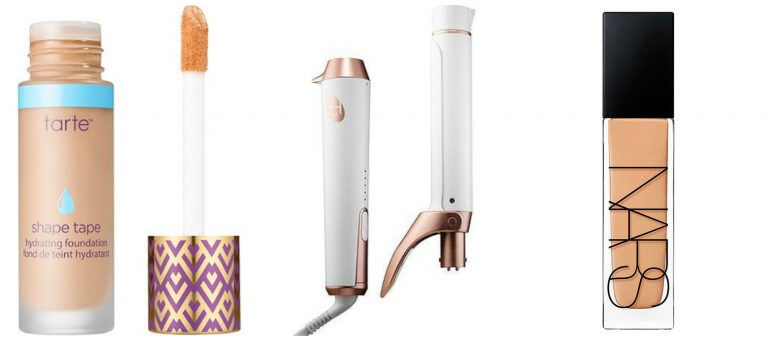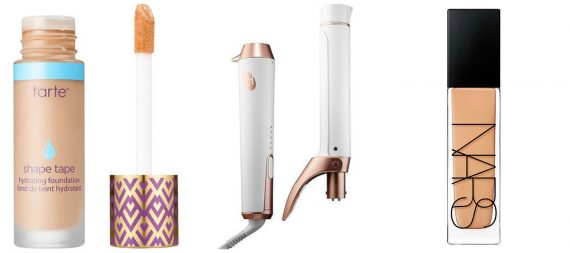 Tarte Shape Tape Hydrating Foundation / T3 1.25 Curling Iron / Nars Radiant Long Wear Foundation
Now these are all things I bought, but haven't tried long enough to give you my full opinion… BUT I'll keep you posted.
I LOVE Tarte Shape Tape concealer. I have been using exclusively it and loving it for a long time. So when I saw they came out with a Shape Tape foundation I knew I had to try it. They came out with 2 formulas, a matte full coverage, and a hydrating. I got the hydrating, which is more of a medium coverage. I've only tried it once, but I really like it for days when I want a more natural look! I'll keep you posted!
Now, I am not a good hairstylist. Actually I am awful. So the fact that I spent this much money on a curling iron gives me heart palpitations. BUT I have heard it's THE BEST. SO I am going to give it a go. And trust that if I don't like it, or don't see a huge difference, I WILL be returning this guy.
Finally I picked up the new NARS Radiant Long Wearing foundation purely out of curiosity. I've never had a foundation be long wearing AND a radiant finish…too good to be true? I'll let you know!


Patagonia Better Sweater / Levi's Wedgie Fit Jeans / Loafers
So this has basically been my uniform for the last 6 weeks. Every damn day. I can't help it.
I am not an outdoorsy person, but that Patagonia sweater-pullover thing is MY JAM. It's super warm, totally comfy and pretty cute in my opinion. I will definitely be getting another one in another color but the light gray one that I have is great! Also, I ordered up a size, they run a little small IMO.
The Levi's Wedgie fit Straight jeans (in the color Before Dawn) haven't come off my body in almost a month. I am not proud. But let me discuss…these might not be for everyone. I am definitely a "pear" shaped body type. My waist is small, my hips are larger. I typically only go for jeans that double as pajamas…so the fact that these are 100% cotton SCARED THE LIVING CRAP OUT OF ME. But GIRLLLLLL. I am obsessed. I guess I forgot what wearing actual jeans felt like. Yes, they take a minute to break in…but once you do…yep. These are high waisted for sure. And I will say order true to size, because they will stretch a bit while you wear them. But I just think they are adorable. Read the reviews on them if you are interested, but like I said, I seriously haven't taken them off for 4 weeks. I'm gross.
And the loafers. Go ahead a roll your eyes. I seriously agree with you. If you ever told me that I would own a pair of Gucci loafers I would call you a fat liar. But I bought my first (and only) pair last year on a day when only retail therapy was getting me though. I immediately had buyers remorse because HOLY BLEEP they're expensive. But I will tell you, that once I got them and put them on I knew I loved them and as much as it pained me, I wouldn't be returning them. The leather is like BUTTER. And like I said, the sweater, the jeans and the loafers have been my January uniform. BUT if you like the look and don't want to be an idiot and spend that kind of money on shoes (I GET IT) I know Target has a pretty adorable pair that look almost exactly the same. I can't tell you if they're comfy or not, but for the price difference, it's worth a shot!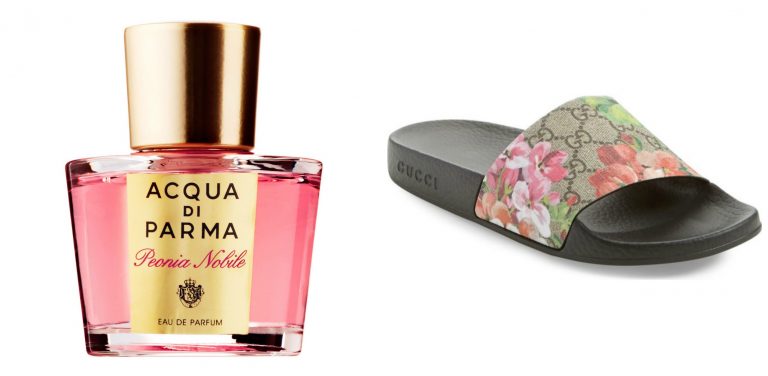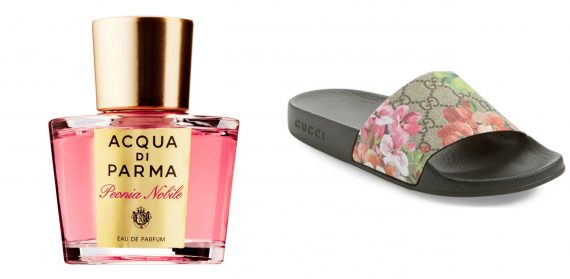 Aqua Di Parma Peonia Nobile / Gucci Slides
Speaking of expensive things…
I haven't bought either of these BUT I WANT THEM!!!
No, I do not need yet ANOTHER PERFUME. I currently have at least 20 bottles in my bathroom. But I smelled this when I was in Disney last December and have been thinking about it ever since. It's a GORGEOUS scent!
And finally NO I DO NOT NEED $300+ SLIDES. BUT I WANT THEM!!
Wishful thinking on both…. tell me I don't need them. PLEASE TELL ME!
Anyhow, hope you've liked all the consumerism happening here. My wallet is definitely locked up for a bit… but tell me what you're loving lately…I might be able to break into that lock!
xo
**This post is not sponsored, however, it does include some affiliate links, which doesn't cost you a thing!