I'm taking a food break today to share some of my Winter Favorites!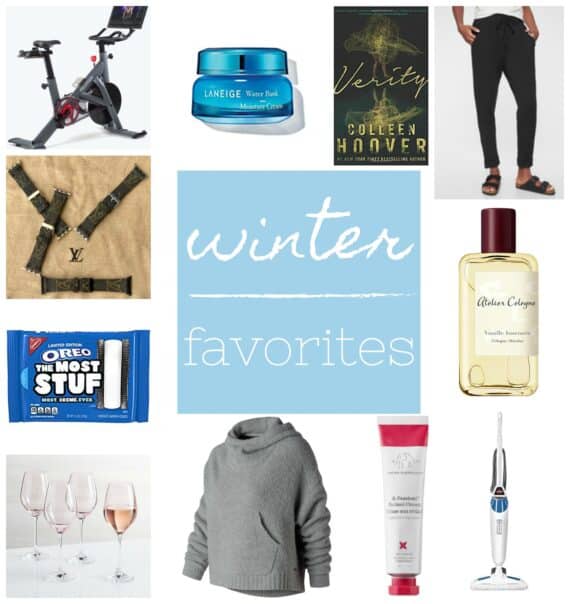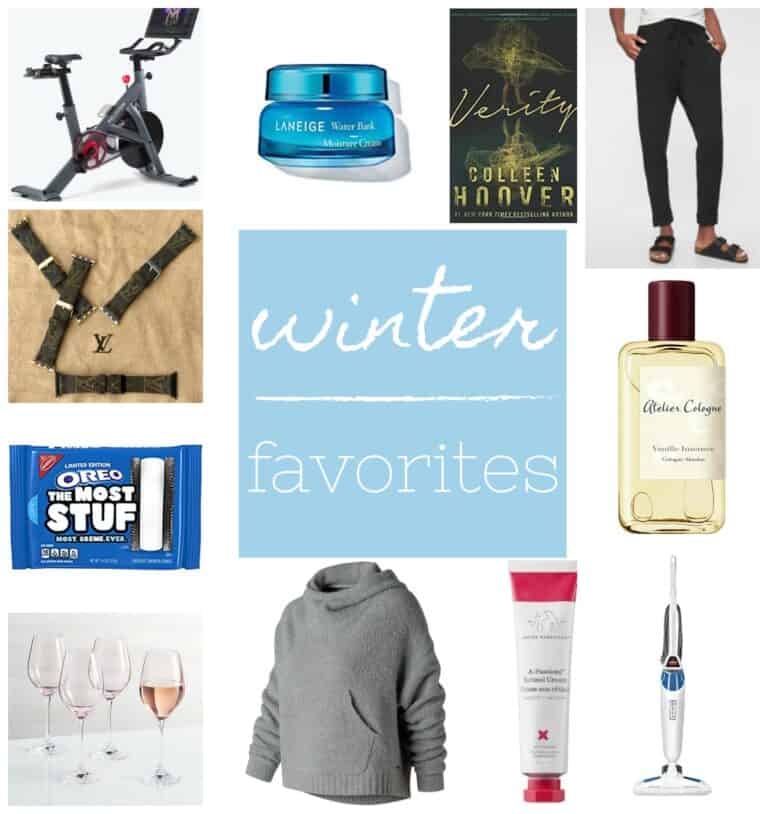 So January was the longest month to ever happen, and February is definitely the shortest, both literally and figuratively. I've taken a break sharing my monthly favorites with you guys since November, mostly because I've been lazy about it, but also because I do share favorites every week in my newsletter! Do you subscribe? If not, you totally should. My newsletter is a weekly recap of what's new on the blog, a favorite recipe from the past, some favorite finds I'm loving, and a little peek into stuff I've been doing in my real life over the week! The sign up box is on my homepage right below the most recent recipe!
ANYWAY, I've basically wanted to stay as cozy as possible the past few months, so there is a lot of elastic coming at you…
These joggers have been on permanent rotation since I got them. I got a size Petite Medium, but ended needing a Petite Small, since they definitely run a little big. I'm 5'2″ and they're the perfect length on me. and OMG THEY ARE SO SOFT you will never want to wear anything else ever!
And I have mentioned this so many times on my Instagram Stories AND in my newsletter, but I have been wearing it constantly. It's the ultimate cozy…and warm!
I bought these (crazy expensive) sneakers back in October for myself to celebrate when I hit 100k on Instagram. I will tell you I love them SO MUCH MORE than I ever thought I would love a sneaker. I wear them all the time, like basically everyday. I mean, I need to, to get my money's worth, but I will tell you they are my absolute favorite "cute" looking sneak!
BUT if you're looking for something a little less expensive but OMG COMFY, get these. I bought a pair back in July and they have become my go-to shoe when I want to be comfortable. Plus, I think they're super cute! I got my husband a pair too!
Also how freaking fun is this Apple Watch strap? Like I feel like I might need to get one!
I've been eyeing this pullover for a few weeks! I want to get it, but ugh, so I really need another grey sweatshirt? Don't answer that!
Of course I had a few Beauty favorites from the past few months too! I've been using a lot of my tried and true favorites, but a few new purchases have been great!
This has been on my lips every single day since I bought it. I wear it day and night!!
Since I loved the lip mask so much, I decided to try this cream for my dry skin and omg I love it. It is a fantastic cream for the winter months, and I've been using it a lot bith day and night.
Speaking of night cream, I feel like I've finally found the retinol for me. After trying a few different retinol creams, after my dermatologist suggested I start using it, I couldn't find one that I liked. My skin never reacted well to any of them I tried until Drunk Elephant. I should have known because I love all my other Drunk Elephant products. I use it about 3 times a week at night and can definitely see a difference!
And this perfume is how I want to smell every single day of my life. It's like the PERFECT grown up vanilla, and I love it so much!
I picked up a few things I am loving for the house lately too. Nothing major, but a few things I can't imagine not having!
We're putting in a pool in our backyard, so we've had a construction site out back for a while now. The problem with that, is when my dogs go in and out they track dirt or mud on the wood floors. I got so tired of mopping it up, I picked up this and it's SO easy and exactly what I needed to keep the floors clean. Why have I not bought one of these earlier?!
Speaking of cleaning products I am obsessed with this for my counters. It smells so SO good, and I have since purchased like 7 other scents from this brand. LOVE!
It won't officially be rosé season for a few months, but that has never stopped me! I picked up these pretty pink wine glasses, now all I need are some warmer temps!
Also, buy these. Just do it.
And I think those Oreos were the reason I ended up finally pulling the trigger on my Peloton bike. I've been eyeing it for about 2 years and finally got it. We've had it for a few weeks now and I love it so much! Everyone in my family is really enjoying the bike, and I actually don't dread exercising…and if you know me, that's saying a lot!
I've read a bunch of books lately, nothing too life changing…AND I've watched a few docs on Netflix…
So there you have it! This is what I've been up to the last few months. I'm counting the days until we start to get warmer temps! March is always a tough one in NJ, because you think it should be warm, but it never is! I need to plan a vacation!
Hope you're having a great week!
xo
*this post contains affiliate links but isn't sponsored in anyway. I purchased all of these items on my own and these are my honest opinions.