A little break from recipes today with a short list of some things that I think would be a great gift for the mom in your life!!
If you missed my Quarantine Favorites post from last week, make sure to check it out for more gift ideas!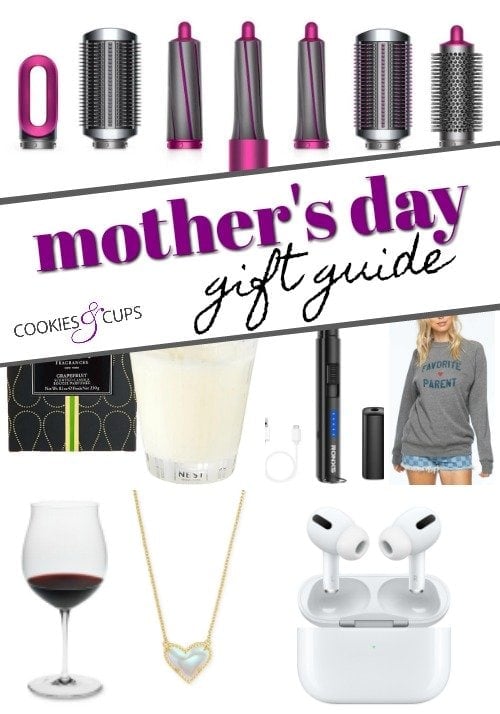 Hi friends!! Hope you are all doing well! We are currently going into our 7th week of being quarantined. It's gone by both slowly and quickly.
If you would have told me 7 weeks ago that I would have only left the house a handful of times in 7 weeks I wouldn't have believed you. But here we are. We're staying the course and doing what we need to do, so hopefully sooner rather than later it will be safe for us to resume a semi-normal life!
With all that said, looks like I will be spending my Mother's Day this year at home! Which is ok…we're usually at a soccer game on Mother's Day, and I do love that, but there's always next year!
Mother's Day Gift Guide!
I thought I would pop in with a few ideas of things that I am loving for Mother's Day Gift Ideas! It might be a tough year to think of things, since life is a little different right now, but here are a few things that I love!
I talked about THIS CANDLE in my Quarantine Favorites, but it's SO good I wanted to repeat it here on this list too. It's a little spendy, which makes it a perfect gift for Mother's Day. It's something your mom might not buy for herself, but sure would be happy to receive!
And with that candle can I just talk about how OBSESSED I am with my little USB flameless lighter?? It's life changing, I promise you. You charge it and then you just press the button and a little current runs through that lights your candles. I bought mine about a year ago and love it so much! I'm telling you, it's the craziest little gadget that is so useful!
Ok, I know you're not supposed to get a lady a cleaning tool for her birthday or Mother's Day…or any gift giving situation. BUT I LOVE my steam mop so much. Maybe it's all the time I've been spending at home recently, but I have been using mine like crazy! I got it a year and a half ago-ish and it's one of the most satisfying cleaning tools I own!
If you have a larger budget, get the mom in your life the Dyson Air Wrap. I am telling you it is EVERYTHING. I mainly use the curling wands, so it's annoying you have to buy the whole kit, but it is BY FAR my favorite hair tool!!
THIS sweatshirt. It will be the hit of Mother's Day. There is a t-shirt version as well, but last time I checked it was sold out, which is a bummer!
I ALWAYS recommend this tote bag. ALWAYS.
If your mom has a green thumb, THIS is the move. I want one so bad, but I am quite certain I would kill it. OR just buy her some flowers, and have them shipped! THESE ARE GORGEOUS!
If you are a reality TV junkie, you MIGHT have seen the show Vanderpump Rules? No judgement. Just so happens that this week I was watching an episode and Lisa had THESE wine glasses and I.AM.OBSESSED. I googled it and figured it out thanks to THIS blog, which shows Lisa holding it. Now tell me that isn't the prettiest wine glass you ever saw.
If you're into home fragrance, but aren't a candle person, but aren't a oil diffuser person either, I got you. The Aera diffuser is absolutely amazing. I bought one last fall and it's been one of my most favorite things since. You can set the intensity, and a schedule through the app, and they have some pretty great scents! Their website has tons of scents, and right now I am loving Moondance and Curiosity!
With everyone home right now, mom will definitely appreciate the AirPods Pro. I have never been an AirPod gal, but I go the Pros for travel and am converted. They are SO convenient and the noise cancelling is AMAZING! 10/10 recommend. Plus, the charge lasts forever!
Hate leaving this list at 11, because it's such a weird number for list, but I wanted to include jewelry and thought this necklace was just too sweet.