This Pound Cake Trifle is an easy, impressive dessert that takes less than 30 minutes to prep and assemble. Layers of pound cake, lemon curd soaked berries, lemon cheesecake mousse, and whipped topping combine to make a dessert for any occasion.
Want to make your pound cake from scratch? My Classic Pound Cake recipe works great in this trifle! Only 4 ingredients!
This Pound Cake Trifle Is An Easy and Impressive Dessert!
If you're looking for a centerpiece of a dessert, I have the one for you. This Pound Cake Trifle is one of the easiest and prettiest desserts out there. It literally takes minutes to put together and is a great way to use up pound cake, or take a shortcut and buy a store bought cake! I used my Sour Cream Pound Cake Recipe in the photographed trifle, and it's absolutely delicious! AND I made my own homemade lemon curd as a bonus!
The recipe I'm sharing today is layers of Sour Cream Pound Cake, lemon cheesecake mousse, lemon curd soaked berries, and whipped topping. Basically Spring in a trifle dish!
You can get creative with your layers, adding fruits you prefer, or flavored custards or fillings. This is a recipe that can be made 100% homemade, or made with store-bought ingredients…OR a combination of the two!
Tip From Shelly…
Don't get too hung up on creating perfect layers, or making sure everything is even. The beauty of a trifle is how imperfect it appears. You can make it with 3 layers or 6 layers…it's completely up to you!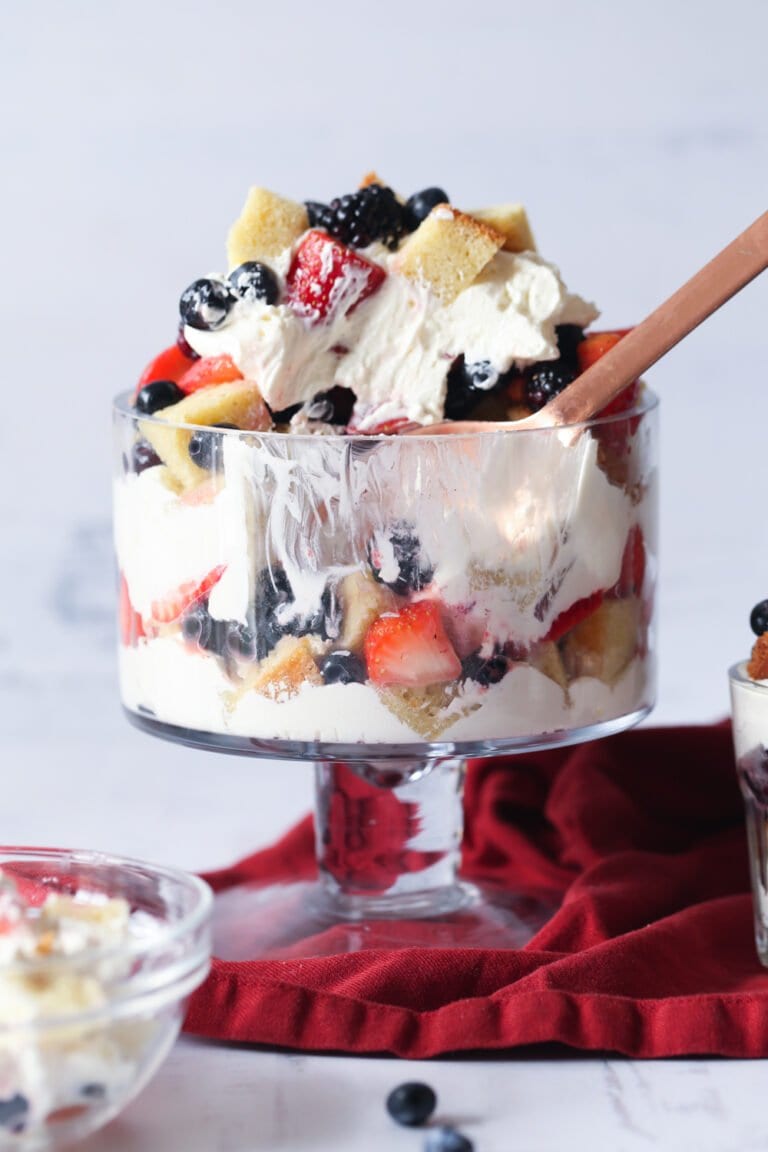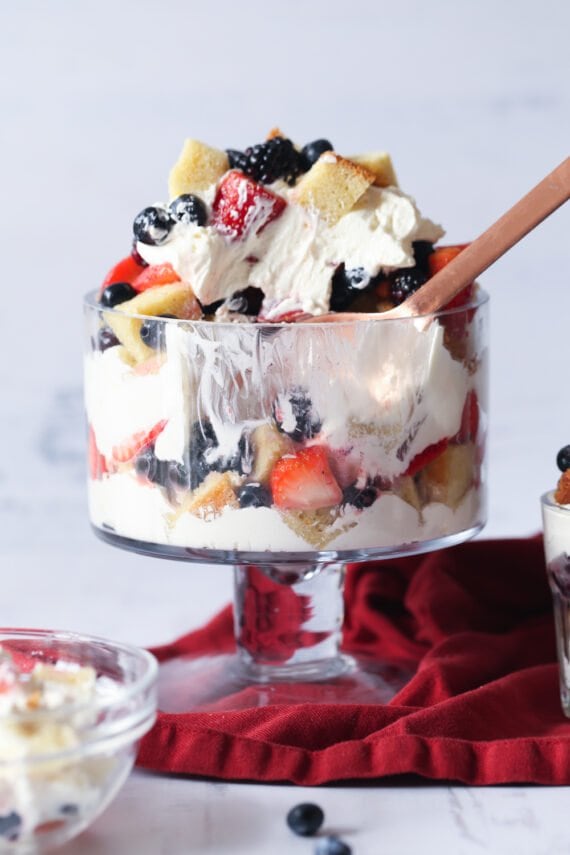 What Kind Of Cake Can You Use?
I like to make my trifle with pound cake. I feel like pound cake is sturdy and holds up well to the moisture the berries release without getting soggy! You can get creative with the pound cake you use in a trifle, depending on the favor you are going for. Of course you can buy a pre-made pound cake, but if you're looking to start from scratch here are some great pound cake recipes: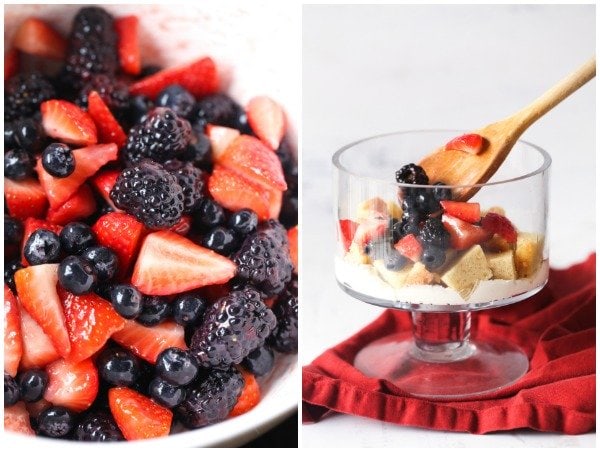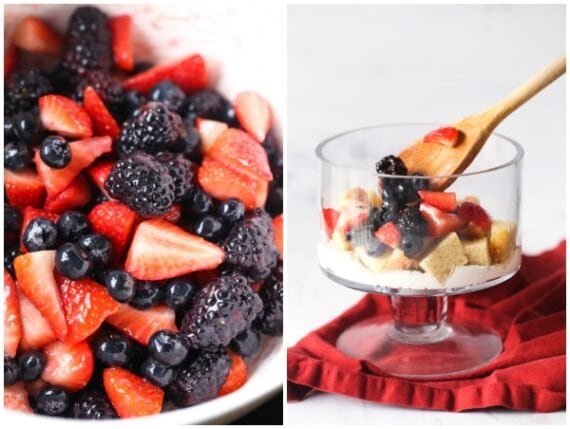 How To Assemble a Trifle
Well, it's pretty easy! All you do is grab a deep dish and evenly layer your ingredients in this order:
Mousse or custard
Cake
Berries
Repeat 2 or 3 times…
Top with whipped topping!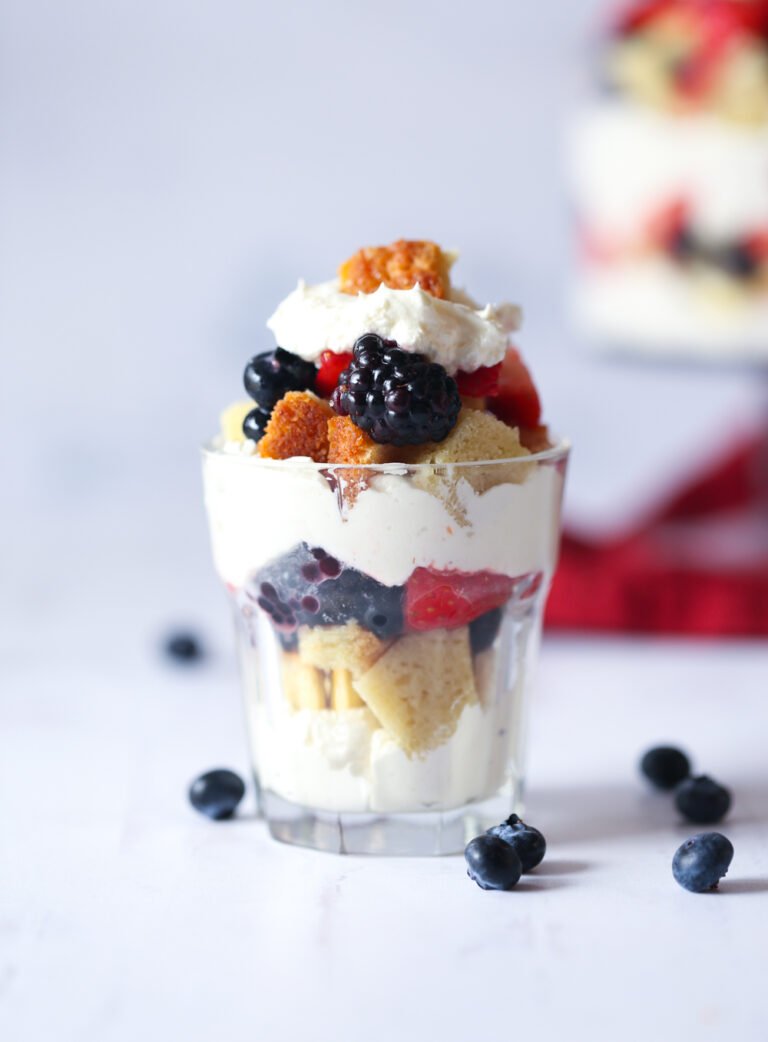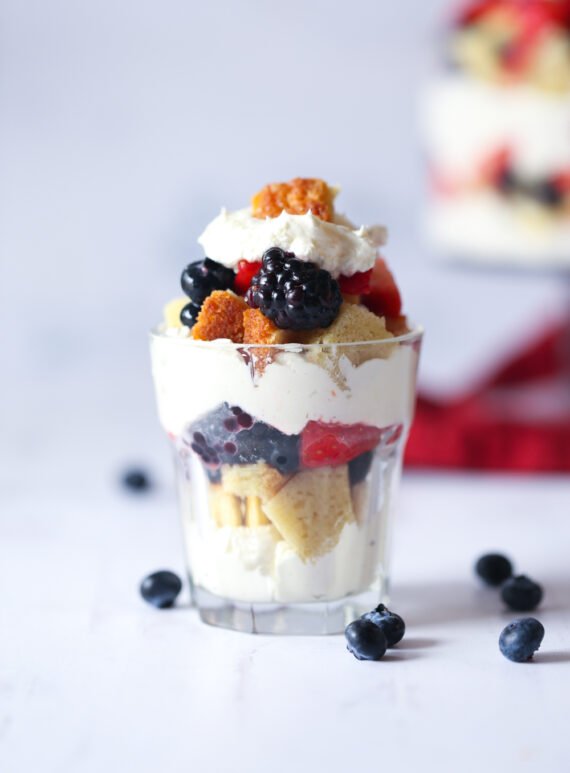 What Kind Of Dish Do You Need For A Trifle?
You can really use just about any deep dish for a trifle, BUT it's such a pretty dessert that a glass dish will really show off the gorgeous layers. Here's the 9- inch Trifle Dish I have. The depth of the dish will affect how many layers your trifle will be!
A tall skinny dish = more pretty layers.
A short wide dish = easier to serve
Individual jars = cute desserts for a party
What If You Don't Have A Trifle Dish?
NO problem! Here are some dishes that can do double duty for you trifle:
A large mixing bowl
A cookie jar
A large straight-sided vase
A punch bowl
How Far In Advance Can You Make A Trifle?
I recommend giving your trifle an overnight in the refrigerator. BUT no longer than 2 days.
If you're running low on time, I would give it at the very least an hour before serving so you give the juices from the berries some time to absorb into the cake. This brings all the flavors together and will be more cohesive.
Of course if you eat it right away it will be fine, but allowing it time to set in the refrigerator is really where the magic happens.
Will This Trifle Get Soggy Overnight?
Nope! I mean, yes the cake will absorb the juices and soften, but I wouldn't use the word "soggy". Although, if your trifle sits too many days in the refrigerator the cake will get soggy. Pound cake helps here, as it is dense and sturdy, but if you choose to use a sponge cake or traditional cake it will tend to get a little mushy. But just note, if you are using cake lighter in texture just don't let it sit as long before serving!
Switch Up the Ingredients In This Pound Cake Trifle!
In my trifle recipe I use a lemon cheesecake mousse, a combination of mixed berries, pound cake, and whipped topping. And while this is a fantastic combo, and my favorite type of trifle recipe, don't feel limited to this. Here are some ideas of how to switch up your flavors:
Use a flavored pound cake, like Strawberry or Lemon!
Make pudding or custard instead of the cheesecake mousse. You can use a boxed pudding mix for ease, and they make so many flavors you can get creative. You will need at least 8 servings of pudding.
Skip the berries and use another type of fruit. You can even use canned pie filling in a pinch. My mom used to make a trifle with cherry pie filling and it was delicious.
Use homemade whipped cream instead of whipped topping (Cool Whip). I like using whipped topping in my trifles because it is a little sturdier than homemade whipped cream, but that's a personal preference.
Add in some crunch! Granola, crushed cookies, or chocolate chips are an easy way to add a little texture into your trifle.
Instead of cake use lady fingers!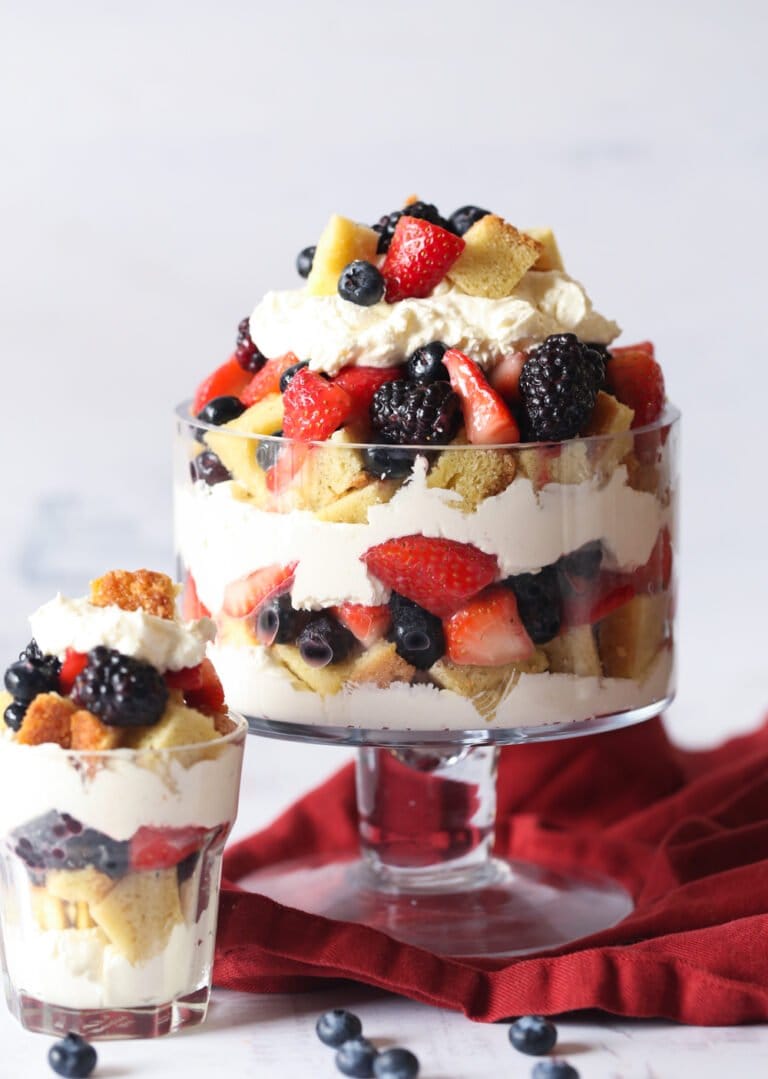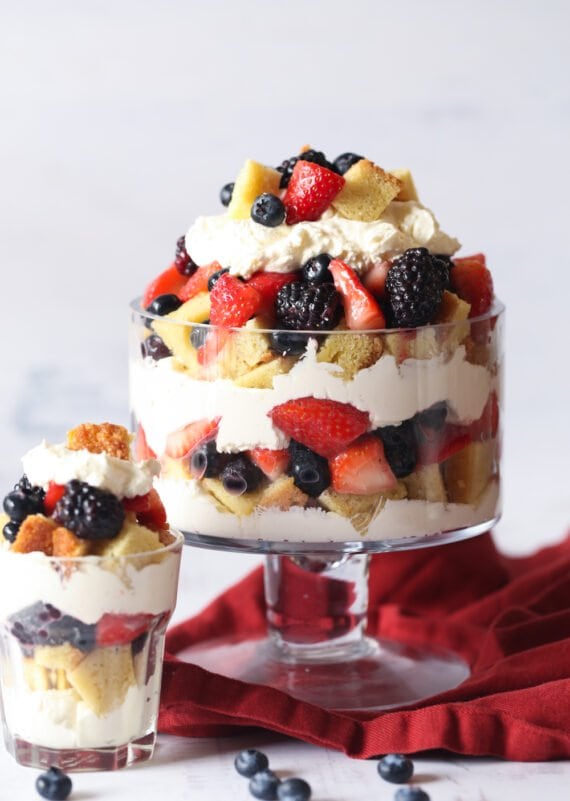 Print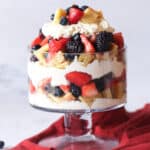 Pound Cake Trifle
Author:

Prep Time:

20 minutes

Total Time:

20 minutes

Yield:

serves 8

Category:

Trifle

Method:

No Bake

Cuisine:

Dessert
---
Description
This Trifle Recipe looks fancy, but is incredibly easy to assemble. Use a store-bought pound cake or make one from scratch! This is also an easy way to use leftover pound cake!
---
6 cups

fresh mixed berries

1/2 cup

+

1 tablespoon

lemon curd, divided

8

– ounces cream cheese, room temperature

8

– ounces whipped topped, thawed

8 cups

cubed pound cake
extra whipped topping or whipped cream for garnish
---
Instructions
In a large bowl combine the berries and 1 tablespoon of lemon curd. Stir gently to coat and set aside.
In the bowl of your stand mixer fitted with the paddle attachment mix the cream cheese and lemon curd on medium speed until creamy. Turn the mixer to low and add in the whipped topping, mixing until almost combined. Turn the mixer off and using a rubber spatula stir the mixture by hand until combined.
In your trifle dish layer spoon a layer of the cream cheese mixture on the bottom. Top with pound cake and then berries. Repeat these layers until you fill your dish, topping with more whipped topping if desired.
Cover and refrigerate for 4 hours or overnight.
---
Notes
8 cups of cubed pound cake is roughly 1 pound cake baked in a loaf pan or half of a pound cake baked in a 10-cup bundt pan.
Store the trifle assembled airtight in the refrigerator for up to 2 days.
Keywords: cookies and cups, pound cake trifle, trifle recipe, how to make a trifle, berry trifle, english trifle, trifle dish
Want To Save This Recipe?
Find more recipes like this:
PIN for later: