HEY!! Here we are, another month in the books! Today we're talking about my April Favorites…things I was loving all through the month…AND a few things I did NOT love!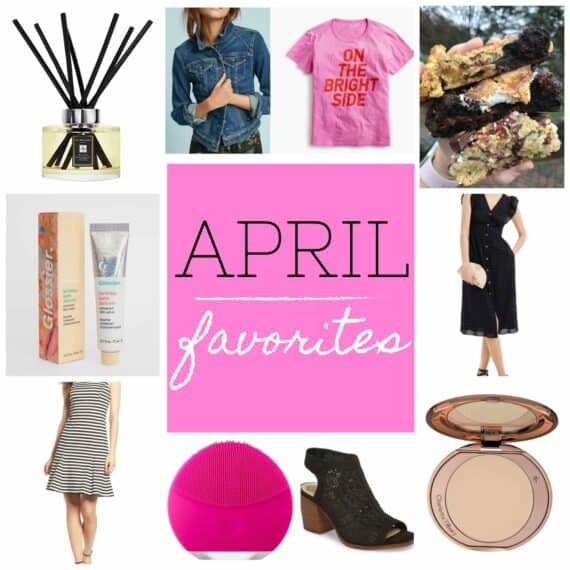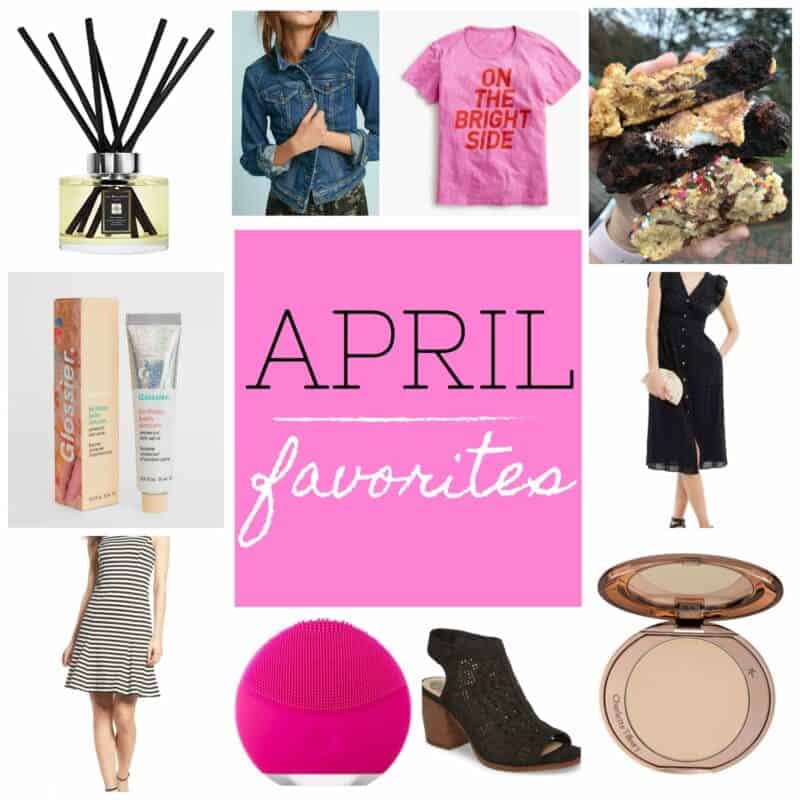 I don't know about you, but April literally flew by. Every other month so far of 2018 has dragged on foreverrrr, but I feel like I blinked and April was over. WHICH is part of the reason it's May 7th and I'm just not getting my favorites list up!
I have really been loving putting these things together every month with my (mostly) non-food related stuff…do you like these kind of posts? Also, I feel like asking that question is annoying and desperate, but I really want to know what you think!
ANYWAYYYYY…. let's just get to it.
April was the month of the cookie for me. In case you missed it, I taste tested TONS of cookies that I had shipped to me from all across the US, and chose ONE bakery as the best. And it's a good one, you guys. The whole process was a really standout, fun moment in April. If you missed the post check it out HERE.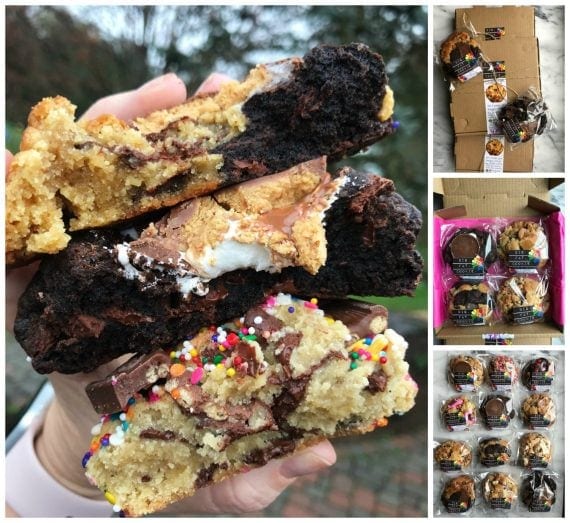 April also was the month of Sephora's semi-annual VIB sale…again, another highlight. If you missed the post, check it out HERE.
And while we're talking about beauty stuff…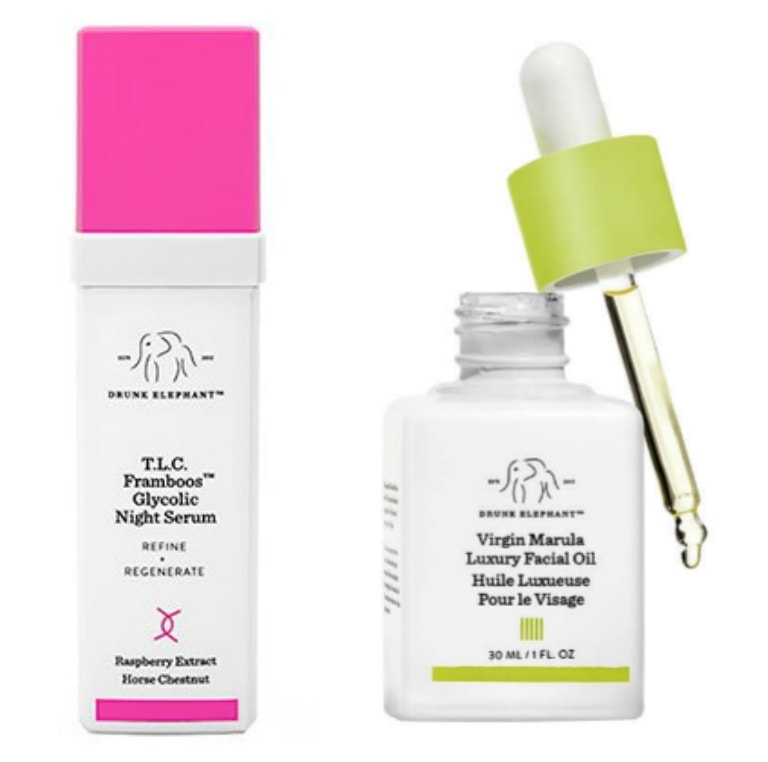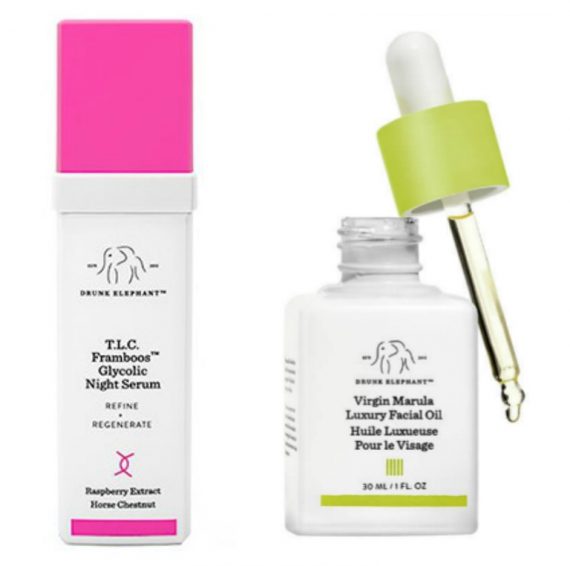 T.L.C Framboos Glycolic Night Serum / Virgin Marula Oil
I am still LOVING my Drunk Elephant Marula Oil. I feel like I sound like a broken record at this point, it's just that good. BUT WAIT THERE'S MORE…in my Sephora haul I got the Drunk Elephant Glycolic Night Serum and that paired with the Marula Oil is EVERYTHING. My skin has literally never felt softer and smoother. This combo is a AMAZING for texture. They actually recommend pairing them together, so I didn't discover that on my own, but now that I've tried it, I know it will be my holy grail night routine for a long time.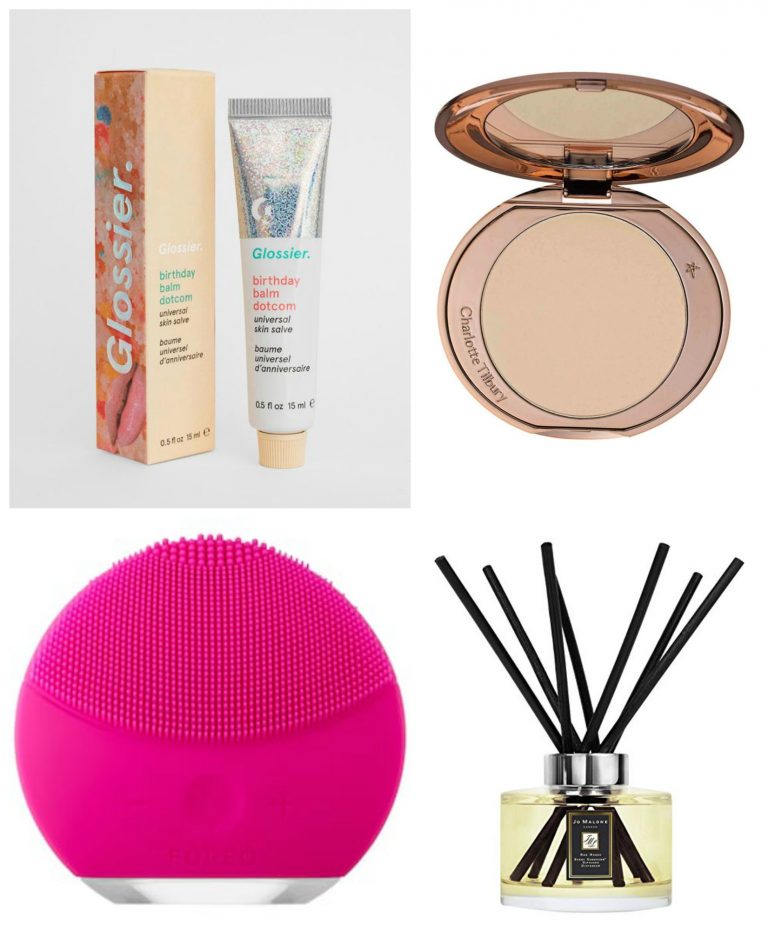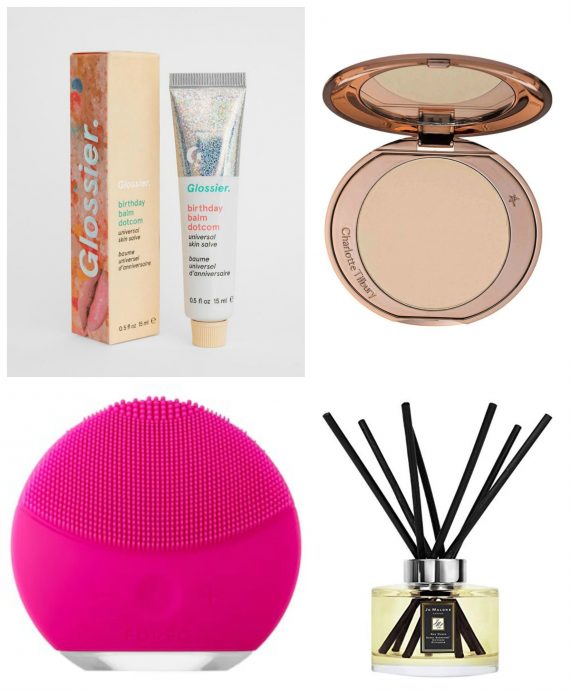 Glossier BalmDotcom / Charlotte Tillbury Airbrush Flawless Finish Micro-Powder / Foreo / Jo Malone Red Roses Reed Diffuser
Also, I am late to the party, but I just discovered Glossier's Balm Dotcom. It's GOOD! It's a super emollient lip balm that goes on smooth and really hydrates! Plus, I'll be honest, the reason I tried it was because one of the flavors is called Birthday and it smells like cake. It has a teeny-tiny amount of shimmer to it also. Loving it!
And I am not a huge powder girl, although I try and try and TRY. I have dry skin, and powder just always seems to make me look like the Crypt Keeper. I love my Hourglass Ambient Lighting Palette to set my face make up, but I had yet to find a great powder to set my under eyes. UNTIL NOW. OMG the Charlotte Tillbury Airbrush Micro-Powder is SO GOOD. It's so finely milled, goes on smooth, and doesn't make my under eye skin look wrinkly. I have tried it all over my face, and it's great for that as well, I just prefer a glowy powder, like the Hourglass for my face. But the Charlotte Tillbury is everything I have ever wanted to set my under eye concealer. FYI, I apply it with my damp beauty blender.
I picked up the Foreo on a whim when I was at Ulta last month and I will tell you, it is fantastic. I have been a Clarisonic user for YEARS, and I am fully ready to ditch it. The Clarisonic has never been my most favorite thing, but I have it, and I use it. But when I tried the Foreo, purely due to curiosity, I was instantly in love. First off, it will hold a single charge for like 5 months (it claims). And I have had it for about a month now and haven't had to recharge it. For anyone who has a Clarisonic, you know 5 months is awesome, because my Clarisonic battery lasts usually 2-3 weeks, and takes…wait for it…18 HOURS to fully charge. I am NOT kidding, it's AWFUL. The Foreo is super gentle, but cleans my skin amazingly well. I am loving it BIG TIME.
I splurged and bought a Jo Malone Reed Diffuser during the VIB sale and I am obsessed with it. I got the Red Roses scent and it's SO nice, and by far the best reed diffuser I have ever had. The smell is strong enough to fill a room, but not overpowering. I am definitely going to be getting another one…or two.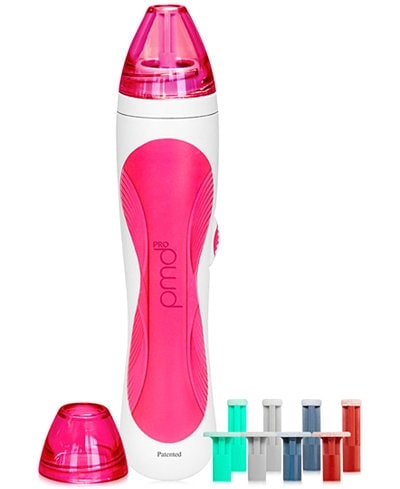 Now, this is something that I don't HAVE… but this whole month I have been on the fence about getting it…It's the PMD Personal Microdermabrasion kit. PLEASE…if you have it, or something like it, let me know what you think! I have been watching review videos like crazy…do I need it??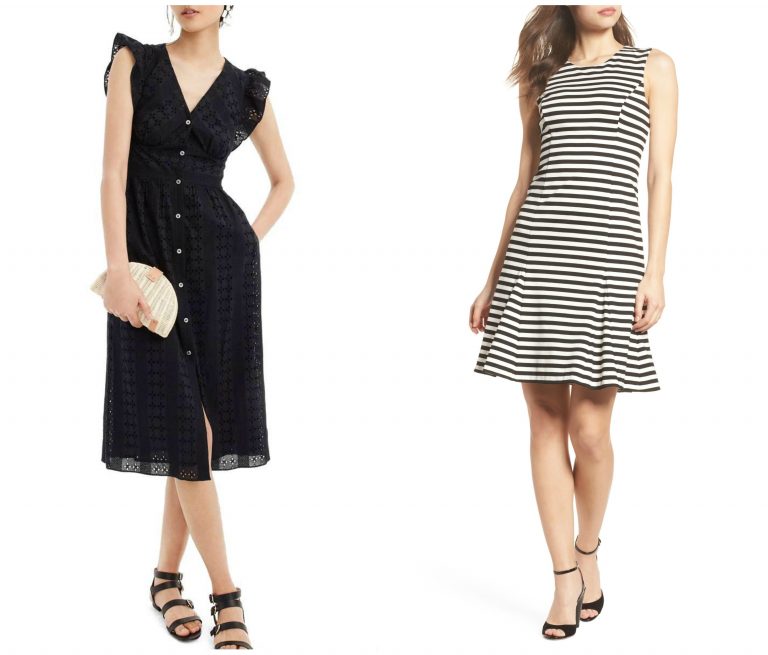 J Crew Eyelet Ruffle Dress / Vince Camuto Fit and Flare Dress
I have had a few events this past month that I attended, and I decided I needed some new dresses. This sent me down a rabbit hole of online dress shopping. I'm not sure if it's because I am craving warmer weather, or if brands are just nailing their dress styles this year, but I want so many! I ended up buying the J Crew Ruffle Sleeve Eyelet Dress and I love it so much. It's super flattering and easy to wear. Plus, I am loving the midi-length SO so much!
AND I picked up the striped Vince Camuto Fit and Flare dress, which looks very simple, but looks great on! The material is a thick knit type and is comfortable!
I paired both of these dresses with my favorite denim jacket to dress them down a little bit…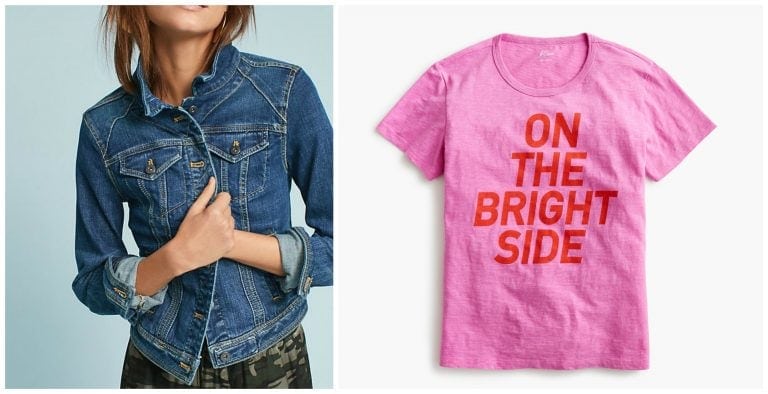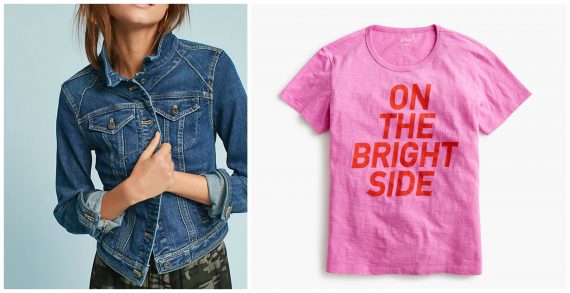 Pilcro Denim Jacket / J Crew Tee
I bought that denim jacket 2 years ago, and it's still my most favorite. It's a classic style, stretchy, and fits perfect without being boxy. So glad it's still available years later…I guess it's a best seller!
AND if you know me, you know I love a graphic tee…preferably with something written on it. It's pretty much all I wear. ANYWAY…loving this On the Bright Side tee from JCrew so much. The color combo is adorable.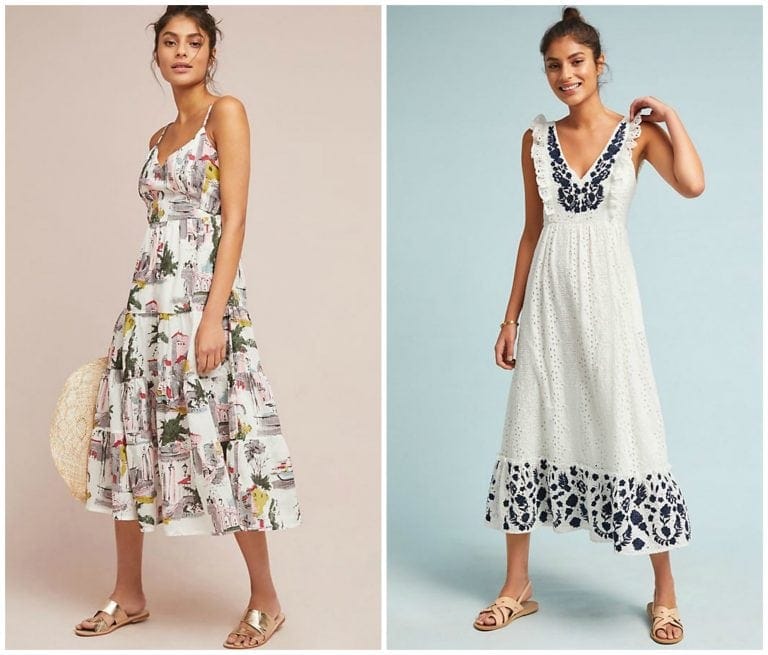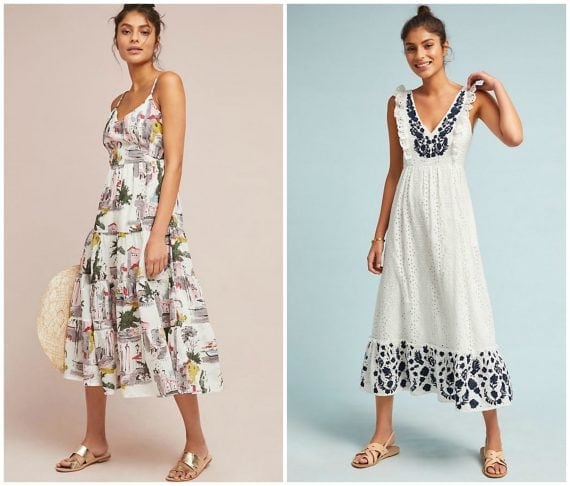 City Scape Dress / Embroidered Eyelet Midi Dress
And while we're talking about clothes and dresses…here are two that I want so much! They're both from Anthropologie (ie expensive), but how cute and summery are they?? Do I need them? BOTH?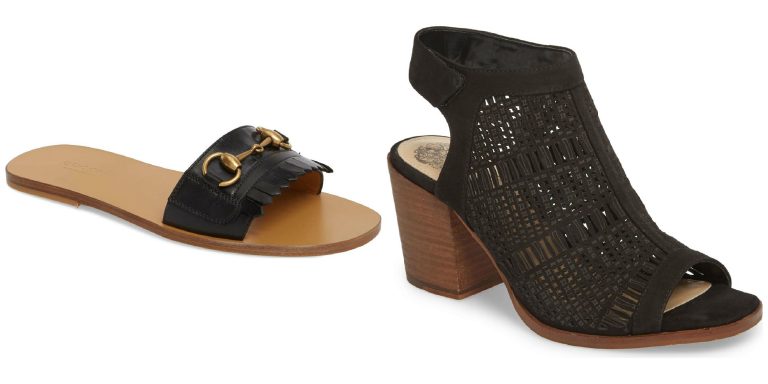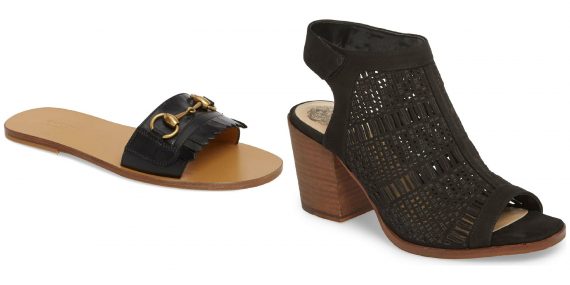 Gucci Fringe Slides / Vince Camuto Sandal Bootie
I went to Nordstrom last week and splurged. BIG TIME.
I bought myself these Gucci Fringe Slides and immediately had buyer's remorse. BUT THEY'RE SO CUTE. I wear my Pursuit Slides all the time, like ALL the time, so I figured the Fringe Slides were a kind-of dressier version of those. UGH. I'm a mess. But I will tell you, I love them so much. Like SO much. I mean there is zero support in these, but that doesn't bother me at all. I am living for them right now with distressed jeans. The leather gets softer the more you wear them, and they have the Gucci horsebit hardware. Please don't judge me.
And on a more moderate note, I also picked up these Vince Camuto Sandal booties that are ADORABLE. I will tell you, I have seen these booties online and never really liked them, but when I was in Nordstrom I decided to try them on, because I have a dress they would look so cute with…and I was BLOWN away at how cute and comfy they are when you put them on! The cut is flattering somehow, and the stacked heel is high enough to elongate your leg, but short enough that you could wear these all day. LOVE them!
And lastly I want to share 2 things that ABSOLUTELY did NOT like.
I know this is a favorites post, but I talked about both of these products either here on the blog, or on Instagram and I wanted to give you an update if I really didn't end up loving something…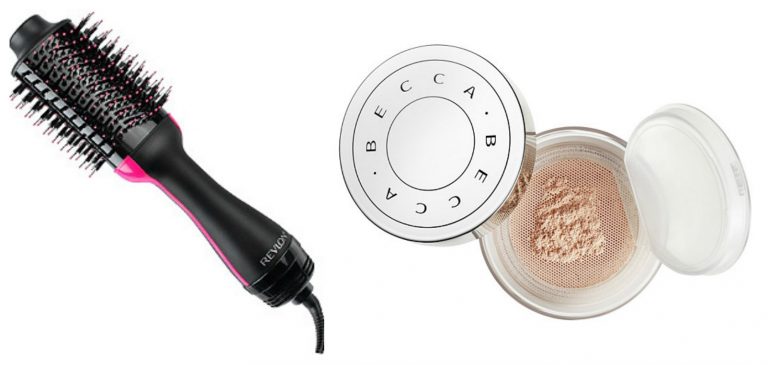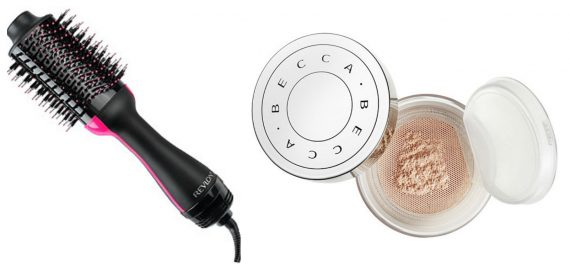 Revlon One-Step Blow Dryer and Volumizer / Becca Hydra-Mist Set & Refresh Powder
Ok, let's start with the Revlon blow dry thing. I have heard RAVE reviews on this from multiple people. With that said, I am sure their hair type is different than mine, so let's start there. I have a decent amount of finer, curly/frizzy hair. I always blow my hair dry with my favorite BaByliss Pro Dryer. I have used this hair dryer for YEARS. I love it. And I always use a CHI Ceramic Round Brush when I dry my hair to help straighten and give volume. I am by NO means a hair expert…but I do know this combo is really what works for me so my hair isn't a frizzy mess. Because it's that annoying curly hair, that doesn't look great curly anymore (thanks babies), but loves to frizz and expand if there is any amount of humidity in the air.
ANYWAY, I watched videos and reviews of the Revlon one-step and they SWORE it would smooth, straighten and give volume all in one step. So I bought it.
I will say, it's not AWFUL. It just doesn't smooth my hair. It does give volume, which is nice, so if you have hair that doesn't need extra smoothing, this might be for you. I didn't find that it dried my hair any faster, after using it multiple times. I just ended up with puffy/straight hair that desperately needed a flat iron. I am super bummed, because I wanted it to work, but I think for me, I will always need a ceramic brush, along with a hot and powerful hair dryer to really smooth it out.
Next up the Becca Hydra-Mist Powder. I am so very sad about this powder. I thought this might be my new face setting powder. It contains 50% water and feels WET when you apply it. It's really cool, and I definitely recommend trying it out. BUT for me, after the initial wet/cool application, it was just another powder. My skin looked really powdery/dry after a few hours of wear, which is pretty typical for me with most loose, setting powders.
If your skin isn't extra dry, I am sure this would probably be great. The reviews are fantastic. BUT it just didn't work for me, womp womp.
Well alright! There we are…my favorites from the month of April and a few things I didn't love.
May is turning out to be a great month so far, if the weather here in NJ would just stay warm for more than 4 hours at a time!
I'd love to hear if there's anything you're loving lately. Have a great week!
*As always, this post contains affiliate links, but is in no way sponsored. I bought everything here with my own money. Anything I earn via affiliate links goes to support my online shopping addiction. xo