Attention makeup junkies! We're taking a break from our regularly scheduled recipe today, and talking SEPHORA, my home away from home. If you follow me on Instagram, you know that I regularly do make up hauls, purges, and reviews over there…anyhow Sephora does their VIB sale a few times a year, which is basically the only real store-wide sale they have…so it's time to take advantage!
So many of you guys ask me makeup/skin care questions. I certainly am not a professional, but I try a LOT of products and love to talk all things beauty related. AND since Sephora only does their VIB sale a few times a year, I love to take advantage of it and buy some of the things I have been wanting. So today I am going to share with you some of my personal recommendations, as well as some things that I currently have in my online cart, that I plan on getting during the sale!
The sale dates go like this:
VIB ROUGE members get 15% off from April 13 – April 16th and April 20 – April 23 using the promo code: YAYROUGE (Also Rouge members can bring a friend with them on the 13th and extend the discount, which is fun).
VIB members get 15% off from April 20 – April 23 using the promo code: YAYVIB
BEAUTY INSIDERS get 10% off from April 20 – April 23 using the promo code: YAYINSIDER
Your status of VIB ROUGE vs VIB vs INSIDER basically depends on how much money you spend over the year at Sephora. If you spend over $1000 a year you qualify as VIB ROUGE. If you spend over $350 a year you qualify as VIB. INSIDERS spend less than $350 a year. Make sense?
A few annoying items to note, though, is during the sale you are limited to one Drunk Elephant Product, and one Dyson product per transaction. I have a few Drunk Elephant products on my list, but if you are new to the brand I HIGHLY recommend you use your one product on a sampler set like THIS ONE. This way you can try them all, while still getting the sale!
Ok, now that we have that out of the way, let's get started!!!
I'm not going to go into huge detail about all the products that I'm listing…this post would be CRAZY long! If you have any questions about anything, just leave me a comment below and we'll chat!
Up first skincare: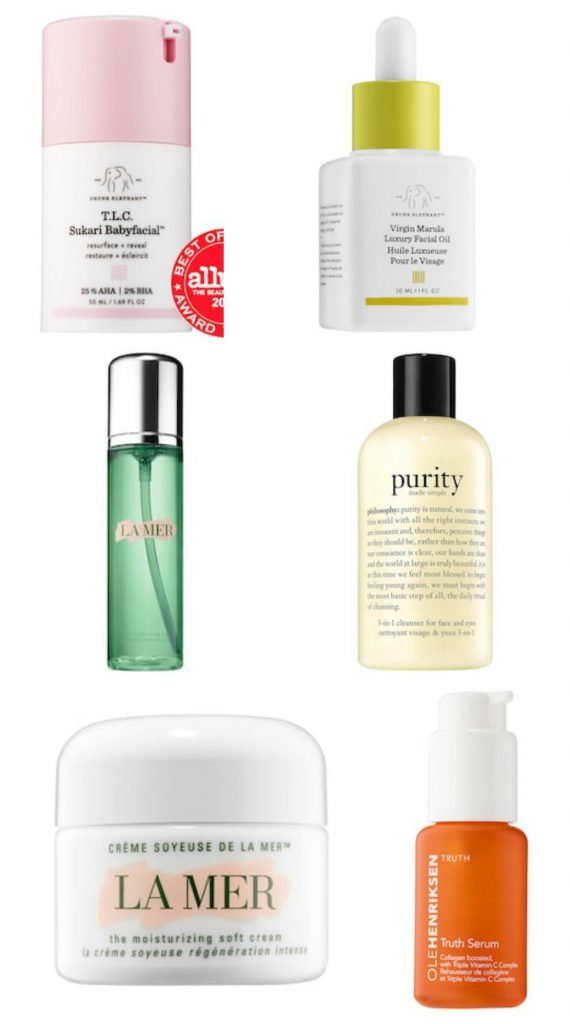 TLC Sukari Baby Facial / Drunk Elephant Marula Oil / La Mer Cleansing Gel / Philosophy Purity Cleanser / La Mer The Moisturizing Soft Cream / Ole Henricksen Truth Serum
Skin care has always been an obsession of mine. I completely remember when it all started…I was in the summer after my 11th grade year and I noticed I had drier patches on my face and my makeup didn't really look great on top of it. My grandma was my beauty guru and set me up on a skincare regime that I basically follow to this day, except back then it was Ponds Cold Cream, Neutrogena face soap, and Almay moisturizer. Today the products I use are a little pricier, but as I've gotten older, I enjoy splurging a little. A few of the products I listed (cough cough La Mer) are VERY expensive. I understand. But please note, that I have repurchased both La Mer products over 5 times each. They have been staples in my skincare regimen for 3-4 years and I don't see that changing soon. The La Mer cleansing gel is PERFECT for my skin. It leaves it super clean and balanced without being dry. I included the Philosophy Purity cleanser as well because I used that for so many years and still love it and it's a better price point. But I still love my La Mer. Also, FYI – I have tried the entire La Mer line, and the soft cream (omg it's amazing) and the cleanser are the two stand-out products in my opinion.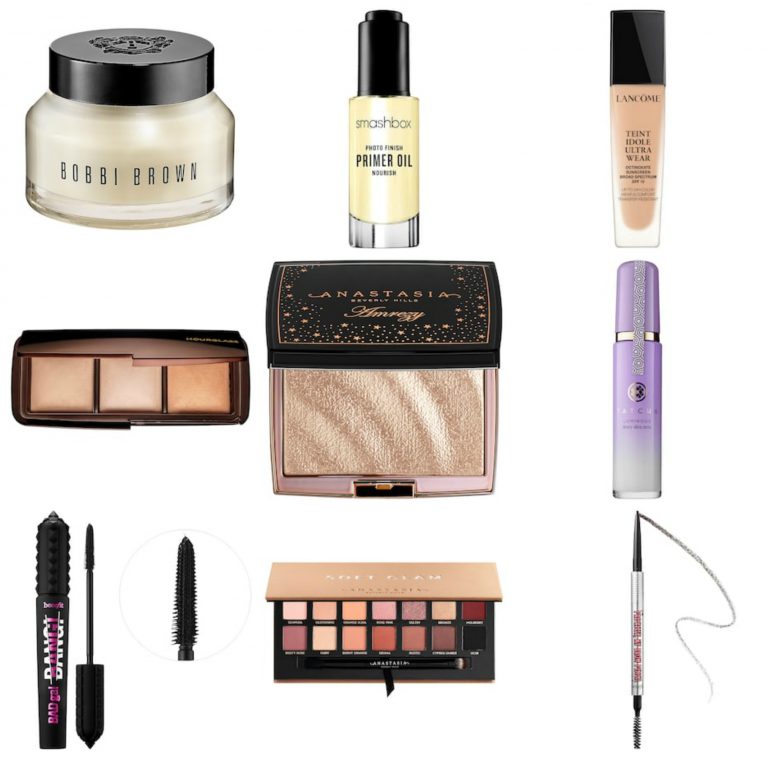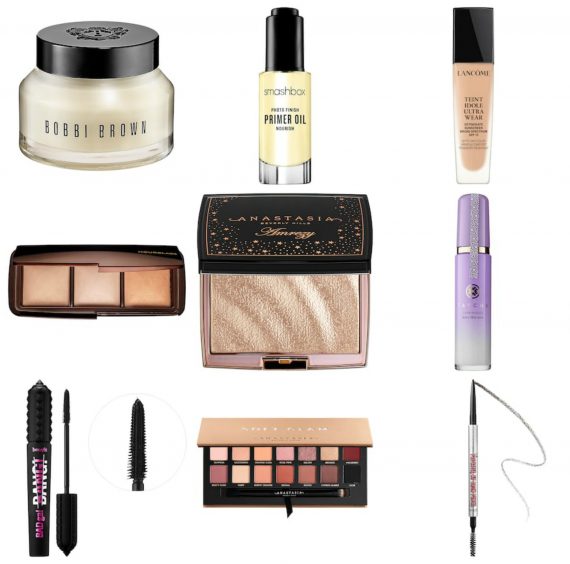 Bobbi Brown Vitamin Enriched Face Base / Smashbox Primer Oil / Lancome Teint Idole Ultra Long Wear Foundation / Hourglass Ambient Lighting Palette / Anastasia Beverly Hills Amrezy Highlighter / Tatcha Luminous Skin Dewy Mist / BadGal Bang Mascara / Anastasia Beverly Hills Soft Glam Eyeshadow Palette / Benefit Precisely My Brow Pencil
This is all my face makeup that I am currently using and LOVE. I am a medium to full coverage foundation gal, but with dry skin I have to make sure that I prep my skin. Full coverage/long wear foundations have a tendency to be more matte and can sink into fine lines making your skin look old. The trick I have found is to moisturize your skin well. After washing and moisturizing my face, I add a layer of the Bobbi Brown Face Base all over, and then a few drops of the Smashbox primer oil in my extra dry spot. THEN I use a beauty sponge to apply my Lancome foundation. This routine really leaves me with a flawless finish that lasts all day. I also use the Tatcha spray to set my make up and then as a refresher throughout the day if I need it!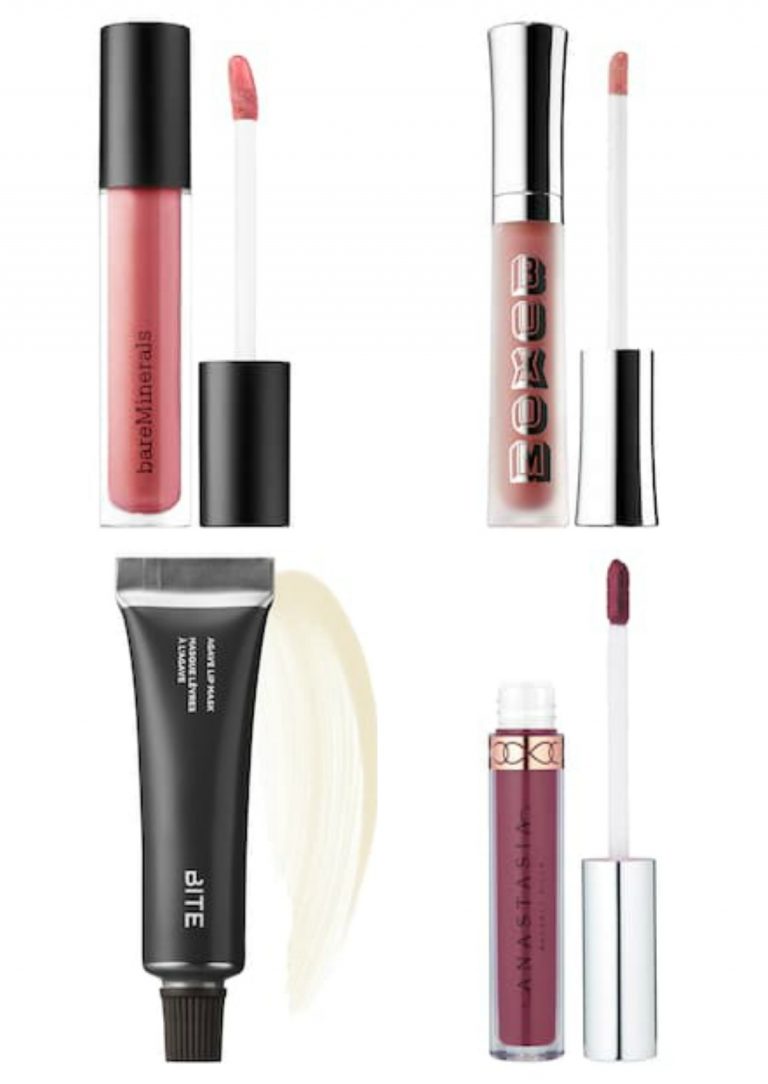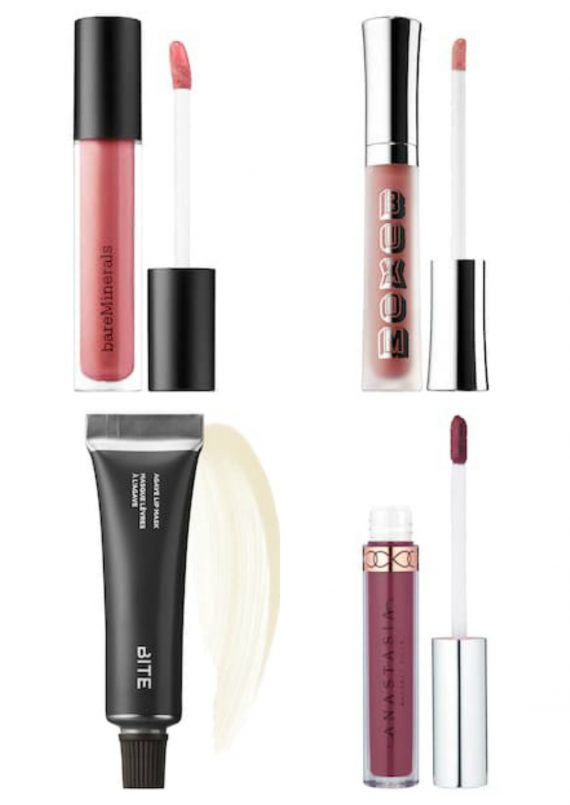 Bare Minerals GenNude Buttercream Lipgloss in SUGAR / Buxom Lip Cream WHITE RUSSIAN & DOLLY / Bite Agave Lip Mask / Anastasia Liquid Lipstick in TROUBLE
I am not a huge lipstick girl. 99% of the time I have on my Bite Agave Lip Mask or a lip gloss…generally one of the two I shared above. I stick to a pinky-nude color palette and really don't switch it up. Plus, since I have been wearing Invisiline I haven't really been able to wear much color on my lips because it smears all over my trays. BUT on those times when I get a little dressier I rely on my Anastasia Beverly Hills Liquid Lipstick with a little gloss on top.I have never gotten into the matte lip trend, so I always have some sort of gloss on. Kinda boring, but I feel like you can't go wrong with any of the 4 I listed above!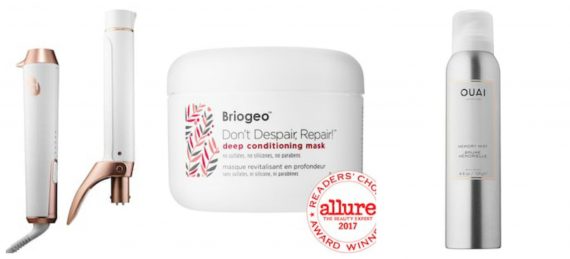 t3 1.25 Curling Iron / Briogeo Don't Despair, Repair Hair Mask / Ouai Memory Mist
I am definitely not great at styling my hair. I have basically had the same haircut for a million years, and wear it one of 3 ways…straight, curly, or pulled back. Boring, I know. But I have really been loving the entire Briogeo line. I've tried a lot of their products and have completely loved them all, but the stand out is the Don't Despair Mask. It leaves your hair CRAZY soft and conditioned. Love it so much! The t3 wand is a splurge, but is the best curling iron I have ever used. It hols my curls, is smooth, heats up fast, and is pretty. The Ouai Memory Mist has become a staple in my styling regimen, whether 'm curling it or wearing it straight I love how this hold the style for me without feeling like I have used product.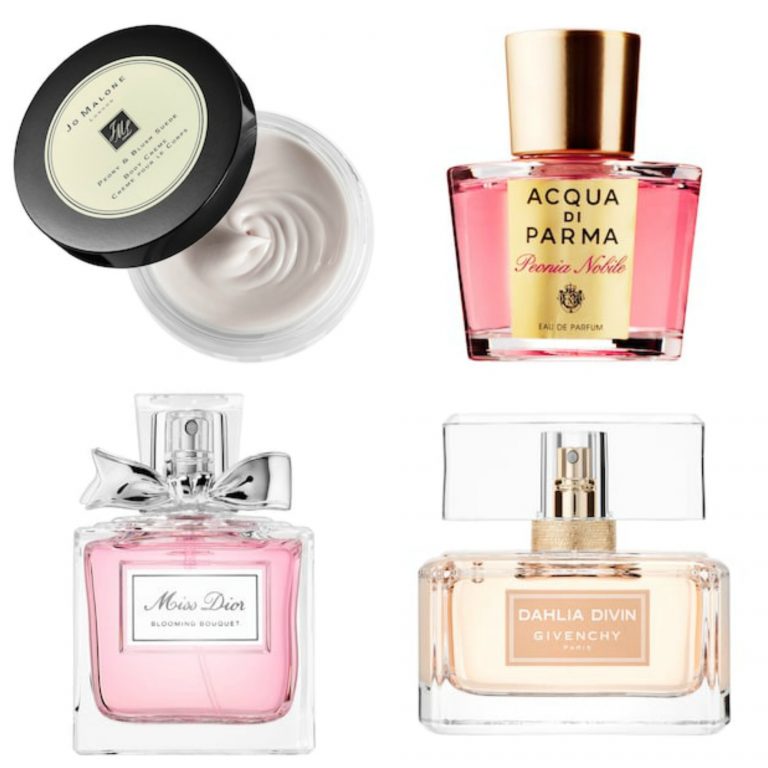 Jo Malone Peony & Blush Suede / Acqua Di Parma Peonia Nobile / Miss Dior Blooming Bouquet / Dahlia Divin Nude
I own way too many perfumes. WAY too many. But I love them all so much!! Right now I am super into my Acqua Di Parma for spring and probably into summer. It's a really pretty mix of spicy fruit, with a little rose and a little amber. I can't explain it, but it's so pretty and different. It's definitely my current favorite. Last summer I wore Miss Dior Blooming Bouquet pretty exclusively and I still love it so much. It's a little lighter and doesn't last as long on my skin, but I don't mind reapplying it because it smells so pretty…fresh and floral. Jo Malone Peony & Blush Suede has been a fave of mine for a few years, and the body cream is amazing. AND all fall/winter I wore Dahlia Divin Nude. It's cozy and fresh without being too heavy…and it lasts ALL DAY!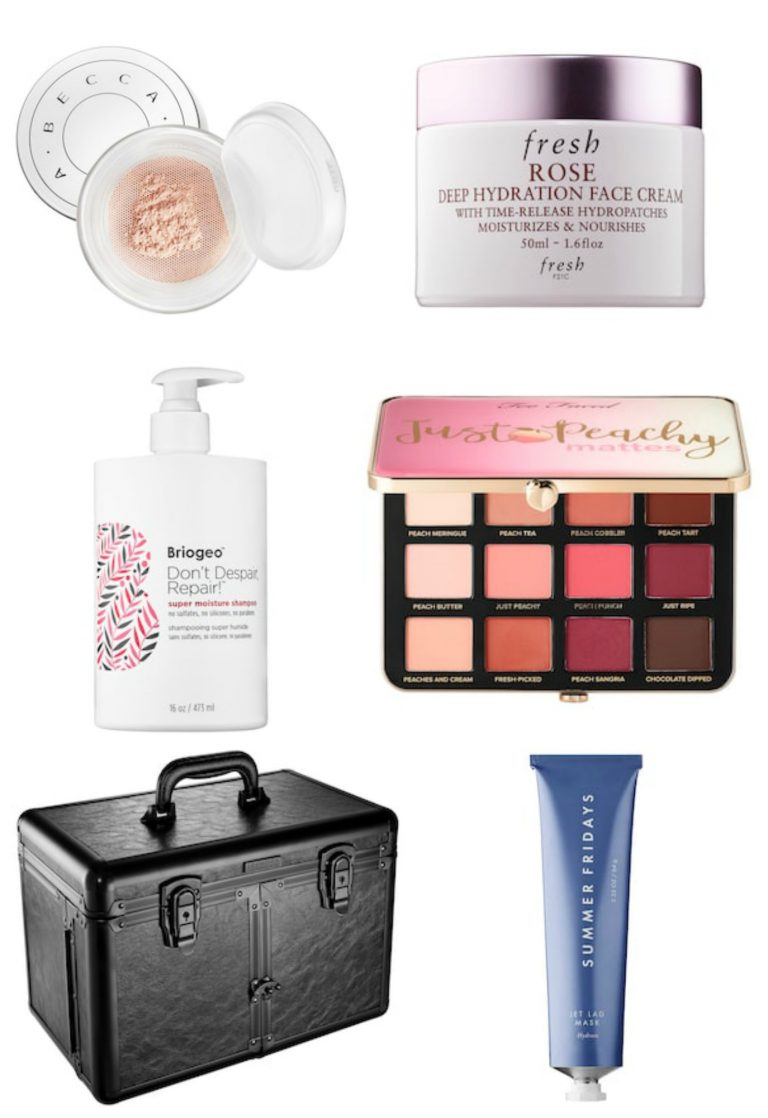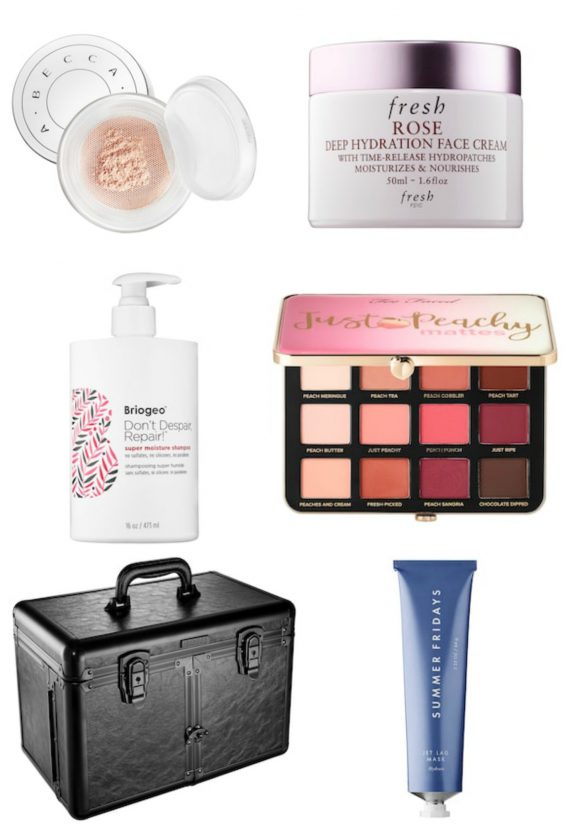 Becca Hydra Mist Powder / Fresh Rose Deep Hydration Face Cream / Briogeo Don't Despair, Repair Shampoo / Too Faced Just Peachy Matte Palette / Sephora Train Case / Summer Fridays Jet Lag Face Mask
And last up my list of things I plan on getting during the sale! That Becca powder sounds so cool…apparently it feels like water going on your face! I am hoping it offers a lot of moisture because my main issue with powder is it makes my skin look old!! So if this is hydrating while still setting my makeup we might have a game changer!
The Fresh Rose Hydrating cream sounds dreamy. And The Jet Lag mask sounds like a great moisturizing mask! Since I love the Briogeo hair mask I was so happy to see they came out with a shampoo to go with it! Can't wait to try that!
The Sephora Train case looks SO great for storage. My current case is broken and I have been looking for a new one.
And finally that Just Peachy Matte has great reviews and I love that it looks like wearable matte shadows. I have so many shimmery shadows, but I find myself wearing more mattes lately on my eyes. I certainly don't need another eye palette…BUT IT'S ON SALE!
Ok, friends! There are my recs for the sale! I would LOVE to hear your recommendations too!!
Happy shopping!
*As always, this post is not sponsored. It's just a list of things I have bought with my own money and love. I have included affiliate links in this post. The very small commission I make on any of these sales just goes back into my makeup research fund. xo