Butterbeer Cookies are a buttery shortbread meltaway thumbprint cookie topped with a creamy Butterscotch Ganache! Tastes like the perfect little bite of Harry Potter's Butterbeer!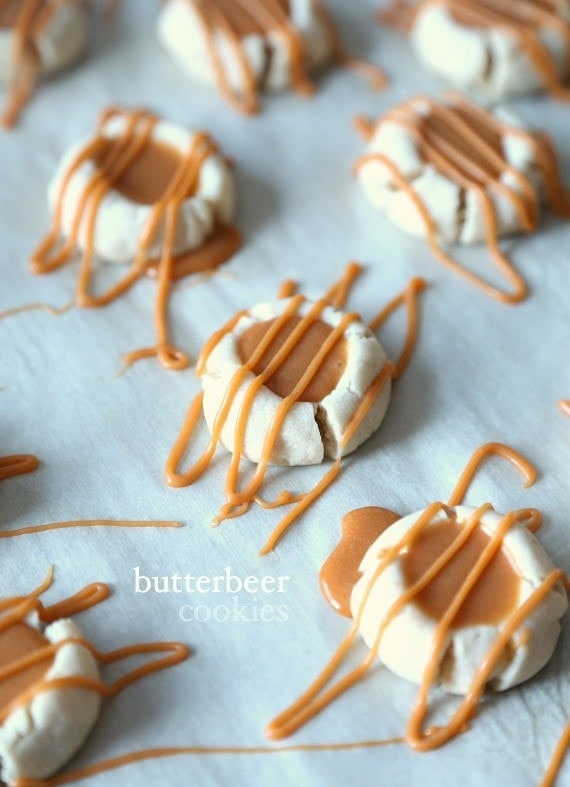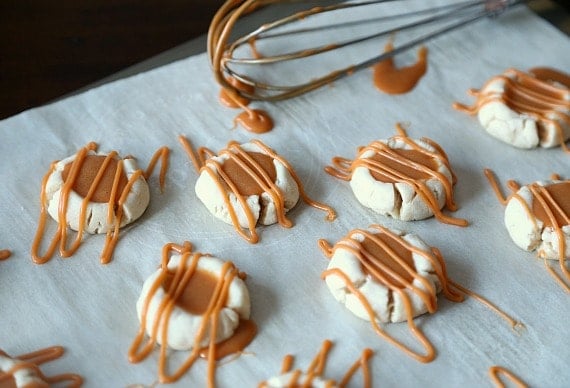 The cookies are a super simple, buttery meltaway base, topped with a creamy butterscotch ganache…and then drizzled with more ganache for good measure. My kids went crazy for these cookies. They are huge Harry Potter fans so it was fun tying the popular drink from the book into a cookie. I, on the other hand, have never read any of the Harry Potter books and fell asleep when we were watching the first movie (gasp)…but I know HP is a whole thing, so please don't hate me.
I had a blast making these and I know you will as well!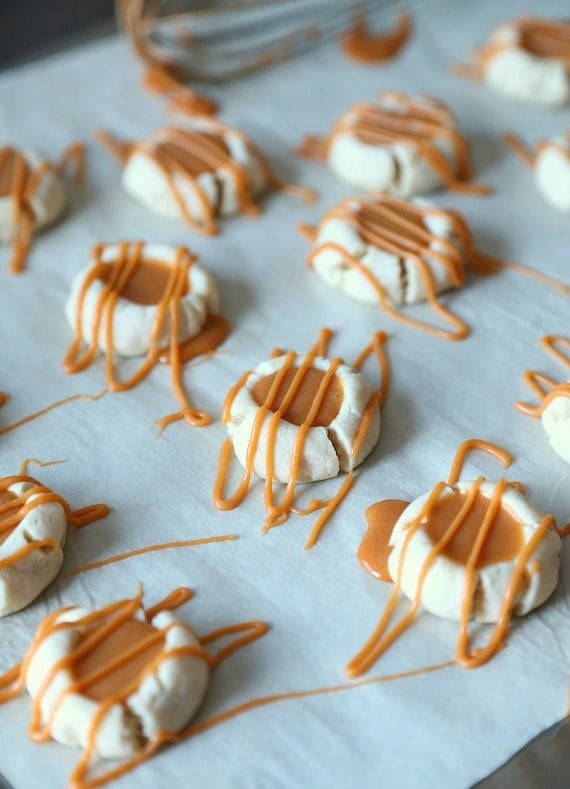 Print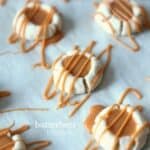 ---
Cookies
1 1/4 cups

all purpose flour

1/4 teaspoon

salt

1/2 cup

unsalted butter, room temperature

½ cup

powdered sugar

1/4 teaspoon

vanilla extract

1/2 teaspoon

butter extract
Ganache
1/2 cup

heavy cream

5.5 ounces

butterscotch chips
---
Instructions
Preheat the oven to 350° and line your baking sheets with parchment paper. Set aside.
In a medium bowl, combine together the flour and salt and set aside.
With your mixer, cream together the butter, powdered sugar, butter extract and vanilla extract until light and fluffy. Add all the dry ingredients and mix on low speed for about a minute. Wipe down the sides of the bowl and increase the speed to medium, and mix for another minute until a dough forms.
Scoop a tablespoon of dough, roll it into a ball and place on your baking sheet about 1 1/2 inches apart. You can use your thumb or the back of a teaspoon to make an indention in the cookie. Bake for 10 minutes. After 10 minutes, remove the cookies from the oven and immediately press down the indention a bit more to hold the ganache. Return the cookies to the oven and continue to bake for another 10 minutes. Transfer cookies to a wire rack to cool completely.
Ganache
While the cookies are baking make the ganache. In a bowl, place your butterscotch chips and set aside. In a small saucepan on medium heat, bring the heavy cream up to just before boiling. Remove from heat and pour over the butterscotch chips. Allow to sit for a minute or so and whisk until smooth. You need to allow the ganache to cool to room temperature before using.
Assembly
When the cookies have cooled transfer ganache to a plastic squeeze bottle or zip top bag to create a piping bag. Pipe the ganache into the center of each cookie. You can drizzle the top with additional ganache if you want. Allow the ganache to set up. You can even refrigerate or freeze them for faster setting time.
---
Notes
A few notes from my experience baking the cookies using Kara's recipe:
If your cookie dough is too crumbly add a teaspoon of water at a time until the dough comes together. My dough was slightly crumbly and this trick worked perfectly.
I ended up baking the cookies for a bit less time so I would have a softer cookie. My total bake time was 14-15 minutes.
Also, I added 8 oz Butterscotch chips to the ganache instead of the 5.5 oz the original recipe lists, as I preferred it a bit thicker. BUT with that being said I had a lot of ganache leftover that I am saving for ice cream sundaes!
Want To Save This Recipe?
Find more recipes like this: