These Soft Malted Chocolate Chip Cookies will easily be a favorite in your house!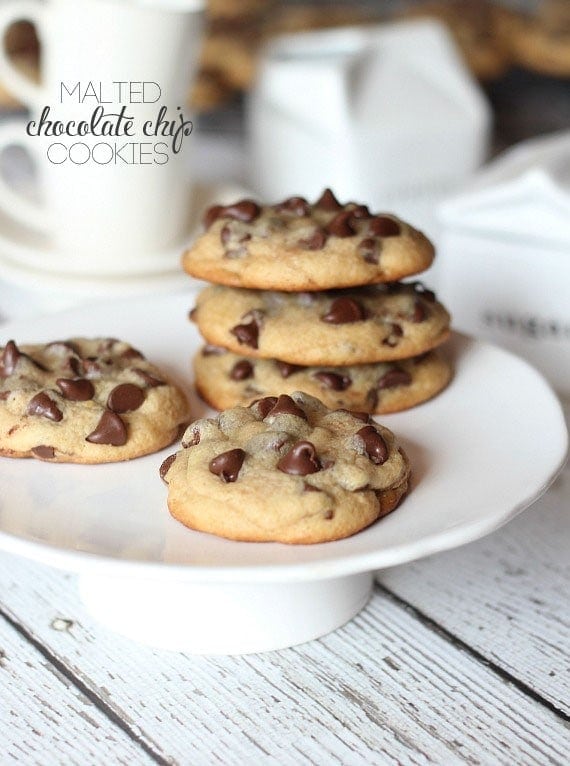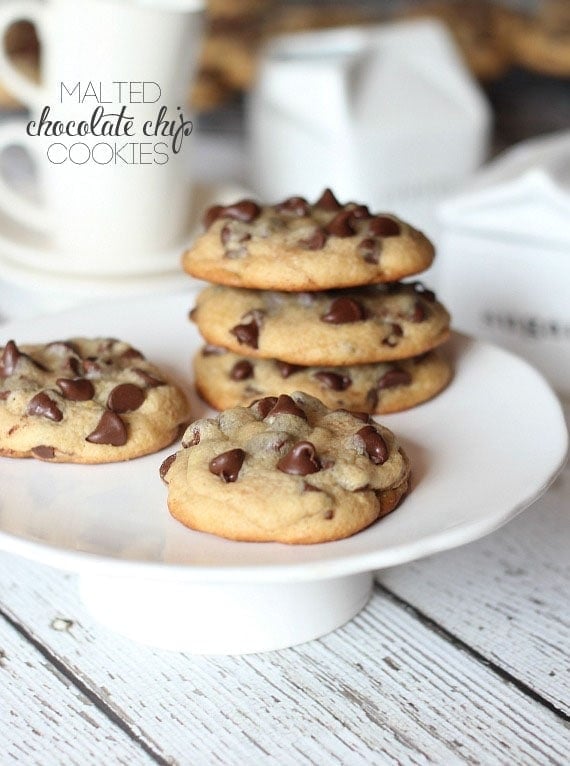 I have to admit that over the course of the summer I have developed 2 minor addictions.
The first being to chicken wings.
I know, that's a stupid-weird addiction…
I mean, chicken wings have been around since well…forevers.
But they opened up a Buffalo Wild Wings not too far from my house and I have to say I can't stop. CAN'T STOP.
They have these Salt and Vinegar wings that I would legally marry if I could. What is WRONG with me right now?
I have easily eaten more wings in the past 2 months than I have in my entire lifetime combined.
It's sick. And delicious.
And ICAN'TMAKEITSTOP.
Someone needs to please intervene.
I go there for dinner and buy extra for lunch the next day.
3 times a week.
I am solely keeping them in business.
This is clearly a cry for help.
Beyond chicken wings there are these cookies.
Also addicted.
And the thing about these cookies is that I can make them at home. Anytime I want.
I'm quite the pinnacle of health here, aren't I?
I seriously need to go detox. Or rehab. Or both.
Or just exercise self control. HAHAHAHAHAHAHAHA.
Soft Malted Chocolate Chip Cookies.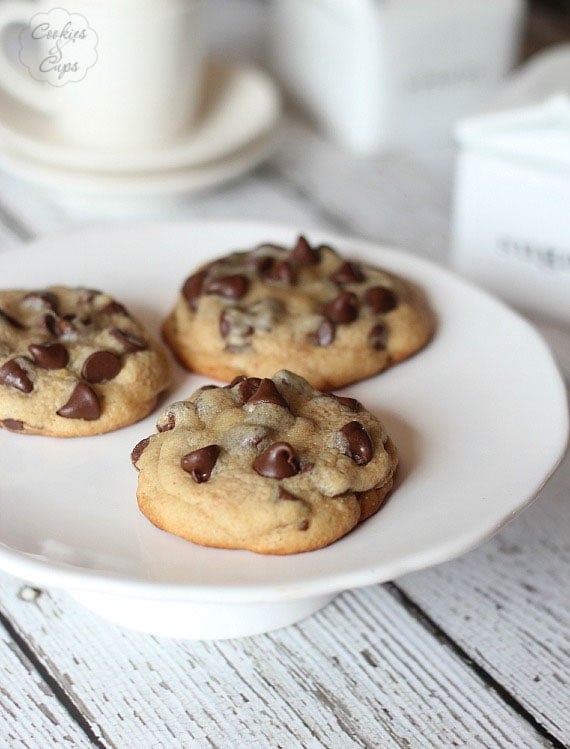 There's a few tricks I used when making these cookies.
First, I use all brown sugar.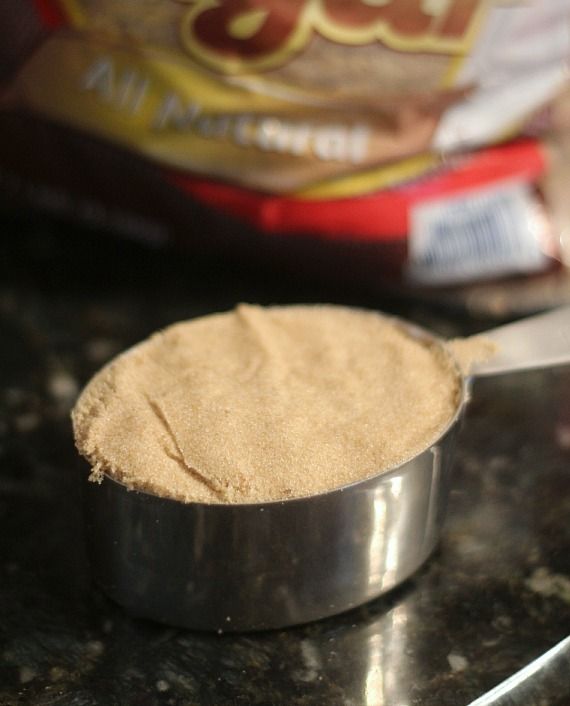 I just think they taste better. Brown sugar for life.Of course the malted milk, but that's not a trick…I mean it's in the title. Duh.
The malted milk cuts the sweetness of these a bit…if you are in the "I don't like malt" camp, you'll still like these. I swear. The flavor just adds a bit of something extra.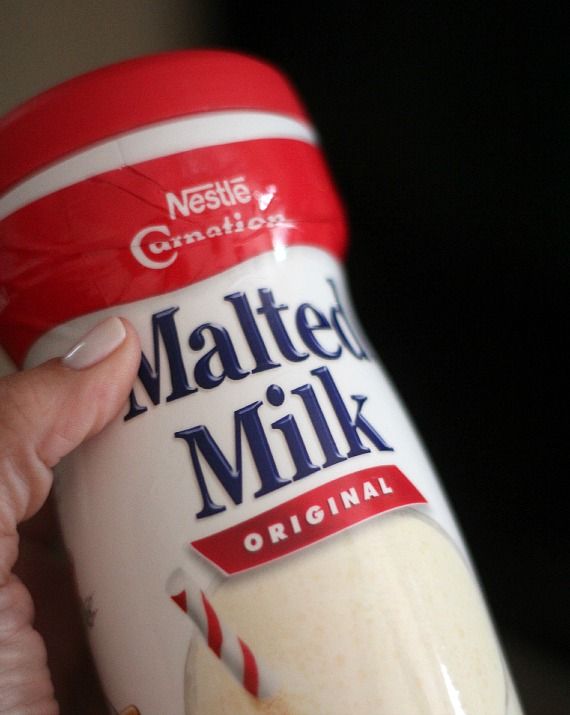 Whisk together your dry ingredients…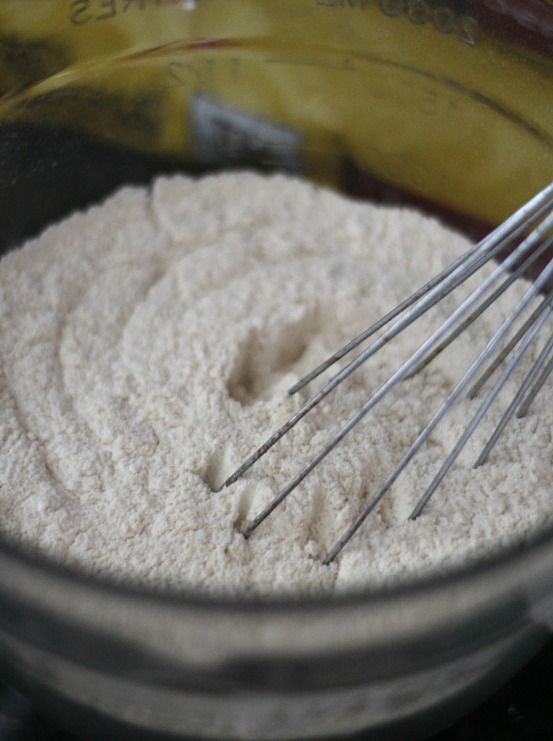 And here's the second trick…
If you're using your stand mixer never turn it above stir. You can make these with a bowl and a wooden spoon just as easily.
We're melting the butter for these, so there is no creaming.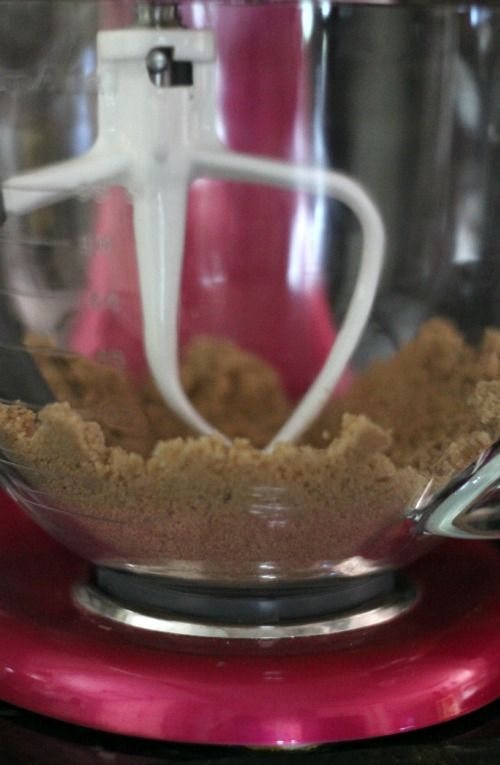 Not beating the ingredients keeps the cookies thicker, not allowing as much air in the batter as when you cream the butter and sugar.Third trick…a little cornstarch.
You could make these without the cornstarch for sure, but it helps with the texture, keeping them puffy and chewy but not cakey.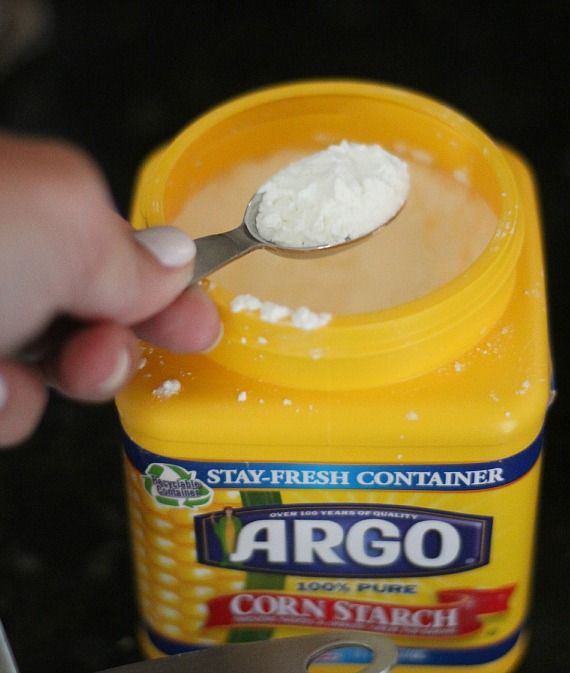 Here's how the dough will look.
Now. I chilled it. Give it a few hours at least. I gave mine an overnight.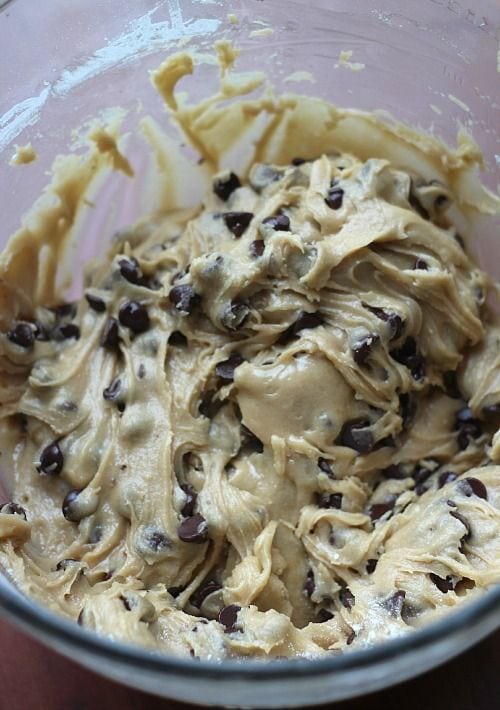 Again, you don't HAVE to do this. But your cookies will absolutely spread more if the dough isn't cold.Final trick. I stuck some chips on top at the end to make them look pretty.
I know this has been done before, and I usually don't do it, but these cookies are just so pretty, a little extra flair never hurt anyone.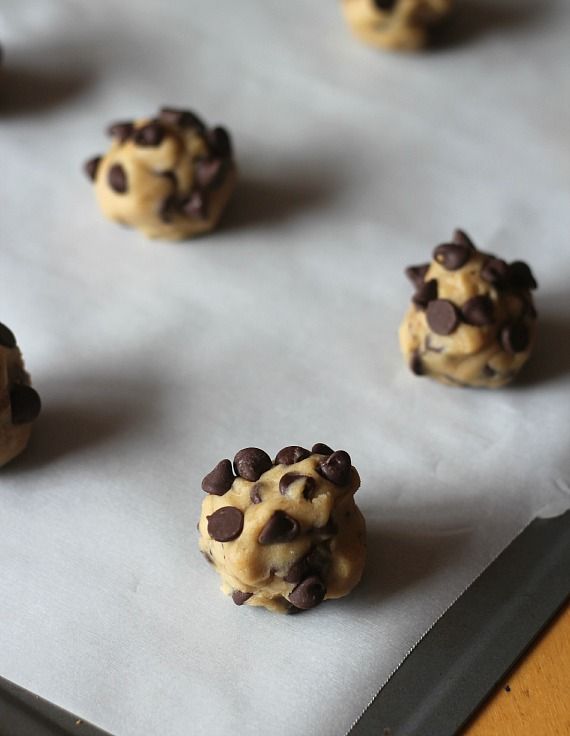 When you bake them, you'll want to remove them when the edges start to golden and the centers look almost done, but not quite.
That helps keep them soft.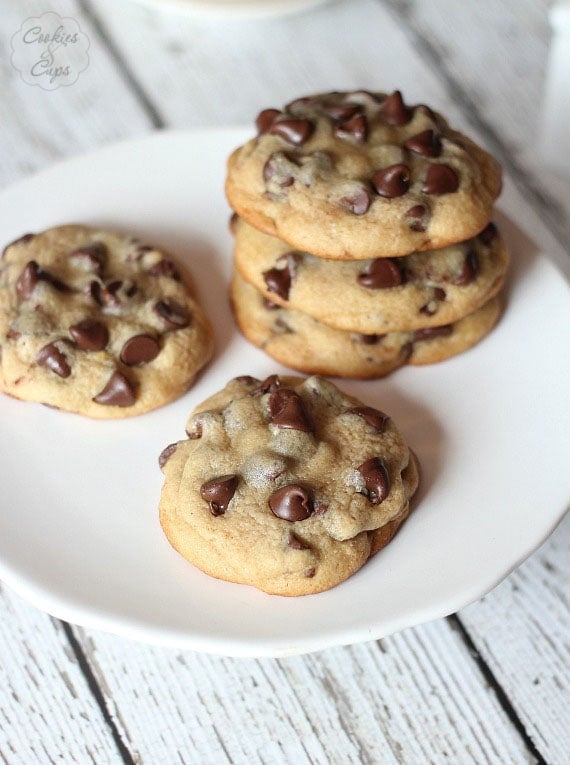 Obviously if you prefer a crunchier cookie you can bake them a bit longer.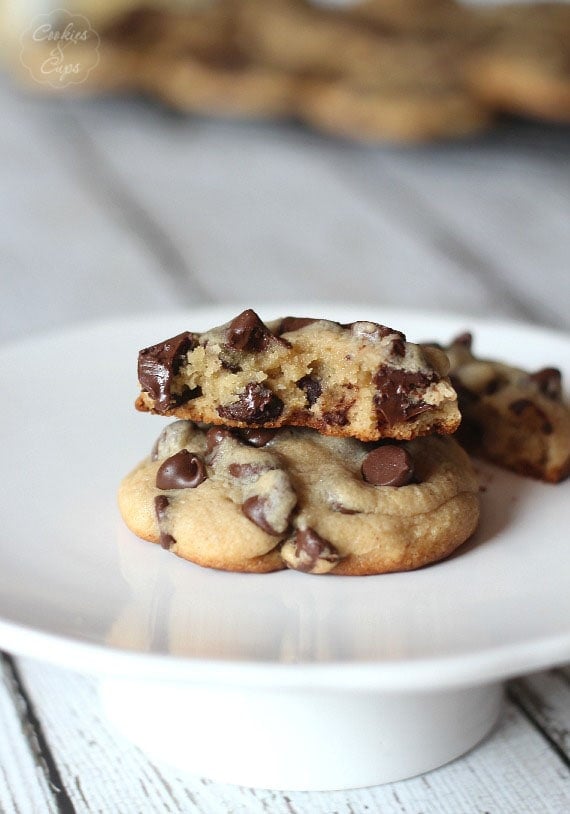 See how perfect?
Print
Soft Malted Chocolate Chip Cookies
---
---
2 1/2 cups

flour

1/2 cup

malted milk powder

1 tsp

baking powder

1 1/4 tsp

kosher salt

2 tsp

cornstarch

1 cup

butter, melted

1 1/2 cups

light brown sugar

2

eggs

1 Tbsp

vanilla

2 cups

chocolate chips, (optional ~ plus

1

more cup for pressing into tops of cookies)
---
Instructions
Whisk flour, malted milk powder, baking powder, salt and cornstarch together. Set aside.
Melt butter in a small saucepan over medium low heat. Remove from heat.
In large mixing bowl combine the butter and brown sugar, using wooden spoon or mixer set on lowest setting.
Stir in eggs and vanilla with mixer still on lowest setting until combined.
Stir in dry ingredients until evenly incorporated.
Fold in chocolate chips.
Chill dough for 2 hours or up to 3 days.
Preheat oven to 350°
Line baking sheet with parchment paper.
Scoop approximately 2 Tbsp of dough and form into a ball. Place dough 3 inches apart on lined baking sheet. Press additional chocolate chips into the top of the dough balls if desired.
Bake for 11-12 minutes until the edges golden. Don't over-bake.
Allow to cool on baking sheet for 3 minutes and then transfer to a wire rack to continue cooling.
---
Notes
store airtight for up to 3 days
Want To Save This Recipe?
Find more recipes like this: