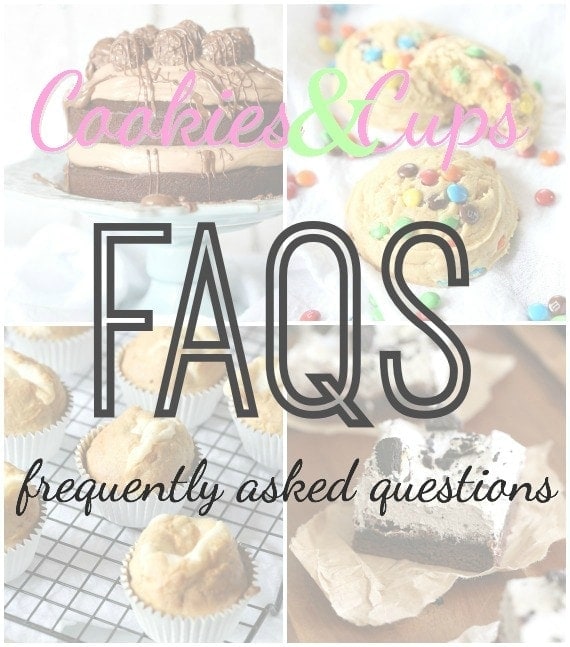 So hey! Here we are in the FAQ section.
Which stands for Falsetto Assimilated Quagmires.
Wait, no. I mean…
Frequently Asked Question.
Yes.
I have always hesitated to do an FAQs section, because really, who am I to dole out advice? But you know, I guess the fact that I run a blog where I give you instructions on kitchen-type things, kinda feels like I, in fact, DO like to dole it out. With a shovel.
And anyone who has a blog but says they don't like talking about themselves is a big fat liar. Which brings me back to me.
See what happened there?
Anyhow, I do actually get a lot of questions regularly from all you internet friends out there…so I chose a few that get asked the most regularly and put finger to keyboard to get you the answers you are wanting.
Let's start basic:
Who ARE you?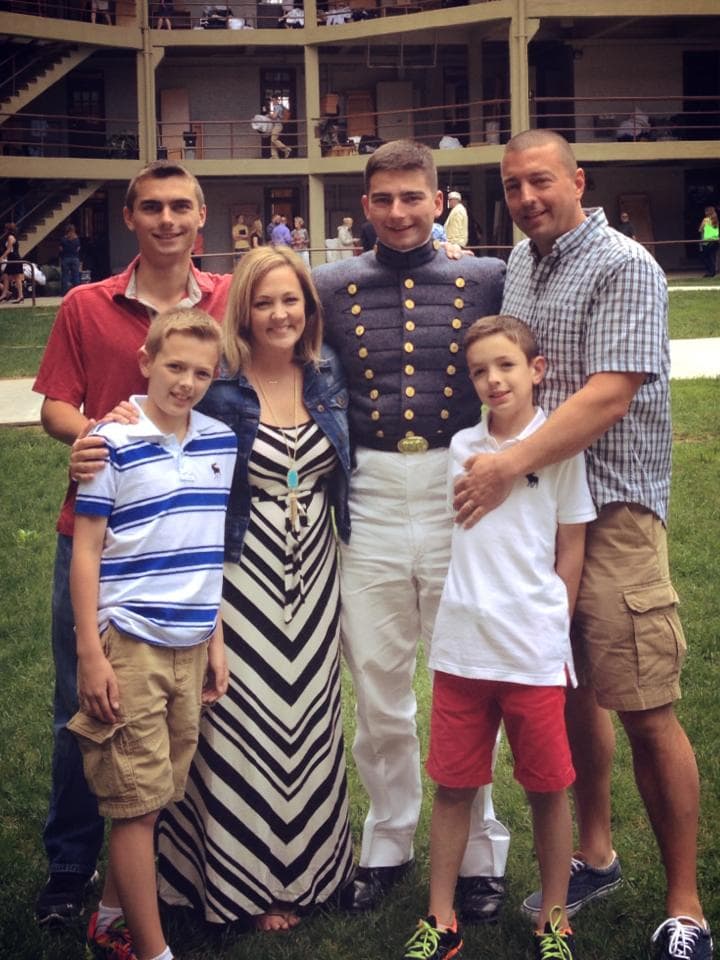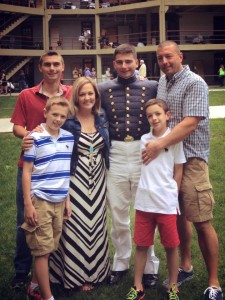 Well, I do have an "About Me" section..so that will answer a few of your questions.
And here is my family and me…
These guys are the funniest, smelliest, most adorable boys ever and I love them all to pieces. They regularly tell me when something I make "isn't their favorite" and request chocolate chip cookies on the regular.
They inspire me daily.
(Also, I know you are going to ask..this picture was taken at our oldest's college graduation from VMI (Virginia Military Institute) in May 2014)
How did you come up with the name Cookies and Cups?
Ok, this is annoying. When I first started this site in 2008, I never dreamed that one day I would be doing it as a full-time job. I literally went on the internet one day and saw Bakerella's site and thought, "what a great idea! A whole website for baking…I will be a pioneer of this new trend."
Well, no. Tuned out that 70 hundred-thousand other people already invented a food blog and I was just 70 hundred-thousand and one. And adding to my complete ignorance on the subject of blogging I gave about 2 seconds worth of thought into the name I chose. I knew I liked to bake cookies. And I loved peanut butter cups. And cupcakes. So there you go…Cookies and Cups.
Which now, 6 years later might possibly be the worst blog name in the land. But it's all mine. Alllll mine. Don't be jealous of my mad creativity.
Do you take all your own pictures? What kind of camera do you use?
Yes, indeed I do take all my own pictures. And I have THIS beauty to prove it. If you clicked that link your eyes might be burning right now. Sorry 'bout that. Anyhow, my point is yes, I take them all…the good the bad and the absolutely horrendous.
When I first started blogging I knew NOTHING about photography. I knew how to turn on my Canon Powershot and take a picture. I never considered natural light, composition or any other photography-type stuff that I rely on now.
The first 3 years of photos for this site were all taken with a bitty Point and Shoot until I upgraded to a Canon T3i Rebel in 2010. I learned the ins and outs of a DSLR with that trusty Rebel and now shoot with my beloved Canon 6D. I predominantly use my Canon 100mm Macro Lens for all my food shots now.
I'm a work in progress when it comes to photography, but there are some shots here on this site I am pretty proud of. Especially knowing where I started.
What do you like to do when you're not baking?
Well, I have 4 boys and a husband who all keep me fairly busy. Who knew kids needed so much attention?? But all that aside I am a champion shopper. A movie nut. A proud soccer mom. A Netflix addict. A cookbook collector. A make-up junkie. A yo-yo dieter. A game-night lover. A skinny jeans hater. And a shoe collector.
So I'm a pretty busy girl.
Where can I find information about substitutions in your recipes?
This is a tricky one. I don't always list substitutions. But I have a little experience dealing with certain food allergies, so just ask me! I will always do my best to help if I know the answer. The trickiest for me right now is gluten-free baking. Gluten is apparently my favorite ingredient, so switching it up has been (and continues to be) a journey!
Can I share your recipes?
YES! That's the whole point of what I do…
BUT…there's always a but isn't there? If you want to share the recipe online, I just ask you share the link back to my original recipe. If you are a fellow blogger and recreate one of my recipes that's great! But we all love the linky love 🙂 And if you would like to grab one of my photos, it's always nice to ask.
Ok, enough with that.
Can I send you a recipe to share?
OMG yes! I ADORE when readers send me recipes to try! Just so happens that a few of my most popular recipes are ones that a reader or friend gave me permission to share! I try and put my own spin on them, but family favorites are usually the BEST! My most cherished cookbooks are my Mom's and Grandma's church cookbooks where everyone in the church submitted a recipe!
What are some of your favorite food sites? How about cookbooks?
I don't know if I could possibly do this question justice. I am a food blog junkie as well as a cookbook hoarder. But the quick answer is Ina Garten everything. I am in lurve with that lady! Her cookbooks are my most used of all time.
BUT I am pretty lucky to have the most talented friends in all the land who are food bloggers and also cookbook authors!
My bestiest friend Kristan from Confessions of a Cookbook Queen is my go-to gal for sweets. And she doesn't have a book yet, but this girl NEEDS one. She is hilarious and fun and kind and one of my closest peeps of all times.
Jenny from Picky Palate is another one of my most favorite people. She is truly one of the nicest people you will ever meet and has an AMAZING book that you need on your shelf.
My travel buddy Amanda is a blogging phenom. This girl knows her sweets and I adore her for it! Hello best brownies ever to exist!
Lori from Recipe Girl is another go-to for me. She released a book last year and it's quickly become a staple on my kitchen counter.
Catherine McCord's Weelicious Lunches has been my lunch-making staple this past year. She is really extra lovely.
Blogs I cook from regularly: The Little Kitchen, Sprinkle Bakes, Two Peas and Their Pod, Bake at 350, Pinch of Yum, Simply Recipes, The Pioneer Woman, How Sweet It Is, Gimme Some Oven, Skinnytaste and the list goes on and on and on…
Do you have a cookbook I can buy?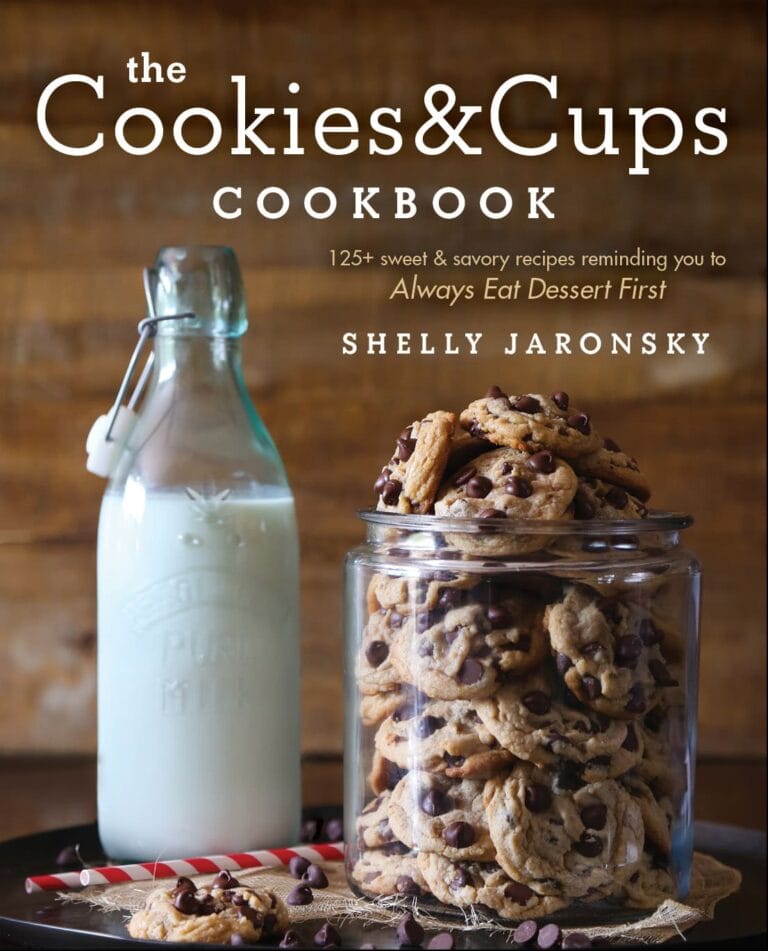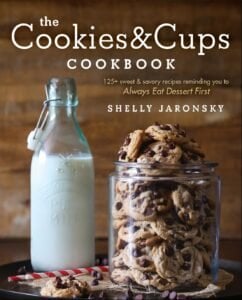 Well, my fine feathered friends, the answer to this FAQ is finally YES!! I am so so excited to be working (as we speak) on my very first book set to release early Spring of 2016. It's now officially available to pre-order! CLICK HERE FOR ALL THE DETAILS!
Do you have any advice on how to start a blog?
I get this question a LOT. And while I have 4 million answers for you I won't bore you of the techy details here.
But I will touch on a few important points…when I first started my site I did it as a hobby with no intention of making money or turning it into a J.O.B.
So the first 2 years here I went pretty under the radar, no monetization, no SEO and all that jazz. While, in hindsight I wish I focused on SEO, but that's another story for another day. …anyhow, my point is I started my internet space out of pure desire to share things I loved. I didn't "blog for my readers", I blogged for myself..
And that's mainly because I had no readers. HA!
What I am trying to say, is that blogging has changed. Everybody and their dog has a blog now. Literally. And blogging just for Pinterest traffic or for what's popular "now" isn't the way you should go about it.
Start with your own ideas, your own stories, what makes YOU happy. Back at the beginning I used to post way longer stories here.. too long when I go back and read them now. But what I think is that all my silly stories about my life and the people in it are what helped my site grow. We connected. We bonded.
Yes I am a dessert website, but you guys seemed to actually like me! And since I am in constant need for validation I continued on.
There are so many faceless, personality-free websites out there…and that's great if you are only focused on the recipes. But I think part of my marginal success is that I started with a desire to share. Not to just "get clicks".
I hope this didn't come across as condescending, that's not my intention at all…because do I wish I got all the Pinterest traffic, or all the facebook shares.. well duh, yes.
But I have a family who needs my attention and a life I like to live. And inspiration for me comes from all of that.
So my advice is to find out what YOU love and do you. All the other stuff will come. I promise.
How can I "Subscribe" to your blog?
Well, this is my favorite thing you could ask..because that means you like me, you really like me!
Over there in my right-hand sidebar you'll see these options…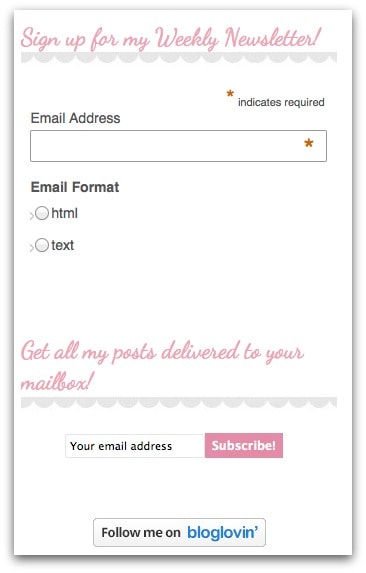 You have three options. The top is for my Weekly newsletter. I send out a weekly update of all the things I have done all week and usually a few personal tidbits. Also, I hate the word tidbit.
Under that you see the option to get all my posts delivered to your mailbox through Feedburner. This will send you an email every time I update my site, which is generally 3 times a week, so you can stay update to date with all the latest.
If you are a avid blog reader, you might know about Bloglovin'. It's a way to keep all your favorite blogs in one place and get all the latest posts delivered in one easy place.
You can also follow me on:
If you have any other questions you would like answered, so ahead and give it to me! I'll do my best to answer them all.
Or email me at cookiesandcups@live.com
Keep it clean, folks!
xo,
shelly