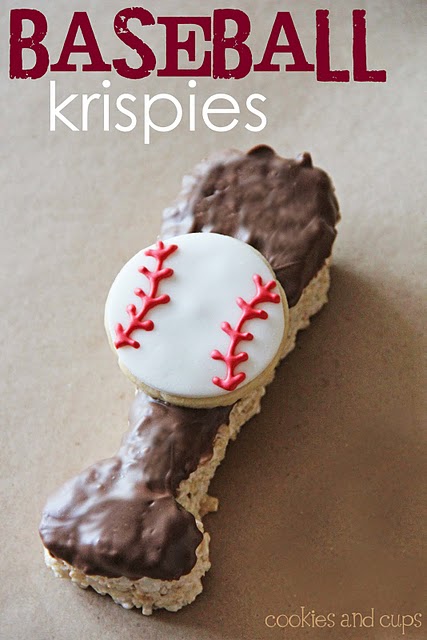 If you have a little one in sports (or WERE ever a little one in sports) you know well enough that snack time after the game is the favorite part.
Tears have erupted if there aren't enough Capri Suns to go around, of this I am well aware.
Another memory I have of being a young girl on the soccer team is that I used to CRINGE when my mom had snack week.
You wanna know why?
Because she used to make homemade cookies and give them out.
Like she made the cookies herself.
Gasp.
The cool girl's moms always gave out store-bought cookies or pre-packaged chips.
My 13 year old self I didn't want to be different. Few things about puberty could I control and this was yet another insurmountable obstacle I obsessed over.
I wanted my mom to just be normal and go to the store and buy a box of Chips Ahoy and hand them out.
Please no more homemade cookies.
Not that her cookies were bad…on the contrary, they were quite delicious, but as a young girl all you want to do is fit in.
Looking back, this is proof that we all go a little insane in our teenage years, because with that frizz on my head and those pre-braces teeth I had ABSOLUTELY no chance of fitting in…homemade cookies or not.
Luckily I have all boys…and just so you know, boys love Mom's homemade treats.
So, here's a fun after game snack…the kind that would have made me hide my head in a giant hole.
I was such a joy.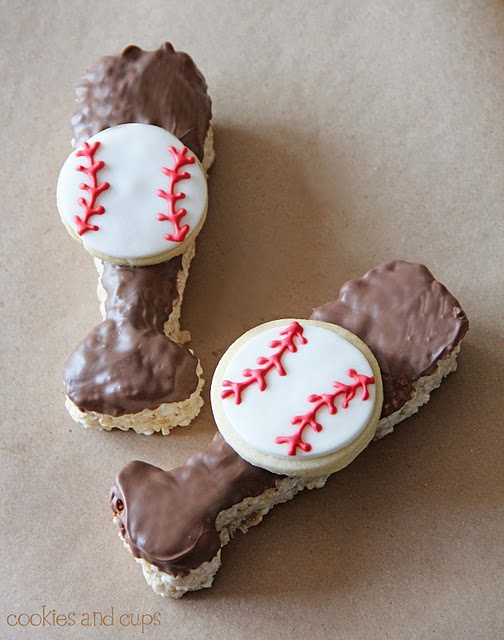 Here's what you hafta do…
Bake sugar cookies and decorate them like baseballs. Approx 2″ in diameter.
I actually covered my cookies with white
fondant
, using a little corn syrup to adhere the fondant to the cookie. Then I piped on the red stitching with
royal icing.
(If you didn't want to bake cookies, you could just cut fondant into circles the day ahead and pipe the stitching on and let the fondant sit out overnight to harden up..this would work great as well.)
After the cookies were dry I made a double batch of krispie treats:
12 cups rice krispies
1/2 cup salted butter (1 stick)
2 (10.5 oz) bags mini marshmallows
Spray a 9×13 with cooking spray
Melt butter over low heat in a large pot.
When butter is melted add marshmallows and stir until melted.
Remove from heat.
Dump in your krispies and stir until combined.
Pour your krispies into your prepared pan.
Using a piece of wax paper, lightly sprayed with cooking spray, press the krispies evenly into the pan.
Let set for 20-30 minutes.
Now cut out at "bat" template using a sturdy paper or cardboard.
I made my bats approx. 6″x 2.5″, tapering down to the handle.
Lay your template on top of krispies and cut with a paring knife. I was able to get 12 bats, with only a little excess krispie.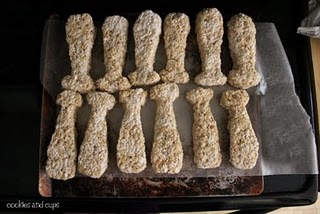 Meanwhile melt chocolate melting disks in the microwave according to directions.
(I melt for 1 minute on 50% power and then in 30 second intervals, stirring well in between each.)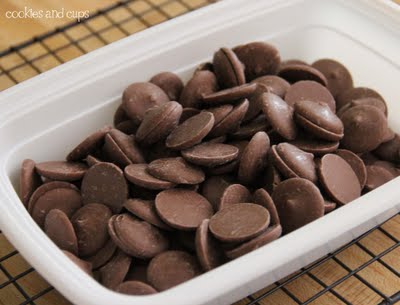 Dip the tops of the krispie bat into the chocolate and transfer over to a wax paper lined baking sheet.
Immediately place a cookie onto the bat so the cookie adheres to the wet chocolate.
Repeat with all the bats.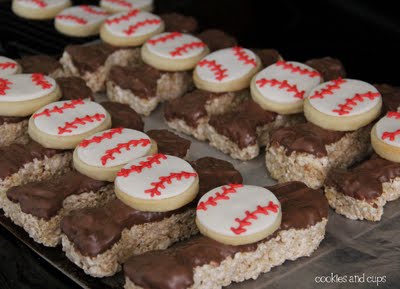 Let the chocolate set up for approx 30 minutes and then put in individual bags, if desired.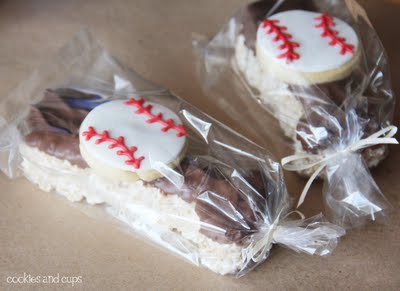 Hope everyone has a fantastic week!!
Tweet