Marshmallow Fluff Krispie Treats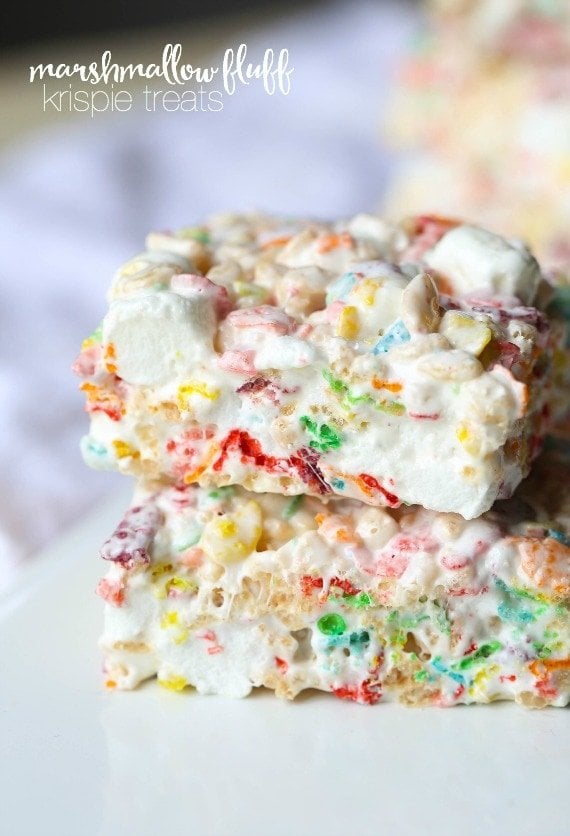 The Marshmallow Fluff Krispie Treats are packed with the MAXIMUM amount of marshmallow…both minis and Fluff to create the gooiest, softest krispie treat you will ever have!
There once was a time that I created the Perfect Krispie Treat and put it on the internets and claimed it to be the best above all the rest. I did that.
But unfortunately I can never leave well enough alone. It's like my raging FOMO, which my friend Kristan clinically classified me as a few years back, when things are good, couldn't they be better? I mean what if someone else is having MORE fun that me?
Yeah I really need to work on that…
BUT I really think that my FOMO has lead me to today's post. I thought I had the "Perfect", but WHAT if there's something better? WHAT IFFF?
Seriously it's exhausting being in my brain.
Anyhow, these Krispies I made today might be better than my Perfect for some people…but possibly not all.
Here's the deal. I wanted to push Krispie Treats to MAXIMUM MARSHMALLOW capacity.
How many marshmallows can I stuff in a Krispie Treat and have them still hold their shape when cut. It's really a tough job I have over here people.
When I was doing my Marshmallow Conversion experiment I got this idea…what about a Krispie Treat made from Fluff. Now I am sure this has been done, even though I didn't consult Dr. Google…
But I didn't want a Krispie with just fluff. I wanted the softness of the fluff, but still the have it hold together like a Krispie Treat should.
AND these krispie treats stay soft for days…it's a miracle!
Y'all I nailed the socks off this mess. NAILED.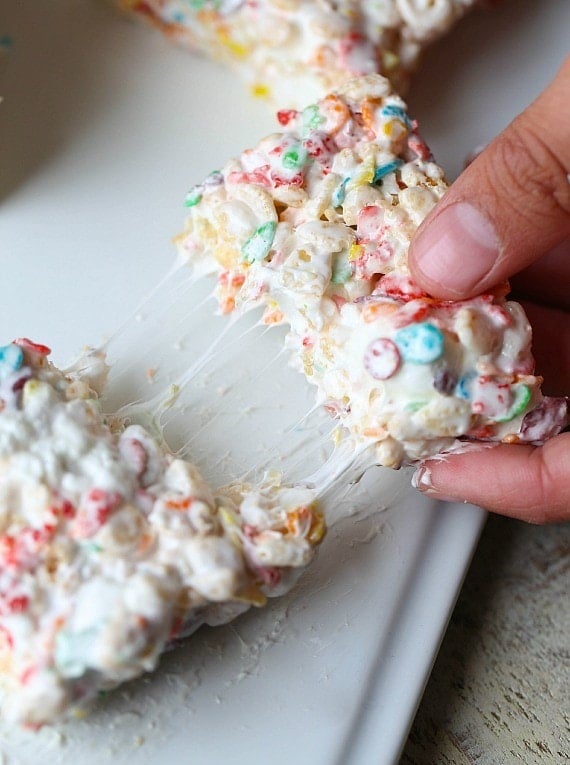 The deal is, if you add too many marshmallows your krispies will get chewy and they won't hold the shape. I tried that when I was developing the measurements for The Perfect. So I thought, let's not add more minis, let's add some Fluff, because it's the same but TOTALLY different.
What ends up happening is you get the texture of a krispie treat with more airy volume, making it spongy and soft and gooey and DIVINE.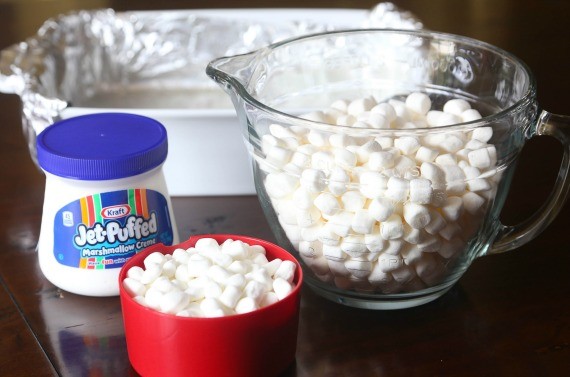 Also, let me point out I mixed it up a little and added half Fruity Pebbles and half Krispie cereal.
I like the combo of the two better than making one with ALL Fruity Pebbles. I've done experiments on this as well. Trust me.
You could easily use any combo of cereals you like, or just use all one cereal.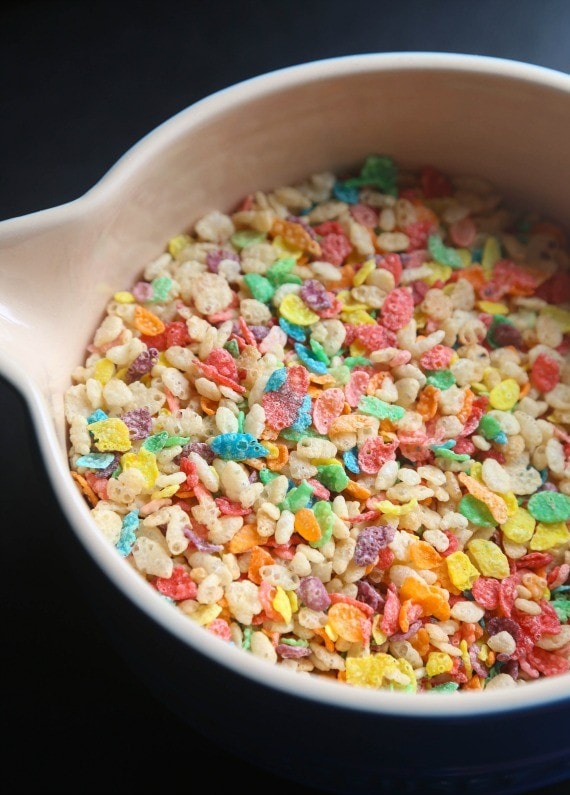 First melt the marshmallows and stir in the cereal like you would a regular krispie…
Then get all busy with that Fluff. Or Marshmallow Creme…because as we learned yesterday they are really one in the same.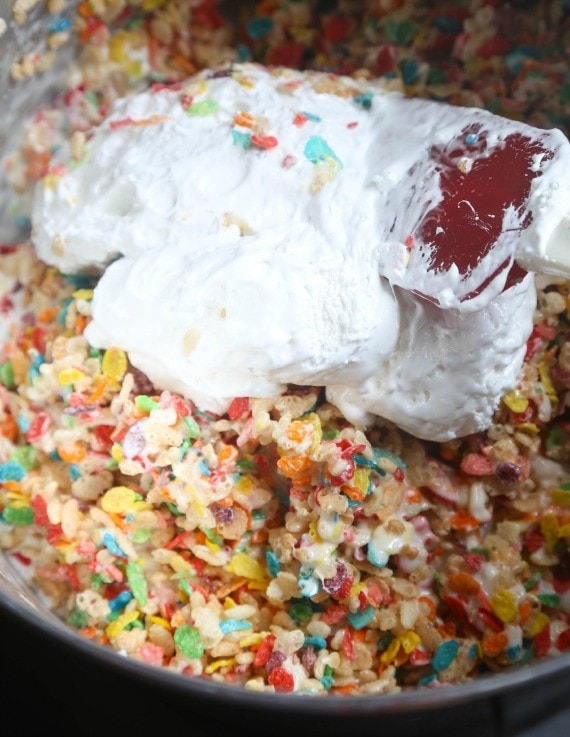 THEN mix in more minis. You know it.
STIR!!!!
Seriously look at that bowl of glorious white beauty…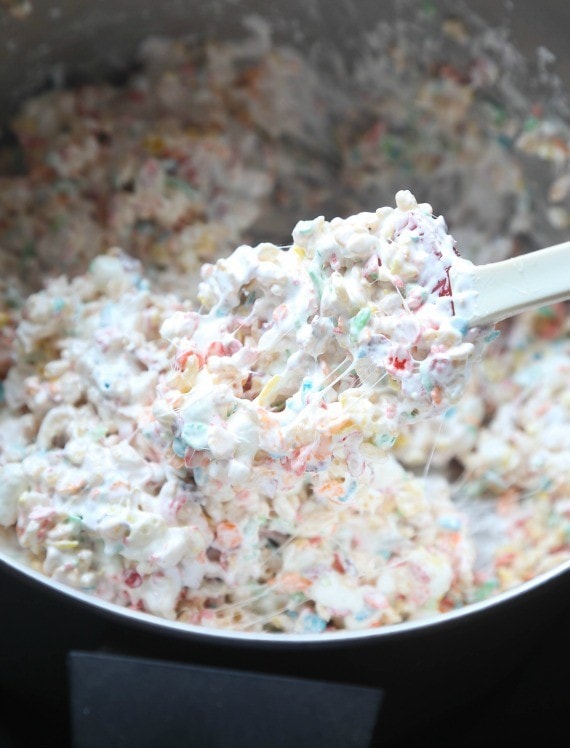 Press it into a lined and greased pan…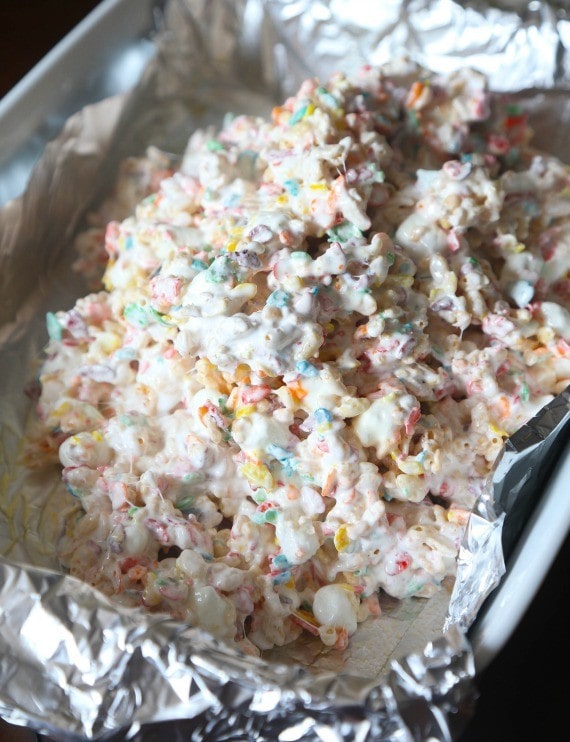 And let it sit. You will need to let these rest for at least an hour, more if you can. The Fluff needs a little time to set up.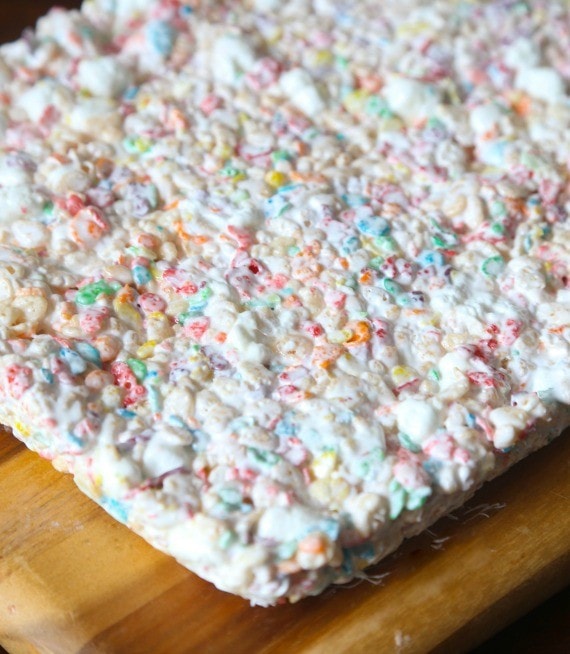 But then slice them. Aren't they gorg?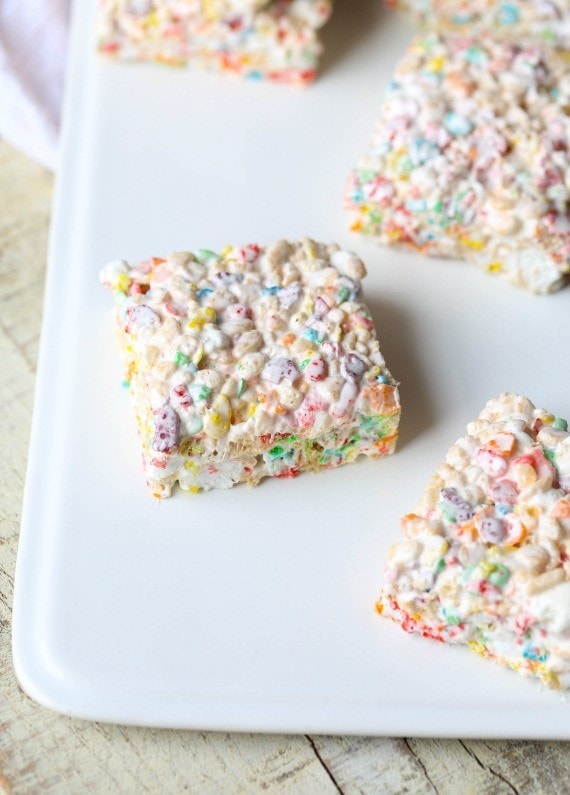 I'm telling you, while I still think my Perfect Krispie is a classic recipe that you should know, if you're looking to take it a step further…elevate your Krispie game, if you will, this is the recipe for you.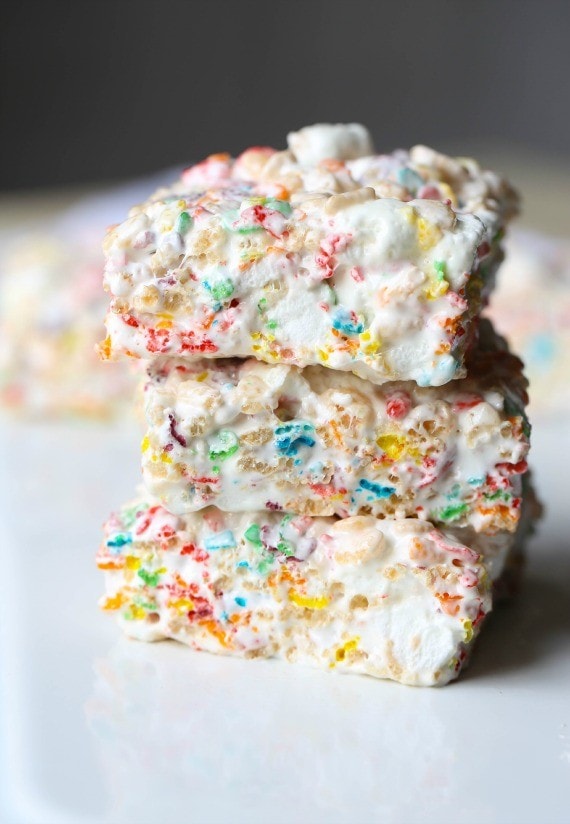 Like I said, it's the MAXIMUM amount of marshmallow packed into a krispie treat.
Microphone dropped.
Print
Marshmallow Fluff Krispie Treats
---
Ingredients
5 tablespoon

s butter

8 cup

s mini marshmallows, divided

1/2 teaspoon

kosher salt

1 1/2 cup

s Marshmallow Fluff

3 cup

s Rice Krispie cereal

3 cup

s Fruity Pebble cereal
---
Instructions
Line a 9×9 pan with foil and spray lightly with nonstick spray, set aside.
In a large saucepot over medium-low heat melt the butter.
Once the butter is melted add in 6 cups of the mini marshmallows and salt, stirring constantly until they're melted. Remove the pot from the heat.
Immediately stir in both cereals until coated with the melted marshmallows. Then stir in the Fluff until evenly mixed in. Finally stir in the remaining 2 cups of mini marshmallows.
Spread the mixture into the prepared pan and press evenly.
Allow the bars to set up for at least an hour before cutting into squares.
---
Notes
You can use any combination of cereals…or you could just use ALL Rice Krispies.
Store airtight for up to 5 days. These krispie treats stay soft and are even better the second day!
Here's my handy marshmallow conversion chart in case you missed it…